This comforting and healthy savory Chicken Pastina Soup features tiny star-shaped pasta, vegetables, lemon, and dill. It's an easy weeknight meal that the whole family will love!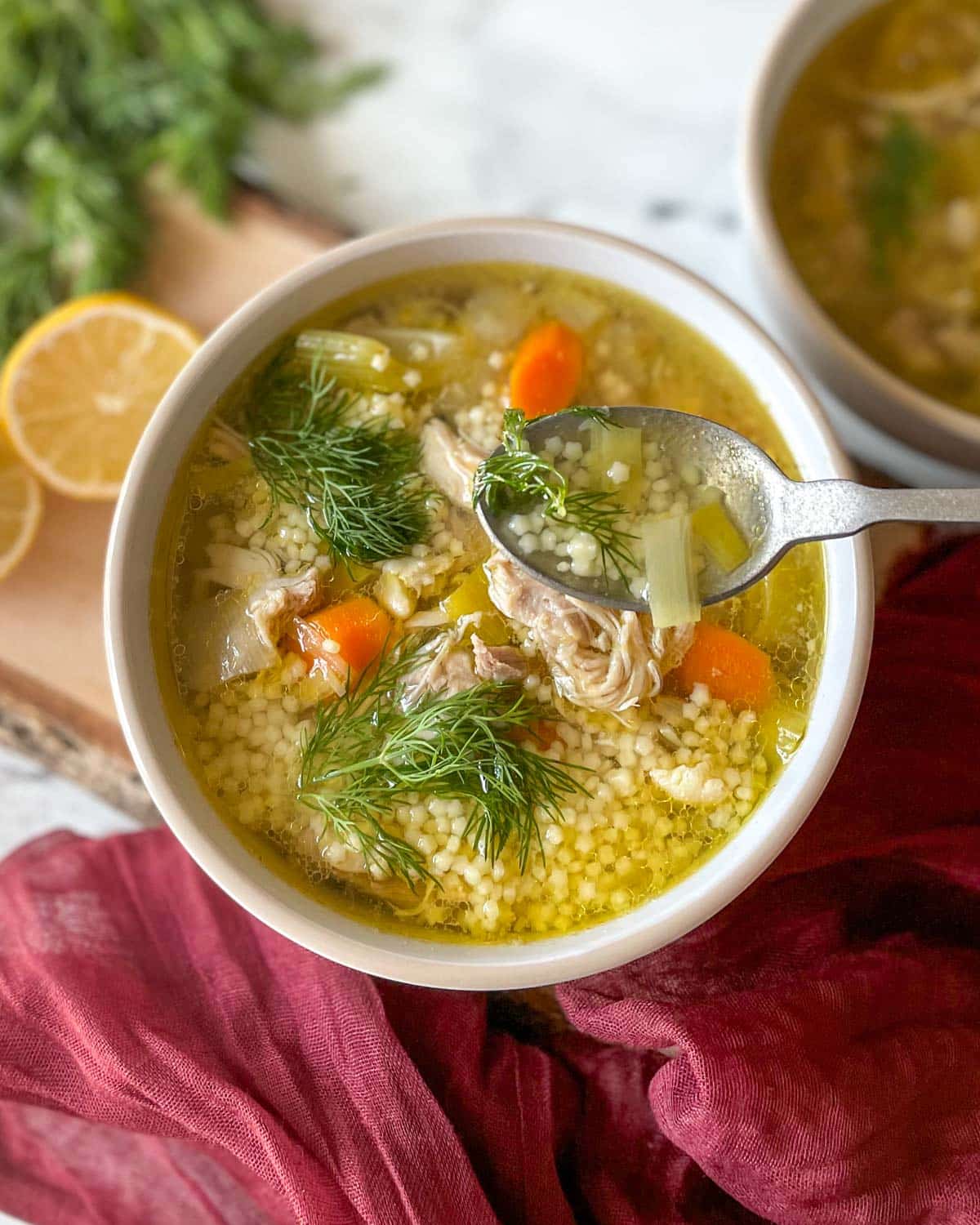 Jump to:
Why You'll Love This Dish
One of my 4-year-old niece's favorite foods is and always has been soup. When I went to create a chicken soup recipe I immediately thought of her and what type of noodle she might like.
The idea for chicken pastina soup came to mind - what could be more fun than little stars?
Although the pastina will appeal to a younger crowd, this soup has lots of complex flavor for the grown-ups, too.
The lemon and dill create a lovely bright contrast to the rich broth and savory, tender chicken. It has a very Greek flavor profile, much like an Avgolemono soup (chicken soup with egg, lemon, dill, and rice).
You could easily make this soup with chicken breast if you prefer. You could opt for a different shape of pasta or additional fresh herbs. I encourage you to try it as written first, though, and try not to be as in love with it as I am.
To make this meal vegetarian/vegan, you could swap the chicken for a can of white beans and the chicken broth for vegetable broth.
What You'll Need
Two Cloves Kitchen, as an Amazon Affiliate, makes a small percentage from qualified sales made through affiliate links at no cost to you.
Chicken Thighs I like to use boneless, skinless chicken thighs for this recipe. You could use bone-in chicken thighs, too. Just be sure you give yourself more time for the chicken to cook. You can also use chicken breast here.
Pastina Small, star-shaped pasta. You can also try other small varieties of pasta here. You could use orzo, ditalini, maybe even alphabet pasta if you want to keep this fun for your kids.
Chicken Broth or Stock I used a commercial chicken broth for this recipe and it came out great. I love Better than Bouillon for this, or you could make your own homemade chicken bouillon powder! A homemade stock would be also amazing if you have it on hand.
Leeks White and light green parts only. Be sure to wash these carefully as sand can hang out between the leaves.
Fresh Garlic
Carrots
Celery
Extra Virgin Olive Oil This is a brand I recommend.
Lemon If you're unable to locate fresh lemons, try adding some bottled lemon juice.
Fresh Dill A small bunch would be perfect, or around 1 cup of dill.
Kosher Salt This is very important! I recommend Diamond Crystal kosher salt. If you use table salt or sea salt in the amount I recommend below, your soup will likely be too salty. Try adding just a small amount and taste as you go.
Black Pepper I like using about 3 good cranks of black pepper in this soup.
How to Make Chicken Pastina Soup
Step One Cut your vegetables and aromatics. Clean your leeks well, as they can contain sand and grit.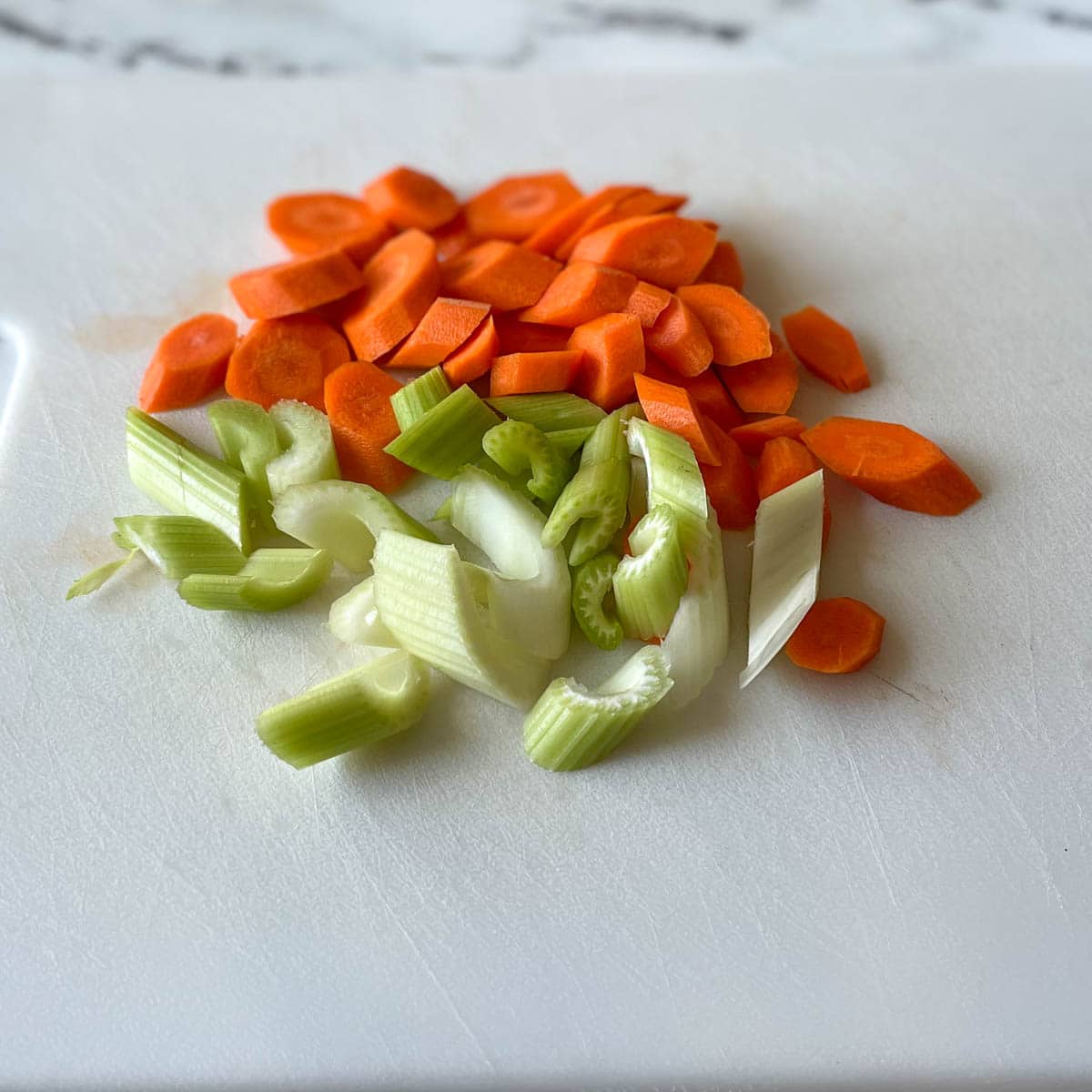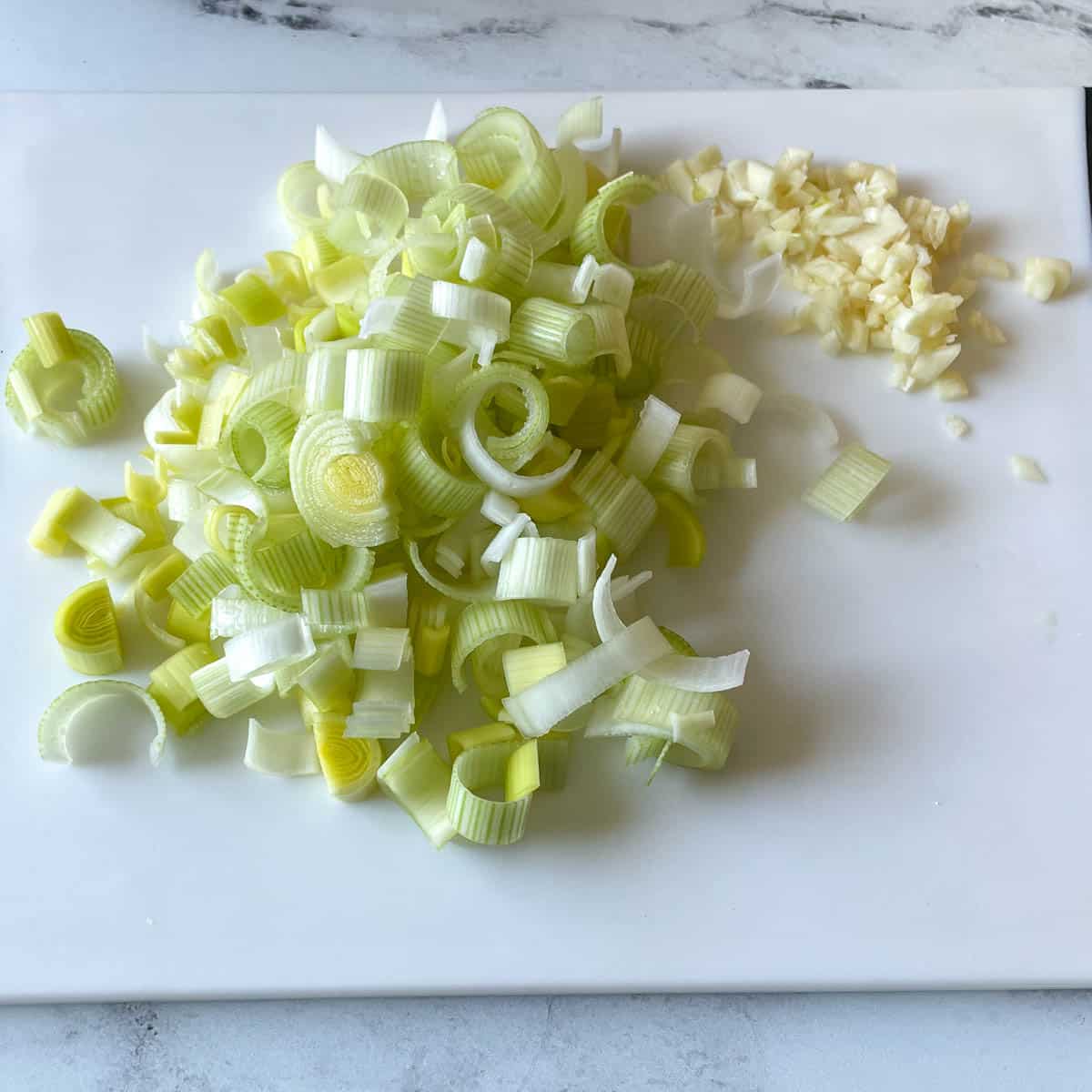 Step Two Clean your leeks well, as they can contain sand and grit.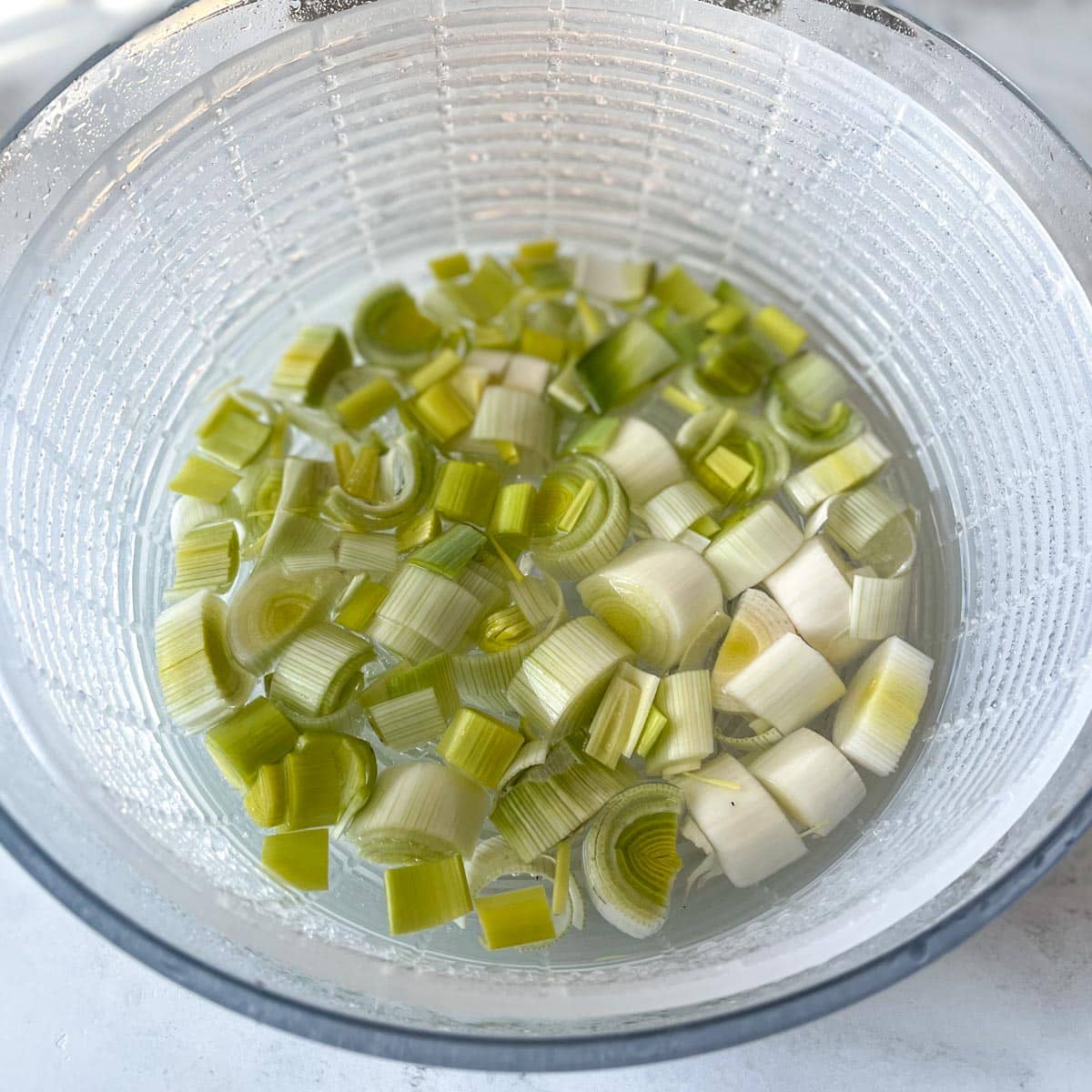 Step Three Sauté the carrots, celery, and leeks for 3 to 4 minutes. Add the garlic and cook for about 30 seconds to 1 minute more.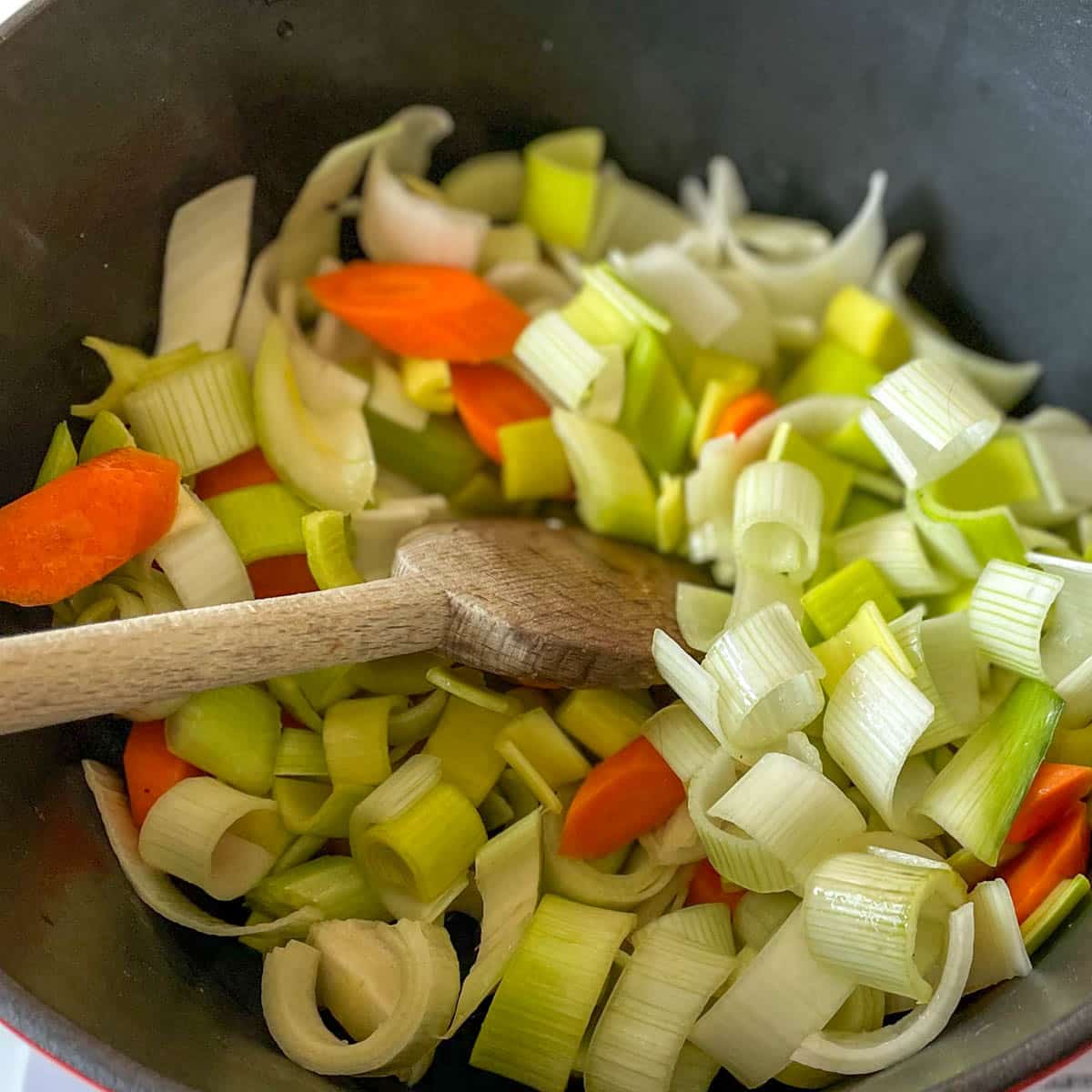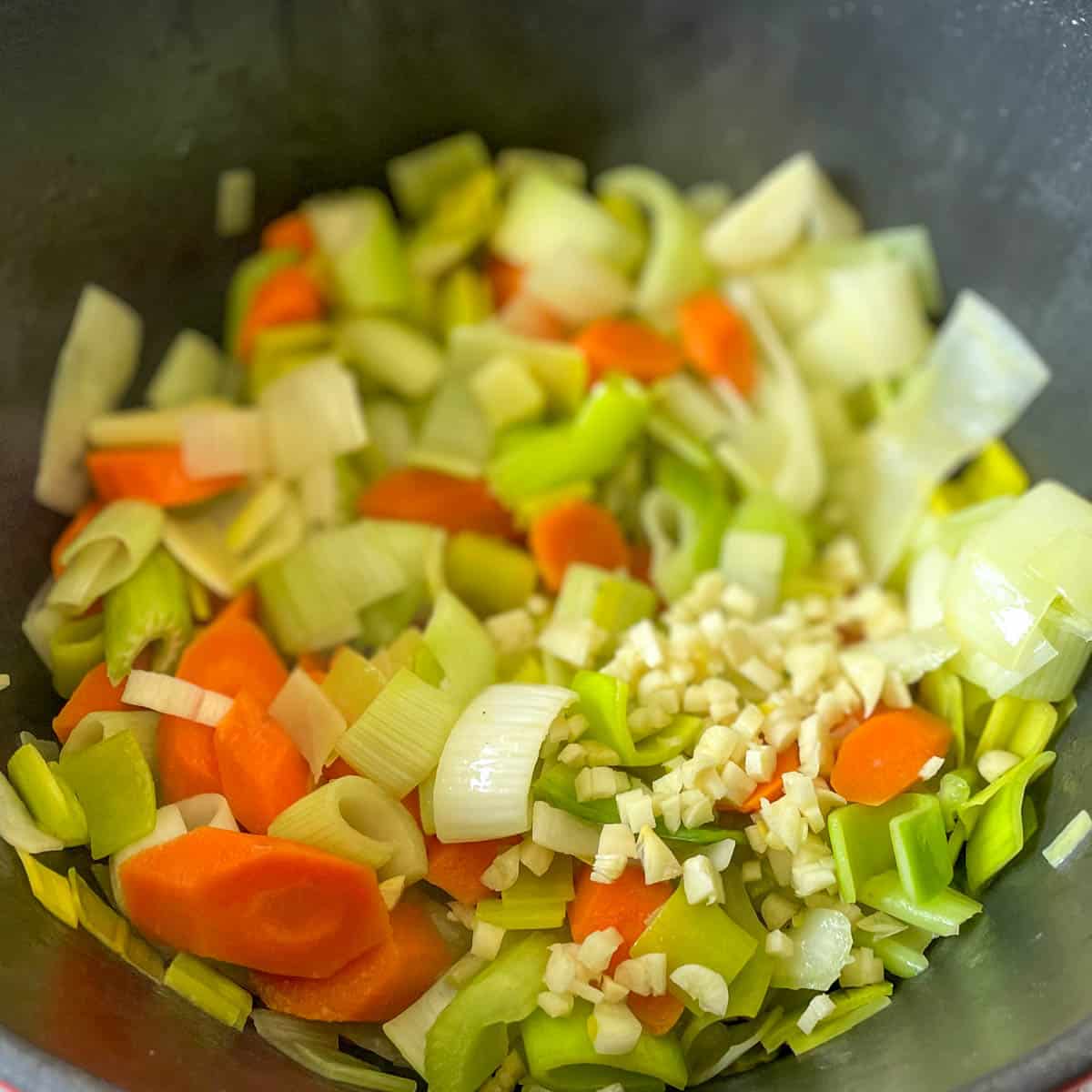 Step Three Add the broth. Bring up to a boil, add the chicken, then bring down to a simmer.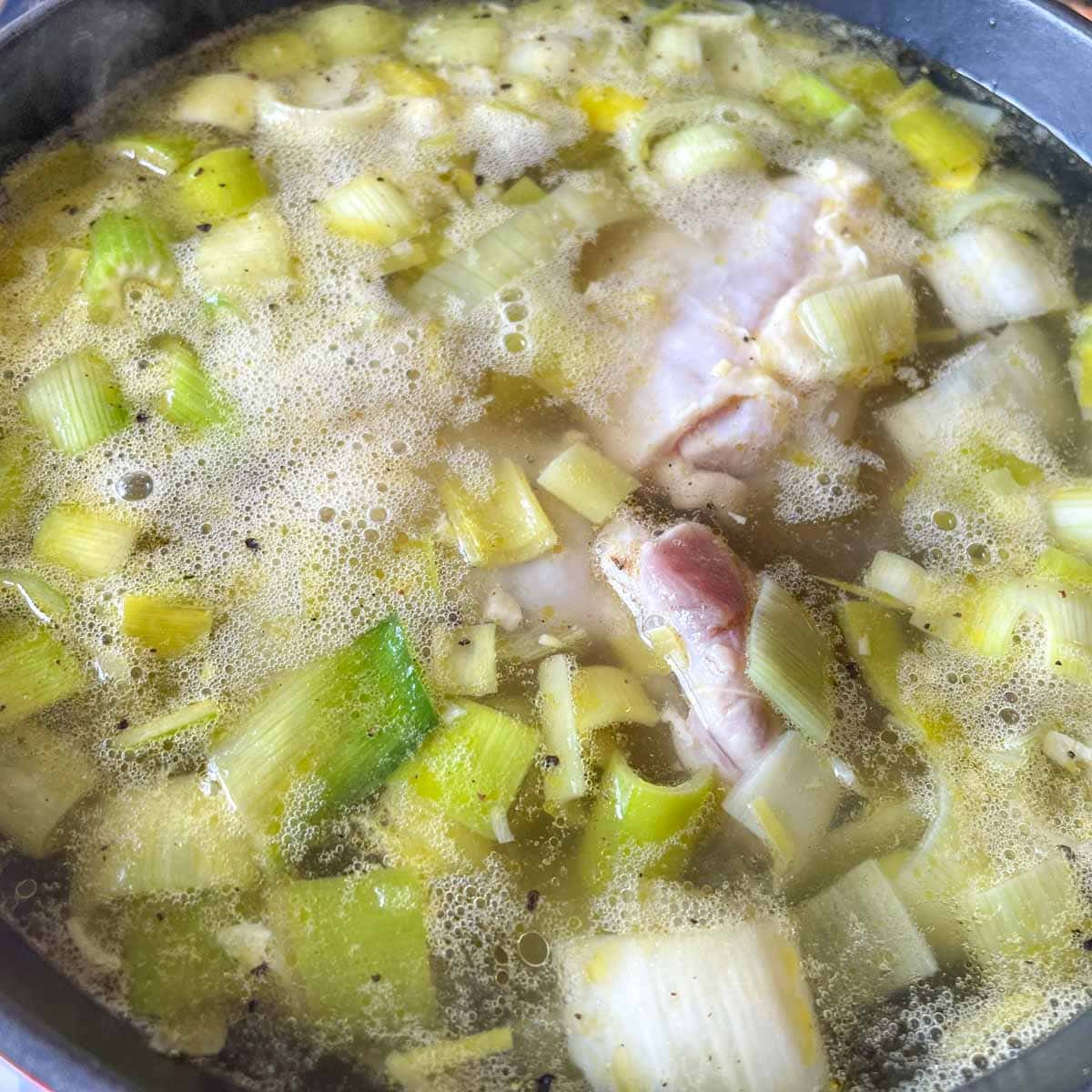 Step Four Cook the pastina.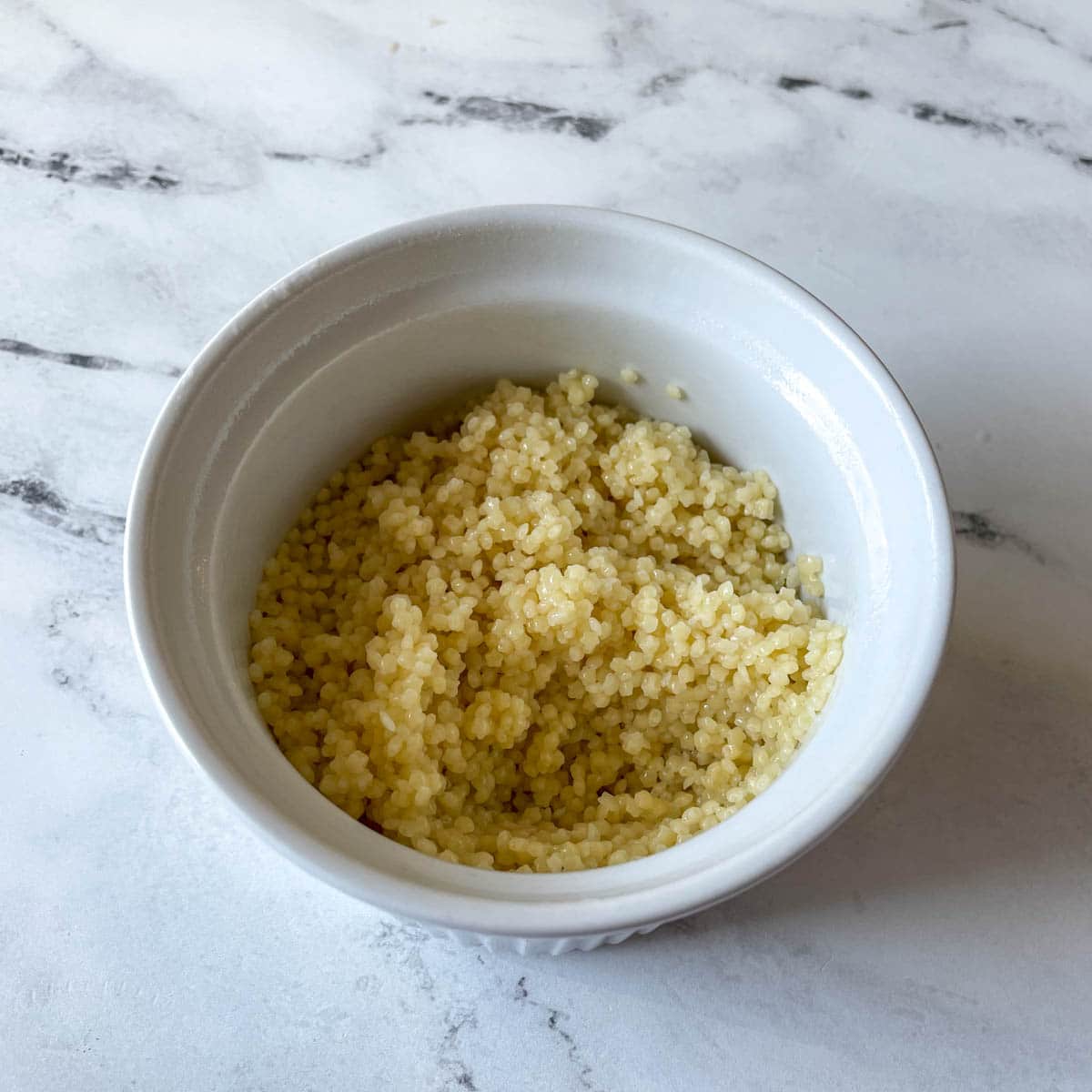 Step Five Shred the chicken, then add back to the soup.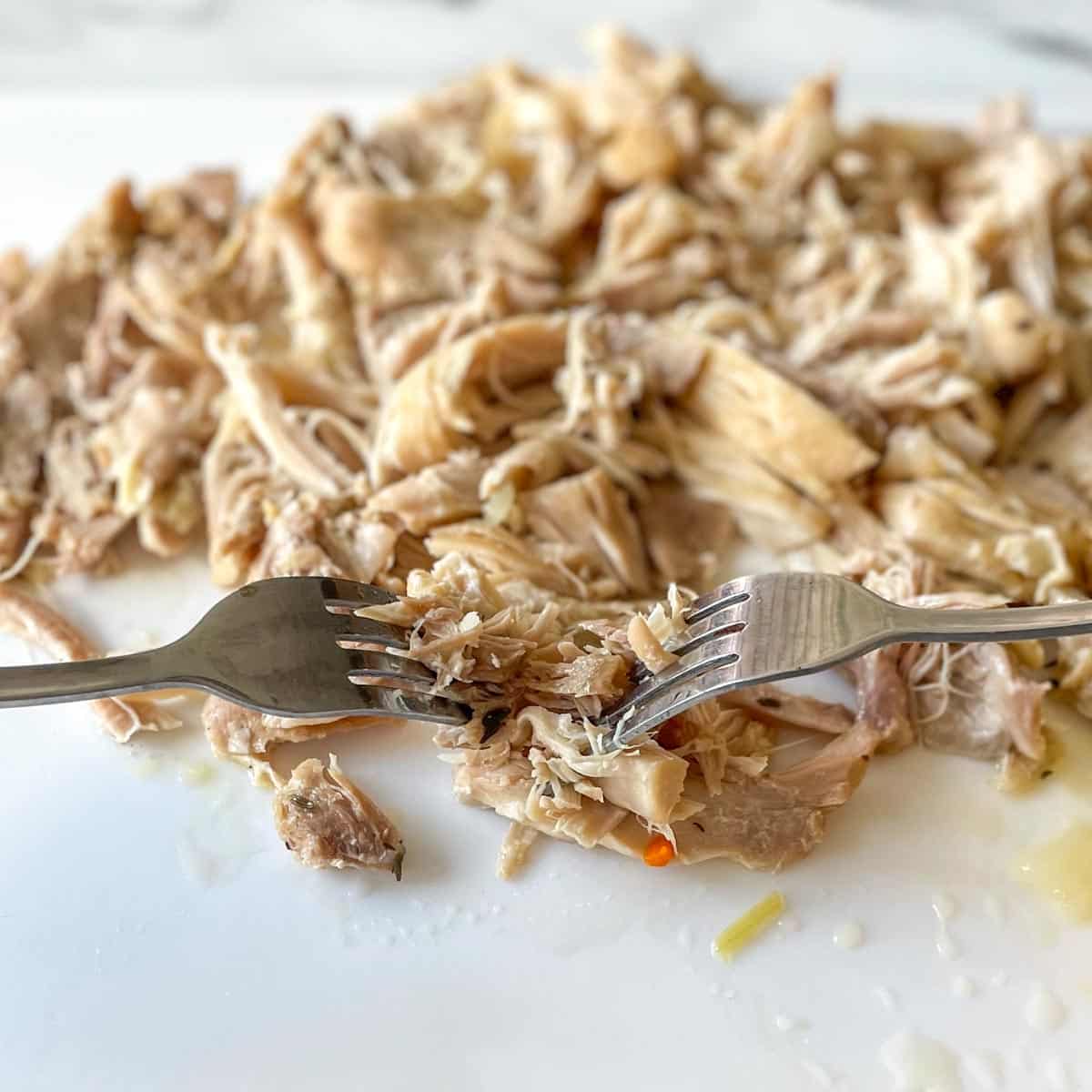 Step Six Add the lemon juice and dill. Spoon some pastina into a bowl and ladel the soup over, then serve!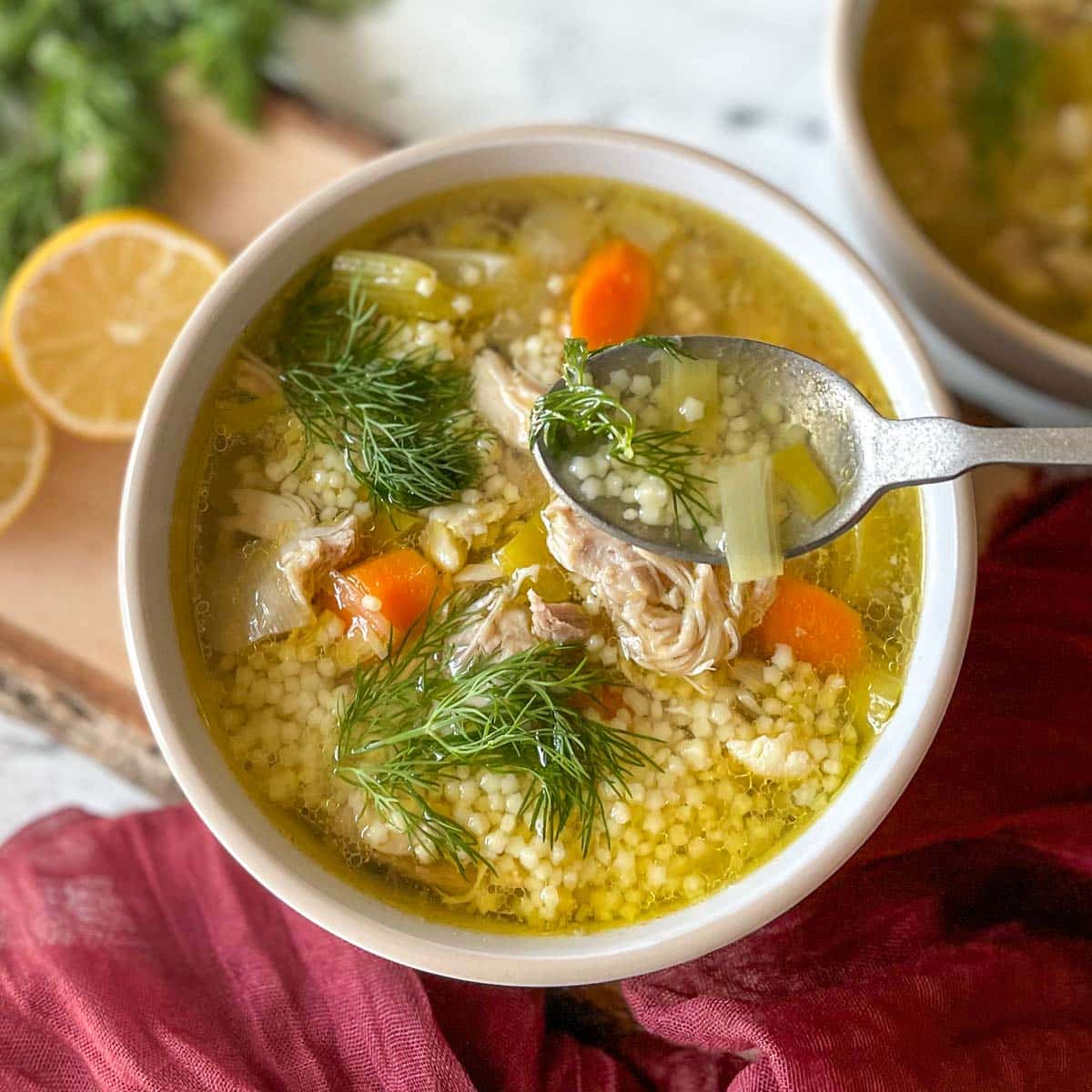 Variations
Beans Make this vegan with white beans instead of chicken and vegetable broth instead of chicken broth.
Chicken Breast Use chicken breast instead of chicken thighs.
Fresh Herbs Add additional fresh herbs like parsley or basil.
Different Pasta Try different shapes of small pasta - orzo, conchigliette (mini shells), ditalini, alphabet pasta.
Mexican Use a bit of cilantro in place of the dill and lime instead of the lemon for a Mexican twist.
FAQ
What is pastina made of?
Pastina is simply a small pasta shape and will contain the same ingredients as other dry pastas. Consult your package for a full list of ingredients.
Can you freeze pastina?
Yes. Once cooked, store the pastina in a freezer safe, airtight container for up to 3 months.
Is pastina the same as orzo?
While pastina and orzo are similar, they are not the same. They are made from the same ingredients, but orzo is a bit larger, and rice-shaped. It would be a good substitute for pastina if you cannot find it at the store.
Can I use chicken stock in soup?
Absolutely! I strongly recommend it. Chicken stock will add a wonderful depth of flavor to your soup.
Can I make chicken pastina soup in advance?
You can. Once all of the elements are cooked, store the pastina mixed with a small amount of olive oil in a separate container than the soup. Reheat separately and mix together when ready to serve!
Expert Tips
I recommend cooking the pastina separately, adding some to the bottom of the bowl, and then ladling the soup over the top. This keeps the pasta from getting mushy in the broth.
Store your pastina and soup separately. Like the above tip, storing cooked pasta separate from liquid elements of a dish will preserve its texture.
Clean your leeks thoroughly! After removing the dark green portion, slice the leek lengthwise, then into half moons. Place the pieces in a strainer and rinse extremely well with cold water.
How to Store
This soup is quite good the next day or a few days later. Store the soup and pastina separately to preserve the texture of the pasta.
Fridge The soup should be stored relatively quickly (enjoy your dinner first!) and moved to the fridge within 2 hours. The soup will last for 3 to 4 days in the fridge. The pasta will last for about 5.
Freezer Alternately, you can freeze both the soup and the cooked pasta (again, separately). The soup will be best if consumed in 3 to 6 months. The pasta will last up to 3 months.
Because the dry pastina lasts for so long and cooks so quickly, I recommend cooking it when you need it.
Reheating Reheat the soup on the stove by bringing up to a boil, then down to a simmer or in the microwave.
How to Serve
This soup can definitely be a full meal. Here are some great options to fill out your dinner table:
Bread We love having this with a hunk of French baguette or a piece of buttered whole wheat toast.
Salad If serving a smaller portion, you could have this as a soup course prior to a larger meal. Try adding a salad to the table, too!
Combo You could make a half soup/half sandwich or soup and salad meal, too.
Looking for a fun dessert for the kids? Try this Cookie Monster Ice Cream.
Recipes You'll Love
Other great cold weather favorites:
Warm Grain Bowl with Goat Cheese and Greens
📖 Recipe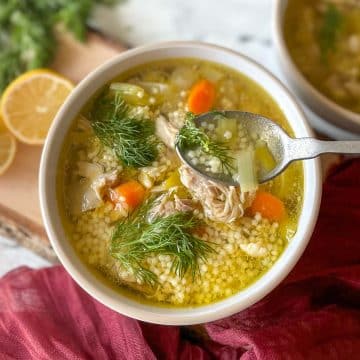 Chicken Pastina Soup
Savory chicken soup with tiny star-shaped pasta, vegetables, lemon and dill. Comforting and healthy!
Print
Pin
Rate
Instructions
Pastina
Boil a pot of salted water for the pastina and cook to box directions. Once the pasta is finished, drain with a very fine strainer or sieve as the small shape can fall through the cracks of a larger strainer.

Stir a bit of olive oil into the pastina to keep it from sticking.
Soup
Chop the leeks, carrots, celery and garlic. Keep the leeks, carrots and celery in fairly large pieces. Wash the leeks thoroughly - they can be sandy.

Add olive oil to a pot heated over medium heat. Add the leeks, carrots and celery. Sauté for 3-4 minutes.

Add the garlic and sauté for 3-4 minutes, until softened.

Add the chicken broth and bring to boil.

Add the chicken thighs and let cook for 8-10 minutes, until the internal temperature reads 165°F.

Remove the chicken from the broth and place on a cutting board. Turn the temperature down to medium low. Add the salt and pepper to taste.

Using two forks, shred the chicken, removing any excess fat, and return to the pot.

Let the soup cook at a low simmer (tiny bubbles around the perimeter of the pot) for about 10 minutes.

Add the chopped dill and the juice from the lemon into the pot.

Place ¼ cup or so of the pastina in the bottom of a soup bowl and ladle some of the soup overtop. Cooking the soup and pasta separately will prevent the pasta from becoming soggy.
Notes
Be sure to use kosher salt when making this recipe. Kosher salt will taste less salty than table salt or sea salt. If using table salt or sea salt, use significantly less (and taste as you go).
You can use chicken breast in place of chicken thighs, here.
Feel free to add other fresh herbs in addition to the dill, like basil or parsley.
You can use other small pasta shapes for this recipe. Try ditalini, orzo or conchigliette.
Stores well for 3-4 days in the fridge. Store pasta and soup separately to avoid pasta getting mushy.
Soup will store for 3-6 months in the freezer. Pasta will store for 6 months frozen, but I recommend cooking when you are ready to serve the soup.
Nutrition
Serving:
1
bowl
|
Calories:
213
kcal
|
Carbohydrates:
21
g
|
Protein:
19
g
|
Fat:
7
g
|
Saturated Fat:
1
g
|
Polyunsaturated Fat:
1
g
|
Monounsaturated Fat:
3
g
|
Trans Fat:
1
g
|
Cholesterol:
72
mg
|
Sodium:
2416
mg
|
Potassium:
624
mg
|
Fiber:
2
g
|
Sugar:
3
g
|
Vitamin A:
3993
IU
|
Vitamin C:
38
mg
|
Calcium:
65
mg
|
Iron:
3
mg