This article looks at the differences between flap meat or flap steak and skirt steak. Flap meat is a thin cut similar to the prized skirt steak, but there are some key differences. Find out everything there is to know about flap meat vs skirt steak below.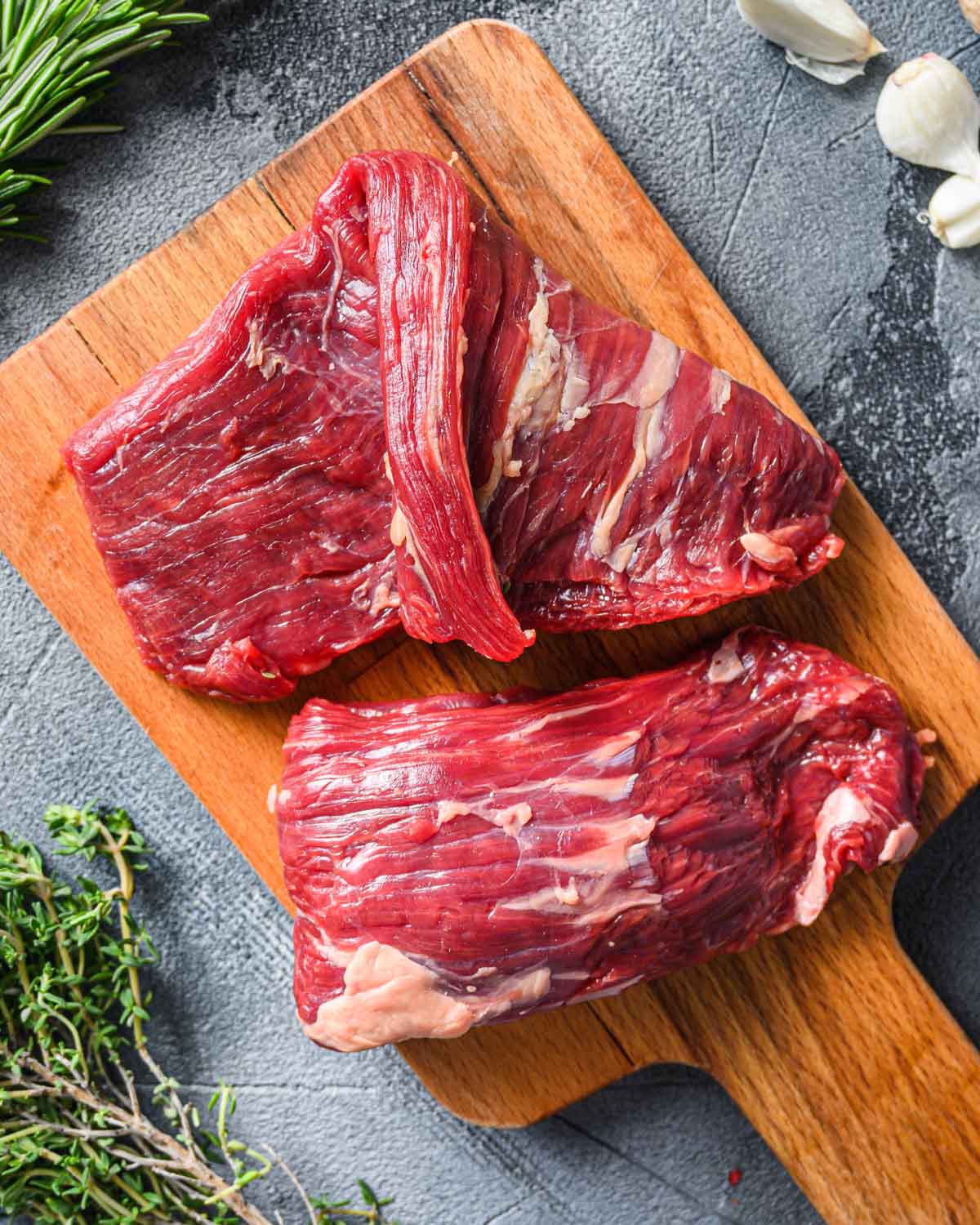 Jump to:
What is Flap Meat?
Flap meat, for flap steak, is a thin, highly marbled cut of meat sometimes referred to as ranchera meat. It's a great choice for marinating and cooking over high heat, most commonly by grilling. It has a similar texture to skirt steak, but it is less expensive and thinner.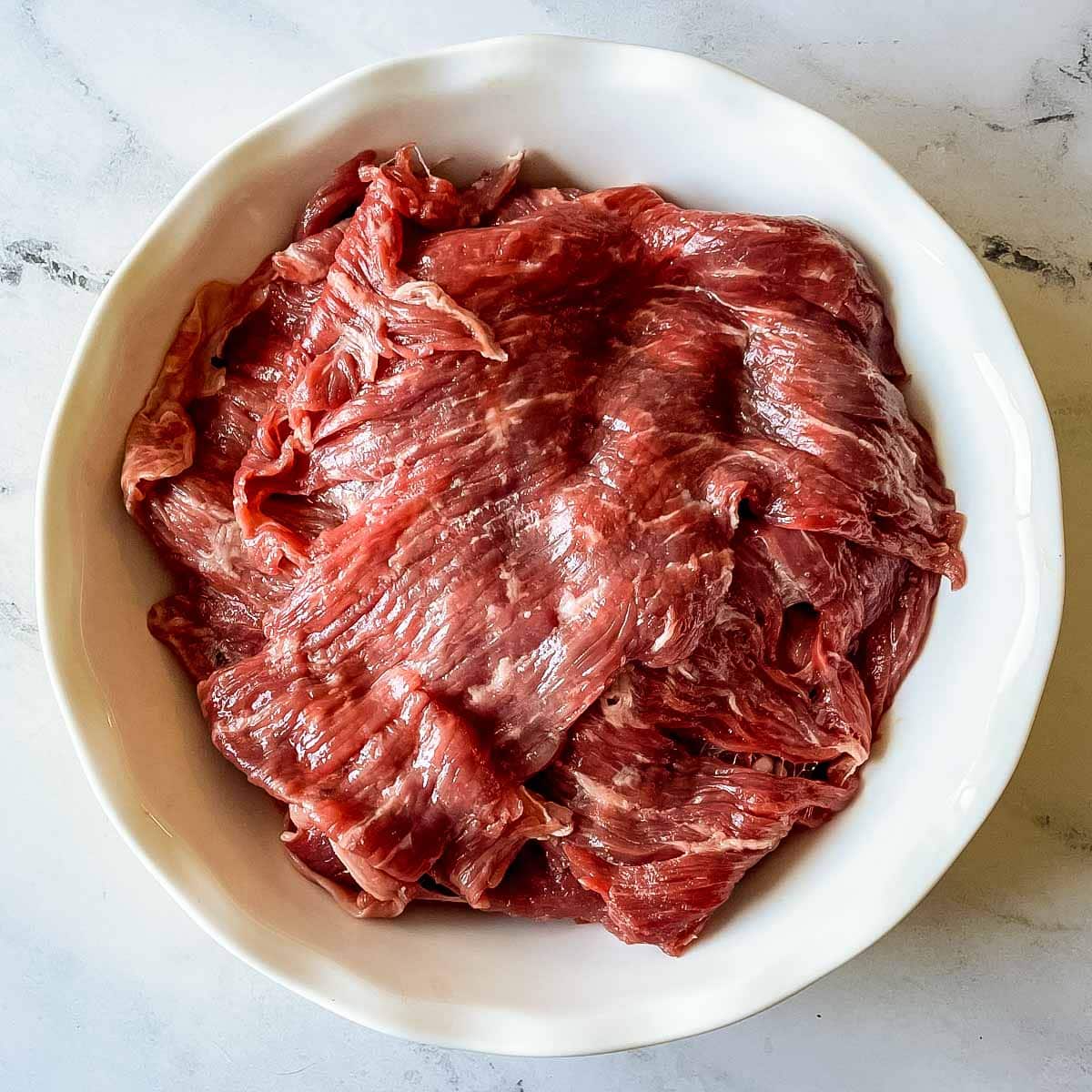 This cut of beef comes from the bottom sirloin butt of the cow. It's an extension of the T-bone and Porterhouse steaks. This is the same area the flank steak comes from, but flap meat comes from a bit further back, close to the round and shank. See the illustration below.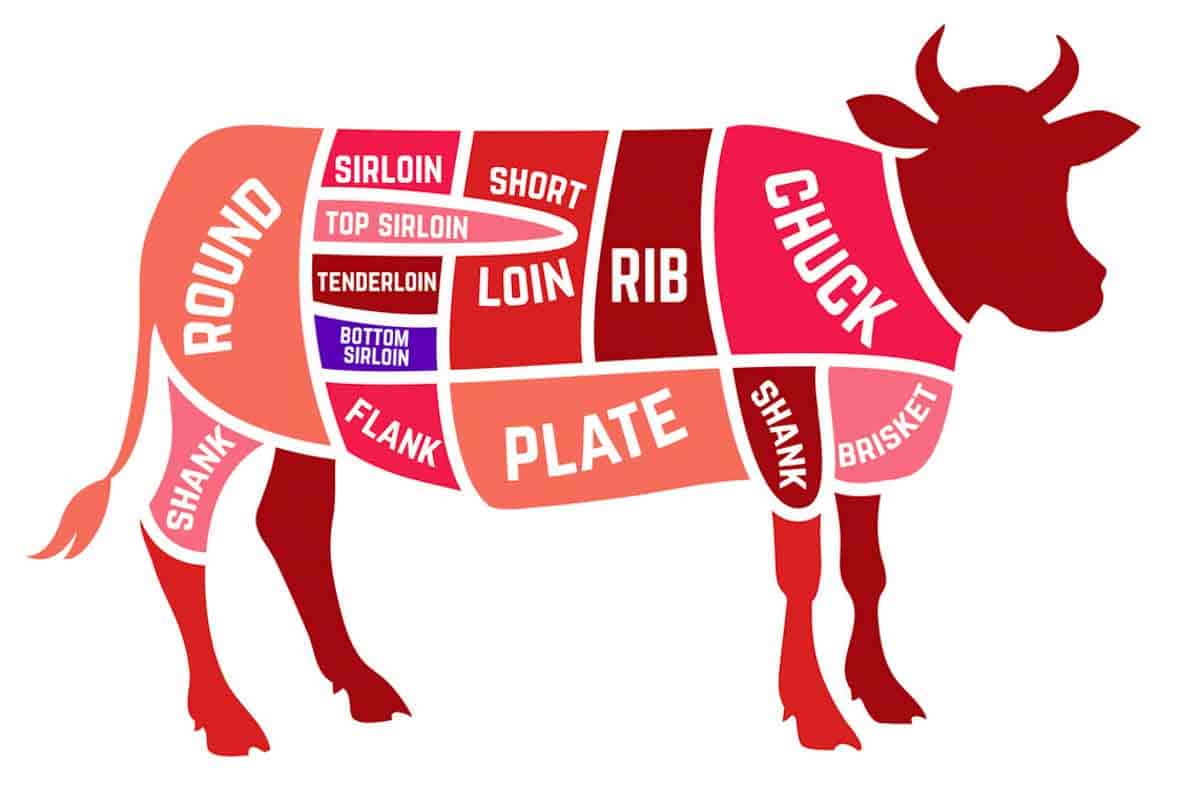 Flap meat can be purchased from your local butcher or from a grocery store with a well-stocked meat section. I'm located on the west coast and have found it at Costco, Whole Foods, local butcher shops, and my neighborhood Mexican markets. I have also seen it in some Asian markets labeled as "stir-fry meat."
How to Use Flap Meat
The most common usage for flap meat is carne asada. This ranchera meat recipe shows you how to make your own authentic carne asada at home. It can be grilled on a grill pan inside or on your outdoor grill.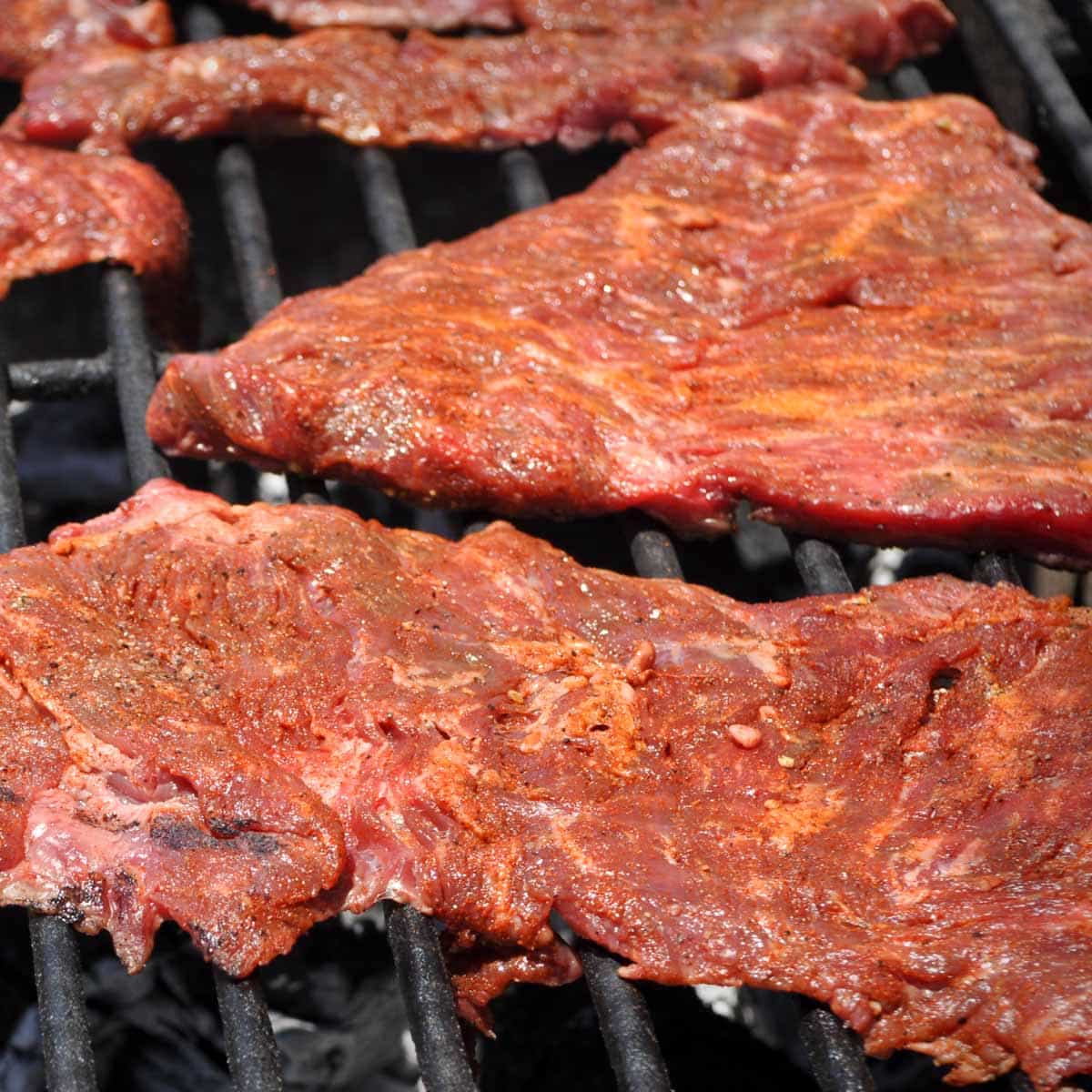 Flap meat is most commonly used for sliced and chopped applications, like steak tacos, stir fry, and quesadillas. It should be cooked over high temperatures with a dry heat cooking method to medium rare, or it will become tough. Keep an eye on this meat when cooking, as it is quite thin and will overcook quickly.
Cutting Across the Grain
Flap meat must be sliced thinly across the grain. "The grain" refers to the long striations of muscle fibers in a particular cut of meat and the direction in which they run. In the image below, the blue indicates the grain of the meat and the yellow indicates where you should cut.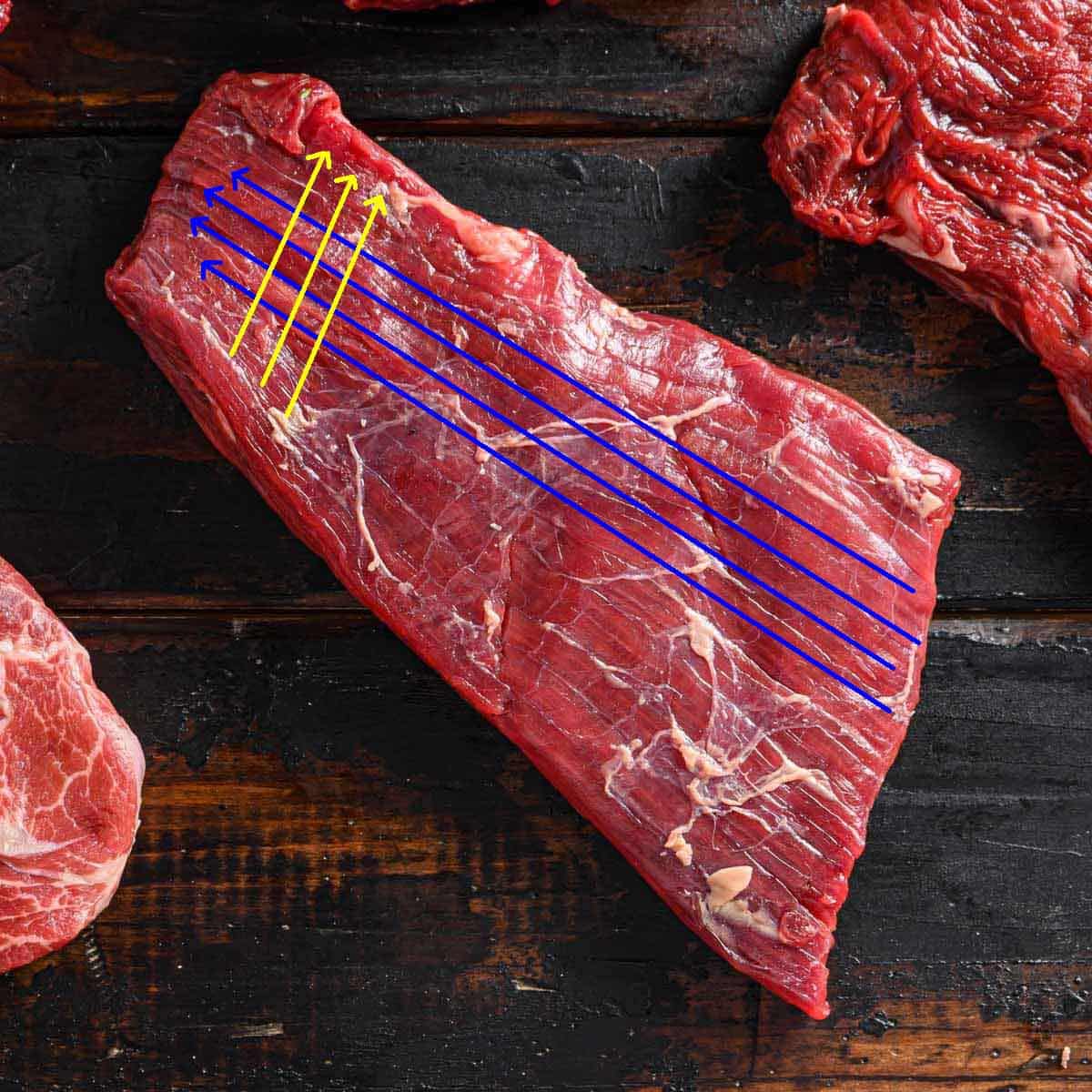 What is Skirt Steak?
Skirt steak is flavorful a cut of beef from the plate of the cow, between the brisket and flank areas, just below the rib cut/rib cage. See the illustration below.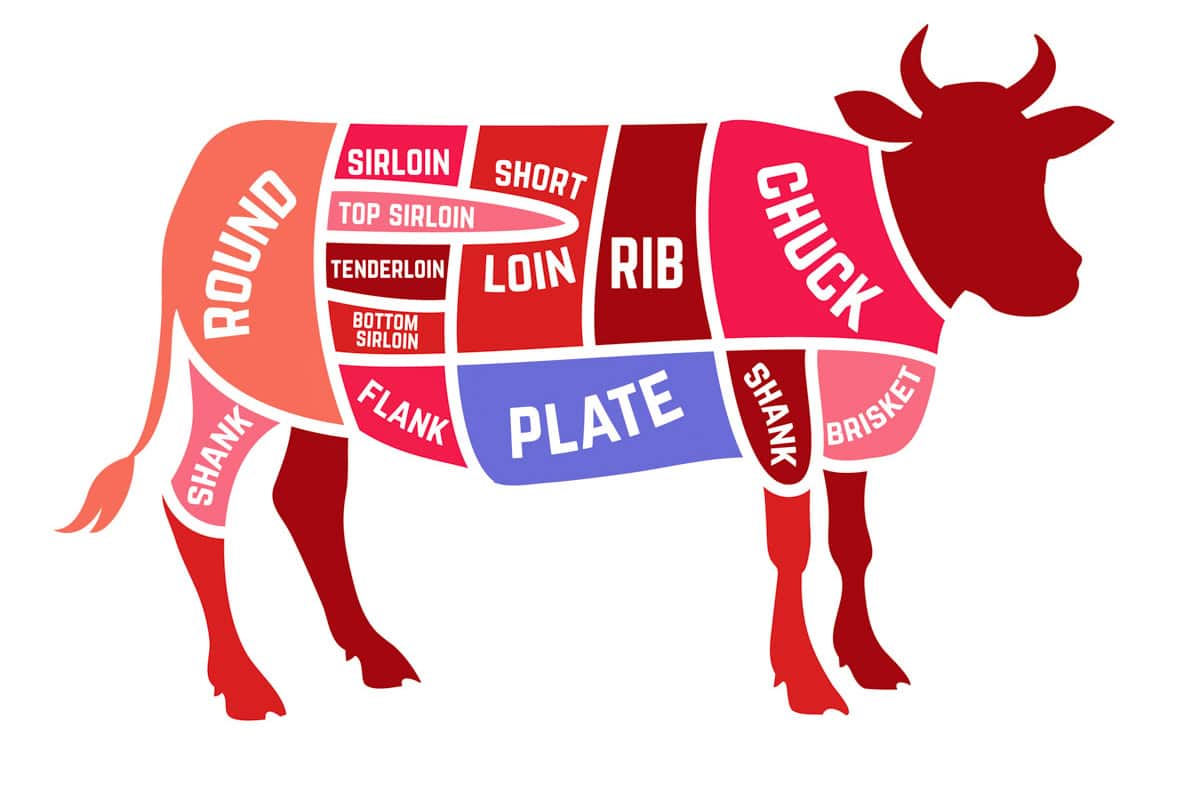 It can actually come from two separate muscles within the abdominal cavity and/or chest area near the diaphragm, which produces an inside skirt steak and an outside skirt steak.
The outside cut will commonly be sold to commercial operations as a steak on restaurant menus, so the inside cut is what you will find available for purchase. Both inside and outside skirt steaks have the same flavor profile and texture.
The steak is a long, relatively thin or flat cut that is fairly lean and tough, but thicker than flap meat. It has a very thick grain (wider muscle fibers), with fat between these layers. When cooked and cut properly, the meat will become tender.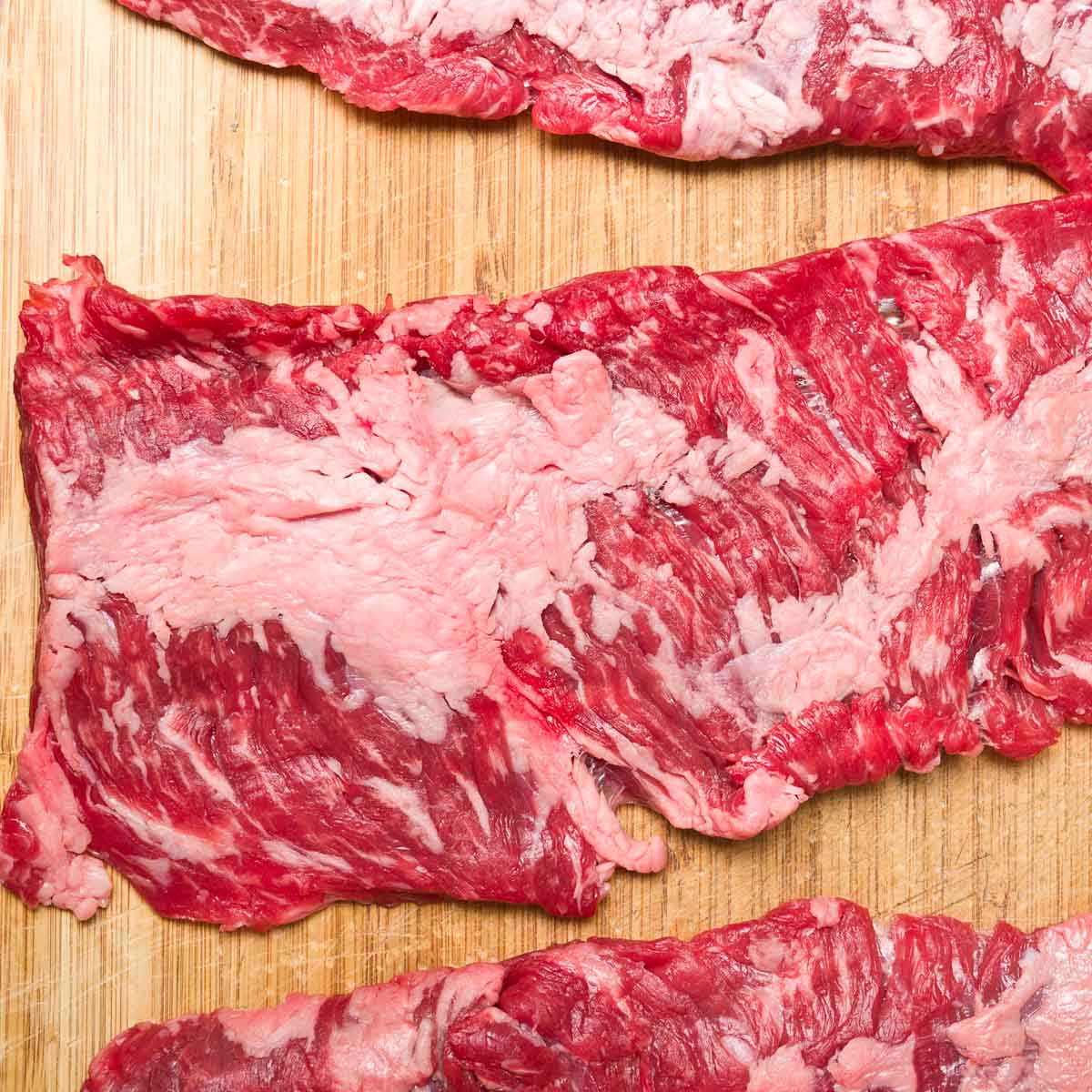 Steak eaters love skirt steak for its strong beefy flavor. It's a more expensive piece of meat than the flap steak, and is used more widely. Keep reading for ideas of how to cook skirt steak.
How to Use Skirt Steak
Skirt steak is used for more applications. If you do not wish to use a marinade, skirt steak is a better option. It's excellent cooked with a dry rub, or rubbed with olive oil prior to cooking and finished with some coarse salt and fresh herbs.
However, it also does very well with a marinade. I recommend it in my carne asada recipe above if you cannot locate flap steak/ranchera meat.
Cook this meat similarly to flap meat: quickly, and over high heat. I would advise against lower temperatures for this cut of meat, or cooking past medium rare, as it is a thin cut and will become tough.
Remove your skirt steak from the grill or pan when a meat thermometer indicates an internal temperature of 125 degrees Fahrenheit for the medium rare. While the steak rests, it will reach about 140 to 145 degrees.
Skirt steak must also be sliced across the grain. Be sure to cut thin slices and rest the meat for at least 10 minutes after cooking.
Skirt steak is delicious on its own or as the centerpiece of your plate with some vegetables and a grain, on steak salads, steak sandwiches or wraps, or for fajitas.
What's the Difference?
The main difference between these two cuts lies in three things:
The location of the cut is different.
Flap meat is a slightly thinner steak.
Flap meat has a less intense beef flavor.
Similar Cuts of Meat
Flank steak is a relatively inexpensive, thin, flavorful cut of meat from the flank of the cow below the loin and sirloin. It's quite lean and can be very tough if not cooked correctly.
It absorbs the flavors of rubs and marinades easily, should be cooked quickly over high heat, and must be cut thinly across the grain.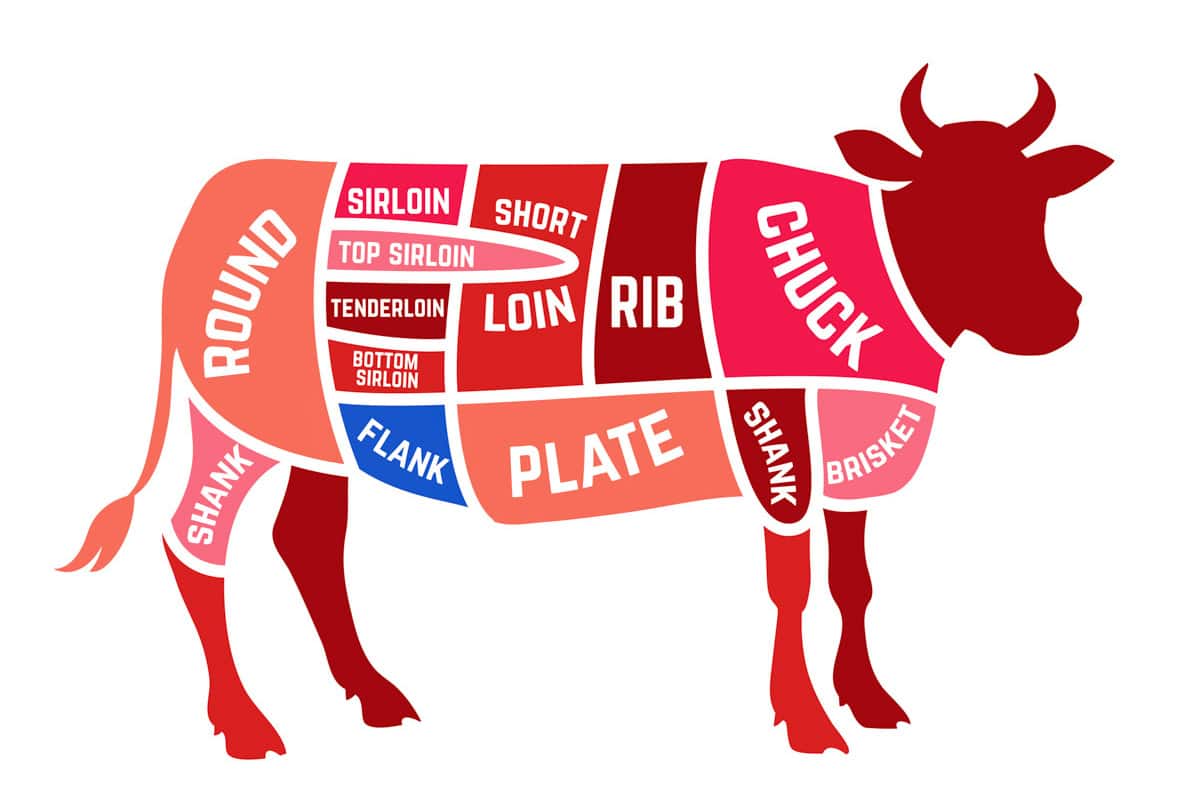 Hanger steak belongs to the same category of steaks as skirt steaks: flat steaks. They come from the plate area of the cow, between the flank and brisket. Hanger steaks are thicker and shorter than skirt steaks.
Flat iron steak is also known as the top blade steak or top blade fillet. It's a cut from the shoulder of the cow and has gained popularity in recent years. It has decent marbling but is still relatively lean.
It's considered by some as the second-most-tender cut you can get next to a filet mignon (others contend it is the T-bone or Porterhouse). Minimal seasoning is recommended, and you can stir-fry, broil, smoke, or grill it.
The sirloin tip is a cut from the front end of the rear leg or the round. It is an inexpensive, lean cut that's good for grilling, braising, or broiling.
Conclusion
When looking at flap steak vs skirt steak, there are many similarities. They are both best cooked quickly over high heat and must be cut against the grain in thin strips to tenderize the meat.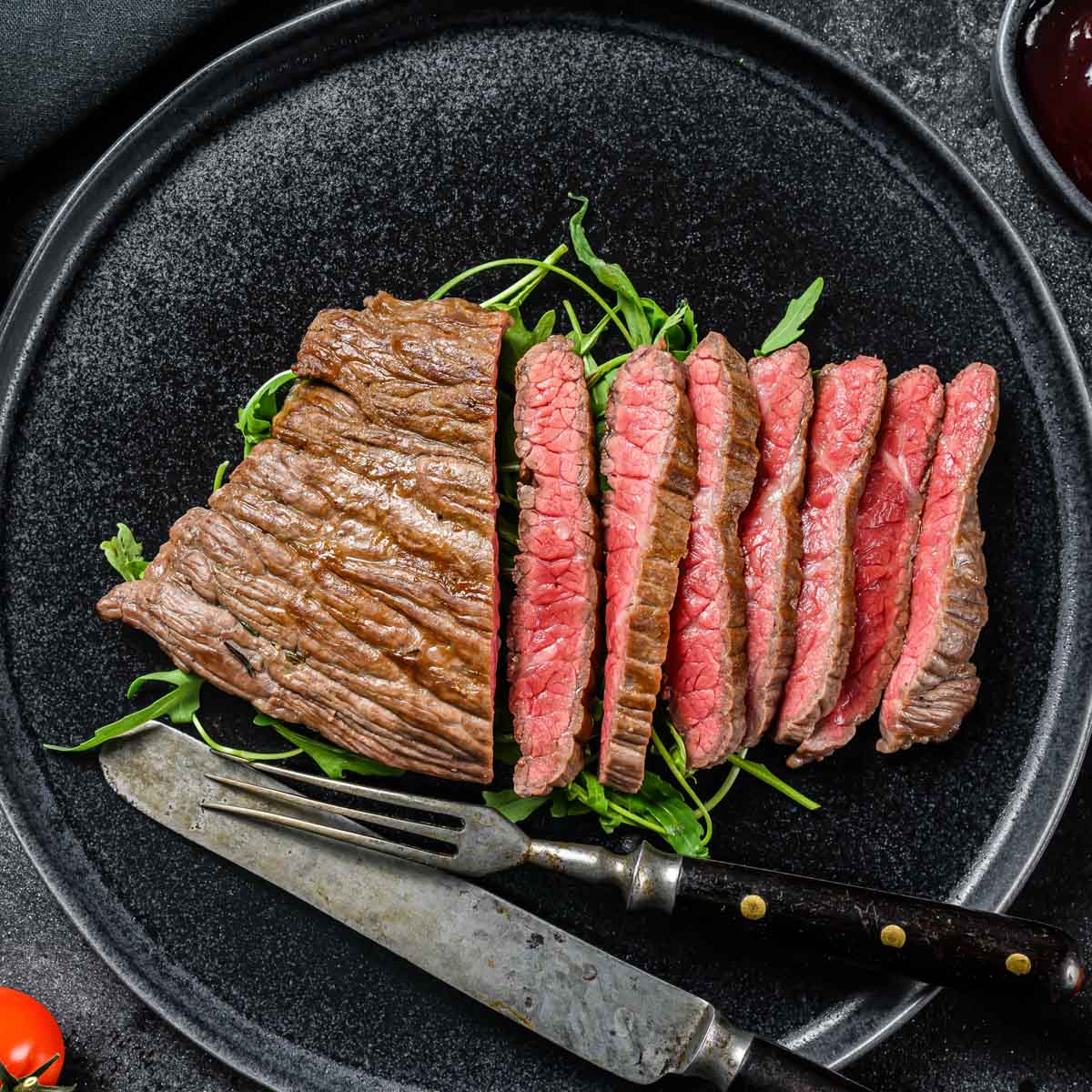 They both benefit from marinating, but a skirt steak can also be prepared with minimal seasoning, which I would not recommend for flap steak.
Flap steak is a cut located in the bottom sirloin butt of the cow, whereas skirt steak is located in the plate, between the brisket and flank. Skirt steak has a thicker grain to the individual muscle fibers.
Flap meat is known to be a bit less flavorful. However, it is perfect for marinating, and for chopped or sliced applications like in Mexican dishes such as tacos and quesadillas, and as a stir-fry meat.
It can be slightly more difficult to find flap meat, but it is less expensive, so if you have less to spend, go for the flap meat!
Ultimately, it is a matter of personal preference and availability. Either meat, in my opinion, is an excellent choice. I would use the different cuts interchangeably if planning to marinate the meat, but would opt for skirt steak when prioritizing the flavor of the meat itself.