We are fully into winter at this point and although my area of California gets about a week of weather that requires so much as a sweater, I love making winter food. At the top of the list (along with soups and pasta) is potatoes (specifically, these Calabrian potatoes).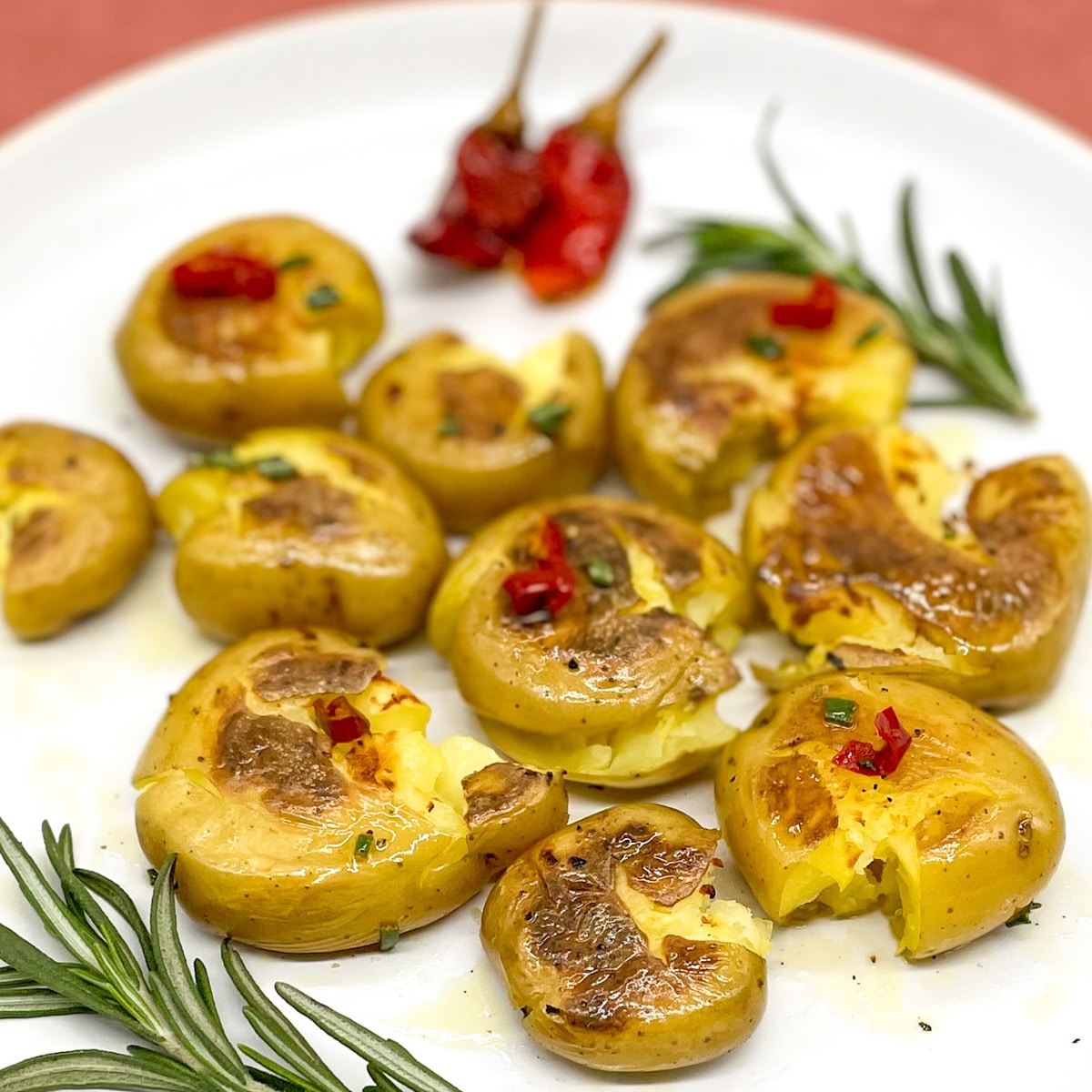 Do you know when I don't like potatoes? When they are dry.
Dry potatoes are a sad, sad state of affairs.
I've created this recipe to 1) highlight Italian flavors 2) give me an excuse to recipe test lots of potatoes and 3) banish dry potatoes from my home forever.
I must say, I've succeeded on all counts. How? These potatoes are boiled, smashed, fried, and then coated in a lemon, garlic, rosemary, and Calabrian chili pepper vinaigrette.
The subtle heat, bright citrus, fresh garlic, and aromatic rosemary liven up a basic, creamy potato in a way that hits all the flavor checkboxes and is decidedly non-dry.
Cook these up with a protein of your choice (sausage, pork chops, an egg) for a full meal. These potatoes are already both vegetarian and vegan!
What You'll Need
Two Cloves Kitchen, as an Amazon Affiliate, makes a small percentage from qualified sales made through affiliate links at no cost to you.
Baby Potatoes I like to use yellow potatoes. They have the creamiest texture without easily crumbling when pressed.
Calabrian Chili Peppers You can generally find jars of these in the ethnic foods aisle of your local grocery store. You can also purchase them online here.
Lemons
Fresh Garlic
Fresh Rosemary You can also try oregano here in place of the rosemary if that's what you have on hand. If using dried herbs, use only half of the recommended amount in the recipe. You could also use an Italian spice mix.
Extra Virgin Olive Oil Using a high-quality extra virgin olive oil here is nice if you have access to it. With so few ingredients, each really has a chance to be tasted.
Kosher Salt I always recommend using kosher salt in recipes. If you use table salt or sea salt, be sure to decrease the amount you use. Kosher salt is a different shape and impacts food differently than other varieties.
Black Pepper I like using about 3 good cranks of black pepper from a pepper mill in the vinaigrette.
Fresh Herbs Optional, but a great addition. I like to use a combination of fresh basil, fresh parsley, and fresh dill.
How to Make Calabrian Potatoes
Boil the potatoes
Smash them
Fry on both sides
Coat in the lemon, rosemary, and chili vinaigrette
Top with fresh herbs if you'd like
Variations
You can use more or less chili peppers to make this spicier or milder. If you'd like, you can omit the chili peppers altogether if you aren't a fan of heat.
Instead of rosemary, try oregano in your vinaigrette.
You can put the potatoes in the oven instead of cooking them on the stovetop once they have been boiled and smashed. Heat the oven to 450°F, place the potatoes on a sheet pan and cook for about 20 minutes, flipping halfway through. The potatoes are done when they are golden brown and crisp on the exterior.
Instead of smashing your potatoes and frying, try cutting them into bite-sized pieces and coating in the vinaigrette to make a warm potato salad. This would be great with some fresh soft herbs.
How to Store
These potatoes are best right off of the stove when they are warm and crispy. However, boiled potatoes can easily store for 2 days in the fridge. I would leave the boiled potatoes whole and finish the remaining steps on the day you want to serve them.
Alternately, if you have leftovers, store the potatoes and vinaigrette separately in the fridge. Reheat the potatoes in a frying pan to re-crisp, then dress.
I've also put these potatoes, already dressed, in work lunches that were reheated in a microwave and they were still delicious, just more of a soft texture than a crispy one.
How to Make a Meal
These potatoes are a fantastic side dish. I have served them with several different proteins: fish, pork, chicken. They are amazing with sausage and steak, too.
Add some chopped bacon to your potatoes and serve with an egg for an upscale breakfast.
If you are vegetarian, again, eggs are an excellent pairing with these potatoes. My favorite eggs to pair are soft-boiled, poached, over-easy, or sunny side up so that the yolk can run and mix with the vinaigrette.
If you're vegan, you could make potato tacos or burritos and add a vegan protein such as beans or seitan and some avocado.
Recipes You'll Love
Try swapping out the grains in this Warm Grain Bowl with Goat Cheese and Greens for Calabrian Potatoes.
Serve these potatoes with Garlicky Sautéed Cruciferous Crunch and a protein for a complete meal.
Serve with these Pork Chops with Mushrooms and Shallots.
📖 Recipe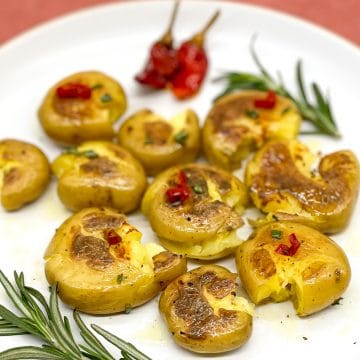 Calabrian Potatoes
Smashed, fried baby potatoes in a rosemary, lemon, garlic and Calabrian chili vinaigrette.
Print
Pin
Rate
Ingredients
Potatoes
1.5

pounds

yellow potatoes

baby or small variety
Instructions
Dressing
Add the olive oil, lemon juice, chili, rosemary, garlic, salt and pepper to a small jar or bowl and shake or stir to combine.
Potatoes
Place potatoes in a pot full of salted water on high heat and bring to a boil.

Once the potatoes are boiling, cook for 13-15 minutes, or until fork tender.

Once the potatoes are finished cooking, drain them.

Let the potatoes cool just a bit before smashing. Once cool enough to handle, smash each potato with a cup or the palm of your hand until you create somewhat flattened disks. Don't push too hard or you will smash the potato completely.

Put a frying pan or cast iron skillet on the stove over medium heat.

Once all potatoes are lightly smashed, add a bit of oil or pan spray to the pan and add the potatoes in a single layer, trying not to crowd them. You may need to make two batches.

Fry the potatoes on the first side for about 4 minutes. Flip and cook for an additional 4 minutes. Peek every once in a while on the second side to ensure it is not getting too dark.

Remove the potatoes from the pan, plate, then pour the dressing over.

Add fresh herbs if desired.
Notes
Be careful handling the boiled potatoes. If you crush right away, you may burn your hand. Try putting them in the freezer for a few minutes to cool.
You can use oregano in the recipe in place of rosemary.
Jarred hot cherry peppers are a great substitute for Calabrian chilis.
If you are sensitive to spice, try using less Calabrian chili or omit entirely.
Be sure to use less salt if you are using table salt or sea salt in place of kosher salt.
Keep an eye on the potatoes when they are frying. Be sure to turn down the heat and flip if they get too dark.
These potatoes are super versatile and pair well with different proteins. I recommend sausage, fish, pork chops, chicken, steak, eggs (soft-boiled, fried or poached).
Try adding these potatoes to a breakfast burrito or breakfast tacos.
These potatoes are both vegetarian and vegan.
Nutrition
Calories:
259
kcal
|
Carbohydrates:
31
g
|
Protein:
4
g
|
Fat:
14
g
|
Saturated Fat:
2
g
|
Polyunsaturated Fat:
2
g
|
Monounsaturated Fat:
10
g
|
Sodium:
592
mg
|
Potassium:
739
mg
|
Fiber:
4
g
|
Sugar:
2
g
|
Vitamin A:
40
IU
|
Vitamin C:
42
mg
|
Calcium:
23
mg
|
Iron:
1
mg