Most recipes for Trader Joe's Cruciferous Crunch, a mixture of shaved cruciferous veg including cabbage, kale and Brussels sprouts, are cold salads. I am a huge fan of salads, but sometimes you need something warm and cooked to feel really satisfied.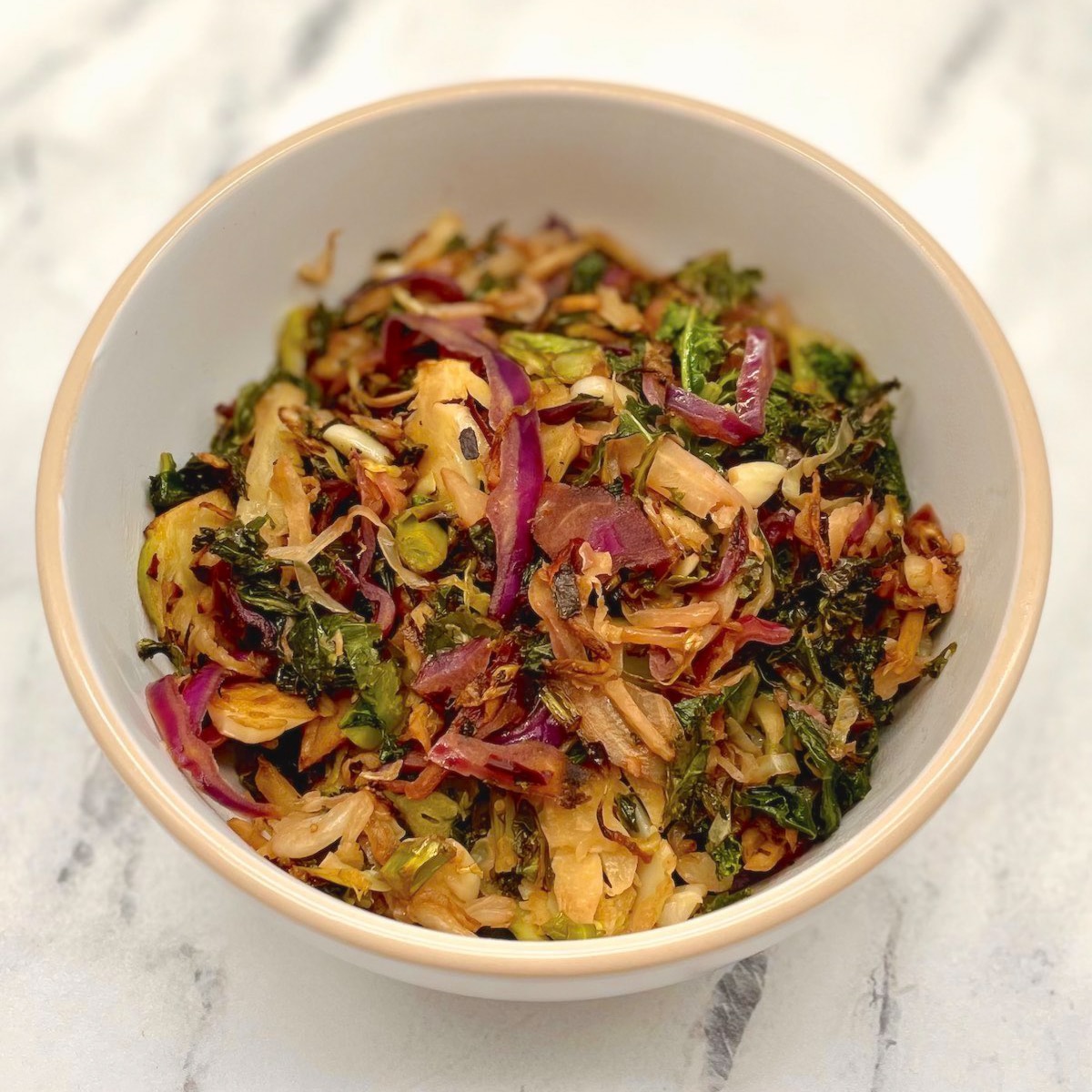 This Garlicky Sautéed Cruciferous Crunch is cooked in a mixture of olive oil and butter with garlic and some vinegar for brightness.
I call for the greens to be crisped, almost charred in places to create a dark brown edge that adds tons of depth and flavor.
My boyfriend likened this to street food - the char you find on tortillas and elote served by vendors along Sunset Boulevard near our home in Los Angeles. I think that perfectly captures what I was going for in this recipe. If it isn't obvious, he's a writer.
I have played with this recipe over the years and have found lots of golden garlic (not too dark - be careful not to burn the garlic or the dish will turn bitter), plenty of salt, a pinch of pepper flakes and a generous glug of vinegar are the secret to incredibly lively and savory greens.
What You'll Need
Two Cloves Kitchen, as an Amazon Affiliate, makes a small percentage from qualified sales made through affiliate links at no cost to you.
Trader Joe's Cruciferous Crunch or a mixture of thinly sliced cruciferous vegetables such as kale, cabbage and Brussels sprouts. This is also very good with just red or green cabbage.
Garlic
Extra Virgin Olive Oil This is my favorite brand.
Butter Unsalted is always my preference. If using salted, be careful with the amount of salt you add.
Salt I always write my recipes using kosher salt. Diamond Crystal is the best in my opinion.
Apple Cider Vinegar or Unseasoned Rice Vinegar
Chili Flakes I recommend chili flakes for just a bit of heat. If you are sensitive to this ingredient, feel free to omit.
How to Make
Cook garlic in butter and olive oil
Add bacon if you like
Add the greens
Almost burn them
Add vinegar
Variations
Mix of cruciferous veggies If you don't have access to a Trader Joe's store to buy the pre-prepared Cruciferous Crunch, this recipe is great with thinly sliced cruciferous vegetables - kale, cabbage, Brussels sprouts. A combination is great, but just red or green cabbage is also fantastic.
Swiss Chard I have also done this with Swiss chard and it has come out nicely. You can start cooking the stems before the leaves so that they are not crunchy at the end. I would use less butter and olive oil for this preparation because the leaves cook down so much.
Collard Greens While a nontraditional preparation of collards, I have made this recipe with them. They do not have their typical long-stewed texture, but the vinegar helps soften them a bit and I don't mind a bit of texture in my veggies. You can always cook them for a bit longer on lower heat to achieve a softer texture.
How to Store and Reheat
While this recipe, like most, is best right off the stove, it saves well as leftovers. Store in an air-tight container or in a bowl with plastic wrap, aluminum foil or a reusable food wrap. Leftovers should placed in the fridge within 2 hours and be eaten within 3-5 days.
I often make a big batch of this and portion it out for lunches with some brown rice and a protein. You can put it in the microwave at work and have a healthy meal ready to go.
How to Serve
Adding a chopped pork product such as bacon or pork belly to the beginning of this dish and a grain could make it a full meal. I have made this over brown rice with a halved soft or medium-boiled egg on top - so good. While the bacon is an excellent addition, the greens are delicious on their own.
If you're vegan, feel free to replace the butter with 1 tablespoon olive oil. The end result will be slightly different but equally enjoyable.
You can also serve these greens alongside a protein - pork chops or sausage would be great. I've had this with hard-seared steak and smashed potatoes, too. The brightness of the vinegar plays excellently with anything salty and meaty.
Other Recipes You'll Love
If you love these greens, definitely try my Grain Bowl with Goat Cheese and Greens.
Looking for more Cruciferous Crunch recipes? Try this Warm Cruciferous Cranberry Slaw from Trader Joe's.
These Braised Greens with Crispy Garlic and Miso Butter are also delicious.
📖 Recipe
Garlicky Sautéed Cruciferous Crunch
Trader Joe's Cruciferous Crunch sautéed with garlic and olive oil finished with vinegar for a bright, savory side.
Print
Pin
Rate
Ingredients
10

ounces

Trader Joe's Cruciferous Crunch

or other thin-sliced cruciferous greens such as cabbage

2

tablespoons

unsalted butter

1

tablespoon

extra virgin olive oil

4

cloves

garlic

crushed, skins removed

2

tablespoons

apple cider vinegar

¼

teaspoon

chili flakes

optional

½

teaspoon

kosher salt

2

slices

chopped bacon

optional

black pepper

to taste
Instructions
If using bacon, only use 1 tablespoon of butter and oil.

Add the butter and olive oil to a large skillet over medium heat. If you are using bacon, add it now and let it cook for 1-2 minutes.

Crush the garlic against a cutting board with the bottom of a can or jar.

Once the butter has melted, add the garlic.

Sauté the garlic on medium for a few minutes until just golden. Break the garlic apart more with a wooden spoon.

Remove the garlic and bacon with a slotted spoon. Reserve for later.

Increase the heat to medium high, add the greens and stir. Then stop stirring! You want the greens to make contact with the pan so they can develop color.

Add the salt, pepper and red pepper flakes, if using. Cook the greens without stirring for 5-8 minutes or until the bottom is somewhat browned, almost charred in places.

Reduce the heat to medium low. Add back in the garlic and bacon (if using).

Add the vinegar and cook for about 5 minutes for the flavors to combine and the greens to soften a bit. If you prefer the greens softer, cook for longer on a lower heat. The vinegar will mellow and add a brightness to the greens. Taste the greens and see if you need additional salt or vinegar.
Notes
Any mixture of thinly sliced cruciferous greens would be great in this recipe. You are also welcome to use just one vegetable, such as cabbage.
If you choose to make this recipe with only Brussels sprouts, it may take a bit longer to cook, especially if they are not sliced thin.
I have also used this with non-cruciferous vegetables such as Swiss chard with great results. I would start the stems of the Swiss chard before the greens.
Collard greens also work in this recipe, but will not have the same long-stewed texture as traditional collard greens.
These greens reheat well and are a great as a part of a pre-prepared lunch
If this is a major component of the meal, such as in a grain bowl, I have doubled the serving for an adult and use a whole 10 ounce bag for 2 people.
If you are vegan, feel free to replace the butter with 1 tablespoon olive oil. The taste will be slightly different but equally good.
Nutrition
Serving:
2.5
ounces
|
Calories:
168
kcal
|
Carbohydrates:
7
g
|
Protein:
5
g
|
Fat:
14
g
|
Saturated Fat:
6
g
|
Polyunsaturated Fat:
2
g
|
Monounsaturated Fat:
6
g
|
Trans Fat:
1
g
|
Cholesterol:
22
mg
|
Sodium:
443
mg
|
Potassium:
391
mg
|
Fiber:
1
g
|
Sugar:
1
g
|
Vitamin A:
7297
IU
|
Vitamin C:
86
mg
|
Calcium:
115
mg
|
Iron:
1
mg