Do you know those jars of giant pickles you sometimes see on deli counters? I buy those pickles. That, to me, is an appropriate amount of pickle.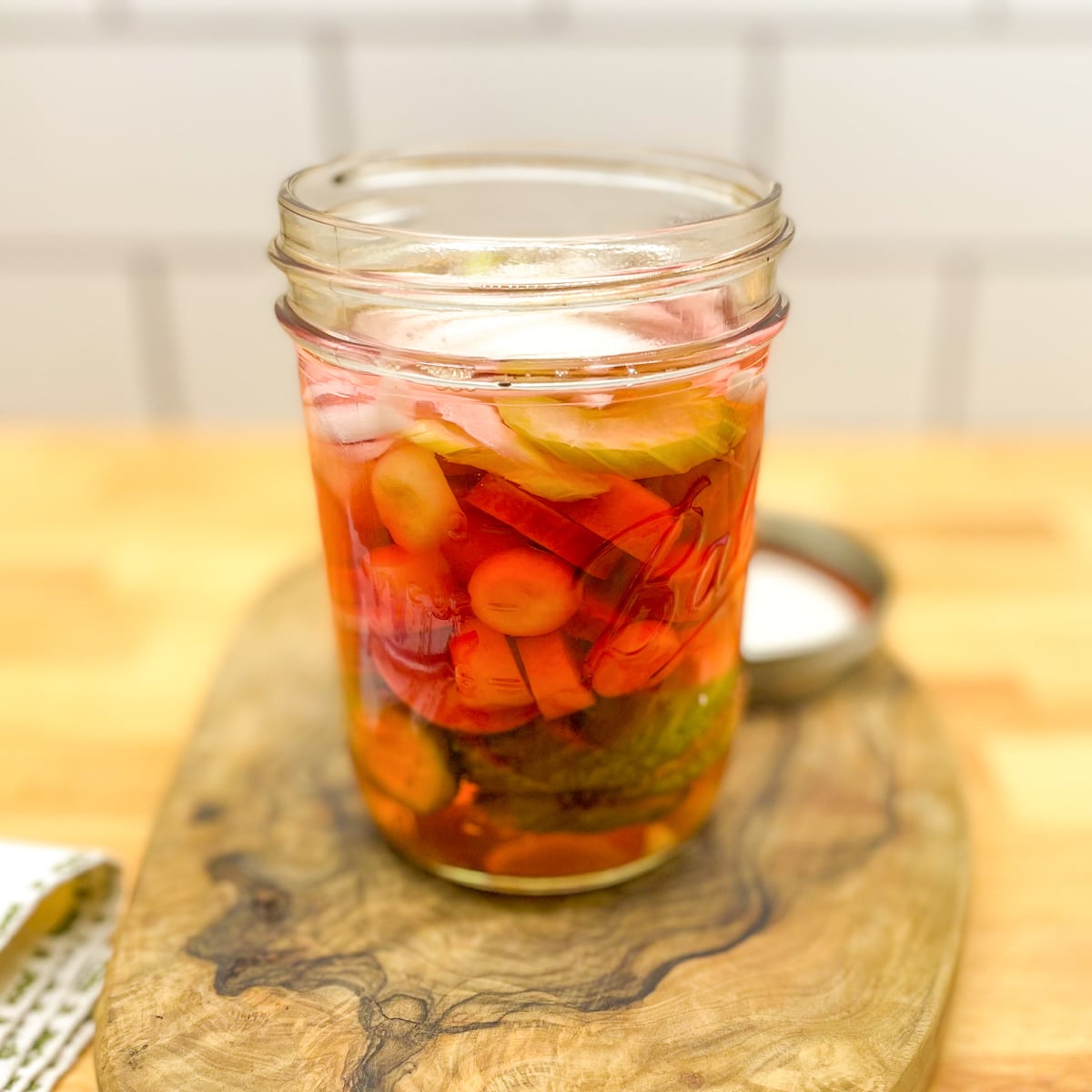 Pickles are easily one of my top five favorite foods. These quick mixed pickles take any vegetable that you have on hand and turn them into bright, acidic, slightly sweet pickles in just a few minutes.
Quickly brined pickles such as these are also known as refrigerator pickles because they don't require any special techniques, canning equipment or sterilization. They are so easy and versatile that I always have a jar on hand.
Jump to:
What You'll Need
Two Cloves Kitchen, as an Amazon Affiliate, makes a small percentage from qualified sales made through affiliate links at no cost to you.
Mixed vegetables Any mix of relatively hard vegetables such as cucumber, carrot, celery, onion, garlic, spicy or sweet peppers, radish, cauliflower… really, I haven't tried anything yet that does not pass the test.
Rice Vinegar I recommend using unseasoned rice vinegar so that you can dictate the amount of salt and sugar in the recipe.
Sugar
Kosher Salt such as Diamond Crystal kosher salt
Jar or other nonreactive container
How to Make
Chop the veggies
Place them in the jar or nonreactive container
Bring the other ingredients to a boil, stir and pour over
Cover and chill
Enjoy over the next 2-4 weeks
Variations
For a spicy mixed pickle, you can add sliced hot peppers or red pepper flake to the brine.
For a saltier mixed pickles, play with the level of salt to find the right balance for you. Try adding 1 teaspoon at a time to the brine and tasting as you go.
How to Store
Store mixed pickles in a sealed container in the fridge.
You can make these pickles several days in advance. I would recommend 2-3 days for the strongest flavor.
The pickles can change in color if you add vegetables with a redder pigment such as red onion, purple carrots or radishes. This is normal and safe.
FAQ
How long can you store these pickles in the fridge?
If your batch contains onions or garlic, 2 weeks. Batches without these ingredients can be enjoyed for a month.
Can I make these pickles sweet?
Yes! You can use seasoned rice vinegar in place of the vinegar, salt, and sugar recommended in the recipe or add extra sugar to the existing recipe.
Can I can these pickles to last longer?
No. These pickles do not have the proper ingredients to be shelf stable. They are meant to be made and enjoyed quickly!
What can I use if I don't have a glass jar?
Try using a different nonreactive container, such as a ceramic baking dish.
How to Serve
I like eating these pickles straight as a snack, but they are great on sandwiches, added to salads or served alongside a heavy meat dish to balance the richness.
I like making batches of these mixed pickles, but I also like making a full batch of one vegetable for specific uses.
Pickled celery alongside hot wings with crumbled bleu cheese is a hit. Quick pickled jalapeños are super tasty chopped and mixed into a tuna salad. Pickled onions are fantastic on open-faced sandwiches and tartines such as the gravlax tartine below.
Other Recipes You'll Love
If you like this recipe, check out my Gravlax Tartine with pickled onions and preserved lemon.
Try adding these mixed pickles to a charcuterie board with Almond Pesto and Roasted Cherry Tomatoes on the Vine.
For more quick pickle variations, try these recipes.
📖 Recipe
Quick Mixed Pickles
A combination of mixed vegetables pickled in a quick brine of unseasoned rice vinegar, salt and sugar.
Print
Pin
Rate
Instructions
First, add vinegar to a small pot over medium high heat.

Add the salt and sugar and let the mixture come to a simmer. Stir to combine.

Add the chopped vegetables to a glass jar or other nonreactive container, such as a ceramic dish.

Pour the vinegar, salt and sugar mixture over the vegetables, being sure not to burn yourself or overfill the container.

The jar will be hot. Carefully secure the lid of the container and move to the refrigerator to cool.
Notes
You can use any mix of

relatively hard vegetables such as cucumber, carrot, celery, onion, garlic, spicy or sweet peppers, radish, cauliflower… really, I haven't tried anything yet that does not pass the test. 

Each serving is approximately ½ cup.
I would not recommend using softer vegetables like lettuces.
Use caution when handling hot liquid. The jar will also become hot once the liquid is poured in. 
The flavor of these pickles will intensify over time. They are delicious right away but try them again in 2-3 days!
Be sure to use any pickles with onion or garlic within 2 weeks for food safety. Batches with no onion or garlic can be safely consumed up to 4 weeks later.
Nutrition
Calories:
44
kcal
|
Carbohydrates:
8
g
|
Protein:
1
g
|
Fat:
1
g
|
Saturated Fat:
1
g
|
Polyunsaturated Fat:
1
g
|
Monounsaturated Fat:
1
g
|
Sodium:
1768
mg
|
Potassium:
137
mg
|
Fiber:
1
g
|
Sugar:
7
g
|
Vitamin A:
4
IU
|
Vitamin C:
9
mg
|
Calcium:
19
mg
|
Iron:
1
mg