Crisp spicy pickled onions are one of my favorite ways to add bright, slightly sweet, tangy flavor to a wide variety of dishes. The heat from the pickled serrano peppers makes this a uniquely delicious condiment you'll want to put on everything.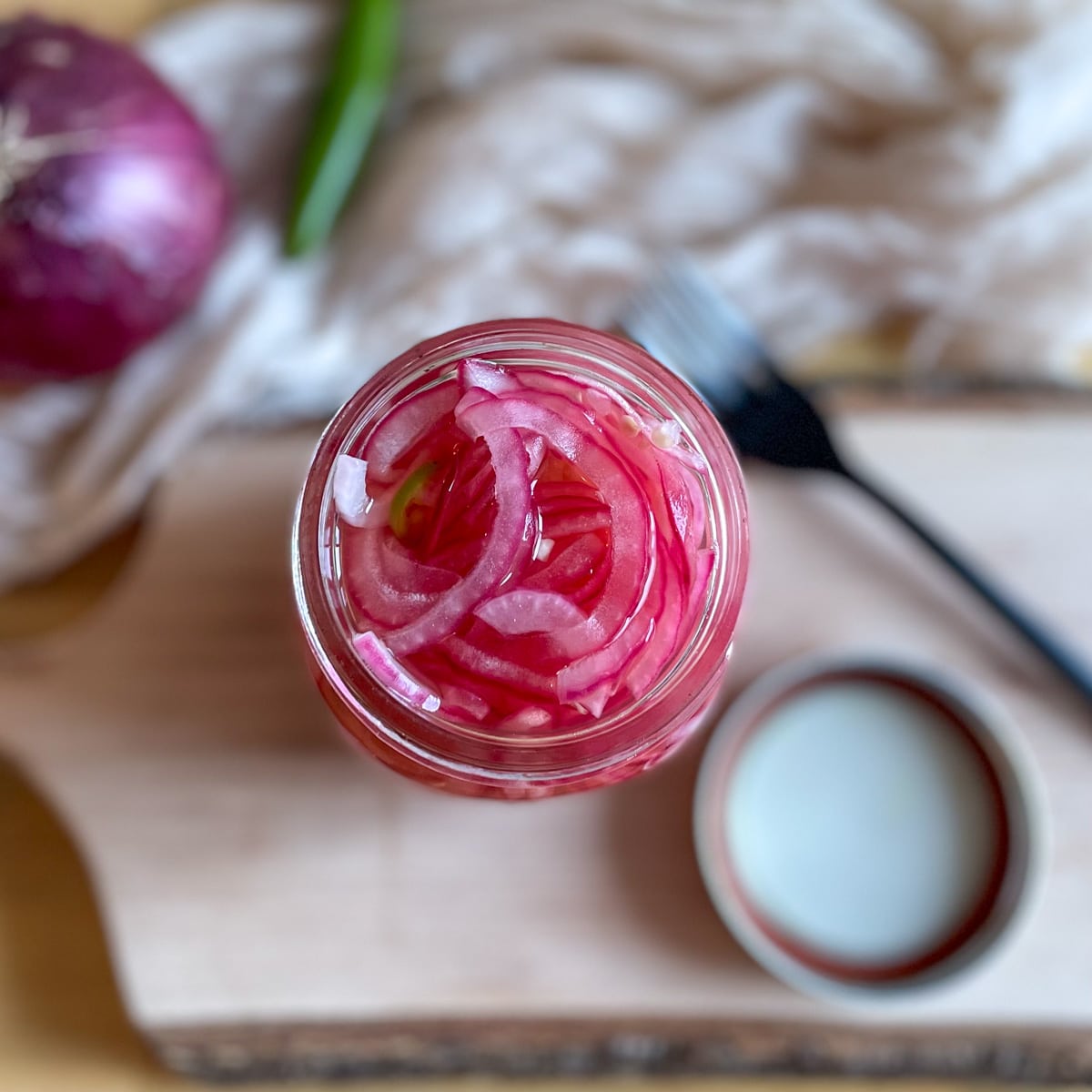 Jump to:
Anyone who knows me well knows I am a pickle fanatic. I will eat them straight out of the jar, day or night, rain or shine - you get the point.
I have yet to find any use for these spicy pickled onions that I don't enjoy.
I have also yet to find any use for them that the members of my household do not enjoy. This speaks volumes, as my audience is people whose enthusiasm for pickles is more... restrained.
These pickled onions can be used in countless ways - in sandwiches, salads, burgers, over Mexican dishes like enchiladas or chilaquiles, or on avocado or ricotta toast. I always have a jar on hand.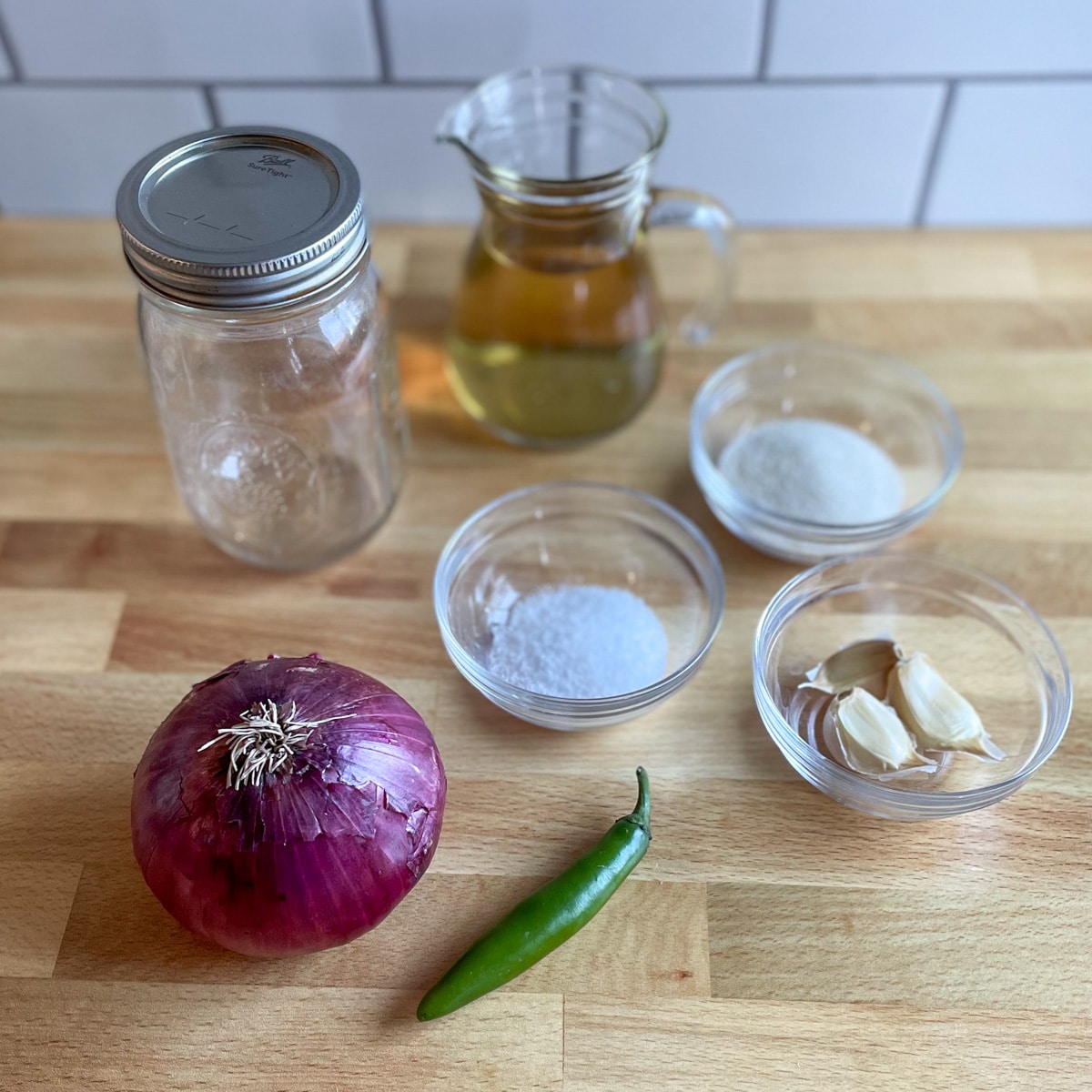 What You'll Need
Two Cloves Kitchen, as an Amazon Affiliate, makes a small percentage from qualified sales made through affiliate links at no cost to you.
Red Onions Red onions are most commonly used in pickled applications, but feel free to use yellow or sweet onion here.
Serrano Peppers Use one serrano for a milder batch and two for a spicier one. You can use jalapeños or other hot peppers here, too. Be cautious if using anything extremely spicy like habanero peppers.
Rice Vinegar

I suggest using

unseasoned rice vinegar so that you can control the amount of salt and sugar in the brine.
Sugar I like using organic cane sugar here, but regular sugar is just fine.
Kosher Salt My recommendation is to use the brand Diamond Crystal because it allows you to easily adjust without oversalting. It is shaped in flakes as opposed to grains, which means it has a less concentrated salty flavor by volume.
Fresh Garlic You could leave this out if you wanted, but I'm a big proponent of adding garlic wherever you can.
How to Prepare
Step One Slice a medium onion. You are looking for it to fill about three quarters of a 12 to 16 ounce glass Mason jar.
Be sure to slice your onions thin for the most concentrated flavor. This will allow the onions to soak up brine more easily.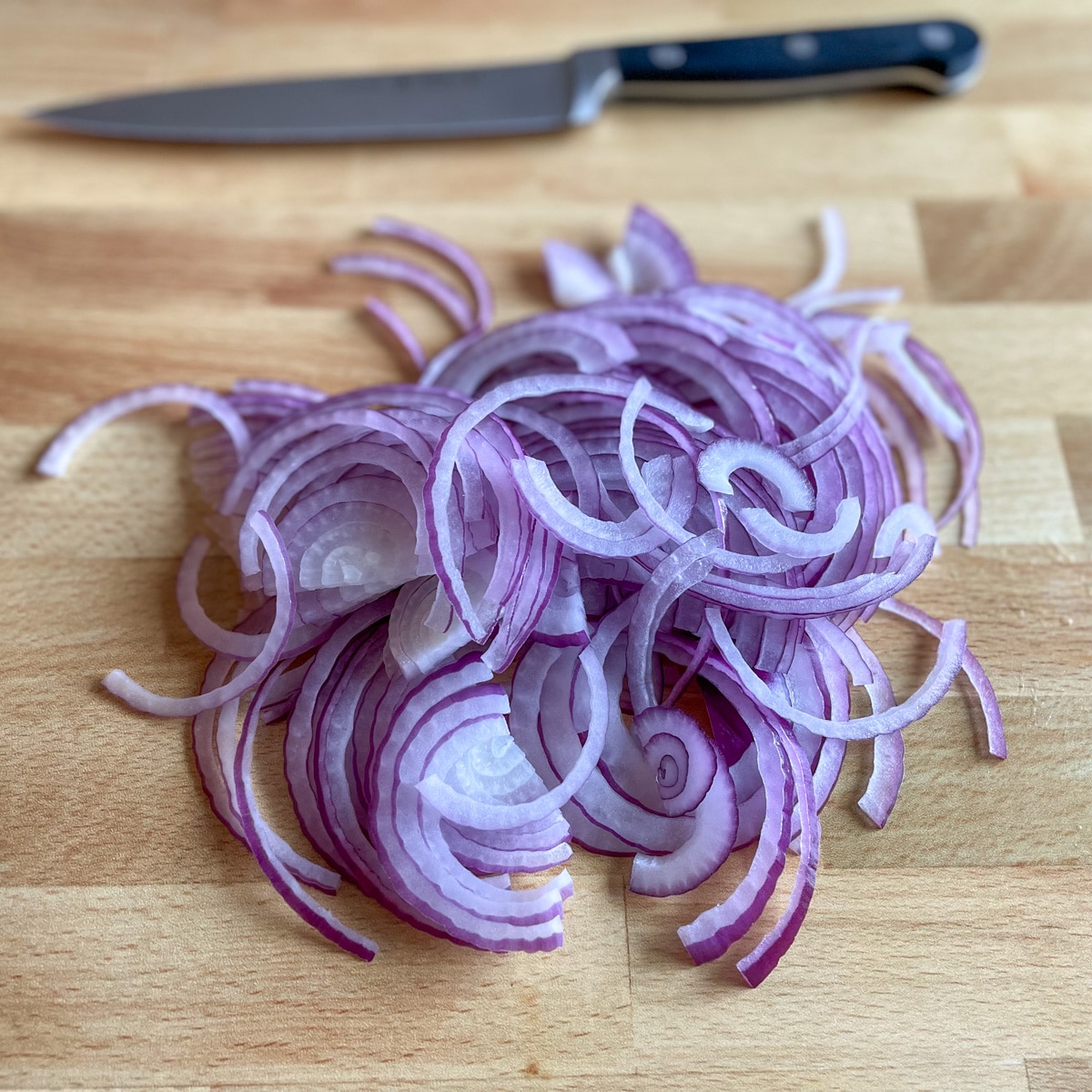 Step Two Slice the serrano pepper(s).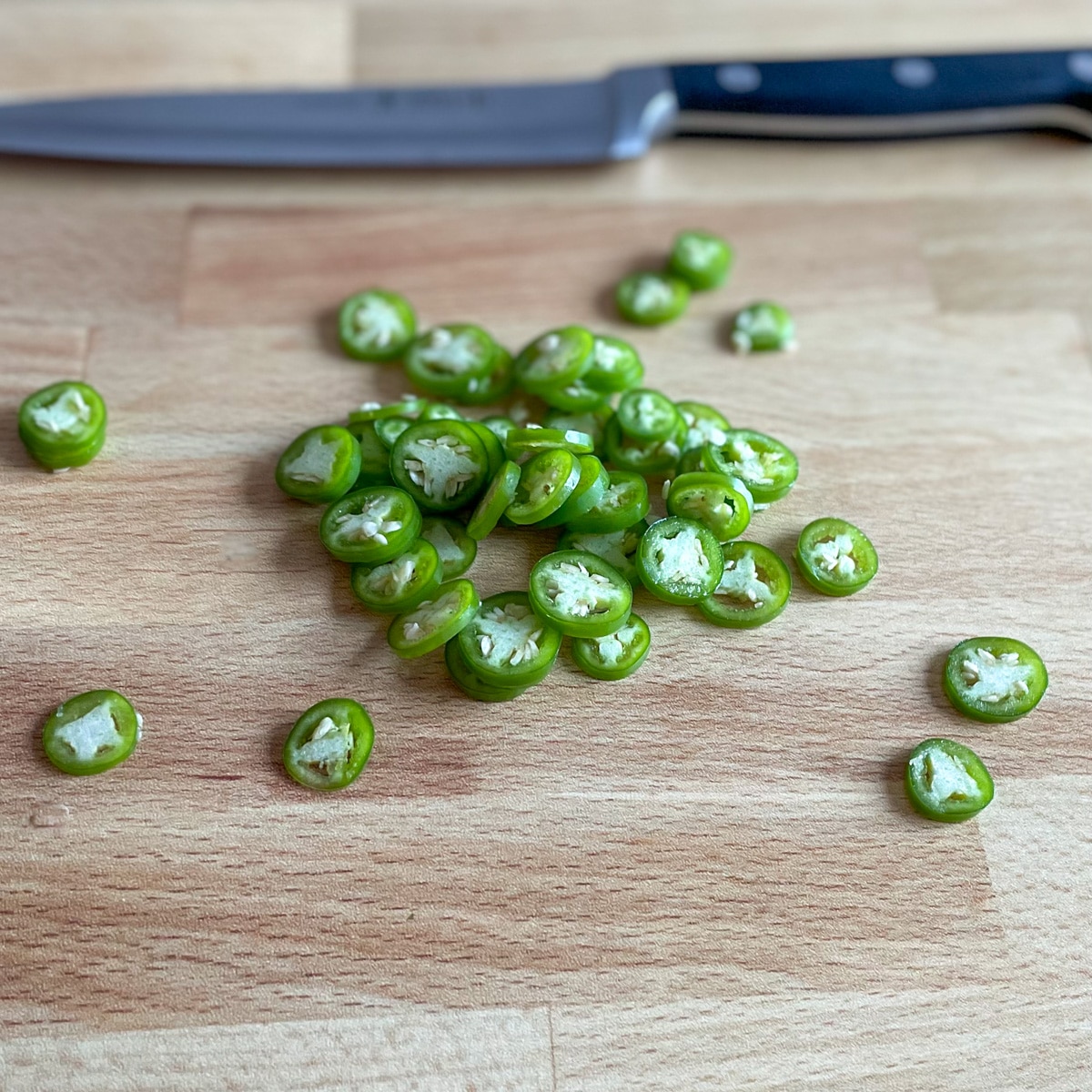 Step Three Smash the garlic cloves with the heel of your knife or your palm and peel.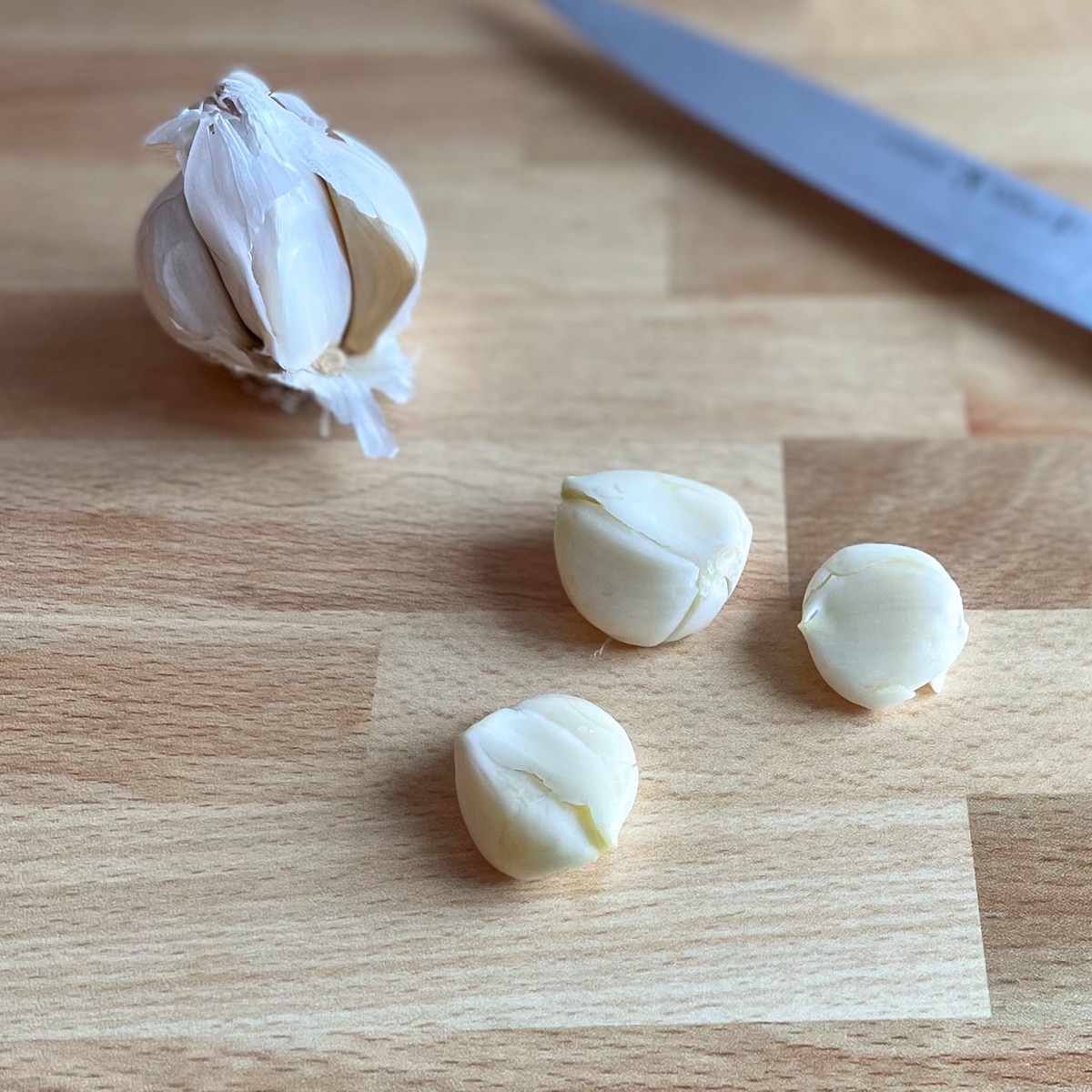 Step Four Add the onion, serrano peppers, and garlic to a 12 to 16 ounce Mason jar or other nonreactive container, such as a ceramic baking dish.
If you only have 32 ounce Mason jars, double the recipe for the brine. There is an option to adjust the serving size by hovering your mouse over the number next to "Servings" in the recipe card.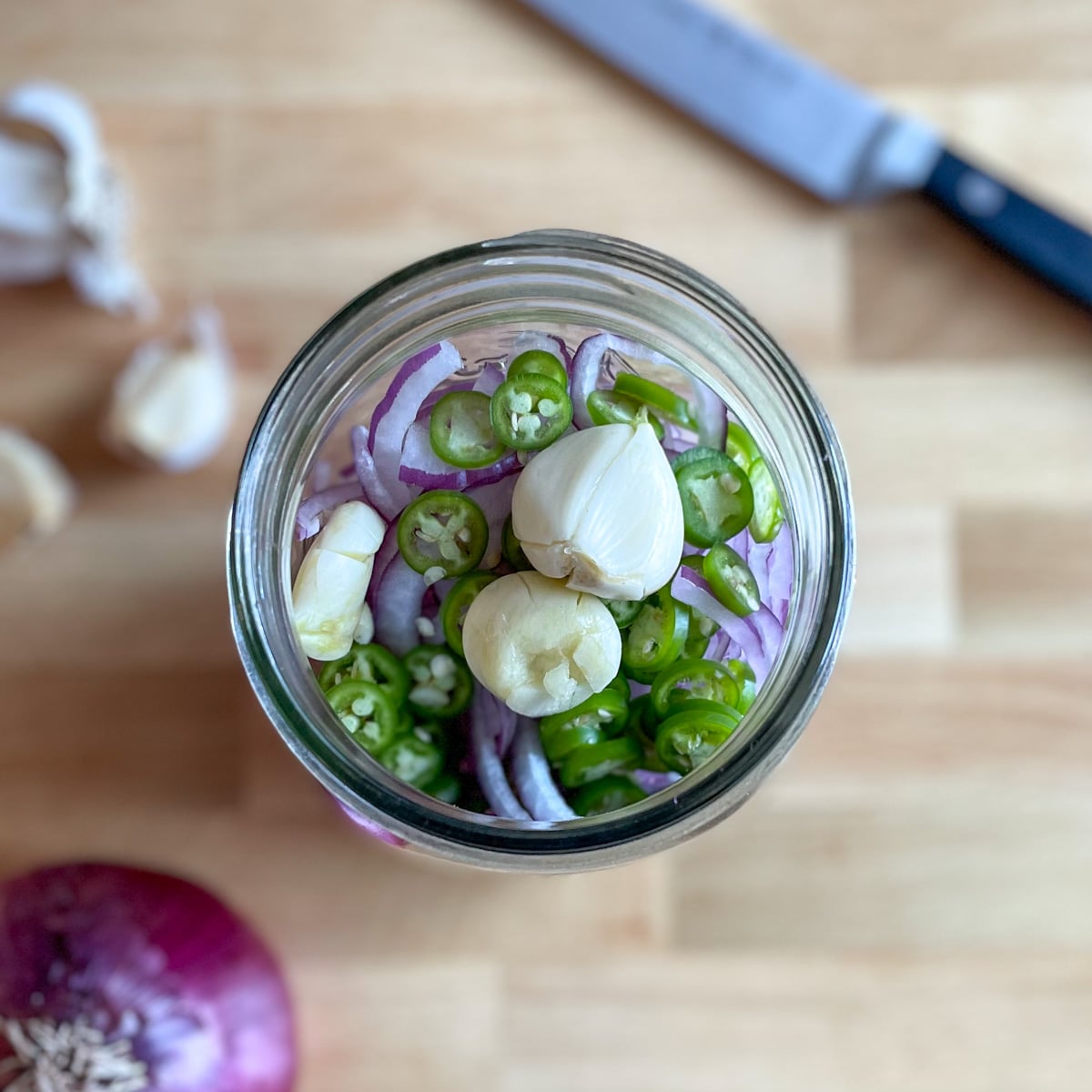 Step Five Add the salt, sugar, and vinegar to a pot or saucepan. Bring up to a boil.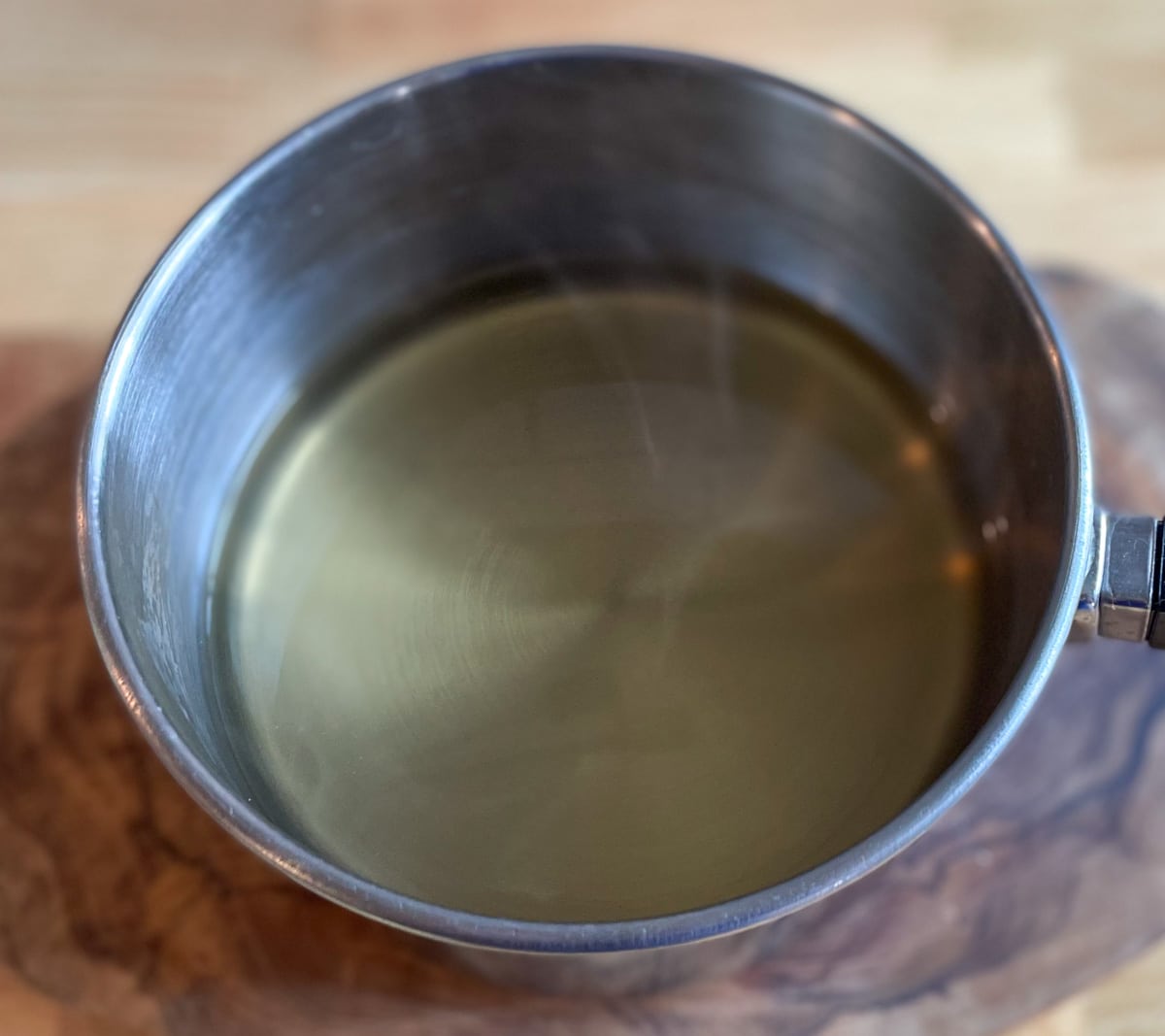 Step Six Pour the liquid/brine over the ingredients in the glass jar. Let the jar cool enough to handle (about 30 minutes) before serving or adding the lid. Store in the fridge.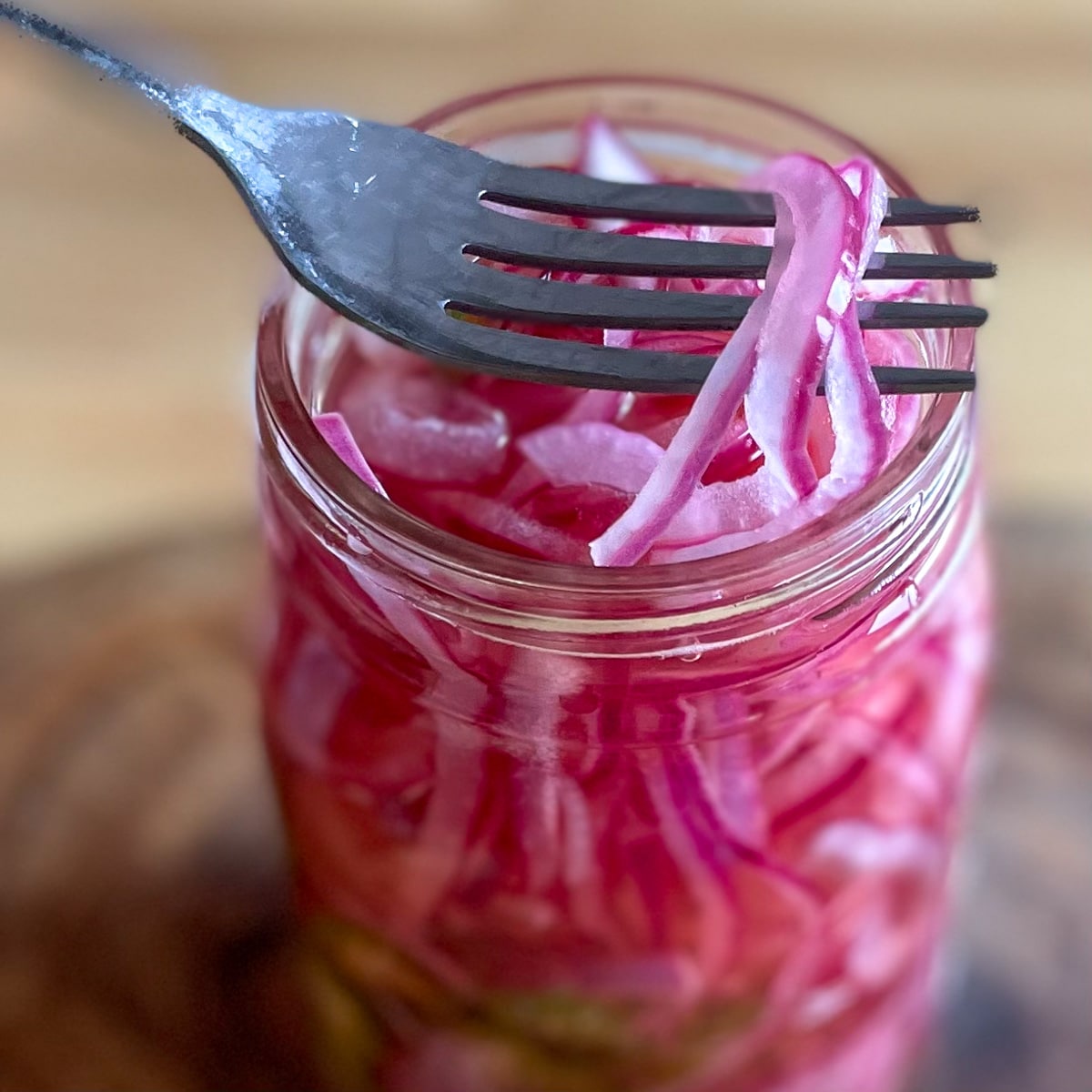 You can use these onions right away, but the flavor will intensify over time. Try them again in 2-3 days for an even stronger pickle!
Variations
Other Hot Peppers Try using green or red jalapeños in place of serrano peppers.
Regular Pickled Onions Omit the hot peppers altogether for a more traditional quick pickled onion.
Sweeter Pickled Onion You can add a little bit of extra sugar, or try using seasoned rice vinegar. If using seasoned rice vinegar, omit the salt and sugar recommended in the recipe. Seasoned rice vinegar contains sugar and salt.
Saltier Pickled Onion Gradually add a bit more salt at a time to the brine as it is cooking and taste for seasoning (without burning yourself on the hot liquid - I've made that mistake!) if you prefer a saltier pickle.
How to Store
Be sure to consume within about 2 weeks for food safety reasons.
For the strongest flavor, let them sit in the fridge for 2-3 days. Feel free to eat them as soon as they are cool enough to handle, though.
Keep in mind that red onion will impart its color into the brine, turning the onions more pink and leaving the garlic and peppers with pink or reddish hue. This is completely normal and safe.
FAQ
Can I use something other than serrano peppers?
Yes! Try green or red jalapeños in place of serrano peppers.
How long will pickled onions last in the fridge?
These will last for about 2 weeks in the fridge.
Can I can these to store them longer?
Unfortunately no. This recipe does not have the proper ingredients for safe long-term storage.
What can I use if I don't have a glass jar?
Try another non-reactive container like a ceramic baking dish, then transfer to a tightly sealed container to refrigerate.
Can I use a different type of onion?
Absolutely. Try a yellow, white, or sweet onion and see what you like best.
How to Serve
I eat these spicy pickled onions frequently as a snack, but they are incredibly versatile. Try some of the ideas below to make them into a full meal!
Nachos - pile some tortilla chips, cheese, black beans, shredded or ground meat if desired, green onions, salsa, sour cream - whatever you want! Top the nachos with pickled onions and pickled serrano peppers.
For ideas on how to upgrade your nachos, try these tips.
Sandwiches - Add pickled onions to a simple turkey sandwich, an Italian sub, or a fancy grilled cheese like this Pesto and Artichoke Grilled Cheese.
Salads These onions are fantastic over this Grilled Chicken and Kale Salad, a Mexican-inspired salad with Cilantro Lime Dressing, or over a traditional Caesar Salad.
Toasts - Try adding these pickled onions to an avocado toast, ricotta toast, or to a piece of thick toasted bread with scrambled eggs.
Mexican Dishes - Add spicy pickled onions and pickled serrano peppers to your favorite tacos like these Spicy Potato Soft Tacos, burritos, Slow Cooker Chicken Enchiladas, Carne Asada Quesadillas or other Mexican dishes for some added brightness and spice. I love them over Chilaquiles!
Burgers - Spicy pickled onions in place of regular onions will transform your burger. This is my absolute favorite turkey burger of all time.
Bowls - Add these on top of a grain bowl or protein-based bowl of your choice, like this Farro Breakfast Bowl or a bowl of this wonderful Easy Chili Recipe.
Too much spicy food? Try one of these ginger chews!
Recipes You'll Love
If you're in the mood for more spicy food, try these recipes:
📖 Recipe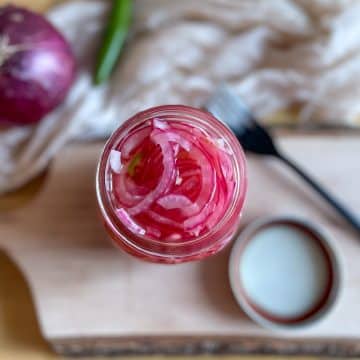 Spicy Pickled Onions
Bright, tangy, crisp spicy pickled onions are a perfect condiment for nachos, sandwiches, salads, burgers, eggs, and more!
Print
Pin
Rate
Instructions
Thinly slice onion. Slice serrano pepper. Smash and peel garlic. Add onion, serrano, and garlic to glass jar or other nonreactive container.

Place pot or saucepan over medium-high to high heat on stovetop. Add vinegar, sugar, and salt. Bring brine to a boil, stirring occasionally to dissolve salt and sugar.

Remove brine from the stove and pour over the onion in the glass jar or container.

Let cool for 30 minutes before serving or adding lid and transferring to fridge.
Notes
If you only have a 32 ounce Mason jar, double the brine.There is an option to adjust the serving size by hovering your mouse over the number next to "Servings" in the recipe card.
These pickles can be stored safely in the fridge for 2 weeks.
For milder pickled onions, use 1 serrano. For spicier onions, use 2.
This recipe cannot be traditionally canned.
If you can't find serrano peppers, try jalapeños in their place.
Add a

½ teaspoon of dried oregano for pickled onions similar in taste to escabeche.

Try these onions on salads, sandwiches, burgers, Mexican dishes, ricotta or avocado toast, eggs, or anywhere else you'd like some bright, tangy heat and a bit of crisp texture.
Nutrition
Calories:
19
kcal
|
Carbohydrates:
3
g
|
Protein:
0.1
g
|
Fat:
0.02
g
|
Saturated Fat:
0.001
g
|
Polyunsaturated Fat:
0.003
g
|
Sodium:
873
mg
|
Potassium:
9
mg
|
Fiber:
0.1
g
|
Sugar:
3
g
|
Vitamin A:
7
IU
|
Vitamin C:
1
mg
|
Calcium:
3
mg
|
Iron:
0.03
mg