I am so excited to introduce this pineapple habanero sauce recipe. It is a bright, fruity, super spicy condiment that I use much like a chutney or salsa on everything from eggs to sandwiches to steak. Because it is a fresh sauce (not cooked), it's ready in just a few minutes!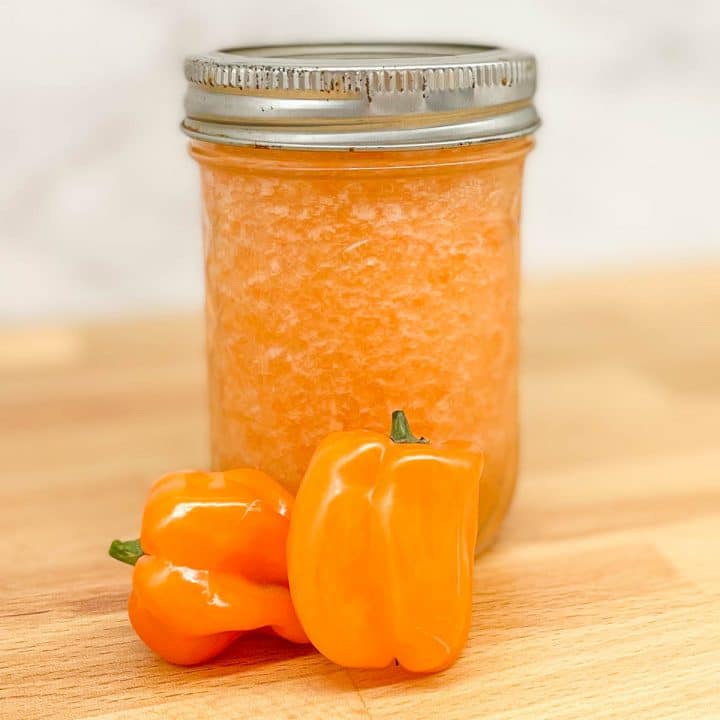 Jump to:
At any given time, we have 5 or more hot sauces in rotation in our home. Honestly, probably closer to 10. OK – I counted – it's currently 13.
What can I say? Spice is the… spice of life.
This sauce has a thicker consistency than most traditional hot sauces (a bit like the texture of salsa verde) because it contains pineapple, habanero, onion, garlic and carrot. Just shake each time you use and spoon or pour out. Alternately, you can strain a portion of the pulp for a thinner sauce.
If you only like "medium" hot sauces, be cautious with this one. Depending on the habanero peppers, this sauce can either be pretty moderate in heat (for me!) or quite spicy.
If you try this sauce and love the flavor but it's way too spicy, try using 1 habanero or devein (remove the white inner membrane and seeds) before blending.
What You'll Need
Two Cloves Kitchen, as an Amazon Affiliate, makes a small percentage from qualified sales made through affiliate links at no cost to you.
Pineapple I use canned chopped pineapple packed in juice. You'll need the juice for the sauce. You could use fresh pineapple and fresh pineapple juice as well.
Pineapple Juice
Habanero Peppers Handle these with caution. I recommend using a pair of gloves when handling these peppers and washing your hands afterward. Even then, still be careful when touching your face/eyes while making the sauce.
Yellow Onion I've also tried this with white onion and sweet onion. White onion produces a sharper sauce and sweet onion is less pronounced.
Carrot
Fresh Garlic
Apple Cider Vinegar
Kosher Salt I always recommend kosher salt when cooking. I find it easier to taste as you go, harder to over-salt, and that it has an overall preferable flavor. Using a table or sea salt in this recipe will be quite salty.
How to Make Pineapple Habanero Sauce
Measure the ingredients
Toss everything in a high speed blender or food processor
Blend/process until smooth
Use on everything!
How to Store
This sauce can be stored in a glass jar or bottle. I recommend keeping it refrigerated any time it is not in use to preserve the bright, fruity flavor and for food safety reasons. Fresh sauces will not last as long as cooked or commercially bottled sauces.
This sauce should be eaten within 2 weeks. Feel free to use the serving adjustment feature in the recipe card below to scale the sauce output up or down.
FAQ
How long will this last in the fridge?
This sauce should be stored in an airtight container and consumed within 2 weeks.
Can you freeze this sauce?
You can freeze this sauce and use within 3 to 6 months. Keep in mind that freezing can reduce some of the acidity in the sauce.
How do I make this sauce a little less spicy?
Try deveining the habanero peppers - that is, removing the white membrane and seeds from the interior of the pepper. Be sure to wear gloves and be very careful not to touch your face!
Can you use this as a marinade?
I don't recommend using the sauce itself as a marinade because it denatures (that is, changes the natural qualities of) the proteins in the meat. This creates an unusual texture.
How much should I use?
While this sauce can be fairly spicy, I use the same amount as a salsa or chutney rather than a few drops like a hot sauce. I often use 2 to 3 tablespoons to bring an otherwise plain meal to life.
How to Serve
You'll be surprised how well the pineapple and apple cider vinegar pair with tons of different foods.
Chicken Sandwiches: My favorite use for this sauce is on a grilled or breaded chicken (or vegetarian/vegan chicken substitute) sandwich with some mayo. This Italian Chicken Cutlet is perfect for sandwiches.
Grilled Steak: This is also amazing served alongside grilled steak – I recommend a rosemary and garlic-marinated skirt or flank steak.
Breakfast: This sauce is amazing on eggs or as a dip for sausage or bacon.
Other Proteins: Pork chops, fish, tofu, beans - they all pass the test!
More ideas for serving:
On roasted vegetables, especially carrots, potatoes, or broccoli
Mixed into a taco salad
On nachos with spicy pickled onions
On shredded cabbage slaw with some neutral oil for a bright, tangy side
Recipes You'll Love
These recipes are fantastic topped with my pineapple habanero sauce:
Mini Chicken & Biscuit Sandwiches – I think just mayo and this habanero sauce are the perfect toppings here.
Turkey Burgers Recipe - This is the best turkey burger recipe I've ever tried. Swap the pineapple habanero sauce for the mustard and ketchup.
📖 Recipe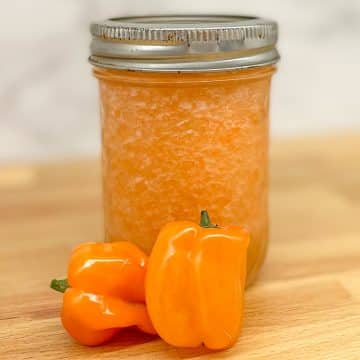 Pineapple Habanero Sauce
Spicy, fresh pineapple habanero sauce with garlic, onion, carrot and apple cider vinegar. This sauce is a bit thicker than traditional hot sauces - feel free to shake it up before using and spoon it on!
Print
Pin
Rate
Servings:
32
1-tablespoon servings
Instructions
Remove top stem from habanero peppers (gloves recommended). Do not devein.

Place habaneros, onion, garlic, carrot, pineapple, pineapple juice, vinegar and salt in the base of a high speed blender or food processor.

Blend/process until smooth.
Notes
I recommend using gloves while handling habanero peppers. Be sure to wash your handles thoroughly and be cautious touching your face afterward.
If you try this sauce and love the flavor but it's way too spicy, try using 1 habanero or devein (remove the white inner membrane and seeds) before blending.
This sauce is thicker than a typical hot sauce. You can strain a bit of the pulp if it is too thick for you.
I prefer to use 2-3 tablespoons of the sauce more like a chutney or salsa on top of a dish.
This sauce can vary significantly in heat levels depending on the habaneros you purchase. If you'd like, try one pepper first and then add a second if you feel it needs more heat.
This sauce is incredibly versatile: try on breakfasts like eggs and bacon, on proteins like chicken, steak, tofu or beans, on nachos, on salads, sandwiches or on roasted vegetables.
I do not recommend using this sauce as a marinade as it denatures the proteins (changes the texture) of meats.
Eat within in two weeks for proper food safety.
Feel free to adjust the serving in the above recipe if 16 ounces will be too much (or too little!) for two weeks.
Nutrition
Serving:
1
tablespoon
|
Calories:
6
kcal
|
Carbohydrates:
1
g
|
Protein:
1
g
|
Fat:
1
g
|
Saturated Fat:
1
g
|
Polyunsaturated Fat:
1
g
|
Monounsaturated Fat:
1
g
|
Sodium:
74
mg
|
Potassium:
23
mg
|
Fiber:
1
g
|
Sugar:
1
g
|
Vitamin A:
326
IU
|
Vitamin C:
3
mg
|
Calcium:
3
mg
|
Iron:
1
mg