These quick, easy, versatile Italian chicken cutlets may be exactly the salty, crispy, savory weekday treat you need! With panko breadcrumbs, Italian seasoning, and a squeeze of bright lemon juice, this chicken cutlet is the perfect bite.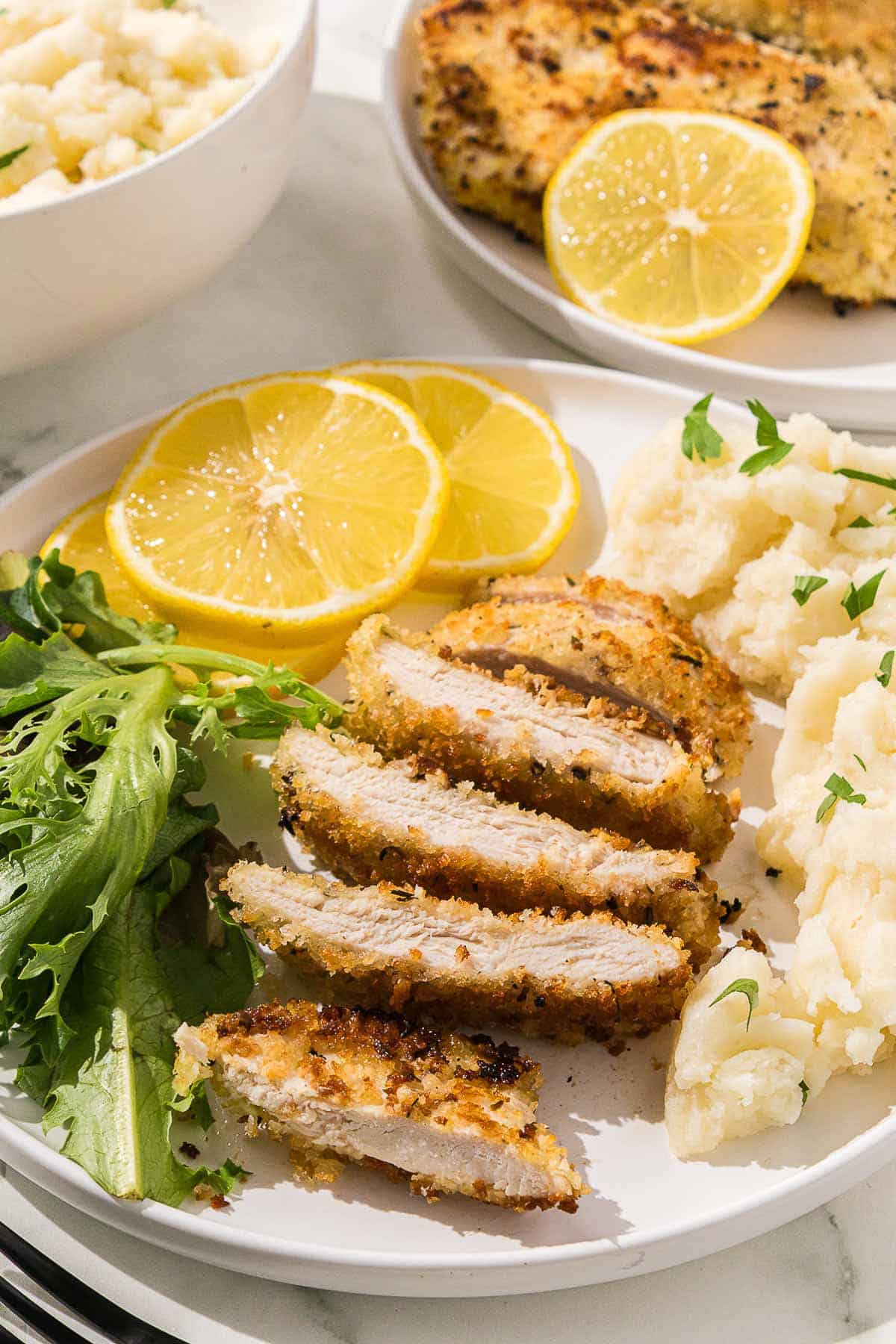 Jump to:
Why You'll Love This Italian Chicken Cutlet Recipe
These Italian breaded chicken cutlets call for panko breadcrumbs, making them incredibly crispy and light.
Italian seasoning is added to the coating for an incredibly flavorful chicken dinner.
They're then pan-fried until golden and served with bright lemon. The secret to their crispiness is the panko breading in place of regular or Italian bread crumbs.
These juicy, delicious Italian chicken cutlets come together in under 20 minutes for a quick meal and with more whole, simple ingredients than commercially prepared breaded and fried chicken options.
They're incredibly versatile, too. Try them on pasta with marinara and mozzarella, served with potatoes and vegetables, on a salad, on a rice bowl, a grain bowl. I could go on... (and do!)
You will be so happy to have these authentic Italian chicken cutlets in your back pocket the next time making dinner seems like a chore.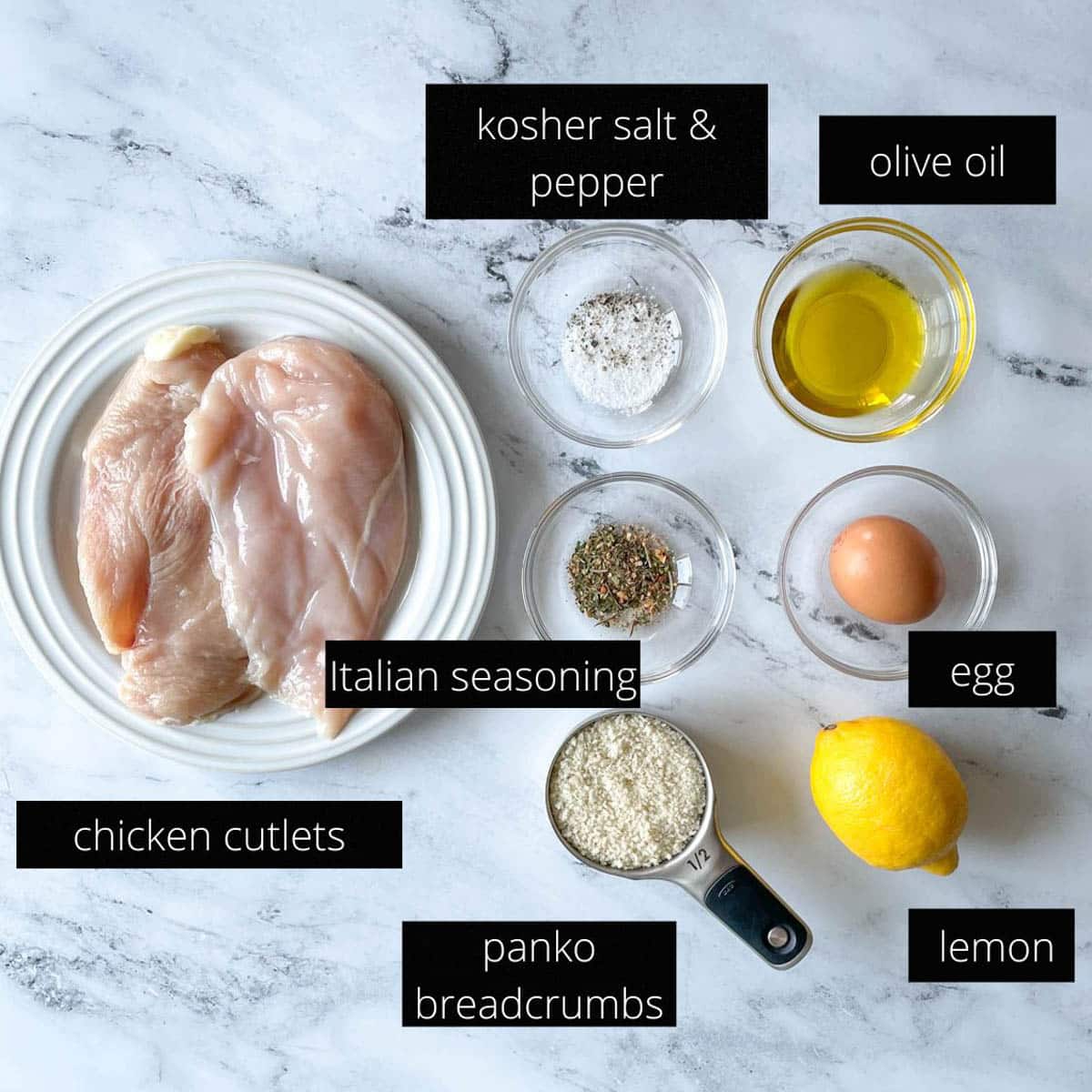 What You'll Need
Two Cloves Kitchen, as an Amazon Affiliate, makes a small percentage from qualified sales made through affiliate links at no cost to you.
Chicken Breasts This will be boneless skinless chicken breasts. You will want thin chicken cutlets. You can either purchase thin-cut chicken breasts from the store or slice larger breasts in half yourself and pound the chicken. About a half-inch to an inch thick is ideal.
Panko Bread Crumbs These are available in most grocery stores. You can also make your own panko breadcrumbs.
Italian Seasoning My favorite Italian seasoning in the world is this blend by Spice Shop Silver Lake, but choose whatever you like most. The best thing about the blend I recommended is that has garlic in it. If your blend does not...
Garlic Powder Add some garlic powder if not included in your Italian seasoning blend. I would not recommend fresh garlic here as it can burn easily.
Extra Virgin Olive Oil Using high-quality extra virgin olive oil is always a treat, but any kind you have on hand will be fine here. You could also use vegetable oil, but olive oil tastes better.
Egg This will help the breadcrumbs adhere to the chicken. I used large-sized eggs for this recipe. Extra large eggs would work as well. I would not use medium-sized eggs as there may not be enough to coat the chicken.
Lemon Fresh lemon juice cuts through the richness of this dish. I really recommend not skipping this - it complements the savory elements so well.
Kosher Salt I always recommend using kosher salt in recipes. It is easier to control the saltiness and it coats food more evenly.
Black Pepper I like using about 3 good twists of black pepper from a pepper mill in the bread crumbs.
How to Make Italian Chicken Cutlets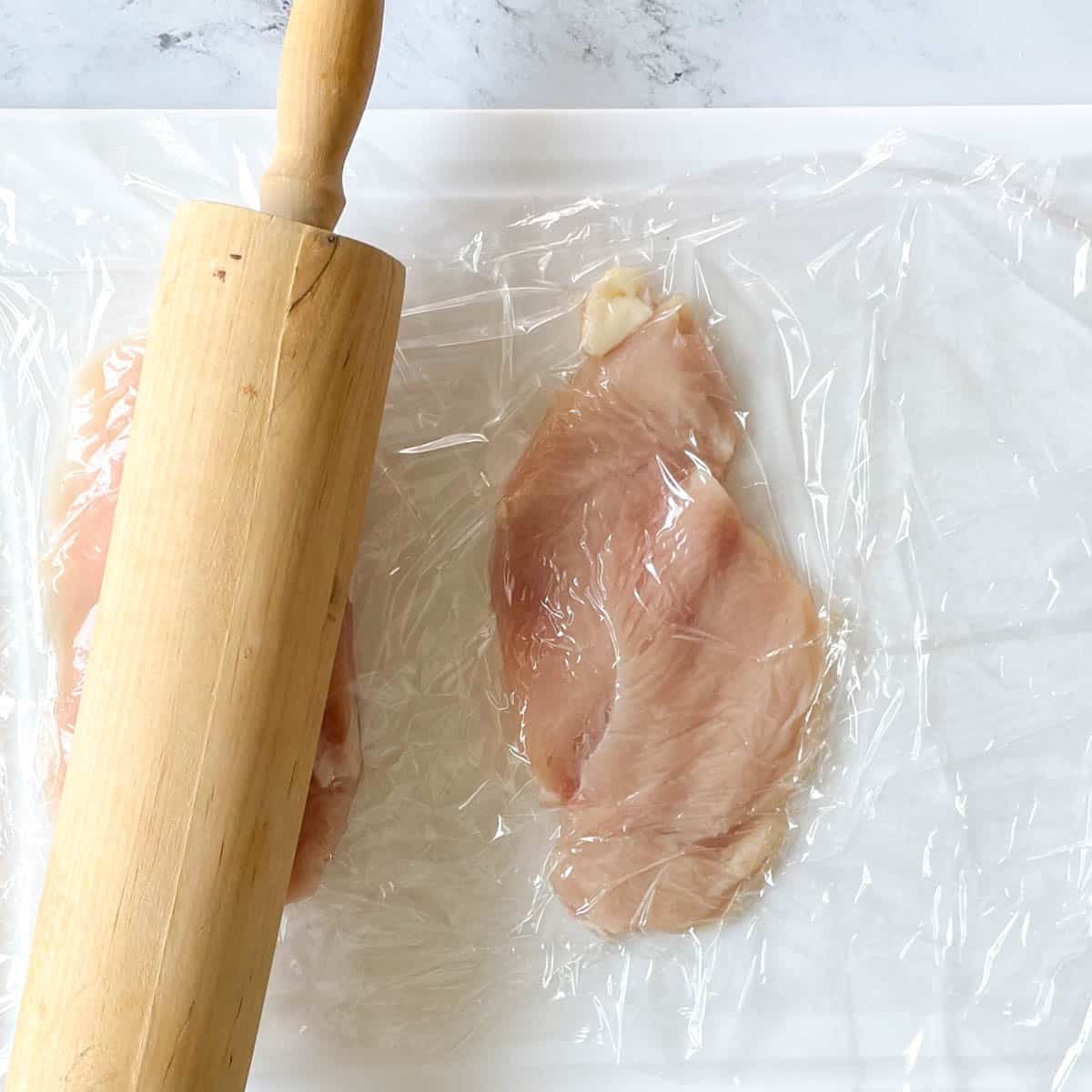 Step One: If your chicken breast is larger than an inch thick, cut chicken breast in half lengthwise. Cover with plastic wrap and pound with a meat mallet or rolling pin until it is about a half-inch to an inch thick.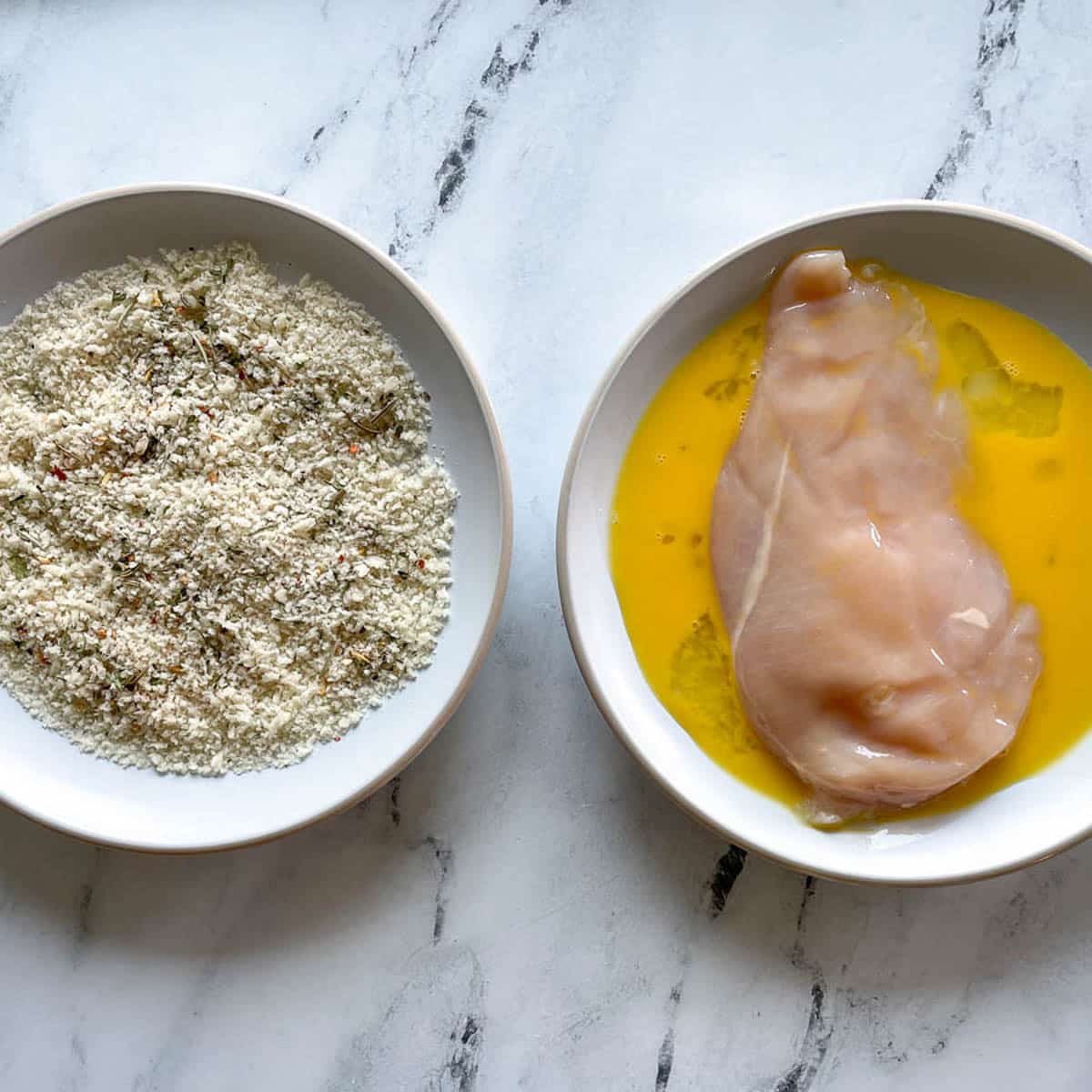 Step Two Beat your egg and place in a bowl or on a deep plate. Mix your breadcrumbs, Italian seasoning, salt, and pepper and place on a separate plate. Coat both sides of the chicken in the egg wash.
Step Three Coat both sides of the chicken in the panko breadcrumb mixture.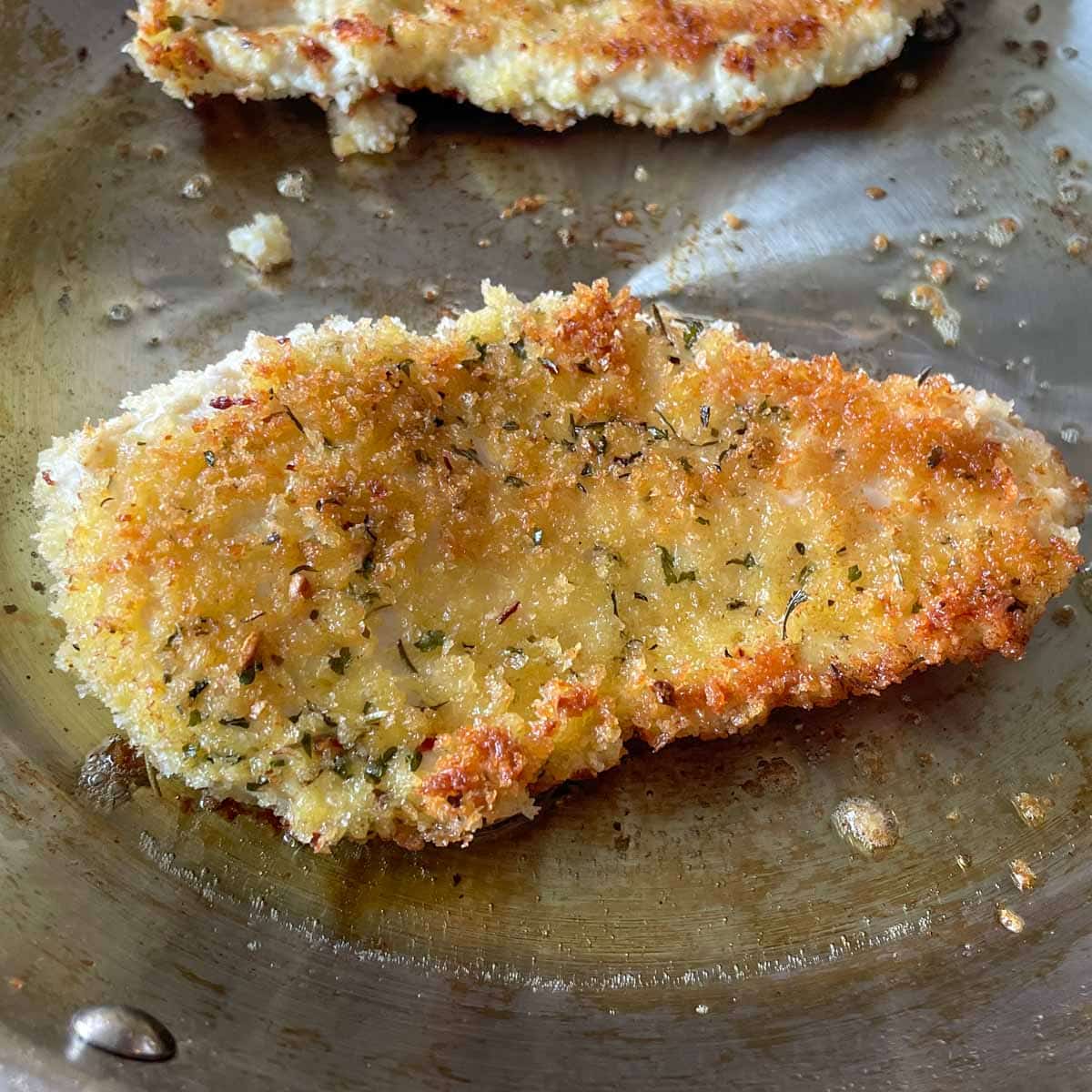 Step Four Place your pan on the heat. If using stainless steel, heat to high and then reduce the heat to medium before adding the oil and chicken. If using nonstick, heat to medium heat and add the oil. Fry chicken cutlets for 4 to 6 minutes on each side. Flip the chicken when the first side is golden brown. Cook the second side of the cutlet until golden and an instant-read thermometer registers 165°F.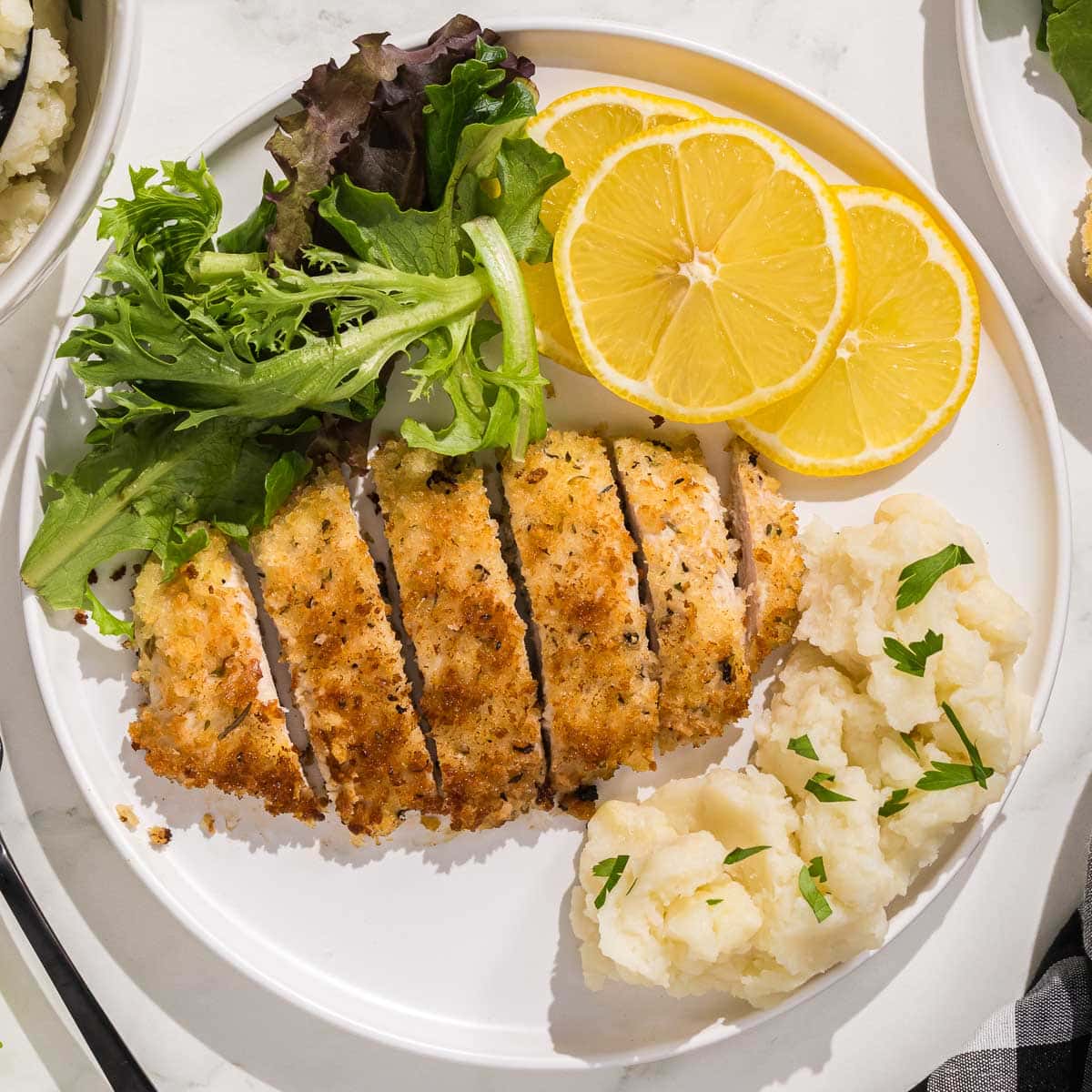 Step Five Serve immediately with lemon slices.
Recommended Equipment
Variations
Dried Herbs: You can use a mix of spices in place of the Italian seasoning called for. Try things like oregano, basil, rosemary, and parsley for plenty of Italian flavor.
Fresh Herbs: You can add a small amount of fresh herbs to this Italian chicken cutlet recipe for extra flavor. A few leaves of chopped fresh parsley, oregano, or thyme would be lovely.
Cheese: Add some grated pecorino romano or parmesan cheese to your breadcrumb mixture for a bit of extra saltiness and savoriness.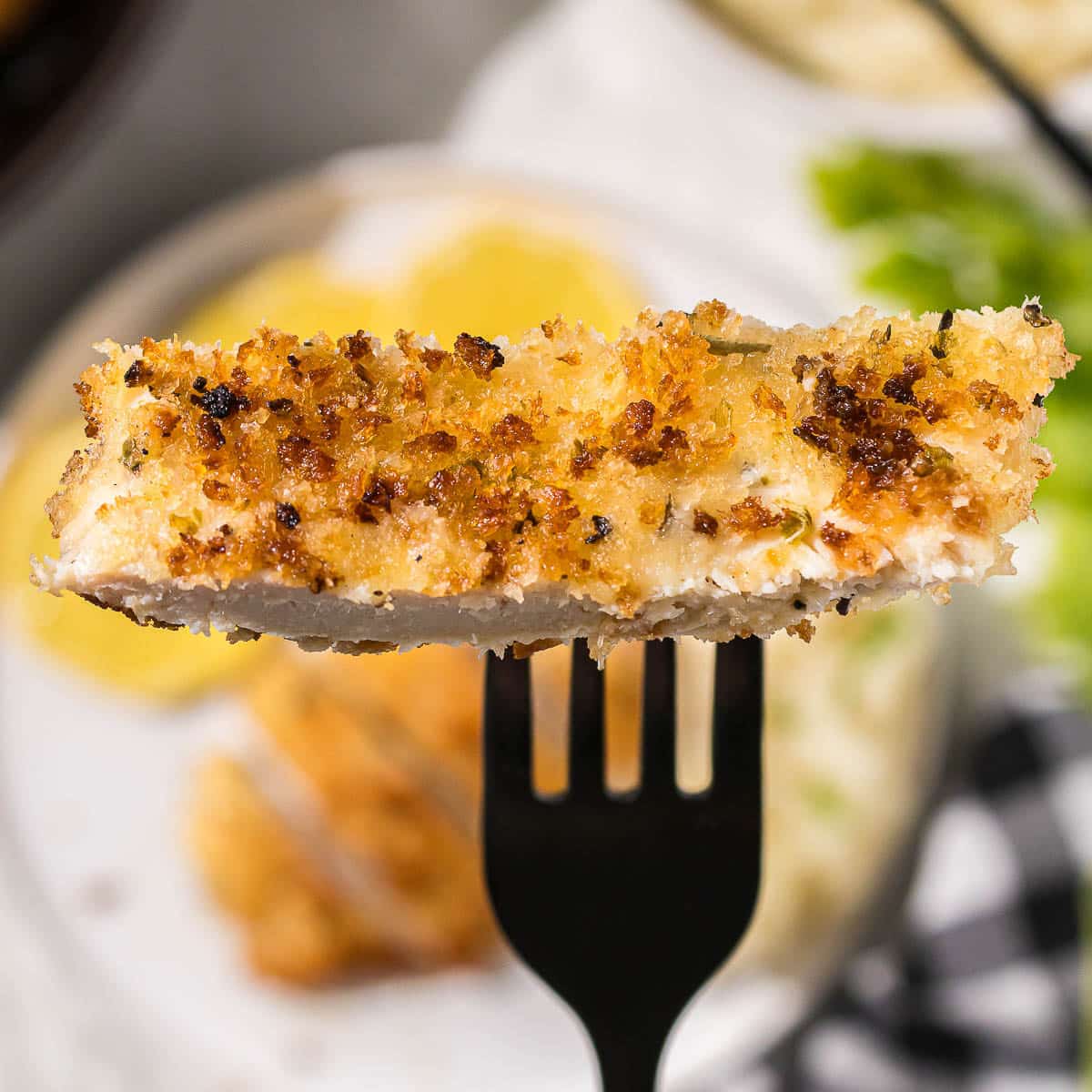 FAQ
What is a chicken cutlet?
A chicken cutlet is a thin piece of chicken breast. You can purchase a thin piece or cut a larger piece into a more manageable size by slicing the chicken lengthwise and pounding with a meat mallet or rolling pin.
Can I use regular breadcrumbs in this recipe?
You can regular or seasoned Italian breadcrumbs, but they will not stick as well, and the coating will not be as crisp. I highly recommend using panko breadcrumbs for the best result.
How do I know my pan is hot enough to add the chicken?
Stainless steel I love using the mercury ball technique for stainless steel pans. They operate differently than nonstick pans. Check out this video for more information.

Nonstick Add the olive oil as the pan heats, and once you see the olive oil shimmering, it's ready to use.
Expert Tips
Use thin cutlets. For the best chicken cutlets, ensure your chicken is very thin. This will encourage the chicken to cook evenly and thoroughly without the breadcrumbs becoming too dark.
Be mindful of your temperature. When using nonstick pans, be sure not to go above medium heat or you can negatively impact your nonstick coating. When using stainless steel pans, you'll want to monitor the temperature closely for the best results. If it is too hot, the breadcrumbs may burn. If it is not hot enough, they will stick.
Make extra! I like to make a few extra cutlets and use them for meal prep throughout the week. Serve them over salads, in rice bowls, or with pasta.
Taste for seasoning. Before serving up these crispy chicken cutlets, be sure to cut off a tiny piece and taste for seasoning. Season chicken with more salt as needed.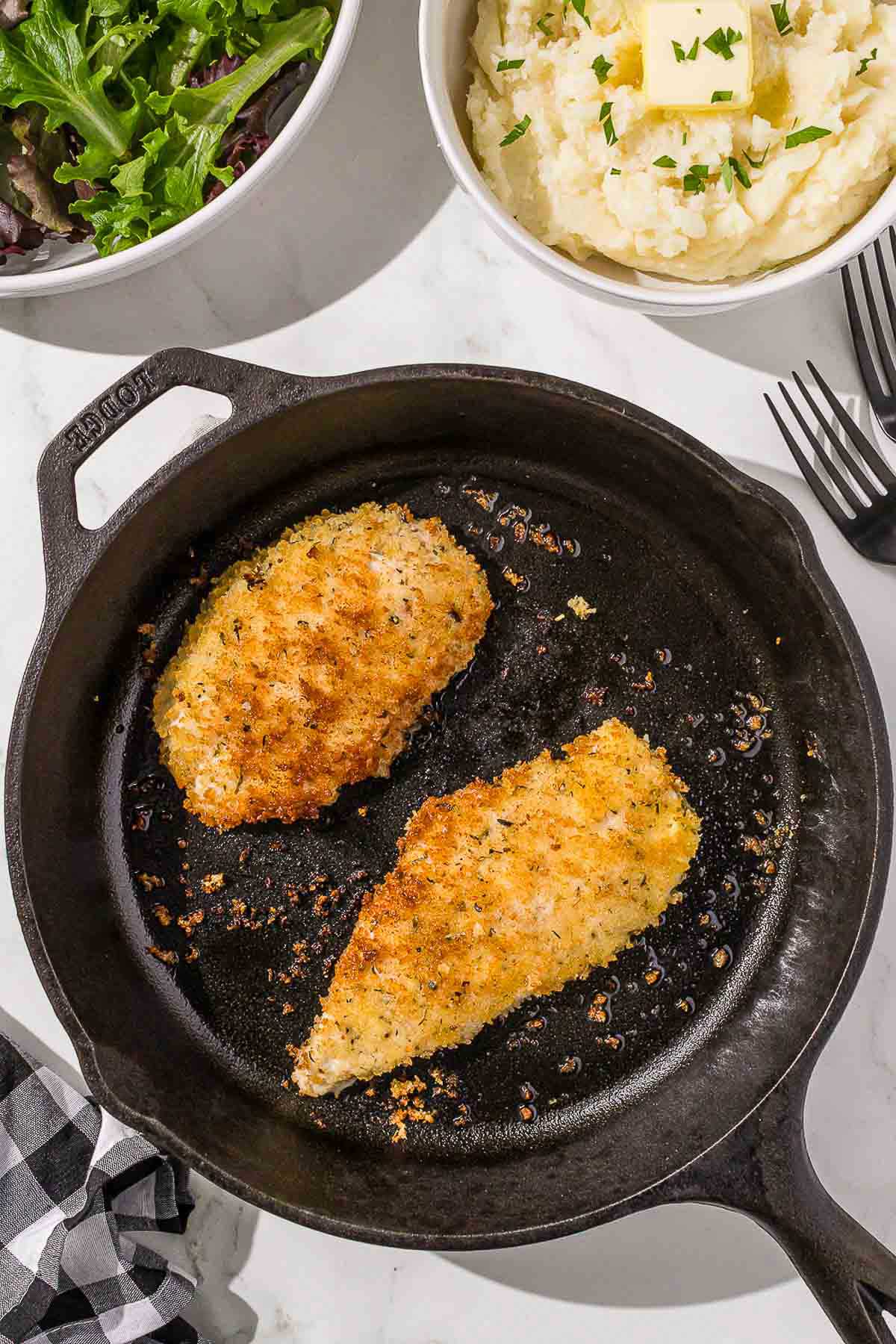 How to Store Italian Cutlets
Fridge These cutlets are best right out of the pan when they are hot and crispy. However, they are high-demand leftovers in my house. You can store leftover cutlets in an airtight container in the fridge for 3 to 4 days.
Freezer Freeze cooked chicken on a sheet tray for about 1 hour, then transfer to freezer-safe bags and store up to 3 months. Be sure not to let your chicken sit at room temperature for longer than 2 hours for proper food safety.
Reheating To reheat, let the cutlets come to room temperature (no longer than an hour) then reheat in a 400°F oven on a sheet tray for 10-15 minutes, or until crisp and the exterior is a bit hot. Use an instant-read thermometer to ensure it has reached 165°F.
To reheat from frozen, bake at 450°F for about 14-16 minutes, or until the internal temperature reaches 165°F.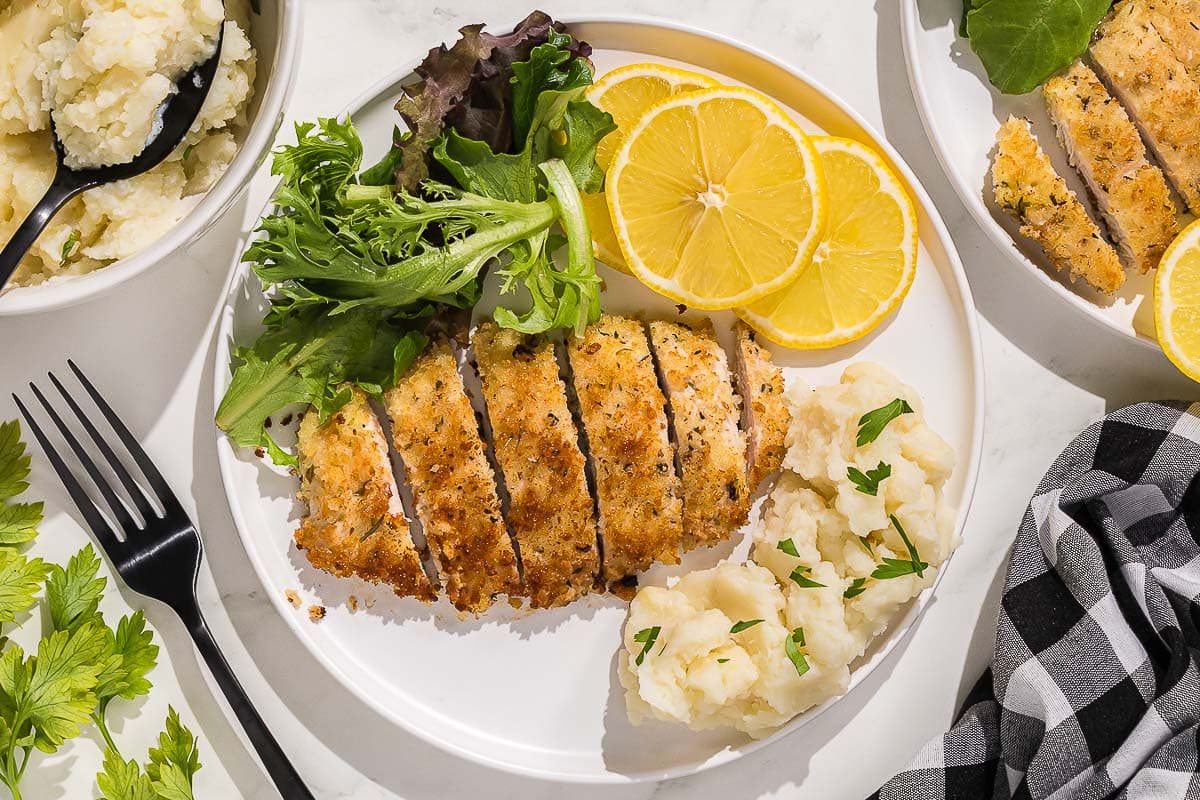 How to Serve Classic Italian Chicken Cutlets
These Italian Chicken Cutlets can be served in so many ways. Ideas include:
Salad Try them with a green salad (my favorite) or this refreshing Shirazi Salad. They would also be delicious with this Prasini Salad (Greek green salad). You could also serve it with a simple arugula salad or this Arugula Caprese Salad.
Vegetables Prepare your favorite roasted vegetable like this Roasted Tenderstem Broccoli, or try these amazing Italian Stuffed Mushrooms!
Pasta Prepare some Roasted Cherry Tomatoes on the Vine and serve the chicken and tomatoes over a bed of pasta.
Chicken Parm Coat the chicken with mozzarella or provolone cheese and marinara for a quick Chicken Parmesan. You can also try this tasty Baked Chicken Parmesan recipe!
Sandwich Try them added to a sandwich with some mayo and Pineapple Habanero Sauce.
Potatoes I love these chicken cutlets with grilled vegetables and Calabrian Potatoes.
Chicken Strips Cut the chicken into strips and dip in a sauce of your choosing (bleu cheese, ranch, marinara - whatever you like) and serve with French fries for an upscale fast food vibe.
Grain Bowl Try them in place of Eggs on this Grain Bowl with Goat Cheese and Greens or in place of chickpeas in this Mediterranean Grain Bowl.
Looking for dessert? Try these delicious coffee cookies!
Did you make this recipe? Be sure to leave a comment 💬 and a ⭐⭐⭐⭐⭐ rating below! You can also tag us @twocloveskitchen on Instagram or follow us on Facebook!
More Italian Recipes You'll Love
📖 Recipe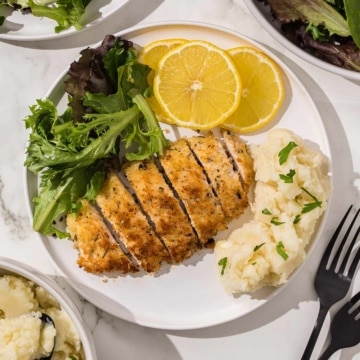 Crispy Italian Chicken Cutlets
Quick, easy, delicious Italian chicken cutlets are pan-fried in olive oil until perfectly crisp.
Print
Pin
Rate
Instructions
Place a pan on medium heat and add the olive oil.

If needed, slice your chicken breast in half.

Whisk the egg in the medium bowl.

Add the breadcrumbs, Italian seasoning, garlic powder, salt and pepper to a plate, trying to spread the ingredients evenly.

Place the chicken in the egg and then into the breadcrumbs. Pat the bread crumbs onto each side of the chicken to ensure it is coated.

Once the oil is just shimmering, add the chicken to the pan. Let cook for 4-6 minutes, ensuring the coating does not start to burn.

Flip the chicken with tongs or a spatula to the second side. Let cook for 4-6 minutes or until the internal temperature reads 165°F. Remove from the pan.

Taste a bit of the chicken. If needed, add some additional kosher salt or finishing salt. Plate the chicken with the lemon wedges to squeeze over.
Notes
I tested this recipe with Diamond Crystal kosher salt. If using another brand of kosher salt, sea salt, table salt, or using seasonings with salt added, use

½ teaspoon

salt in your dredge.
Approximate calories are for 4 ounce chicken breast cutlets.
Cutlets can be stored in the fridge safely for 3-4 days and reheated in the oven at 400°F oven on a sheet tray until crisp and interior temperature has reached 165°F.
Cutlets can be stored in the freezer safely for 3 months. You will need to cool completely before freezing.
To reheat, bake at 450°F for about 14-16 minutes, or until internal temperature reaches 165°F.
If you don't have Italian seasoning, try mixing a few dried herbs like rosemary, oregano, basil, parsley, garlic powder, and thyme.
Try these cutlets in many different applications: on pasta, on a grain bowl, with salad or roasted vegetables, on a sandwich, or cut into strips and served with a sauce.
For evenly cooked chicken that is ready before the breadcrumbs become too dark, ensure your chicken is quite thin as indicated in the recipe.
When using nonstick pans, be sure not to go above medium heat or you can negatively impact your nonstick coating.
When using stainless steel pans, be sure to monitor the temperature closely. If it is too hot, the breadcrumbs may burn. If it is not hot enough, they will stick. Try using the mercury ball technique referenced in the FAQ section of the post.
Nutrition
Calories:
294
kcal
|
Carbohydrates:
13
g
|
Protein:
18
g
|
Fat:
19
g
|
Saturated Fat:
3
g
|
Polyunsaturated Fat:
3
g
|
Monounsaturated Fat:
12
g
|
Trans Fat:
1
g
|
Cholesterol:
129
mg
|
Sodium:
1375
mg
|
Potassium:
317
mg
|
Fiber:
2
g
|
Sugar:
1
g
|
Vitamin A:
186
IU
|
Vitamin C:
1
mg
|
Calcium:
78
mg
|
Iron:
2
mg