Here I'll teach you not only how to make the simple and delicious side salad pictured below, but also how to build your own side salad with the ingredients you already have on hand!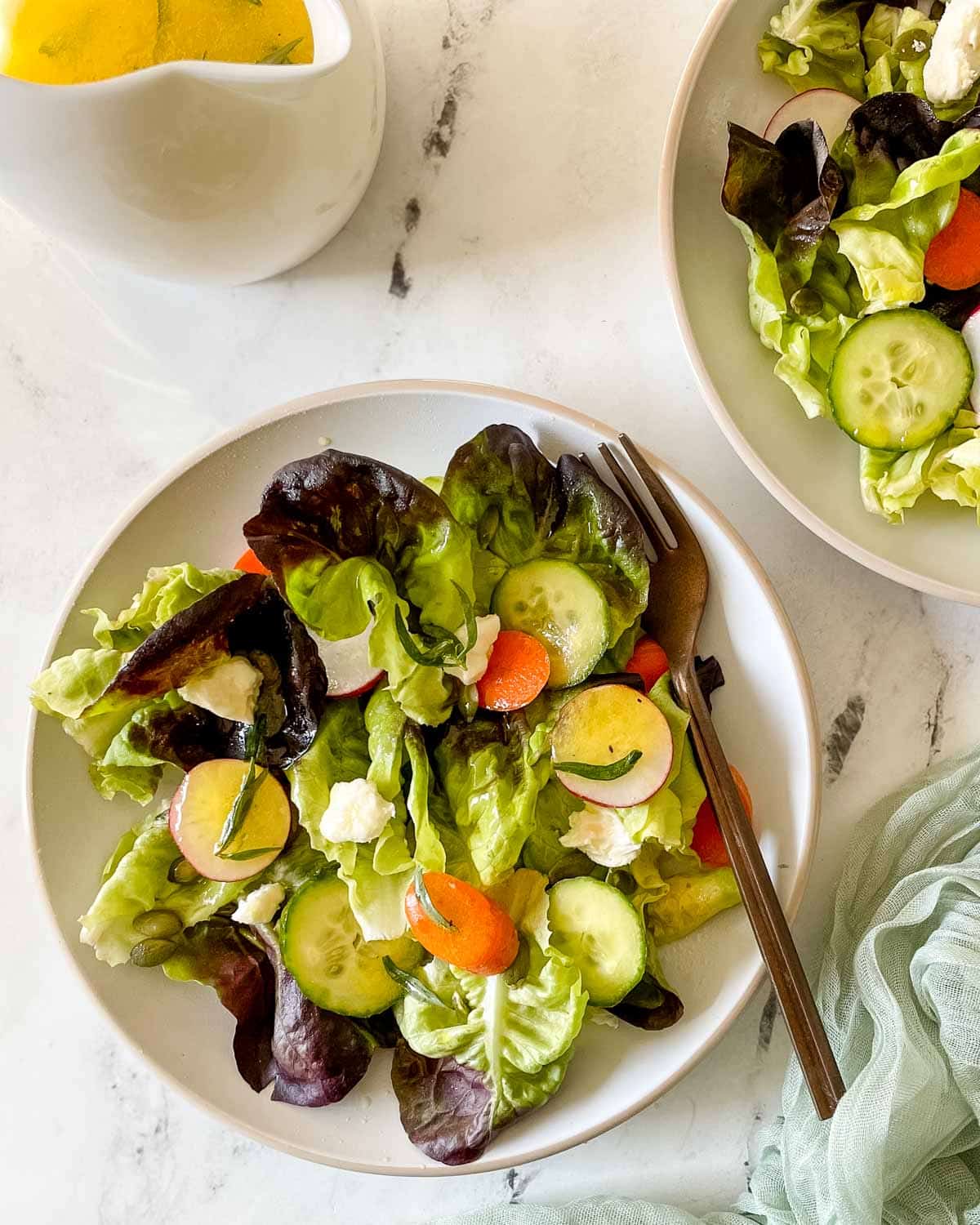 Jump to:
Why You'll Love This Dish
Side salads are versatile. Serve them with just about anything for a complete dinner.
It's super easy and quick! Select a few ingredients from the store or from what you already have in your fridge and pantry to make an adaptable side dish. If you're super low on time, you can even use your favorite bottled dressing.
This is a healthy option. Packed with vegetables, healthy fats, and nutrients, this side salad is always a good choice.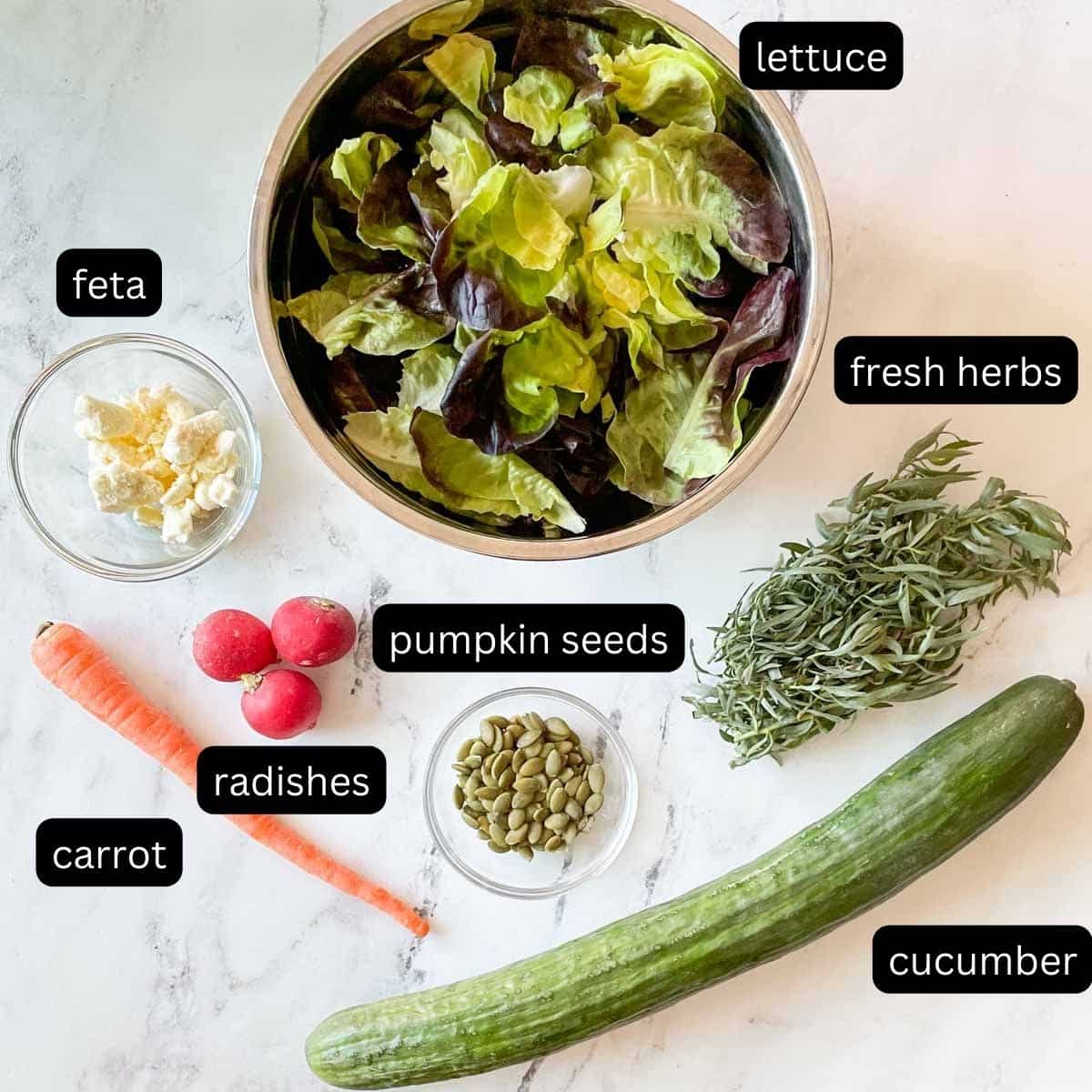 What You'll Need
Two Cloves Kitchen, as an Amazon Affiliate, makes a small percentage from qualified sales made through affiliate links at no cost to you.
Greens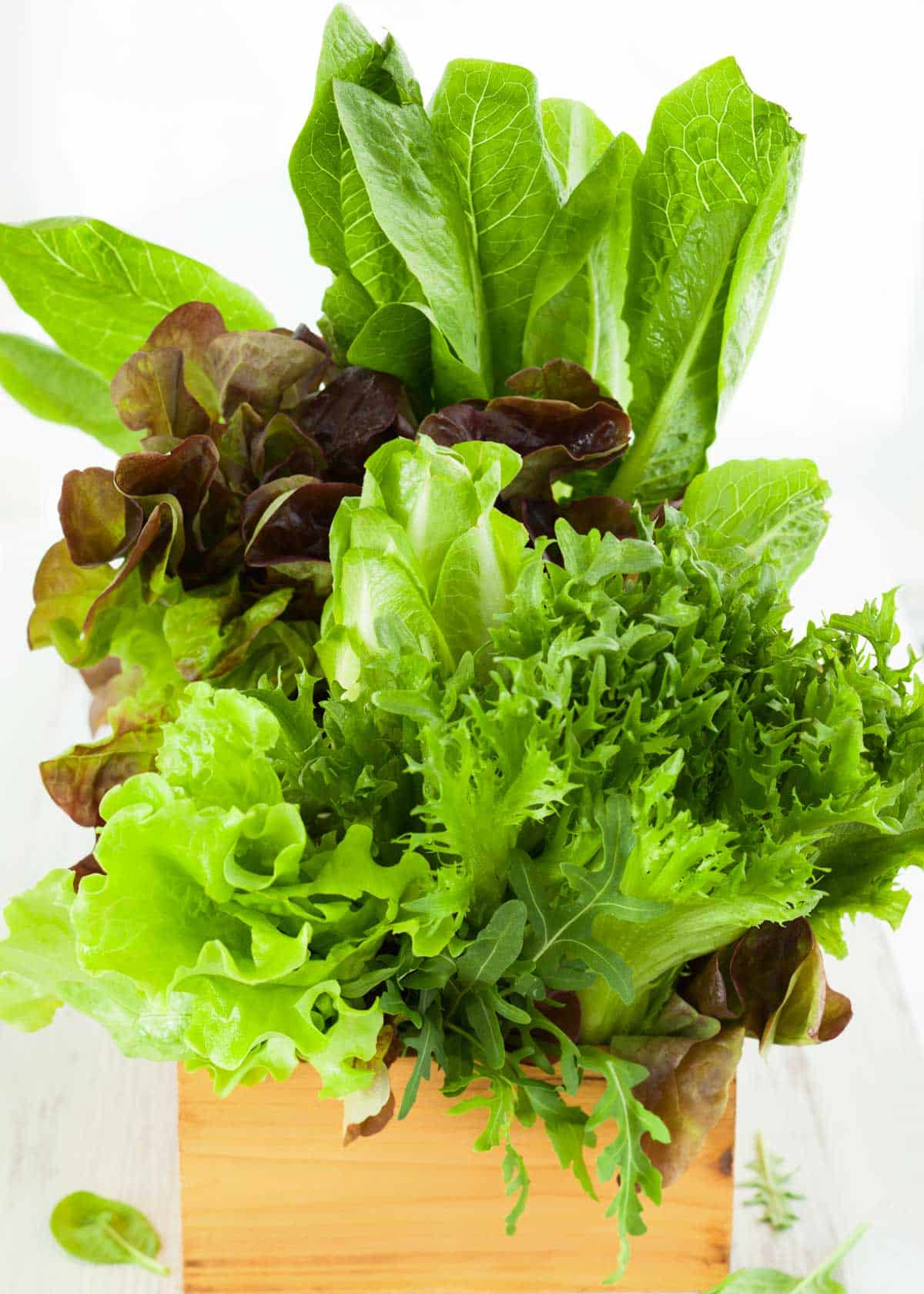 Choose your favorite greens or lettuce, or whatever you have on hand. This could be:
Butter lettuce
Spinach
Arugula
Spring Mix
Kale
Little Gem
Escarole
Frisée
Mâche
Green or Red Leaf Lettuce
Mesclun
Romaine
Iceberg
Radicchio
Vegetables

or Fruits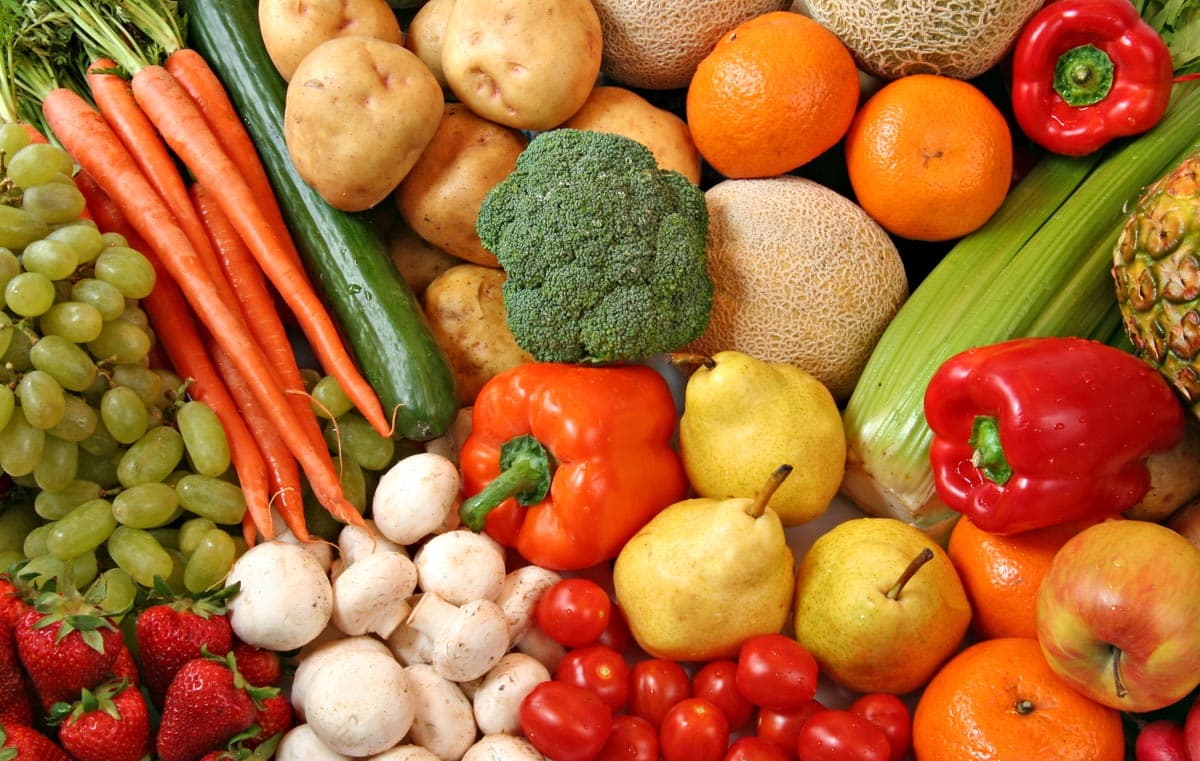 I like to have something crunchy that adds flavor and texture contrast to the salad. Here are some veggie options to try:
Carrots
Radishes
Cucumber
Sprouts
Artichoke Hearts
Peppers
Mushrooms
Tomatoes
Celery
Onion (I personally love these spicy pickled onions)
Broccoli
Cauliflower
Or you could try these fruits instead:
Apple
Pear
Grapes
Berries
Avocado
Orange
Peach
Plum
Melon
Dressing
Try this adaptable lemon herb vinaigrette, spicy harissa vinaigrette, or this honey jalapeño lime vinaigrette or choose your favorite bottled or homemade salad dressing, like:
Simple Vinaigrette: 3 parts oil to 1 part acid like vinegar or citrus juice with salt & pepper, mixed well (or 2 parts oil to 1 part acid for a zippier dressing)
Caesar
Italian
Ranch
Nuts and Seeds
Pumpkins Seeds
Walnuts (these spiced walnuts are wonderful!)
Almonds
Pecans (these spiced pecans are also a favorite)
Pine nuts
Peanuts
Pistachios
Sunflower seeds
Chia seeds
Cheeses
Feta
Goat cheese
Cheddar
Gouda
Manchego
Bleu cheese
Parmesan or Pecorino
Fresh Herbs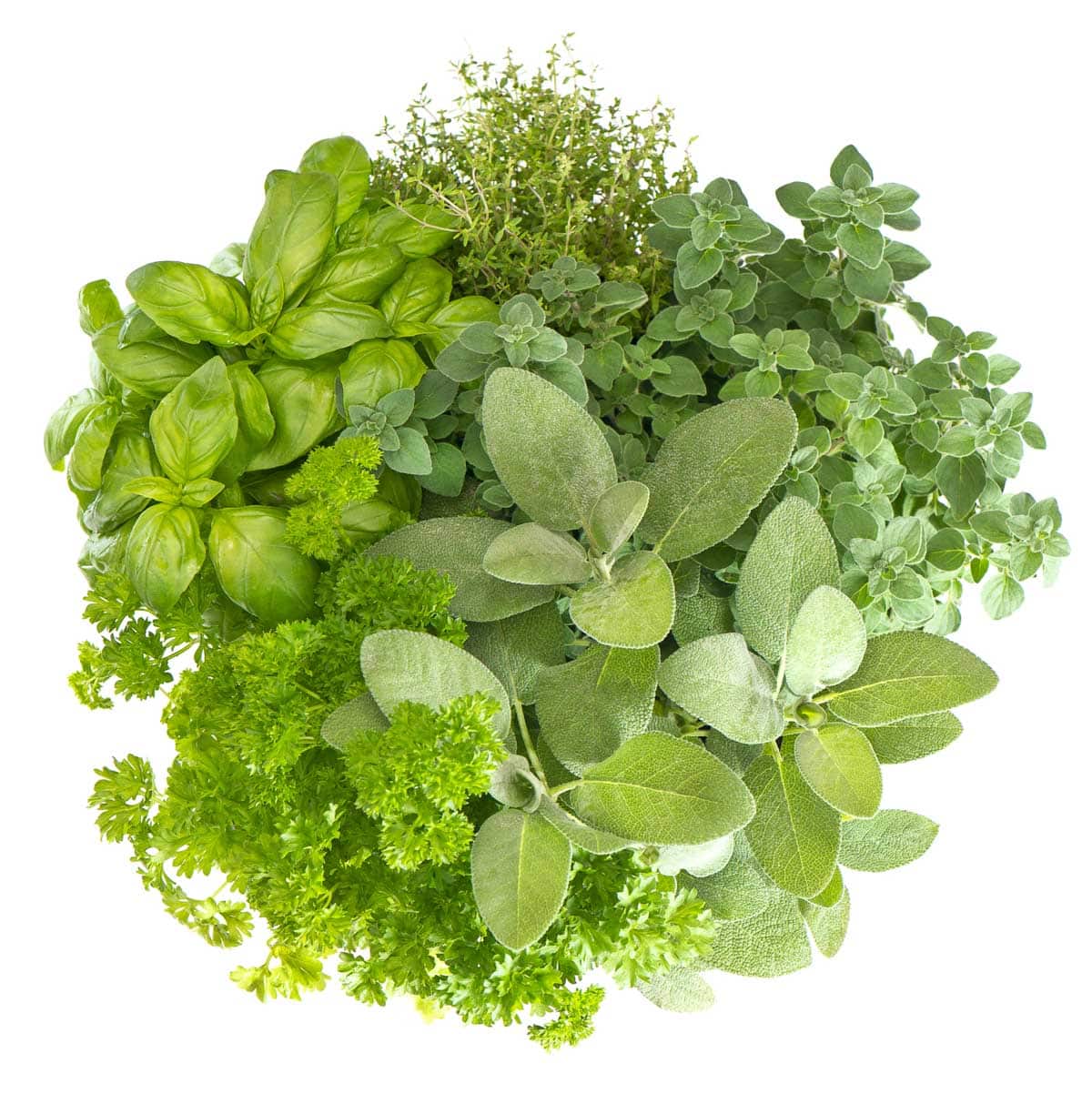 Dill
Cilantro
Parsley
Basil
Mint
Chives
I would reserve hard herbs like rosemary only for dressings. They have a very concentrated flavor and would likely overtake the other flavors of the salad.
Other Toppings to Try
Croutons (Try cutting up this Air Fryer Crostini)
Grains: quinoa, couscous, farro, or rice
Eggs: hard-boiled or soft-boiled are my favorite
Meats: chicken, steak, healthy tuna salad, or shrimp
Beans: black beans, edamame, white beans, kidney beans, chickpeas
Tofu
Olives
Capers
Pickled vegetables
Water Chestnuts
How to Build a Salad
Select Your Flavors
You will want a variety of complementary tastes and textures.
Most salads draw from the following categories: a green, something crunchy, something fresh, something bitter, something sharp, something sweet, something salty, and something fatty.
In the recipe provided, that looks like this: butter lettuce, cucumber, tarragon, lemon, carrot, feta, and pumpkin seeds.
But you don't need to represent all of these categories. The goal is balance. A salad with just lettuce and a balanced vinaigrette is delicious, isn't it? Approach the salad with a sense of curiosity, and remember to balance each flavor against its opposite.
Examples:
You choose a peppery and bitter green like arugula, so you balance that by choosing a sweet piece of fruit to add.
You choose a creamy dressing, so you opt to add a lot of fresh, light ingredients, like cucumber and fresh herbs.
You choose to add a lot of crunchy vegetables to your salad, so you add soft goat cheese to balance the textures.
If you get stuck for ideas, come back to the ingredient examples and categories provided above to create a salad that sounds most appealing to you. Also, shoot me a message! Comment below or email me and I'll be happy to help you figure it out.
Prep Your Ingredients
Make your dressing, wash your vegetables, and cut anything that needs cutting!
For cleaning salad greens this salad spinner is my absolute favorite. I totally recommend it if you're in the market for one.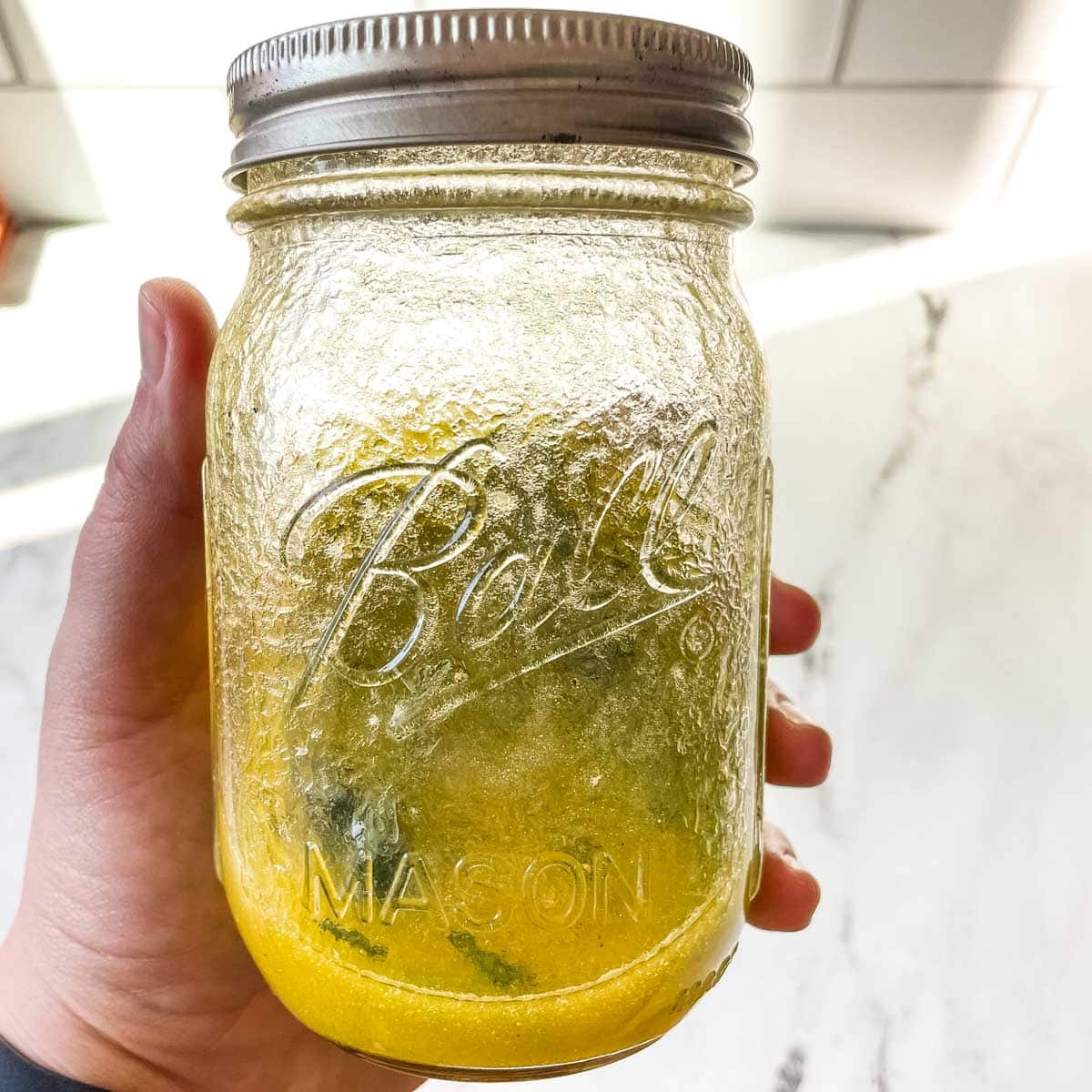 Build Your Salad
Time to assemble. Add all of your ingredients to a large salad bowl and mix well. You'll want the ingredients spread evenly throughout so each bite has a bit of everything! Serve up the salad and enjoy.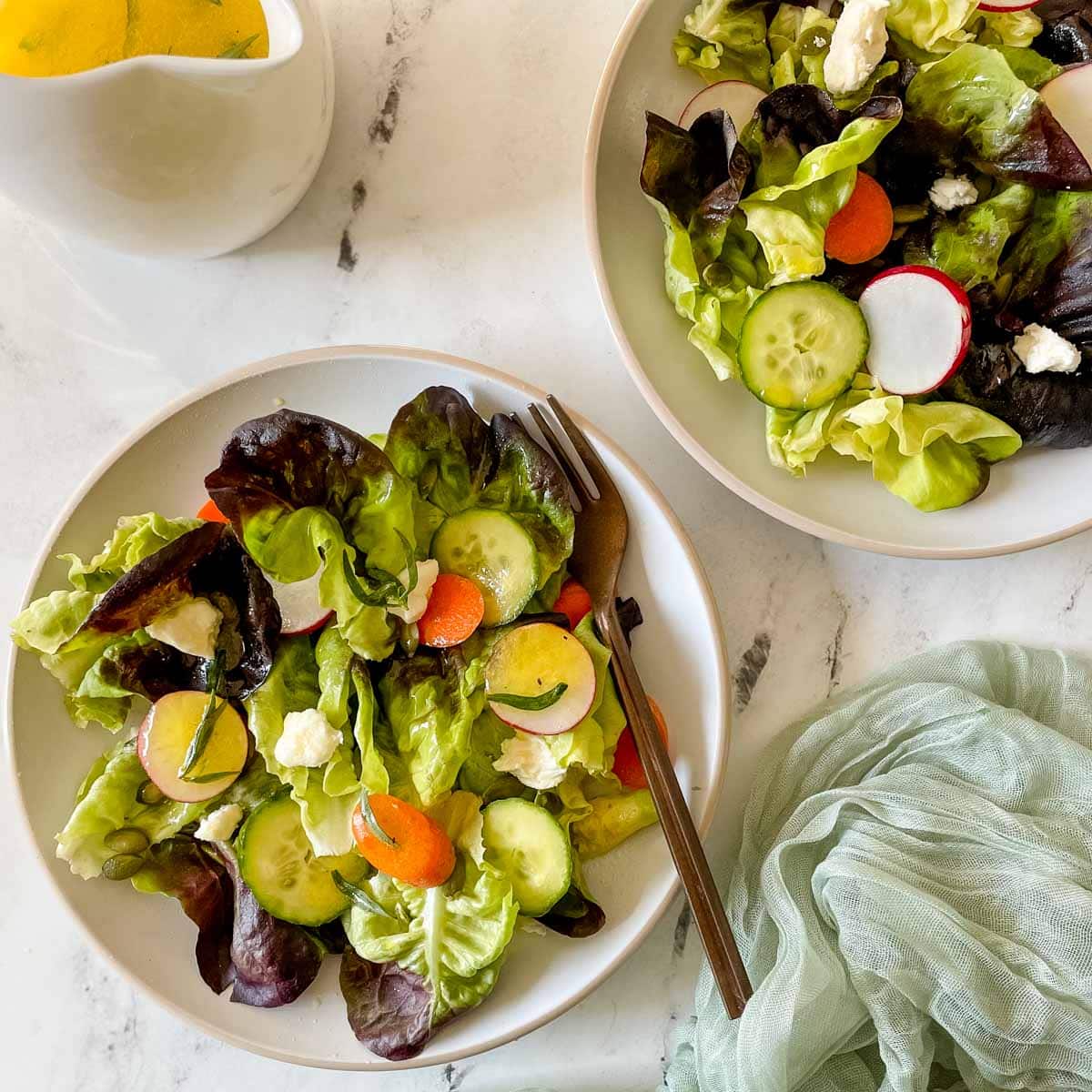 How to Store
Fridge I recommend preparing and serving your salad right away. If you believe there will be leftovers, set a portion of the salad aside and store in an airtight container in the fridge. Depending on the type of greens, it may wilt quickly.
Once the ingredients have been prepared, eat the salad within 1 to 2 days.
Freezer I do not recommend freezing this dish.
FAQ
What is a side salad?
A side salad is a smaller salad meant to accompany a main dish. It's typically made with a few ingredients: lettuce, a vegetable like tomatoes or cucumbers, and a dressing.

But side salads can be something more interesting and exciting. A traditional side salad is always good, but try new flavors and textures and you may find a new favorite.
Is a side salad healthy?
Typically, yes. With vegetables and healthy fats from olive oil, this dish is a nice way to add some extra nutrients to your meal. However, this will depend on your choice of dressing and toppings.
Is a side salad an appetizer?
It can be. A side salad can be served at any point in the meal, whether before or alongside your main dish.
What is the correct ratio for a vinaigrette?
There are two schools of thought here. The classic ratio is 3 parts fat (oil) to 1 part acid (vinegar or citrus juice). Many contemporary chefs recommend a more assertive 2 parts oil to 1 part acid. Try both and see what you like best!
Can any salad be a side salad?
I would contend that it can! Caesar salad is excellent with an Italian dinner, and salads with cheeses and nuts are just as welcome on my table as a traditional green salad.

Try to balance an assertive salad with a simpler flavor profile for your main dish.
Expert Tips
Choose ingredients that complement each other for your salad. I like to choose something from each category: a green, a few vegetables or fruits, a nut or seed, a cheese, a fresh herb, and sometimes an additional topping.
Try to balance your flavors. If your dressing is very creamy, try using some fresh or peppery ingredients, like arugula, cucumber, or celery. If you're using a sweet dressing, choose some savory or salty items like goat cheese and nuts.
When in doubt, stick to basics. If you're not sure what goes well together and dinner is already on the table, a simple lettuce salad that's simply dressed will always go over well.
How to Serve
This salad can go with just about everything. Here are some suggestions:
Sandwiches This Grinder Sandwich or this Turkey Avocado Sandwich with chipotle sauce are favorites.
Soups The classic pairing: soup and salad. Try any of TCK's soups and stew, like Instant Pot Chicken Stew, Chicken Pastina Soup, Greek Chickpea Soup, Instant Pot Tortellini Soup, Chicken and Cabbage Soup, or Instant Pot Navy Bean Soup.
Toasts Try serving with a piece of Air Fryer Toast or a piece of bread fried in olive oil.
Chicken These Chicken Slow Cooker Enchiladas, Italian Chicken Cutlets, Chicken Drumsticks Kabab, or Cast Iron Chicken would all benefit from a fresh side salad.
Beef Ranchera Meat would be delicious on this salad, or you can serve it alongside some Carne Asada Quesadillas. You could also try it with a traditional prime rib!
Duck For an upscale meal, try adding this duck breast recipe!
Pasta is always wonderful with a salad. Try any of our wonderful pasta dishes, like Penne al Baffo, Penne al Salmone, Spaghetti Arrabbiata, Aglio Olio e Peperoncino, Tomato and Mascarpone Sauce, Linguine Bolognese, or Sauce for Lobster Ravioli.
Risotto This would be lovely with Chicken and Leek Risotto.
Recipes You'll Love
If you're in the mood for more easy vegetable sides, try these recipes:
Easy Roasted Brussels Sprouts and Asparagus
Roasted Cherry Tomatoes on the Vine
📖 Recipe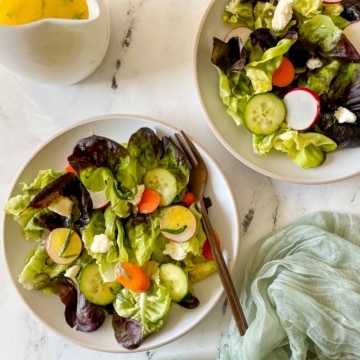 Side Salad
A simple and delicious side salad with butter lettuce, radishes, carrots, cucumber, pumpkin seeds, feta, and lemon herb vinaigrette. Check out the accompanying post for instructions on how to build your own salad with the items you have on hand!
Print
Pin
Rate
Ingredients
Dressing
1

recipe

Lemon Herb Vinaigrette

recipe linked here and in instructions; or use a dressing of your choice
Salad
5

ounces

butter lettuce

or salad green of your choice

4

radishes

thinly sliced

1

carrot

medium, thinly sliced

½

cucumber

hothouse, thinly sliced; see note 2 below

4

tablespoons

pumpkin seeds

or to taste

4

tablespoons

feta

or to taste; see note 3 below
Instructions
Salad
Add the lettuce, radish, carrot, cucumber, cheese and seeds to a large bowl. Mix well.

Drizzle 2 tablespoons of dressing per person over the salad ingredients (or more, to taste) and stir well to combine. Serve right away.
Notes
General
See the text of this post for information on how to build your own side salad with the ingredients you have on hand.
You can also use 1 persian cucumber, or a regular slicing cucumber. If using a slicing cucumber, I recommend peeling it.
Use any salty, crumbled cheese here. Goat cheese is another good option.
Storage
I recommend only preparing and serving as much salad as you intend to eat. If you think you will have leftovers, store them in an airtight container in the fridge (without the dressing) for 1 to 2 days. Dress when ready to eat.
I do not recommend freezing this recipe.
Nutrition
Calories:
261
kcal
|
Carbohydrates:
6
g
|
Protein:
6
g
|
Fat:
25
g
|
Saturated Fat:
6
g
|
Polyunsaturated Fat:
10
g
|
Monounsaturated Fat:
7
g
|
Trans Fat:
0.01
g
|
Cholesterol:
15
mg
|
Sodium:
209
mg
|
Potassium:
287
mg
|
Fiber:
2
g
|
Sugar:
3
g
|
Vitamin A:
3822
IU
|
Vitamin C:
4
mg
|
Calcium:
112
mg
|
Iron:
2
mg