A traditional bolognese recipe, or linguine alla bolognese, is very meat-forward and, while delicious, could stand a healthy upgrade to make you feel good serving it to your friends or family on a weeknight. This Linguine Bolognese offers you the comfort of a rich pasta dish with lots of added vegetables.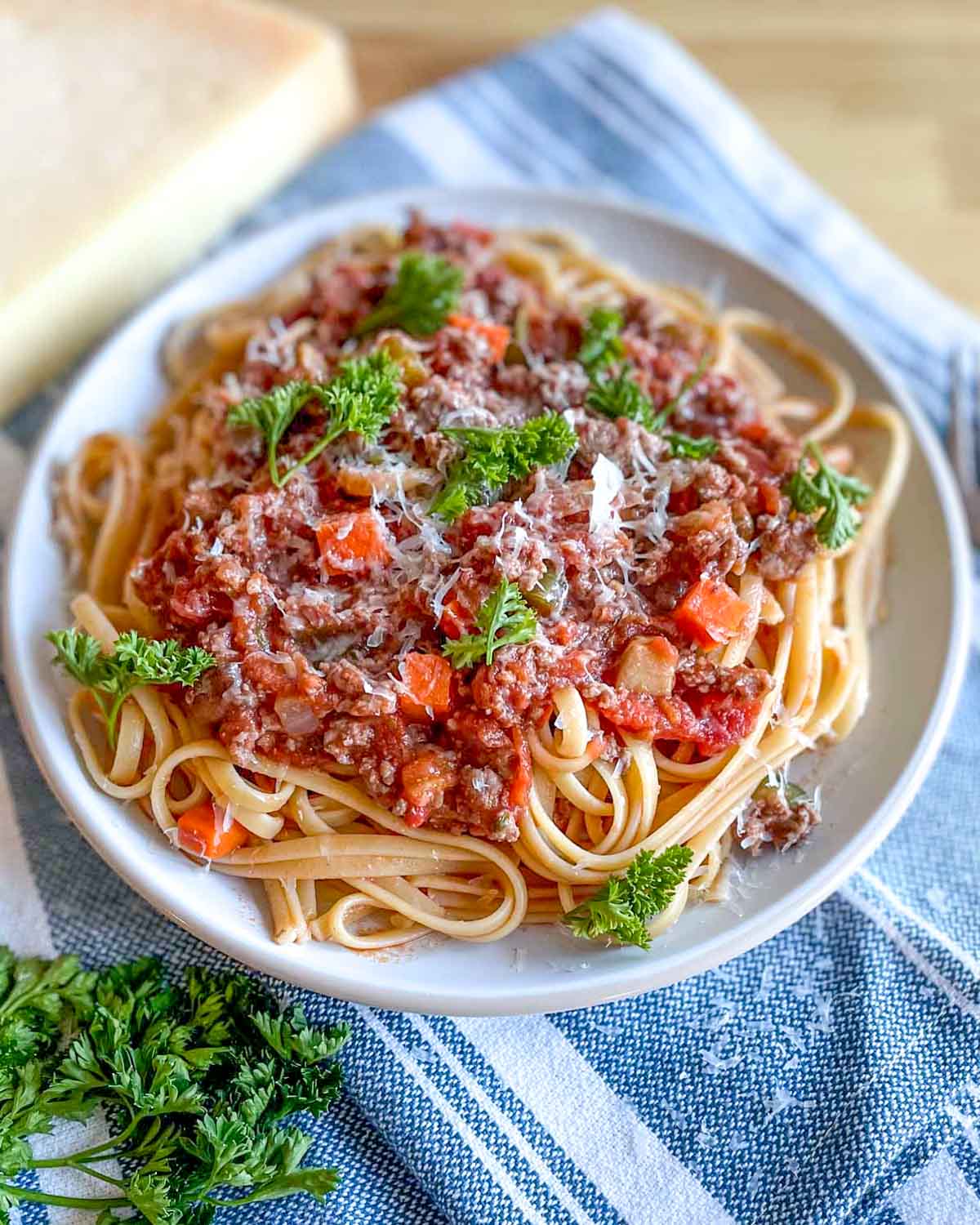 Jump to:
Someone very close to me (who shall remain unnamed!) eats every vegetable on a plate first to "get it over with" so that they can then enjoy their meal. I served this dish to them and the whole dish was eaten quickly and happily with no special attention to the vegetables at all.
While it's not a feeling I understand (I LOVE vegetables), I considered this a major achievement. Across many different variations of this bolognese - with lamb, beef, bison, turkey - the result was the same: clean plates!
Do try different meats/what you have on hand, here. Lamb and bison were favorites in my house, but beef and turkey are much easier to come by and often less expensive. Find that block of ground meat at the back of the freezer on a busy weeknight and toss in the veggies you have on hand.
If you don't have zucchini, try some summer squash. If you don't have green bell pepper, try a red or yellow bell pepper, some celery, a jalapeño, or a handful of spinach!
This tomato-based meat sauce is designed to be super versatile, so try out different combinations and see what you like best.
What You'll Need
Two Cloves Kitchen, as an Amazon Affiliate, makes a small percentage from qualified sales made through affiliate links at no cost to you.
Bolognese Sauce
Ground Meat Bolognese is most commonly made with beef, but try branching out with what you have on hand or what your family prefers. Try lamb, turkey, bison, venison or pork here. All are excellent options.
Vegetables I recommend the vegetables we have liked best below: zucchini, carrots, green bell pepper, and mushrooms. You can try making substitutions, omissions or additions like celery, yellow or red bell peppers or some summer squash.
Canned Tomatoes I like to use whole peeled tomatoes from Cento that I crush by hand as I add the tomatoes to the pot.
Onion Yellow or sweet onion will work here.
Fresh Garlic
Red Wine I would use something you would like to drink as it will impart that flavor to the sauce. If you don't have any red wine in your home, try a bit of white wine or even a tablespoon of red wine vinegar.
Extra Virgin Olive Oil It's always nice to use the best quality olive oil you can, but it is less important in this dish. There are so many other interesting flavors that a very high-quality oil would be less noticeable here.
Italian Seasoning I like a seasoning that has actual pieces of herbs and spices more than a powder. This is my favorite Italian seasoning of all time. It's sold by a company local to me with the nicest owners.
Kosher Salt I buy this 3-pack of Diamond Crystal Kosher Salt and it lasts for a very long time. It's important to keep in mind that kosher salt will affect the flavor of your food differently—it is a different shape than table salt and sea salt, and delivers less "salty" flavor per teaspoon because it is less compact.
Parmesan Cheese I like to use a block of parmesan cheese and grate over the dish once it is finished. This is the way to have the freshest, most flavorful cheese. You can also use pre-grated or pre-shaved parmesan cheese or a bit of another hard, salty cheese like pecorino.
Fresh Herbs like basil and parsley are nice here, but optional.
Chili Flake I use chili flake to wake up the dish with a bit of spice, but it is also optional.
Fennel Seed If you haven't tried fennel seed in a tomato sauce, please give this a try. It adds a warm sweetness to the sauce.
Bay Leaves I like bay leaves as they add a very subtly peppery, piney note to dishes and are also optional.
Pasta
Linguine pasta, or another pasta of your choosing
How to Make
Step One Finely dice your vegetables. Chop the onion and slice garlic.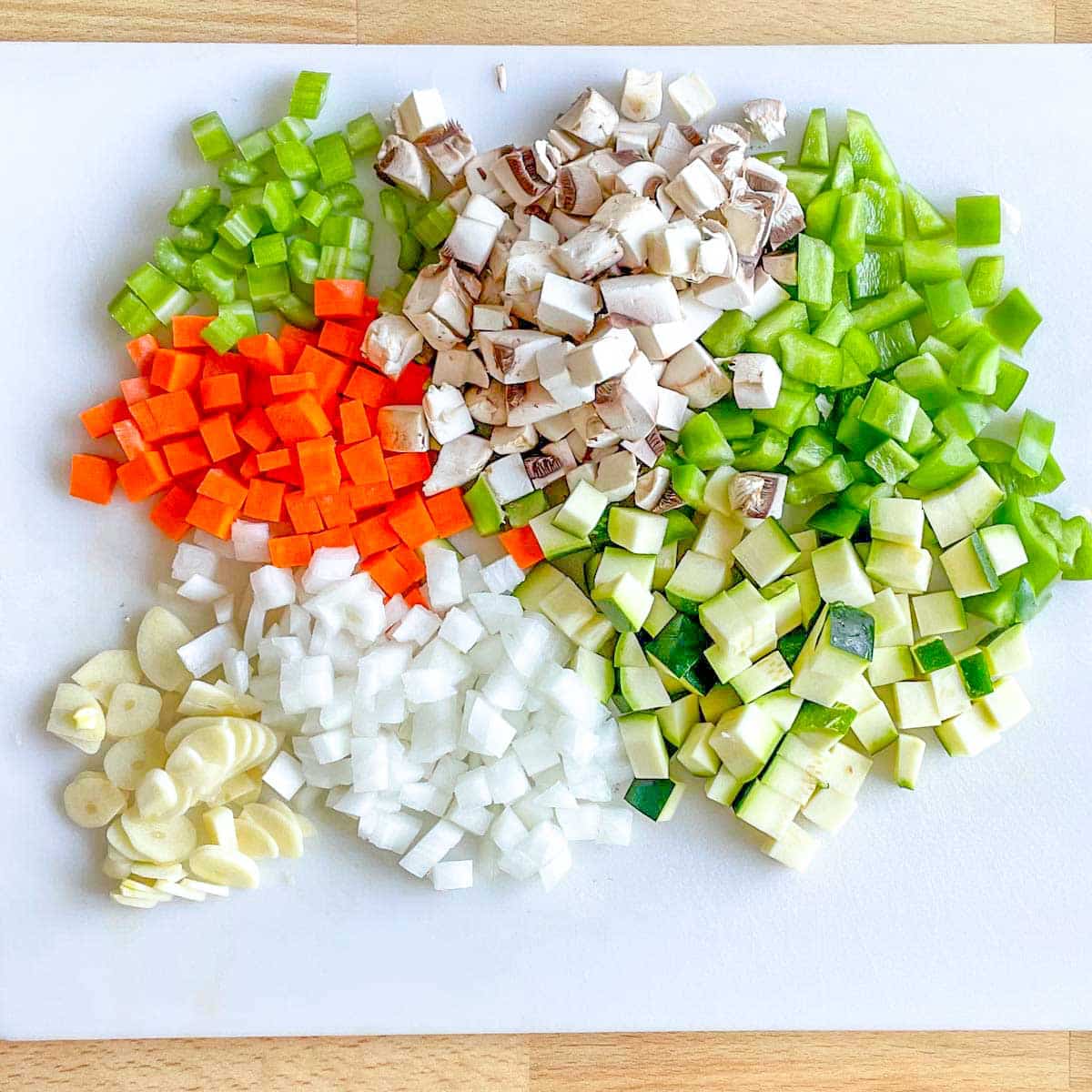 Step Two Add the veggies, season with salt, and cook for 4 to 8 minutes, stirring frequently until soft. Remove from the pan.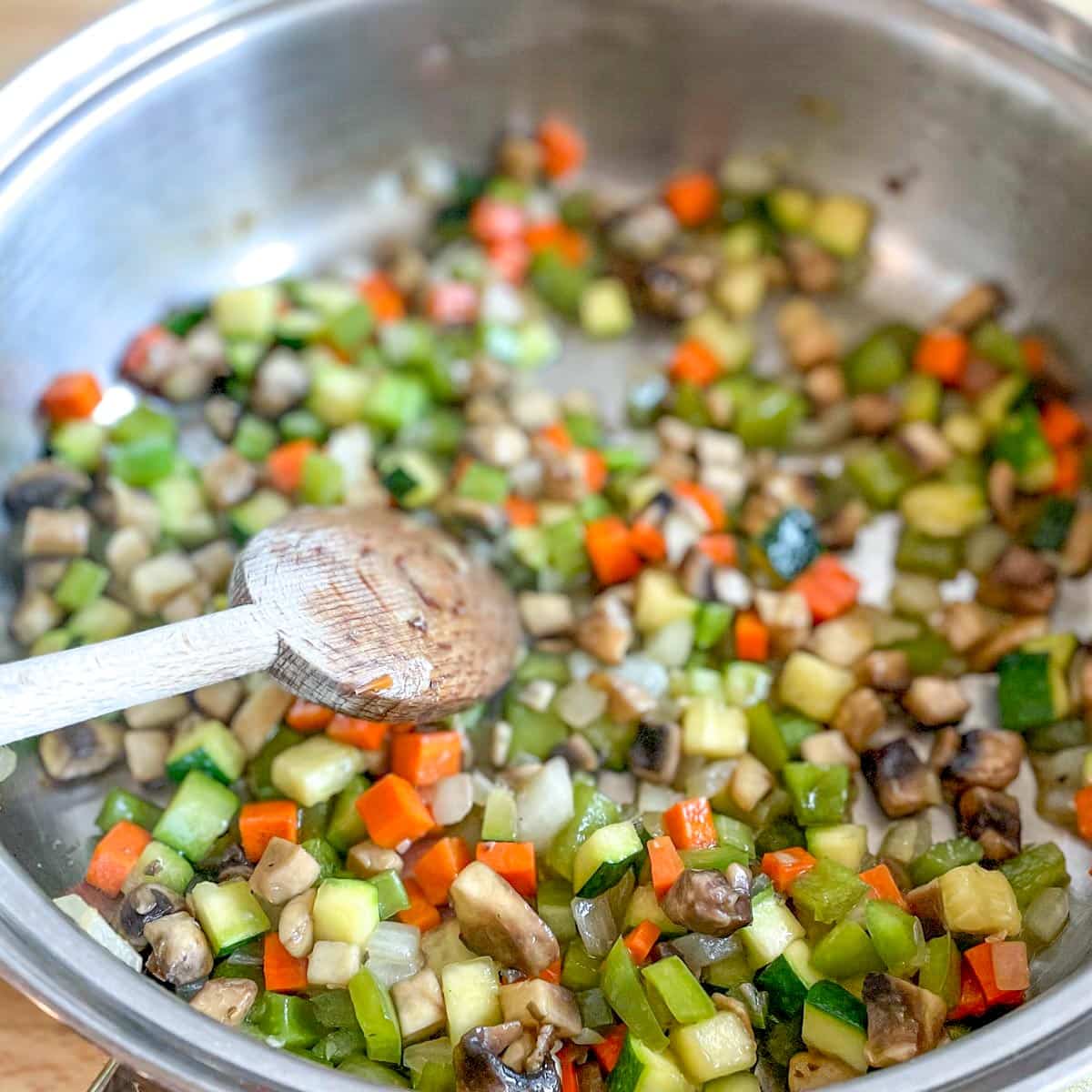 Step Three Add the garlic and cook for about 2 minutes, until soft.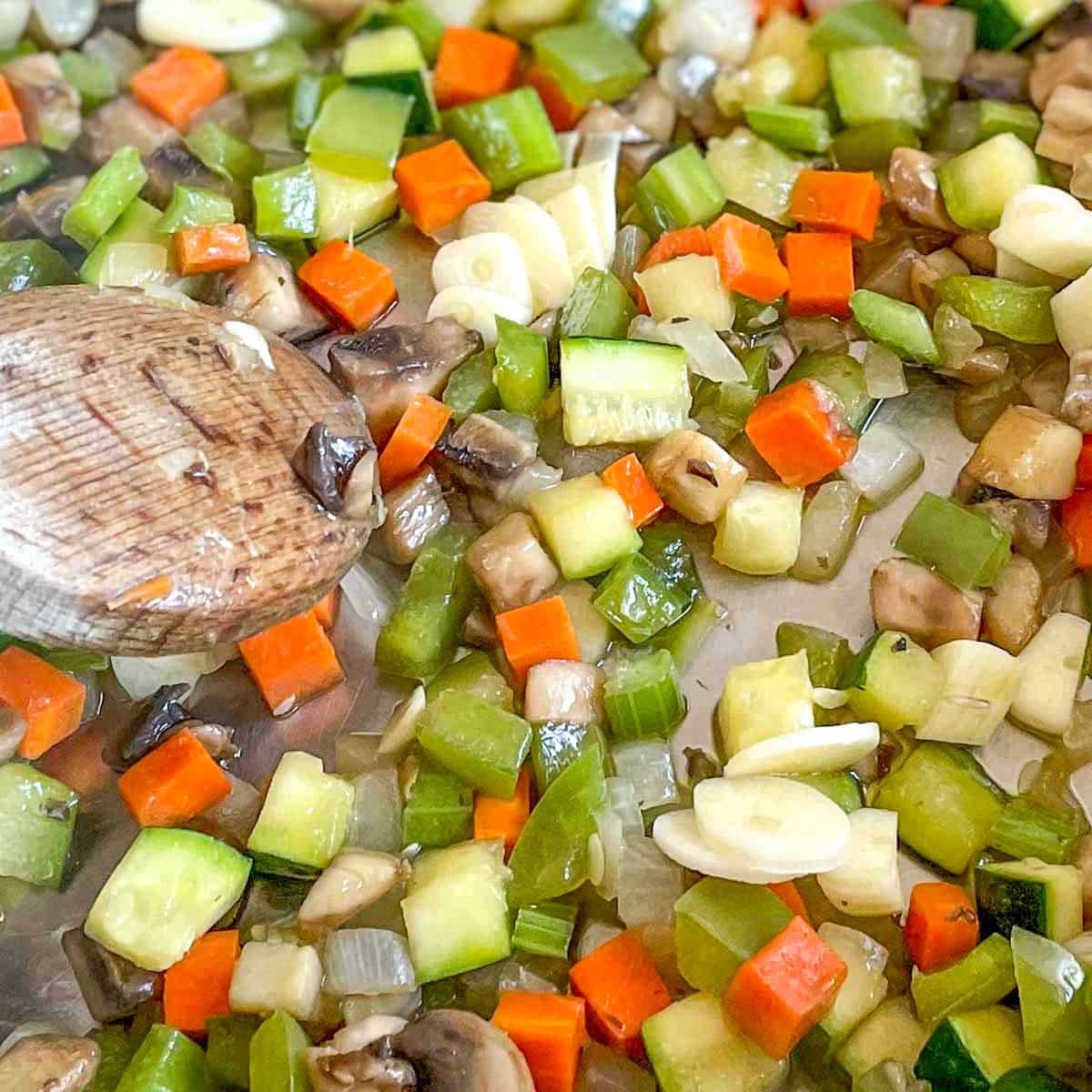 Step Four Brown the ground beef or other meat, season with salt, and add the chili flake and fennel seed, if using.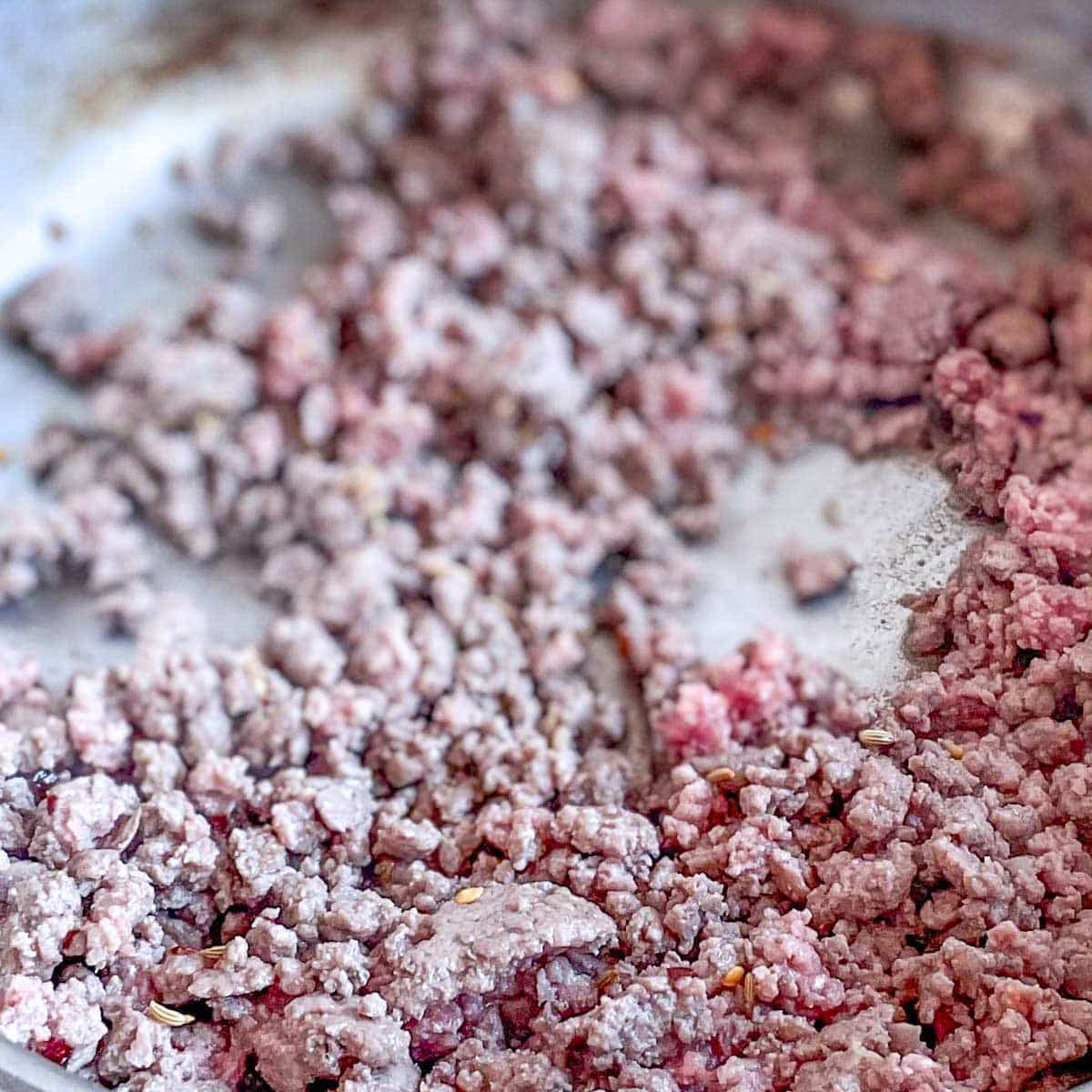 Step Five Deglaze with the wine.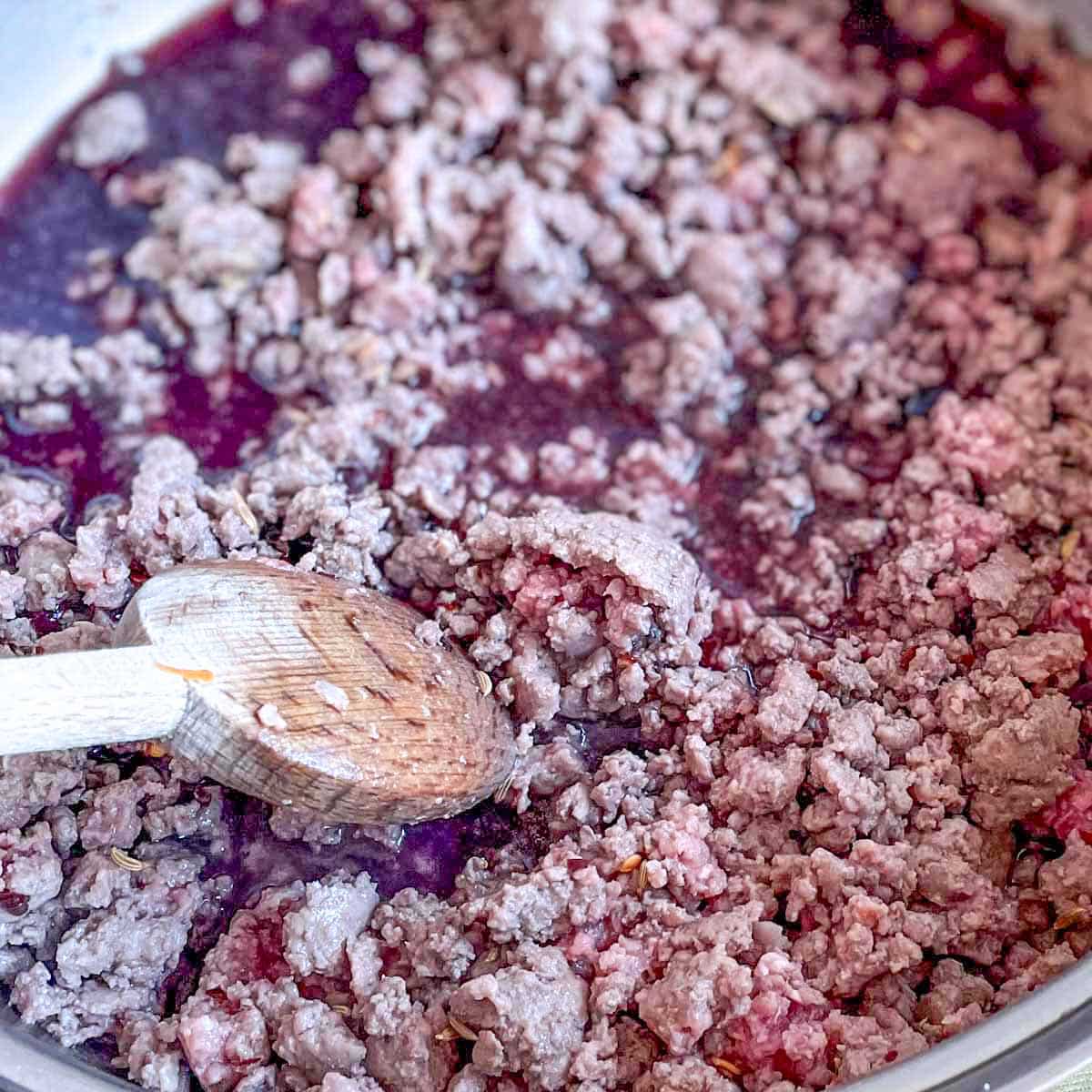 Step Six Add the veggies and crushed tomatoes to the pot or pan. Add the bay leaves if using. Season with salt and stir. Bring up to a boil and down to simmer. Cook for 20 minutes.
Step Seven Meanwhile, bring a large pot of water to a boil and salt generously. Make linguine.
Step Eight Once finished cooking, toss the pasta with the sauce. If the mixture seems too dry, stir in a bit of reserved pasta water.
Divide the pasta and sauce between your serving dishes, about a cup of the pasta per person, and serve the pasta bolognese!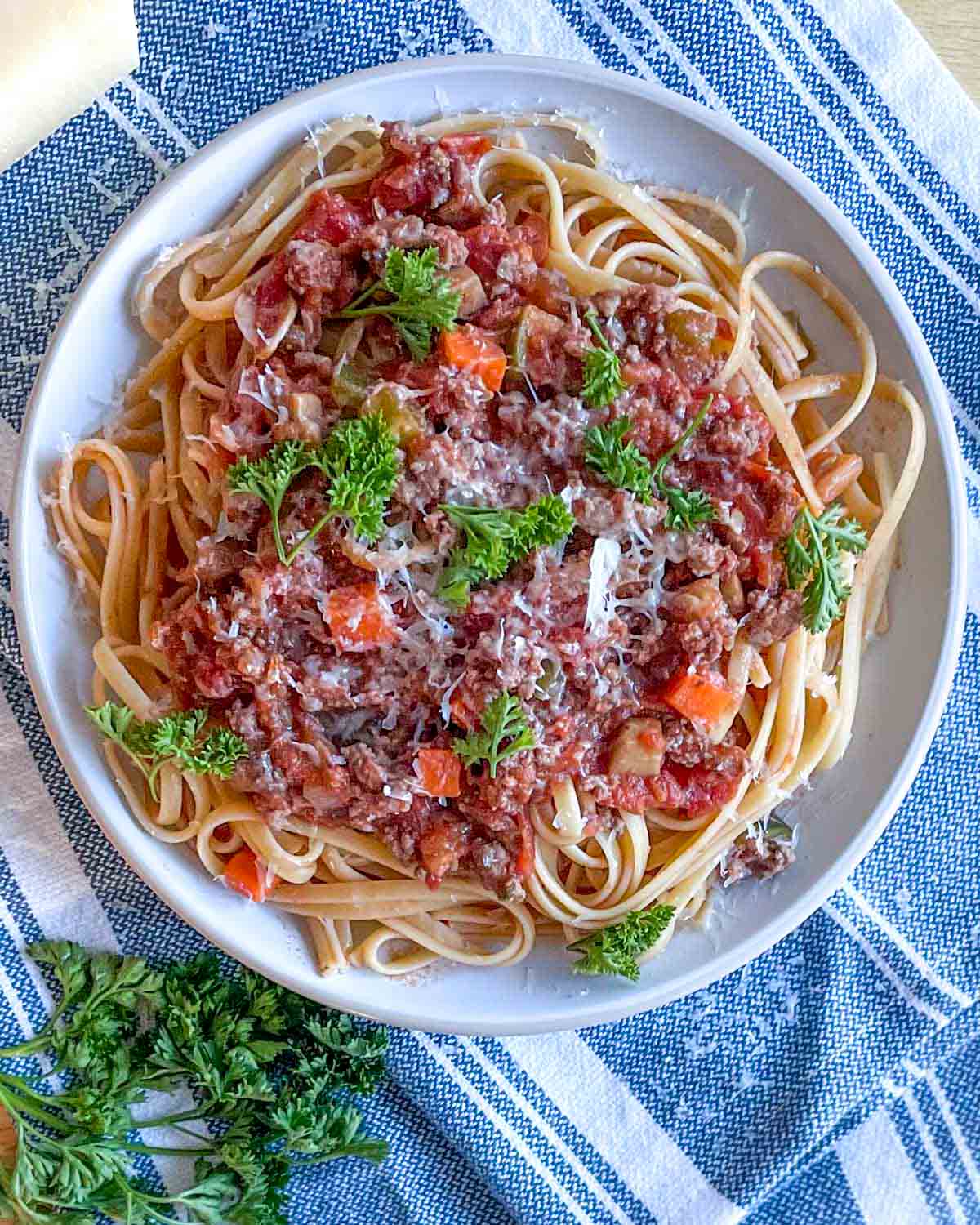 Variations
Different Proteins: Try this bolognese with different ground meats: beef, turkey, bison, lamb, venison, or pork. They all taste a bit different but are delicious in their own ways.
Other Vegetables: Try adding vegetables you have on hand and omit anything you don't have. Don't have any zucchini? Try summer squash (or celery, or more bell pepper!)
Tomato Paste For a slightly thicker sauce with a more concentrated flavor, add a bit of tomato paste in with the vegetables.
Fresh Herbs: Try adding some fresh herbs just before serving. Parsley and basil are great options.
Vegetarian or Vegan: Omit the meat completely for a vegetable-packed vegetarian dish or omit the meat and cheese for a vegan dish. You could also try this chickpea and walnut Vegan Bolognese from our friends at Veggie Inspired!
FAQ
What is bolognese?
Bolognese is a classic variety of Italian meat sauce (or ragú) originally from Bologna. It is typically made with beef, pork, veal, or a combination of these meats. The meat is cooked with carrots, celery, onions, and tomato.

Our version varies a bit in that it is cooked for a shorter period of time, is more tomato-forward, and adds lots of extra veggies!
Can I use a different pasta shape?
Absolutley! What kind of pasta should you use? Try any other long or short pasta shape (but avoid very small shapes, like pastina). Rigatoni and other small tube pastas are great because they can hold some of the sauce.
Can I freeze bolognese?
You can. Cool completely, transfer to a freezer-safe container, and store for up to 3 months. To reheat, store in the fridge overnight to thaw and then heat in a saucepan on the stove.

Be sure to bring up to a boil and then down to a simmer for food safety reasons.
Expert Tips
Brown your meat well before adding the wine and tomatoes. This will add flavor and texture to your dish. If your meat is not properly browned, it can effectively boil (which no one wants).
For the best al dente pasta, cook for one minute less than the box directions.
If your sauce is a bit too thick, add some of the pasta water to thin it out.
How to Store
You can store your cooked bolognese for 3 to 4 days in the fridge. It reheats easily in the microwave or on the stovetop. Place in a saucepan and heat over medium-low to medium heat until it is warmed through.
Cooked linguine can be refrigerated for 3 to 5 days. I recommend cooking the pasta when you are ready to eat, but if you have some leftovers, feel free to store in the fridge and reheat them along with the sauce.
You can also freeze bolognese. The texture of the vegetables may suffer a bit, but it won't lose any nutritional content. It will maintain its quality best for about 3 months.
How to Pair
This pasta is excellent as a standalone meal. It is also great with:
More Recipes You'll Love
Try these great pasta and pasta sauce recipes:
📖 Recipe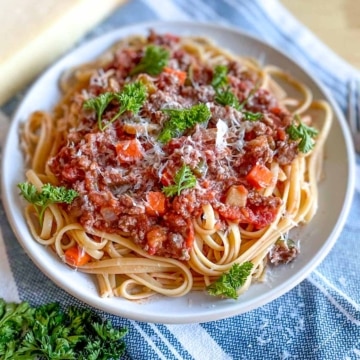 Linguine Bolognese
Rich, hearty, versatile linguine bolognese packed with veggies for a delicious, quick, family-friendly meal.
Print
Pin
Rate
Servings:
8
small or 4 large
Ingredients
1

pound

ground meat

beef, bison, lamb, venison, pork or turkey

12

ounces

linguine

2

tablespoons

olive oil

extra virgin

4

cloves

garlic

sliced

1

small

onion

yellow or sweet, diced small

1

small

carrot

diced small

1

small

green bell pepper

diced small

1

small

zucchini

diced small

1

cup

mushrooms

about 6-7, diced small

28

ounces

canned tomatoes

crushed

½

cup

red wine

1

teaspoon

Italian seasoning

a seasoning with bigger pieces of seasoning is best instead of a powder

¼

teaspoon

fennel seed

optional

pinch

red pepper flake

optional

2

bay leaves

optional

3

teaspoons

kosher salt

or to taste, plus more for pasta water

parmesan cheese

optional

fresh

herbs

like basil or parsley, optional
Instructions
Dice onion, carrots, green bell pepper, zucchini, and mushrooms. Try to keep your dice even so that the vegetables cook evenly.

Slice garlic and set aside.

Place a pot of water to boil. Salt generously.

Place a stock pot or large pan over medium heat and add the oil. Once the oil is just shimmering, add the carrots, onion, green bell pepper, zucchini, mushrooms and a pinch of salt and cook for about 4-8 minutes, until lightly browned and just tender. Stir and monitor heat to ensure nothing gets too dark.

Add garlic. Cook for approximately 2 more minutes, stirring occasionally, until garlic has softened. Remove vegetables from the pan.

Add ground meat, 1 teaspoon salt, and chili flake and fennel seed if using. Brown for approximately 4-8 minutes, stirring occasionally.

Deglaze the pot or pan (pour the liquid in and use a wooden spoon to scrape any brown bits from the bottom) with the red wine.

Add Italian seasoning, 1 teaspoon salt, bay leaves, and crushed tomatoes. Add the vegetables back to the pot or pan. Bring the sauce up to a boil and then down to a simmer.

Cook for 20 minutes, stirring occasionally. Check for seasoning. If the sauce needs more salt, add more here a pinch at a time.

At about the 11 minute mark, add the linguine to the boiling water. Once done, strain.

Add linguine either directly to the pot of sauce, stir thoroughly, and then serve, or add linguine to a bowl and ladle the sauce over. Top with parmesan cheese and fresh herbs if desired.
Notes
My favorite ground meats to use here are bison and lamb. However, beef, pork and turkey all work well, too.
If using turkey, be sure to use meat no leaner than 90/10.
Try different vegetables here - try adding celery, summer squash or a red, yellow or orange bell pepper. Omit any vegetables you don't have on hand. This sauce is designed to be versatile.
If you don't have any red wine on hand, try using white wine or 1 tablespoon of red wine vinegar.
You can use whole peeled tomatoes in place of crushed. Just crush each tomato into smaller pieces in your hand as you drop it in the pot.
Try a different pasta shape, like spaghetti or rigatoni. Follow box directions for cook times.
For a vegetarian option, omit the meat for a vegetable-packed tomato sauce.
For a vegan option, omit the cheese as well or substitute with a vegan cheese product.
Let me know if there are any other veggie combos you love in this recipe!
Nutrition
Calories:
393
kcal
|
Carbohydrates:
43
g
|
Protein:
18
g
|
Fat:
16
g
|
Saturated Fat:
5
g
|
Polyunsaturated Fat:
1
g
|
Monounsaturated Fat:
8
g
|
Trans Fat:
1
g
|
Cholesterol:
40
mg
|
Sodium:
1051
mg
|
Potassium:
694
mg
|
Fiber:
4
g
|
Sugar:
7
g
|
Vitamin A:
1328
IU
|
Vitamin C:
21
mg
|
Calcium:
70
mg
|
Iron:
3
mg