Spaghetti Arrabbiata, often mistakenly spelled Spaghetti Arrabiata, is a spicy Italian pasta dish with a sauce of crushed tomatoes, garlic, onion, and, typically, red pepper flake. I make this recipe unique by adding Calabrian chili peppers in place of red pepper flake.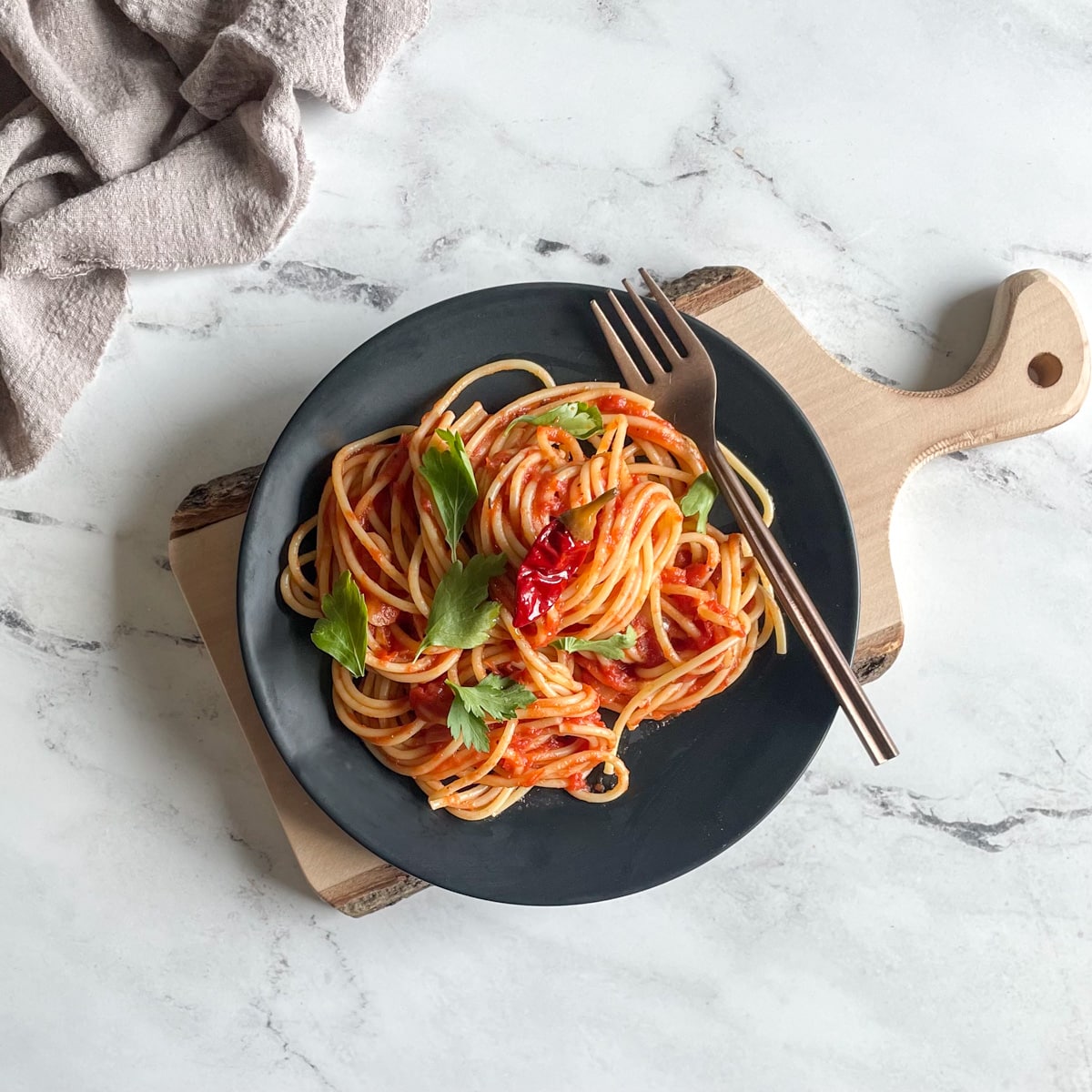 Jump to:
The benefit of using Calabrian chilis in place of red pepper flake is that there are no hard pieces to bite into when you eat the sauce. Especially with older jars of chili flake, I find they can get a bit brittle and unpleasant to chew on.
Here, Calabrian chilis are steeped in the sauce and removed at the end. They add a pretty serious kick, so use them sparingly if you are sensitive to spicy food!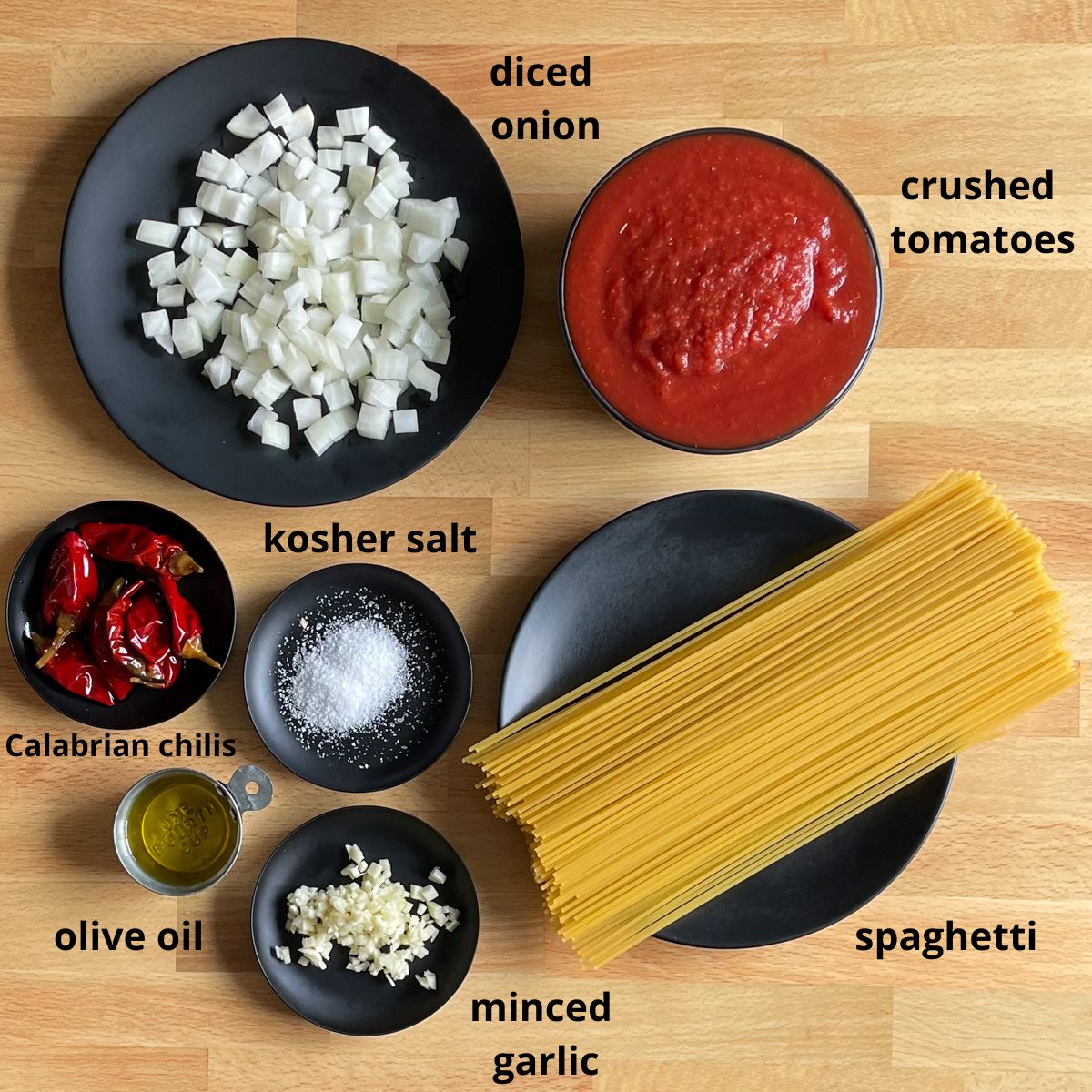 What You'll Need
Two Cloves Kitchen, as an Amazon Affiliate, makes a small percentage from qualified sales made through affiliate links at no cost to you.
Canned Crushed Tomatoes You can also use canned whole peeled tomatoes that you crush by hand. I often prefer this so I can determine the texture of the sauce.
Garlic I used fresh minced garlic for this recipe. You can also thinly slice your garlic if you prefer.
Onion Here I used a yellow onion, but a sweet onion will work well too.
Olive Oil A high-quality olive oil is always nice when your recipe has so few ingredients, but use whatever you have on hand.
Calabrian Chilis I recommend using whole Calabrian chilis so that they are easier to remove from the sauce.
Kosher Salt My recommendation is to use the brand Diamond Crystal because it allows you to easily adjust without oversalting. It is shaped in flakes as opposed to grains, which means it has a less concentrated salty flavor by volume.
Spaghetti You can also use any variety of pasta you have available, or you can try your hand at homemade fresh pasta!
How to Prepare
Step One Dice half of your onion.
Step Two Mince or thinly slice your garlic.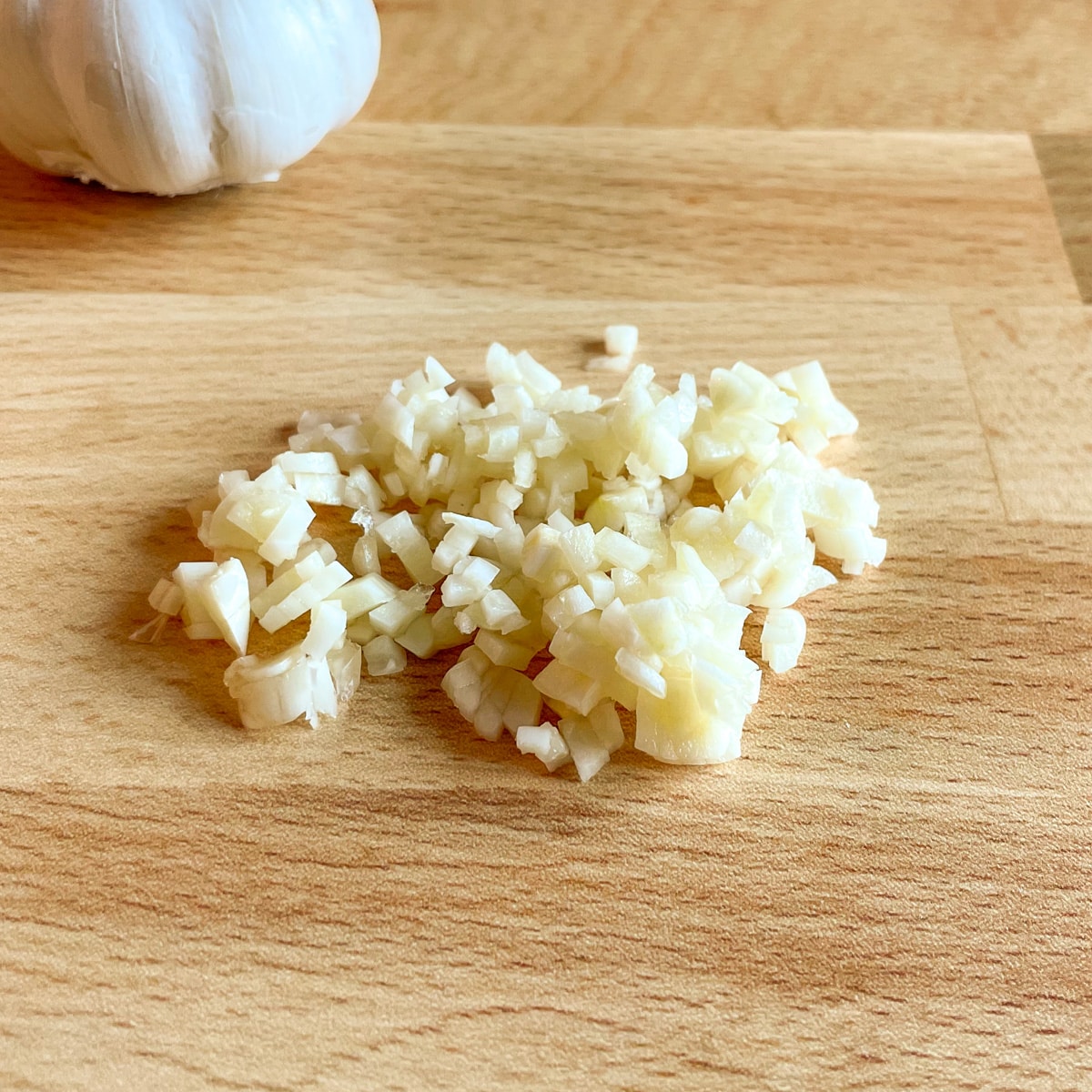 Step Three Put a large pan or medium sauce pot on medium to medium-low heat, add the olive oil, and wait until it is just shimmering. Add the onion and Calabrian chilis and sweat until the onion is translucent, 5 to 10 minutes. Season with salt.
Step Four Add the garlic and cook until just fragrant, about 30 seconds to 1 minute.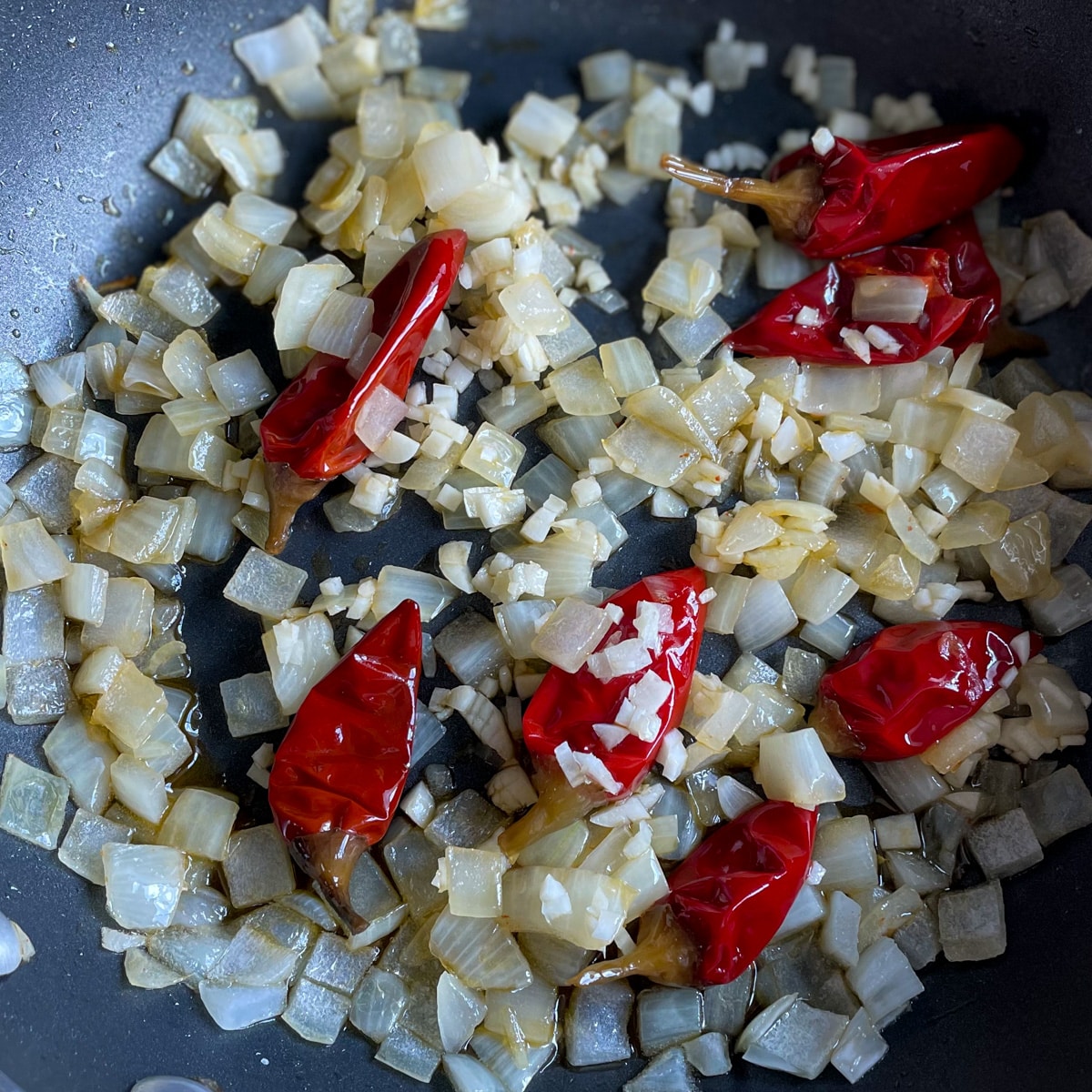 Step Five Add the crushed tomatoes. Season with more salt. Bring up to a boil and down to a simmer for about 20 minutes.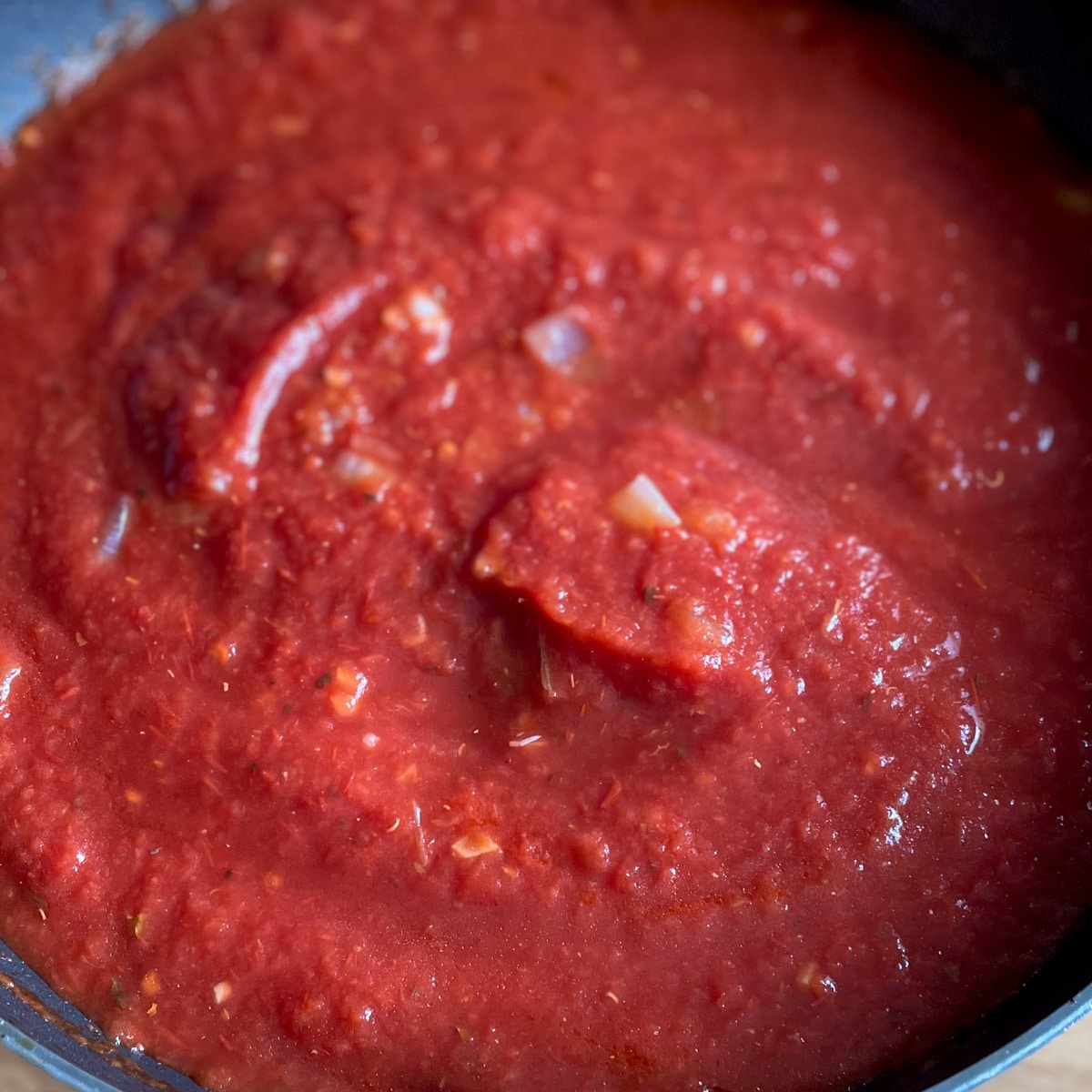 Step Six Meanwhile, bring a large pot of salted water to a boil. Once boiling, add the spaghetti and cook to box directions.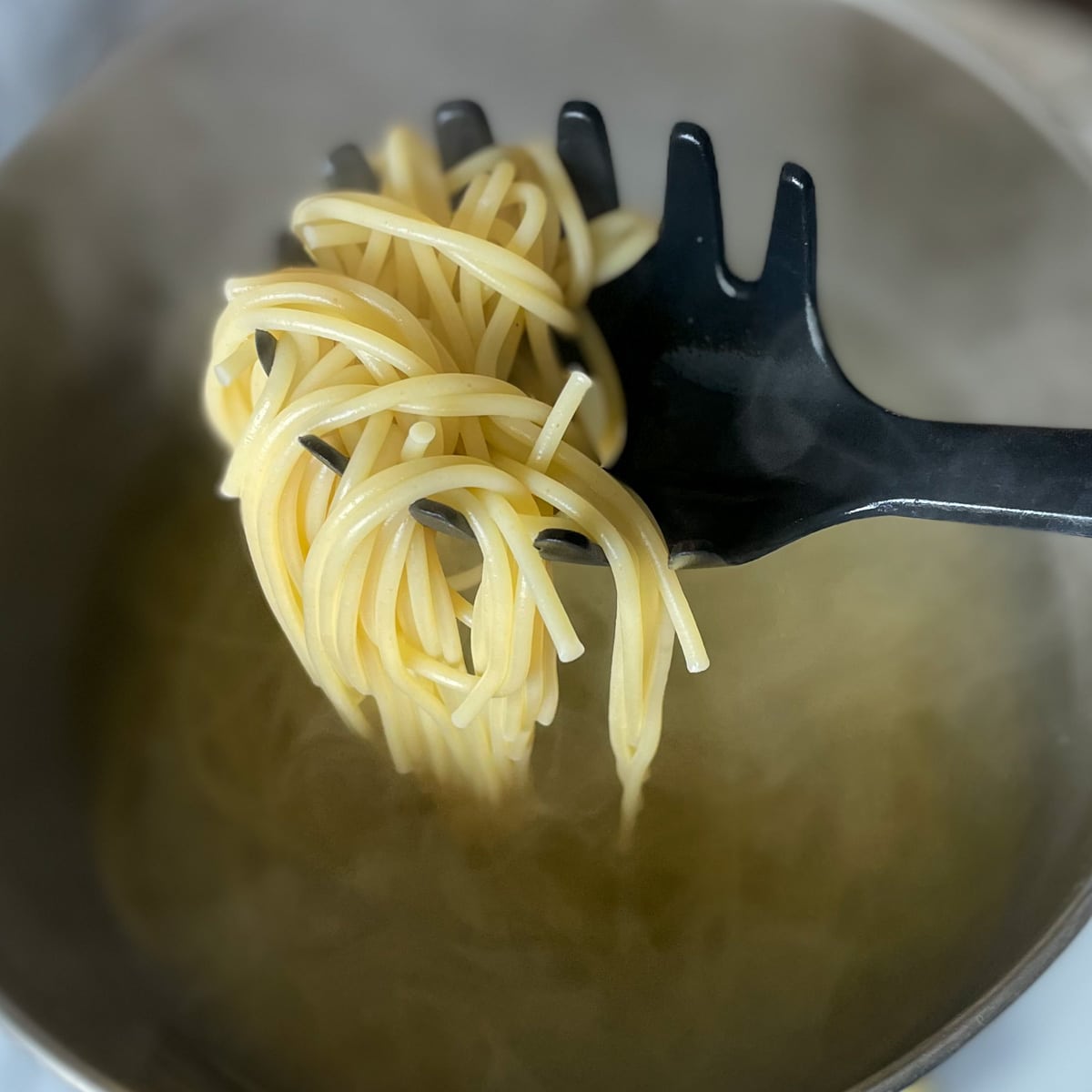 Step Seven Remove the chilis from the sauce.
Step Eight Strain the pasta and add to the pan with the sauce. Taste for seasoning and add more salt if needed. Mix well and serve.
Variations
Different Pasta Shapes You can make this sauce with another long pasta, like linguine or angel hair, or try a short tube pasta like rigatoni or penne.
Traditional If you don't have access to Calabrian chili peppers, you can use a tablespoon of red pepper flake in their place.
Fresh Herbs You can make this dish even more delicious with the addition of fresh herbs like basil or parsley sprinkled over the finished dish.
How to Store
Cool and then store in an airtight container, making sure to transfer to the fridge within 2 hours of cooking for food safety reasons.
I recommend storing the pasta and sauce separately or making the sauce in advance and cooking the pasta when you are ready to eat.
FAQ
Can I freeze this dish?
You can freeze the sauce. Cool the sauce and place in a freezer bag or other appropriately sized container. I recommend freezing only for about 3 months to maintain the best flavor.
Can I make this ahead of time?
Yes. If making ahead of time, store the pasta and sauce separately and combine once reheated. The sauce will remain good in the fridge for 3 to 5 days.
How do I reheat this dish?
From frozen: Thaw sauce in the fridge overnight and then bring up to a boil and down to a simmer on the stove before serving with fresh spaghetti.

From fridge: If refrigerated, you can bring the sauce up to temperature on the stove as well. If the sauce and pasta are already combined, use the microwave for 1 to 2 minutes.
What if I can't find Calabrian chili peppers?
You can use up to a tablespoon of red pepper flake in its place.
Expert Tips
For al dente pasta, use the lower of the 2 cook times on the box directions (e.g., cook for 10 minutes if it says 10 to 11 minutes). You can also take the pasta out of the water 1 minute before it's ready and finish cooking in the sauce.
For the best-tasting pasta sauce, season as you go. Season your onions while they are sweating and continue to taste throughout the cooking process, adding more seasoning as necessary.
Don't forget to salt your pasta water! Authentic Italian pasta dishes are cooked in water that is saltier than you may think, so add an extra pinch and see if you like the taste of your pasta even more.
How to Serve
This spaghetti can definitely be a meal unto itself, but here are some great ideas for how to fill out your dinner table:
Salad Any simple green salad with a lemon herb vinaigrette would be a great addition to your table.
Roasted Vegetables Try roasted broccolini or roasted cherry tomatoes on the vine.
Garlic Bread A piece of garlic bread or freshly toasted bread spread with roasted garlic or roasted garlic butter would be delicious here to sop up any remaining sauce in the bowl.
Multi-Course Dinner You can really impress guests if you serve this pasta as one course in a multi-course meal with soup, salad, Italian Chicken Cutlets, and dessert!
Meatballs Try a batch of these wonderful porcupine meatballs from Garlic Salt and Lime.
More Recipes You'll Love
If you're in the mood for more pasta, try these recipes:
Penne al Salmone (Penne with Salmon and Cherry Tomatoes)
📖 Recipe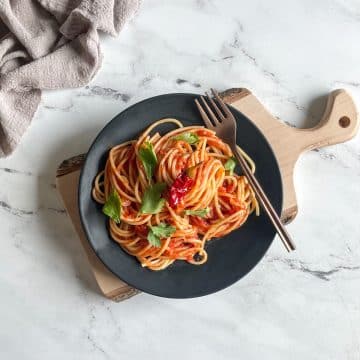 Spaghetti Arrabbiata
Quick, spicy Spaghetti Arrabbiata featuring Calabrian chilis. Ready in just about 30 minutes, it's perfect for a weeknight dinner or a meal to impress guests!
Print
Pin
Rate
Servings:
4
small or 2 large
Ingredients
Sauce
28

ounces

canned tomatoes

crushed or whole peeled

¼

cup

olive oil

extra virgin

½

onion

yellow or sweet

4

cloves

garlic

6 to 8

Calabrian chilis

whole, or 1 tablespoon chili flake

kosher salt

to taste

fresh herbs

like parsley or basil, optional

Parmesan cheese

grated, optional
Instructions
Sauce
Dice the onion and mince the garlic.

Place a large pan or medium sauce pot over medium to medium-low heat. Add olive oil. Once shimmering, add the onion, chilis, and a pinch of salt, and sweat for 5 to 10 minutes, or until the onion is becoming translucent.

Add the garlic and cook until just fragrant, 30 seconds to 1 minute.

Add the tomatoes and season with salt. If using whole peeled tomatoes, crush with your hand as you add them to the pot. Bring up to a boil and down to a simmer for about 20 minutes.

Remove the chilis with a slotted spoon.
Pasta
Meanwhile, set a stockpot filled with salted water over high heat. Once the water is boiling (and the sauce has cooked for at least 10 minutes), add the pasta and cook to package directions.

When the pasta is finished, strain or use tongs to add the pasta to the sauce.

Garnish with parsley or basil and parmesan cheese if desired and serve right away.
Notes
If you do not have access to Calabrian chilis, use 1 tablespoon of red pepper flake/chili flake in their place. You do not need to remove the chili flake like you would the chilis.
This dish can be stored in the fridge for 3 to 5 days.
The sauce can be frozen for up to 3 months. To reheat, thaw in the fridge overnight and then place in a pot on the stove. Bring up to a boil and down to a simmer before serving over fresh pasta.
To make in advance, I recommend storing the sauce and pasta separately or making the pasta when ready to serve the sauce.
Nutrition
Calories:
483
kcal
|
Carbohydrates:
76
g
|
Protein:
14
g
|
Fat:
15
g
|
Saturated Fat:
2
g
|
Polyunsaturated Fat:
2
g
|
Monounsaturated Fat:
10
g
|
Sodium:
274
mg
|
Potassium:
989
mg
|
Fiber:
7
g
|
Sugar:
15
g
|
Vitamin A:
1070
IU
|
Vitamin C:
117
mg
|
Calcium:
101
mg
|
Iron:
4
mg