Mediterranean Grain Bowls combine pre-cooked grains, lots of healthy vegetables, and fresh, bright, bold Mediterranean flavors for an easy, nourishing, and delicious weeknight meal that comes together in about 10 minutes!
Why You'll Love This Dish
It's quick! Relying on pre-cooked brown rice makes this recipe really quick to pull together. Grains bowls are the perfect easy, hearty and healthy weeknight meal or work lunch.
It's so easy. This hearty recipe requires no cooking. All you need to do is cut your vegetables, create the dressing, and assemble it for a fantastic lunch or dinner.
It is extremely flavorful. The bright lemon juice, fresh herbs, tangy feta, and creamy chickpeas make for a dish packed full of flavor.
You can make it in advance. Put together all of the components of the dish except the fresh mint, fresh dill, and the dressing. Add the herbs and vinaigrette right before serving for a perfect meal prep idea.
Finally, it's made with whole ingredients! This Mediterranean grain bowl recipe is excellent for the Mediterranean diet, or just for those who want a filling, fresh, flavorful meal.
Jump to: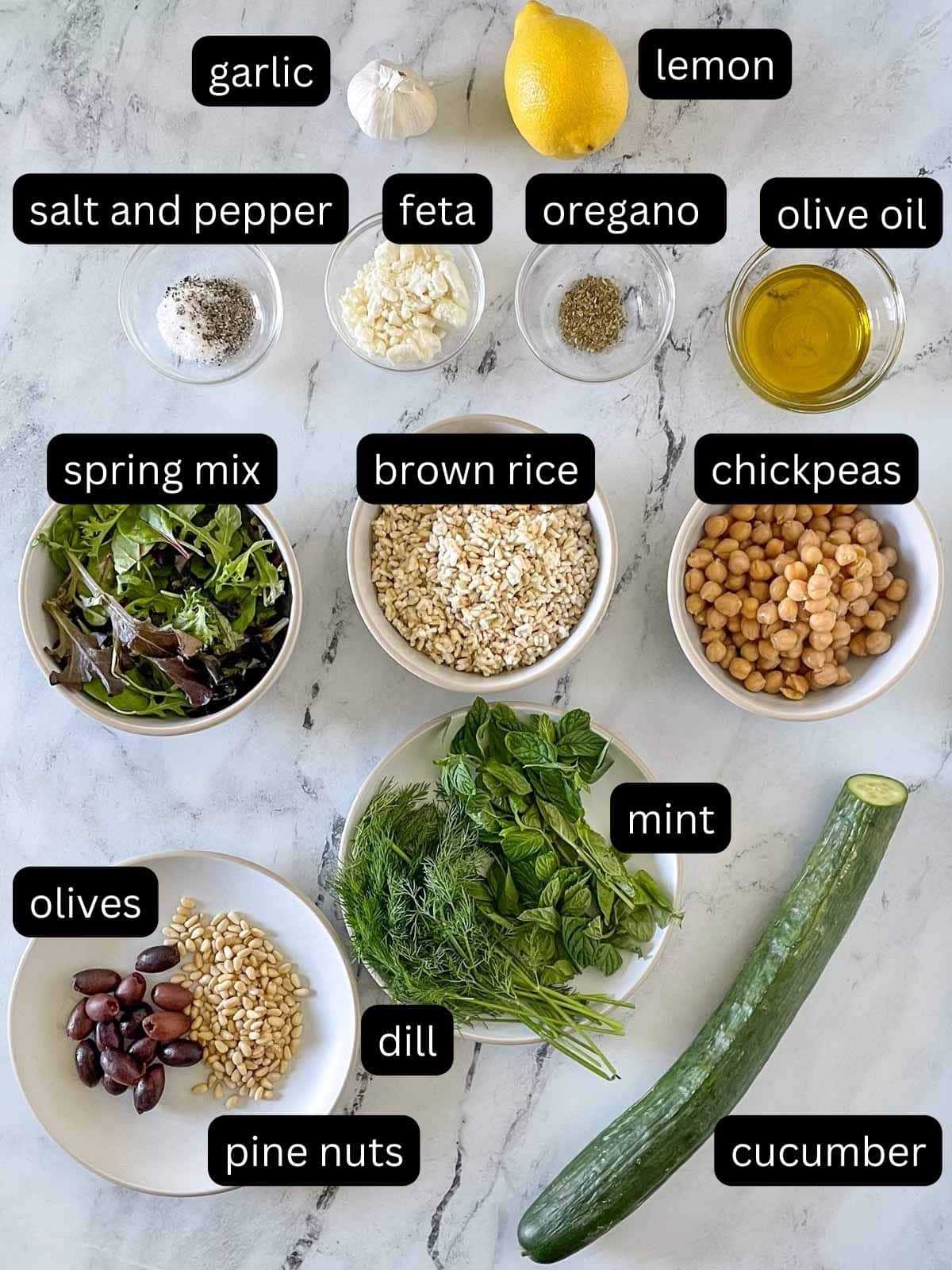 What You'll Need
Canned Chickpeas or another canned bean of your choosing. This would be great with white beans, lentils, a scoop of hummus, or proteins like grilled chicken, shrimp, salmon, or sardines.
Cooked Grains I use brown rice here, but use quinoa, spelt, farro, or another grain. This would also be good with orzo or couscous.
Feta Cheese You could also use goat cheese or another salty, semi-soft cheese.
Olives While this recipe calls for kalamata olives, you can also try Castelvetrano olives, oil-cured olives, or any other olive you like. If you are not a fan of olives, try adding some artichoke hearts instead.
Cucumber Any variety of cucumber will work here.
Spring Mix You can also try other lettuces here, like chopped romaine, baby spinach, or arugula.
Pine Nuts add a delicious, rich, slightly earthy taste to the dish. If you are not a fan or don't have access to pine nuts, try some walnuts or sunflower seeds.
Fresh Mint and Fresh Dill I would not replace these with dried herbs. If you can't find these, try other fresh herbs like parsley or basil.
Garlic Fresh garlic is always my preference, but feel free to use jarred garlic as well. You could also chop a bit of shallot to use in its place.
Extra Virgin Olive Oil A good quality oil would be nice here because you can taste it so clearly, but use whatever you have on hand.
Lemon If you can't find fresh lemons, you can purchase bottled lemon juice. For a sweeter dressing, you could use balsamic vinegar instead.
Dried Oregano Optional, dried oregano adds just a bit more Mediterranean flavor to the dish.
Salt Diamond Crystal Kosher Salt is my brand of choice. It coats food evenly and is less salty than traditional table salt by volume, making it much easier to taste as you go!
Pepper Fresh cracked pepper is delicious here.
How to Make Mediterranean Grain Bowls
Step One Chop cucumber. If you'd like, use the base of your knife to smash them lightly.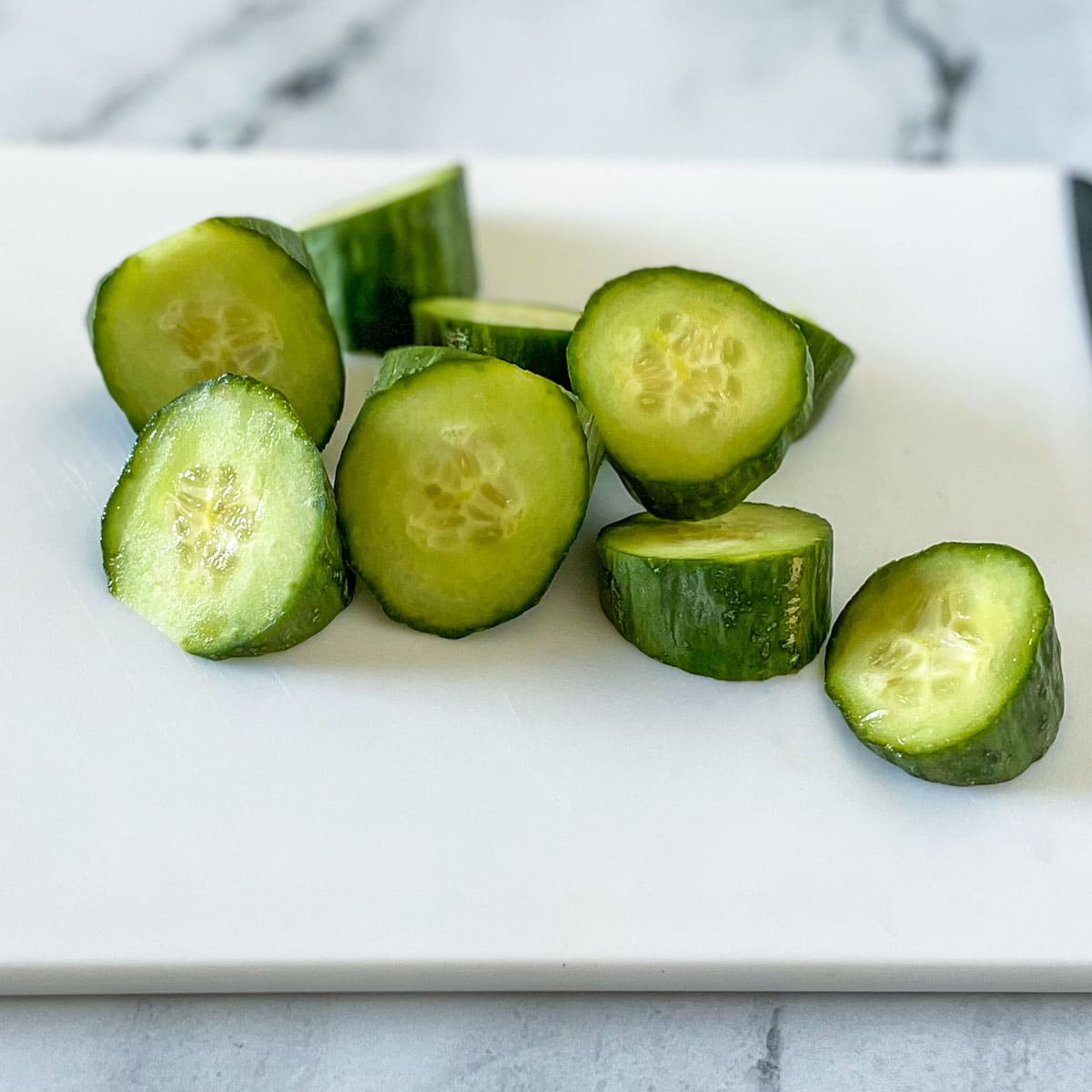 Step Two Make the dressing. Grate the garlic or finely mince, then add the oil, lemon juice, oregano, if using, and salt and pepper to either a bowl or a jar. Stir well with a fork or shake to emulsify.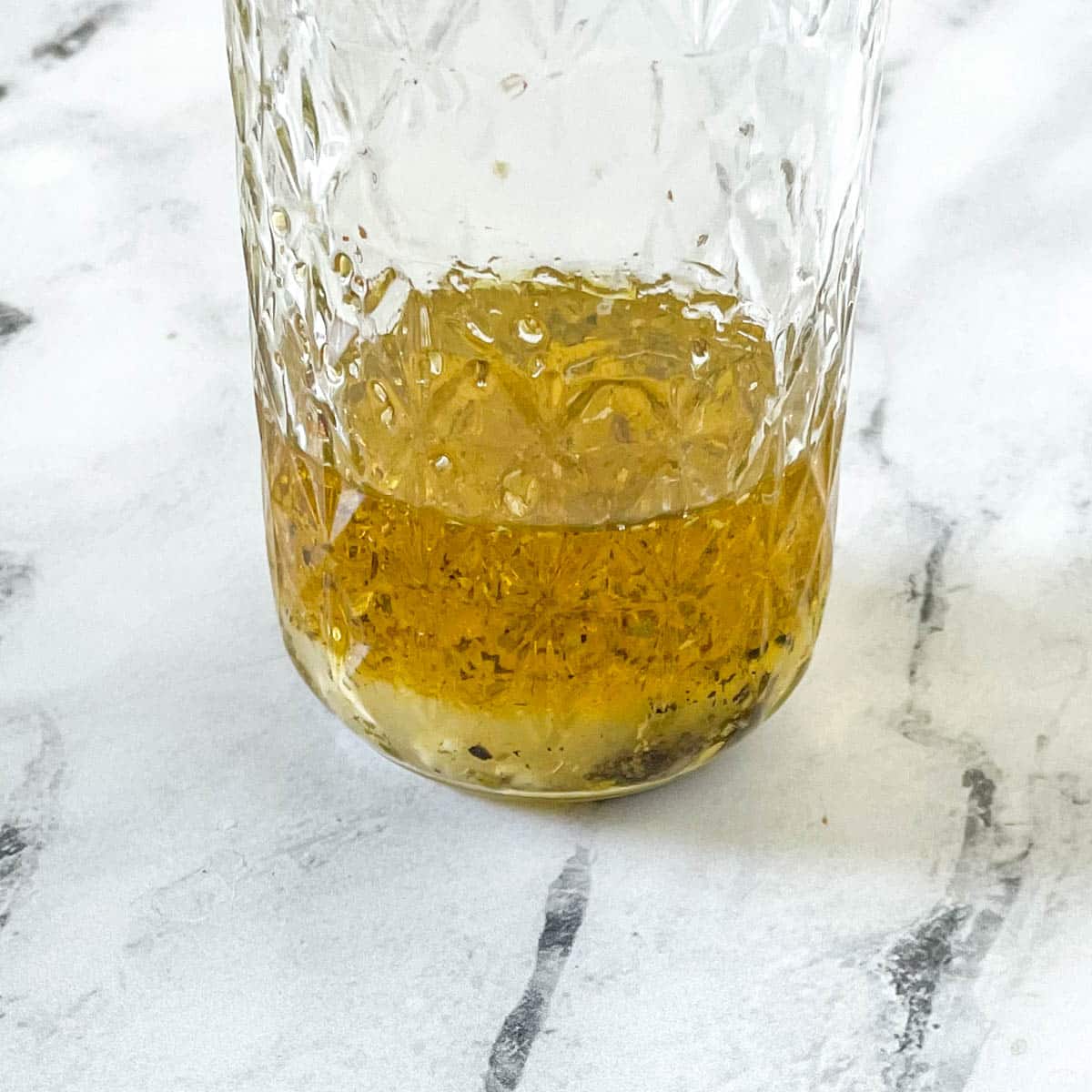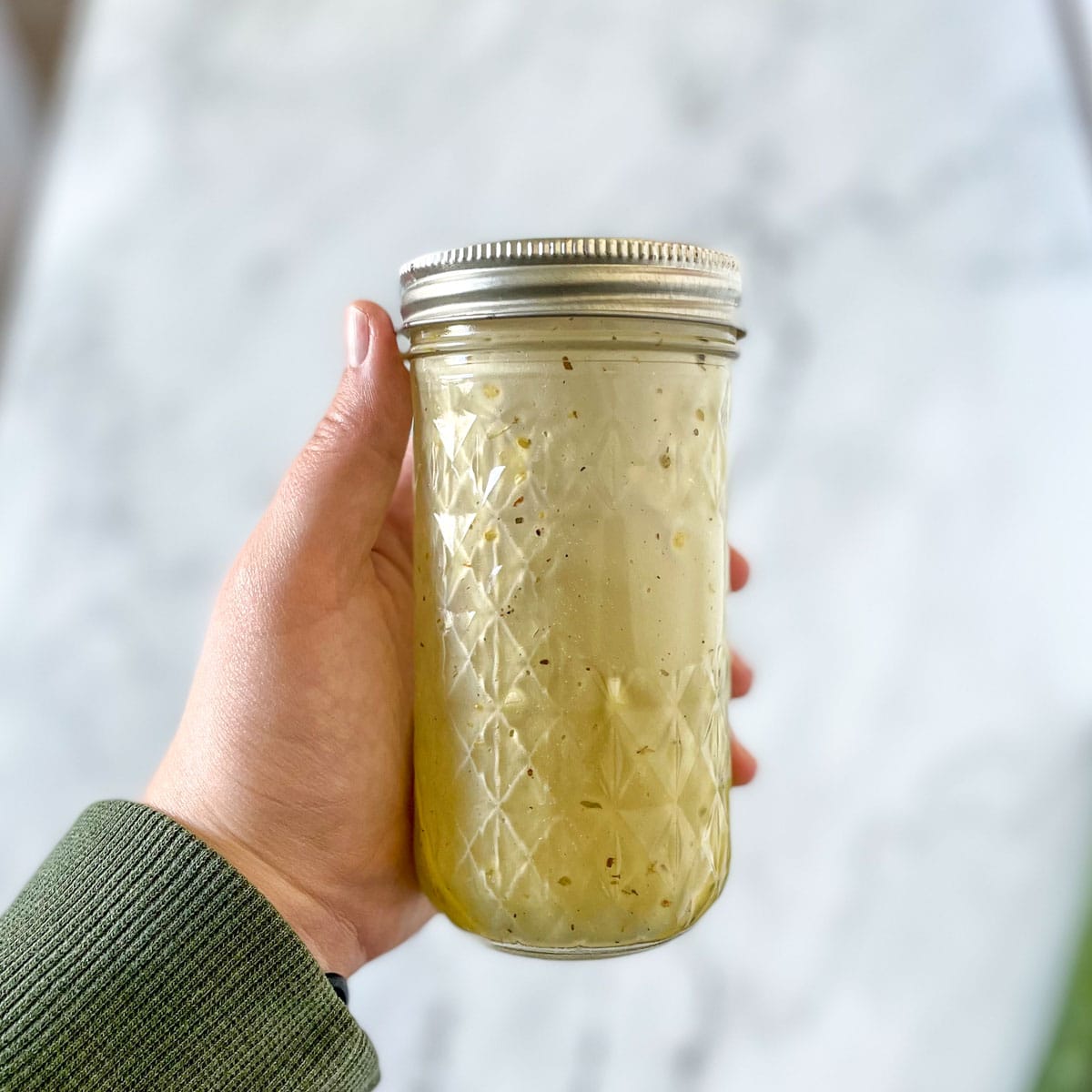 Step Three Assemble the bowls. Add about 1 cup of heated rice or other whole grain to each bowl, topping with chickpeas, spring mix, cucumbers, olives, pine nuts, and fresh herbs, drizzle with dressing, and serve.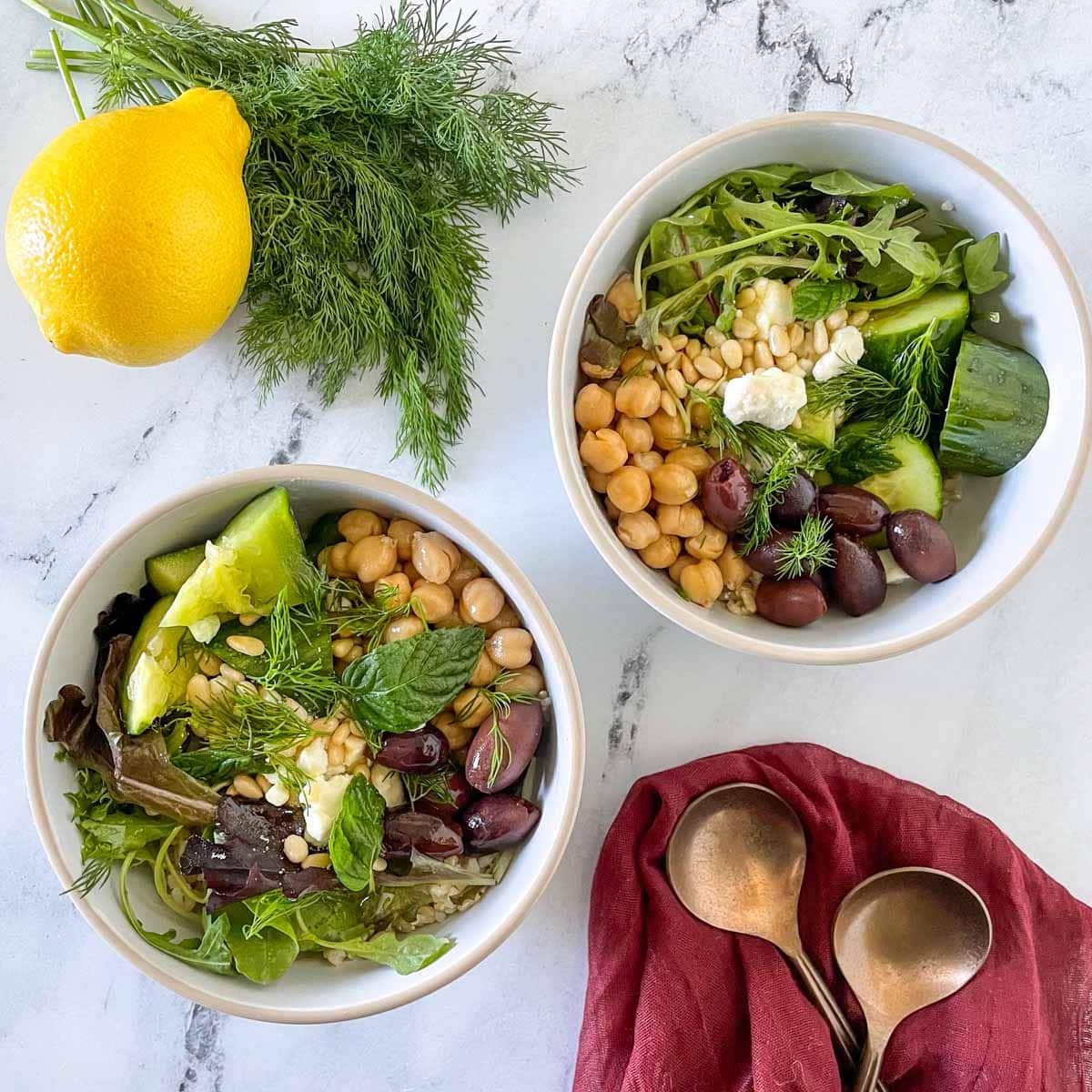 FAQ
Do you eat grain bowls hot or cold?
Really, both. It is nice to have the grains heated through and the remaining ingredients at room temperature. You can also let everything come to room temperature before serving.
How do you reheat a grain bowl?
I recommend storing the warm and cold components of a grain bowl separately so that you can heat the rice in the microwave if you'd like. Afterward, add the cold ingredients, fresh herbs, and vinaigrette.
Can you meal prep grain bowls?
Absolutely! Prep all of your ingredients and store your herbs and vinaigrette separately. When ready to serve, add the herbs and vinaigrette and serve.
Variations
Fresh Herbs In addition to dill and mint, try any combination of fresh parsley and basil.
Beans Try white beans like cannellini, navy beans, or lima beans, or try a scoop of hummus. You can also use lentils.
Grains Build your own Mediterranean grain bowl by using farro, spelt, quinoa, bulgur, or other whole grains. It would be delicious with this Mujadara. You could also try orzo, pearl couscous, or other small pasta.
Proteins Instead of beans you can try tuna salad without mayo, chicken, shrimp, fish, tofu, or any other protein you'd like.
Cheese Goat cheese would be fantastic here, as well. Or make this completely plant-based by using vegan cheese or omitting entirely.
Different Dressing If you are not fond of vinaigrettes, try using a tahini dressing instead. This will be more similar to the Panera Mediterranean bowl.
Nuts/Seeds In place of pine nuts, you can try many toppings like walnuts, pumpkin seeds, or sunflower seeds.
More Healthy Fats Try adding some avocado!
How to Store
Fridge Cooked brown rice can be stored for 4 to 5 days in the fridge, so base this storage time on when you cooked the rice. This would include rice you bought frozen and heated up to make this recipe.
The remaining leftovers can be stored for 3 to 4 days in the fridge.
I recommend storing fresh herbs separately until ready to serve or they may wilt. Vinaigrette (or any other sauce you choose to include) is best stored separately until ready to serve as well, or the bowl may get soggy.
Freezer Frozen brown rice can be stored for up to 6 months. Check out these instruction guide for freezing brown rice or purchase pre-cooked, frozen brown rice from the grocery store.
How to Serve
Grain bowls are a meal unto themselves. Below are some ideas for fun additions to your bowl or ways to fill out the dinner table:
Soup Try these grain bowls with a cup of your favorite soup, like this Chicken Pastina Soup with lemon and dill.
Roasted Vegetables Looking for a warm vegetable to add to your bowl? Swap the cucumbers for this Roasted Tenderstem Broccoli or these Roasted Cherry Tomatoes on the Vine.
Beverages I like trying different fun beverages with this meal, like this Cucumber Lemon Ginger Water with Jalapeño.
Expert Tips
Be sure you have grains cooked in advance. I like to cook and freeze brown rice, or when I'm short on time, buy pre-cooked frozen rice from any store where it's sold--Trader Joe's and Whole Foods usually have this item.
Taste your food! Once you've created your bowl, taste for seasoning. Does the dressing need a pinch of salt? Do you need an additional sprinkle of feta? Taste every component before serving for a perfectly seasoned dish.
Try a variety of ingredients. While I've provided a base here for an incredibly flavorful dish, these grain bowls are made to be personalized. Add what you like, remove what you don't, mix and match, and enjoy!
More Recipes You'll Love
Looking for more recipes with greens? Try the suggestions below!
Warm Grain Bowl with Goat Cheese and Greens
Burrata Salad with Balsamic Glaze
📖 Recipe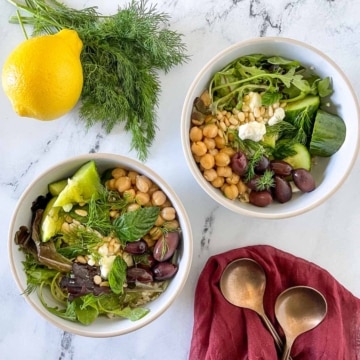 Mediterranean Grain Bowls
Mediterranean grain bowls combine whole grains, vegetables, and fresh, bright, bold Mediterranean flavors for a healthy, delicious meal ready in about 10 minutes! Great for meal prep and work lunches.
Print
Pin
Rate
Ingredients
Grain Bowl
4

cups

cooked brown rice

1

can

chickpeas

drained

1

cucumber

small to medium

24

olives

or to taste

4

cups

spring mix

8

tablespoons

pine nuts

8

tablespoons

feta cheese

crumbled

½

cup

fresh mint

½

cup

fresh dill
Instructions
Dressing
Grate or finely mince the garlic and add to a glass jar or bowl. Add the remaining ingredients and shake or whisk to combine.
Bowl
Cut your cucumbers into bite-sized wedges. If desired, smash a bit with the base of your knife.

Assemble your bowls: add the rice, chickpeas, spring mix, cucumber, olives, feta, pine nuts, and fresh herbs. Drizzle with the dressing and serve.
Notes
General
This bowl is very customizable. See suggestions below for substitutions and additions:
Try goat cheese instead of feta.
You can use baby spinach, romaine, or arugula in place of spring mix.
Sunflower seeds, walnuts, or pumpkin seeds would be great in place of pine nuts.
Instead of chickpeas, you can use white beans, lentils, a scoop of hummus, grilled chicken, fish, shrimp, tofu, or any other protein you would enjoy.
Use whatever grain appeals to you. Try quinoa, farro, bulgur, spelt, or any variety of small pasta like orzo or couscous.
Different fresh herbs will work here as well. Basil and parsley are great here.
Storing
Store the rice, vegetables, fresh herbs, and vinaigrette in separate containers and assemble when ready to serve.
Cooked brown rice can be stored for 4 to 5 days in the fridge. The remaining leftovers can be stored for 3 to 4 days in the fridge.
Frozen brown rice can be stored for up to 6 months in the freezer.
Reheating
You can reheat the rice in the microwave. Nothing else will need to be reheated. Alternatively, let the rice come to room temperature before eating. I also enjoy this right out of the fridge.
Nutrition
Calories:
623
kcal
|
Carbohydrates:
56
g
|
Protein:
14
g
|
Fat:
40
g
|
Saturated Fat:
8
g
|
Polyunsaturated Fat:
9
g
|
Monounsaturated Fat:
19
g
|
Cholesterol:
30
mg
|
Sodium:
782
mg
|
Potassium:
566
mg
|
Fiber:
6
g
|
Sugar:
2
g
|
Vitamin A:
1449
IU
|
Vitamin C:
22
mg
|
Calcium:
250
mg
|
Iron:
4
mg