Do you ever get home with mac and cheese on your mind, start getting everything ready, and realize you don't have milk? This mac and cheese without milk solves that problem using a few other key dairy ingredients in its place.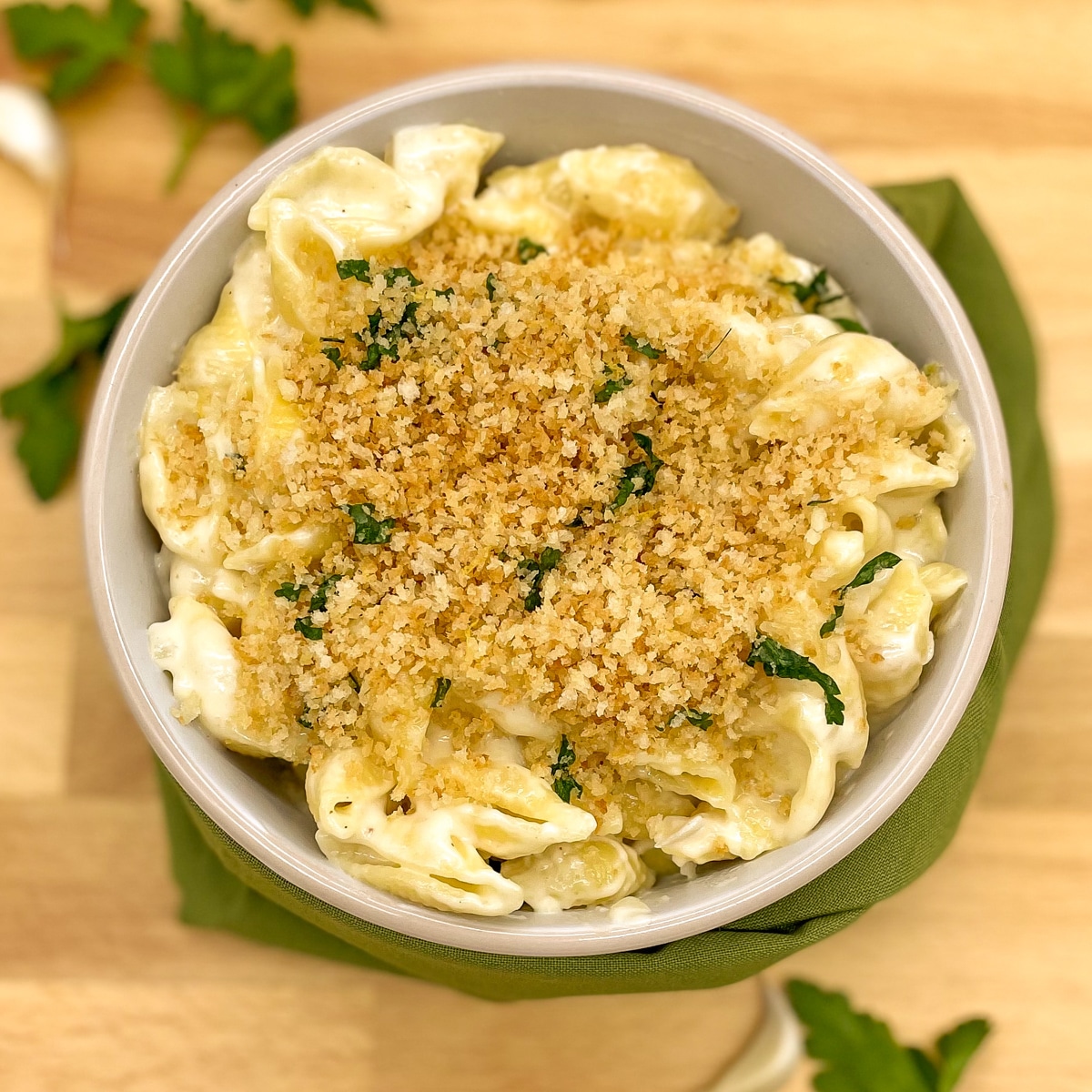 Jump to:
You can easily replace that missing milk with a combination of cream and cream cheese. Add tangy, creamy white cheddar and rich mozzarella to create a decadent, wonderfully velvety cheese sauce.
Besides the pasta (my all-time favorite comfort food), the delicious breadcrumb topping is my favorite part of the dish. The breadcrumbs are mixed with fresh parsley, garlic, and lemon zest for some needed crunch and brightness to contrast the super rich cheese sauce.
To make this a complete meal, try adding some broccoli that's been simply blanched, or add some roasted broccoli for a dish that feels more upscale. You could also make a simple side salad or a side of roasted or sautéed vegetables of your choice.
What You'll Need
Pasta and Cheese Sauce
Two Cloves Kitchen, as an Amazon Affiliate, makes a small percentage from qualified sales made through affiliate links at no cost to you.
Medium Shells Or another dry pasta that you have on hand. You could try cavatappi, elbow macaroni, campanelle, or any other short, small, relatively tubular pasta. I would stay away from long, thin varieties like spaghetti or linguine.
White Cheddar I recommend buying this in a block and shredding yourself to avoid the anti-clumping agents in pre-shredded cheese.
Fresh Mozzarella I also recommend buying this in its original form instead of shredded.
Shallot I use a small shallot here but feel free to use a larger shallot if you are a big fan.
Butter I almost exclusively use unsalted butter so that I can control the seasoning in my cooking. If you only have salted butter, I would dial back the salt in the recipe.
Cream I used heavy cream here, but you could likely get away with using half and half. Just keep in mind that the sauce will be thinner and you may need to add additional cheese or cook the sauce for a bit longer depending on your desired consistency.
Cream Cheese It will be much easier to incorporate if you use softened, room temperature cream cheese.
Kosher Salt I buy this 3-pack of Diamond Crystal Kosher Salt and it lasts for a very long time. It's important to keep in mind that kosher salt will affect the flavor of your food differently—it is a different shape than table salt and sea salt, and delivers less "salty" flavor per teaspoon because it is less compact.
Nutmeg Just a pinch of nutmeg adds a nice warmth to this dish.
Mustard Powder Like the nutmeg, just a bit of mustard powder adds warmth and a hint of tanginess.
Breadcrumb Topping
Breadcrumbs Panko is by far the best option here. It is light, holds its crunch longer, and coats the dish more evenly.
Butter I again recommend unsalted butter here in place of salted butter.
Kosher Salt I would omit salt if using salted butter. Taste the breadcrumb mixture when it is finished to see if it needs any more salt.
Fresh Garlic One small clove is perfect for this dish.
Fresh Parsley This adds some needed freshness to the dish.
Lemon Zest This adds brightness to an otherwise heavy dish.
How to Make
Boil the pasta
Make the cheese sauce
Toast the breadcrumb mixture
Top the finished mac and cheese with the breadcrumbs
Eat up!
Variations
If you want to add something healthy to this dish, I recommend broccoli. You can add some chopped blanched broccoli, or for something that feels even more special, try Roasted Tenderstem Broccoli.
Try different types of pasta here - traditional elbow macaroni, cavatappi, or campanelle would all be great.
You can switch up your breadcrumb topping with different herbs. Try adding some basil or dill.
How to Store
You can store your cooked macaroni and cheese for 3-5 days in the fridge. You can reheat it in the microwave or in the oven.

To reheat in the oven, add a tablespoon of milk or cream, mix into the mac and cheese, then place in a 350°F oven for 20-30 minutes, or until heated through.
It is, however, always best when it's just finished cooking and right out of the pot!
Store the breadcrumb topping separately. It will also last for 3-5 days refrigerated. Reheat it in a pan with a little bit of butter or pan spray until crisp.
I do not recommend freezing this dish as the texture can get pretty strange.
How to Pair
This pasta can be served as a standalone meal. It is also great with a veggie side like:
Try it alongside your favorite protein, too, like these Italian Chicken Cutlets or these delicious Traeger Smoked Beer Brats!
It's delicious with a buttermilk pie for dessert.
Looking for more mac and cheese recipes? Try this pumpkin mac and cheese!
More Recipes You'll Love
Try these great pasta and pasta sauce recipes:
Pasta Aglio Olio e Peperoncino
📖 Recipe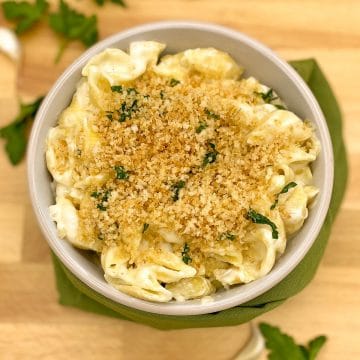 Mac and Cheese (Without Milk)
White Cheddar and mozzarella macaroni and cheese with a toasted breadcrumb, garlic, parsley and lemon zest topping. This decadent, crowd-pleasing dish comes together in just about 30 minutes for a perfect weeknight meal!
Print
Pin
Rate
Servings:
4
small or 2 large
Ingredients
8

oz

shells

medium or small

6

quarts

water

salted
Cheese Sauce
2

tablespoons

butter

unsalted

1

shallot

small

4

ounces

white cheddar

2

ounces

mozzarella

2

ounces

cream cheese

room temperature, softened

¾

cup

cream

½

teaspoon

kosher salt

or to taste

⅛

teaspoon

nutmeg

¼

teaspoon

mustard powder
Breadcrumb Topping
1

tablespoon

butter

unsalted

½

cup

breadcrumbs

panko

1

clove

garlic

small

¼

teaspoon

kosher salt

2

tablespoons

parsley

finely chopped

1

teaspoon

lemon zest
Instructions
Breadcrumb Topping
Place pan on medium low to medium heat and add butter.

Finely mince the garlic. Zest the lemon. Chop the parsley.

Add garlic, breadcrumbs and salt to the butter once melted. Toast the breadcrumbs until they are light brown in color and the garlic is fragrant, about 2-4 minutes. Be sure not to burn the garlic or the breadcrumbs.

Remove from heat and add parsley and lemon zest to mixture. Set the breadcrumbs aside until the rest of the dish is complete.
Cheese Sauce
Grate the white cheddar and mozzarella. Finely dice the shallot.

Place medium pot over medium low heat. Add the butter. Once melted, add the shallot. Cook until shallot is softened, 5-10 minutes.

Add in the cream and the cream cheese, stirring until the mixture melts and becomes liquid. Add the salt, nutmeg and mustard powder.

Add the cheese in, little by little, ensuring it has melted before adding more.

Keep the cheese mixture over low heat, stirring often, to ensure it does not burn or coagulate.
Macaroni
Meanwhile, bring large pot of salted water to a boil. Once boiling, add the shells and let cook for 7-8 minutes or just al dente.

Drain the pasta and add to the cheese sauce, stirring to combine. Taste for seasoning and add more salt if needed.

Serve the finished macaroni and cheese in a dish of your choice and spread breadcrumb mixture evenly over each dish.
Notes
If your cheese sauce becomes too thick, turn down the heat and add a little bit of extra cream.
If you cheese sauce is too thin, try turning the heat up slightly and stirring for a little bit longer. If it is still too thin, try adding a little bit more cheese.
Approximate calories are for 4 small servings.
This recipe is great with broccoli. Try adding roasted broccoli for a sophisticated touch.
You can use different shapes of pasta for this recipe. Adjust cooking time to package instructions.
Cooked mac and cheese will last for 3-5 days in the fridge.
Breadcrumb topping should be stored in a separate container in the fridge. Consume within 3-5 days. Reheat in a pan with a little butter or pan spray.
Nutrition
Calories:
706
kcal
|
Carbohydrates:
56
g
|
Protein:
22
g
|
Fat:
44
g
|
Saturated Fat:
27
g
|
Polyunsaturated Fat:
2
g
|
Monounsaturated Fat:
12
g
|
Trans Fat:
1
g
|
Cholesterol:
140
mg
|
Sodium:
1014
mg
|
Potassium:
284
mg
|
Fiber:
3
g
|
Sugar:
4
g
|
Vitamin A:
1658
IU
|
Vitamin C:
4
mg
|
Calcium:
408
mg
|
Iron:
2
mg