Sautéed sweet potatoes are an easy, versatile addition to any breakfast, lunch, or dinner. This sweet and savory side is simply seasoned with salt, garlic powder, and cayenne for just a hint of heat.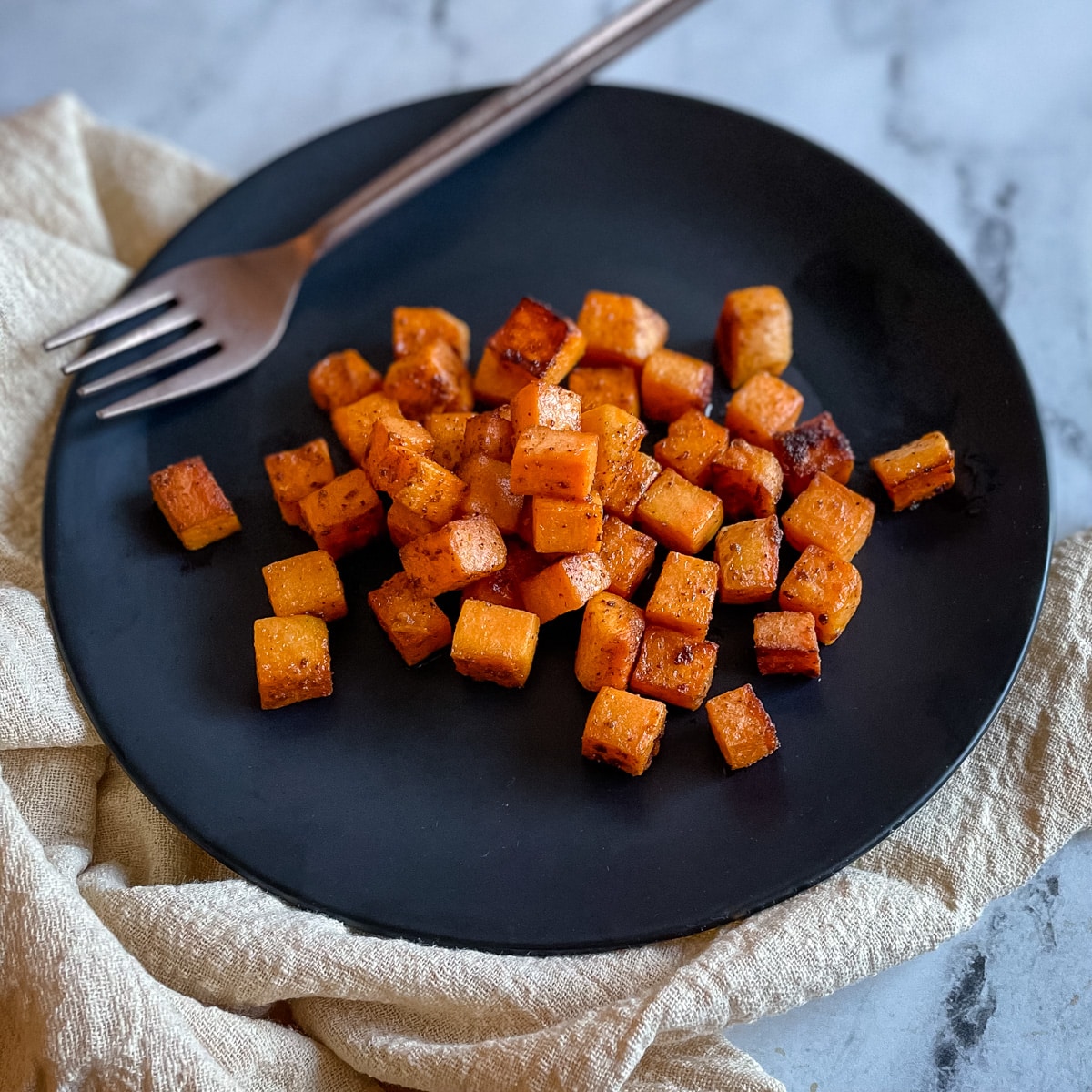 Jump to:
I recommend cutting your sweet potatoes into ½-inch by ½-inch cubes, which creates an even surface area for the heat to penetrate, and a beautiful exterior browning and crispness (without the potatoes burning while waiting for the interior to cook).
Most recipes for sautéed sweet potatoes you find will use olive oil. This is an excellent, healthy option. However, I find my version, which uses butter instead, emphasizes the richness and sweetness of the potatoes.
The addition of garlic is what makes them a fan favorite in my home. We love a traditional sweet potato, but would be hard-pressed to name many vegetables that aren't improved by some good old-fashioned garlic flavor.
What You'll Need
Two Cloves Kitchen, as an Amazon Affiliate, makes a small percentage from qualified sales made through affiliate links at no cost to you.
How to Prepare
Step One Peel the sweet potato, cut one rounded edge off of the potato to create a stable base, then cut off the remaining rounded edges.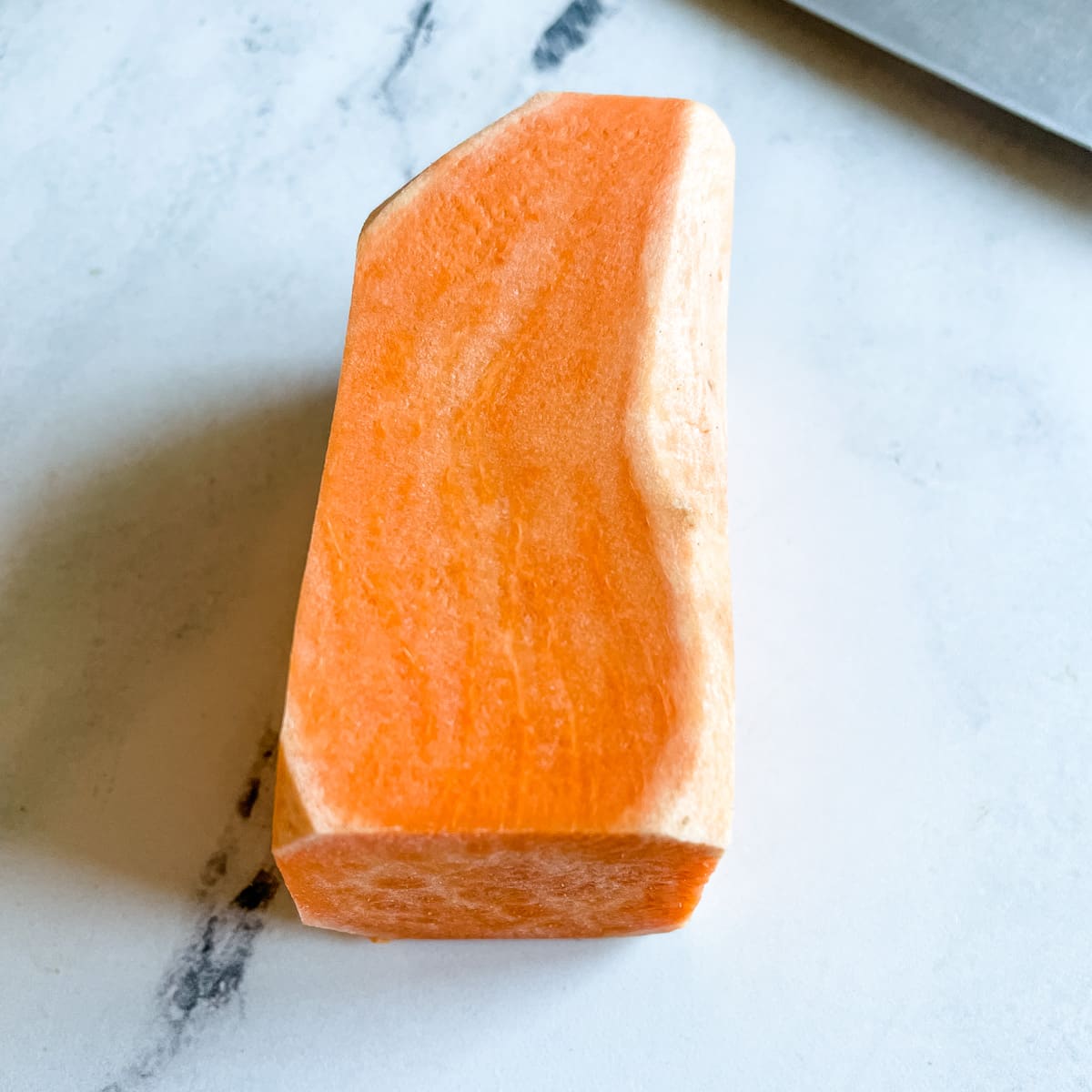 Step Two Cut the potato into even, ½-inch planks lengthwise. Be sure to hold the potato stable to avoid injury.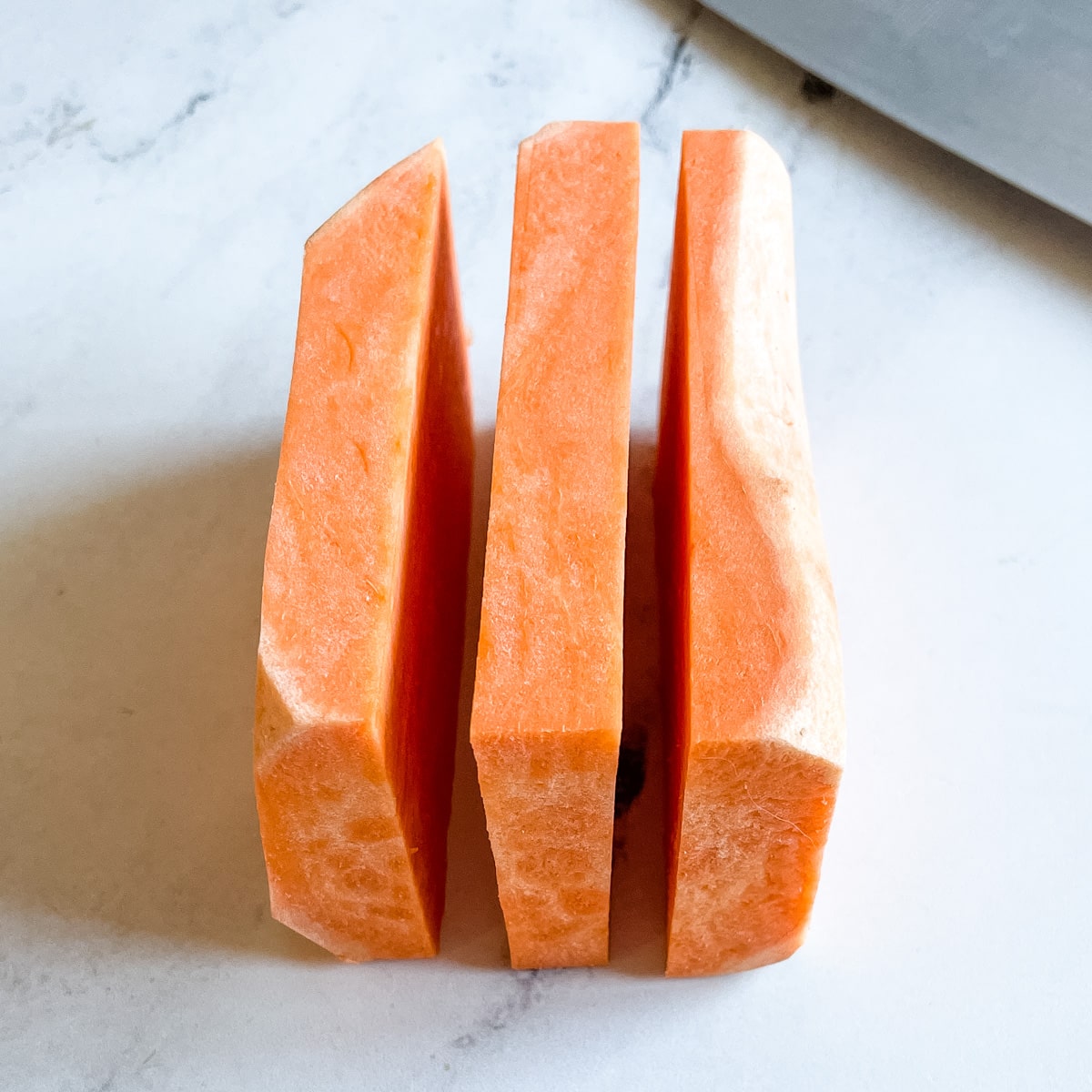 Step Three Rotate the planks and cut even ½-inch pieces lengthwise to create batons.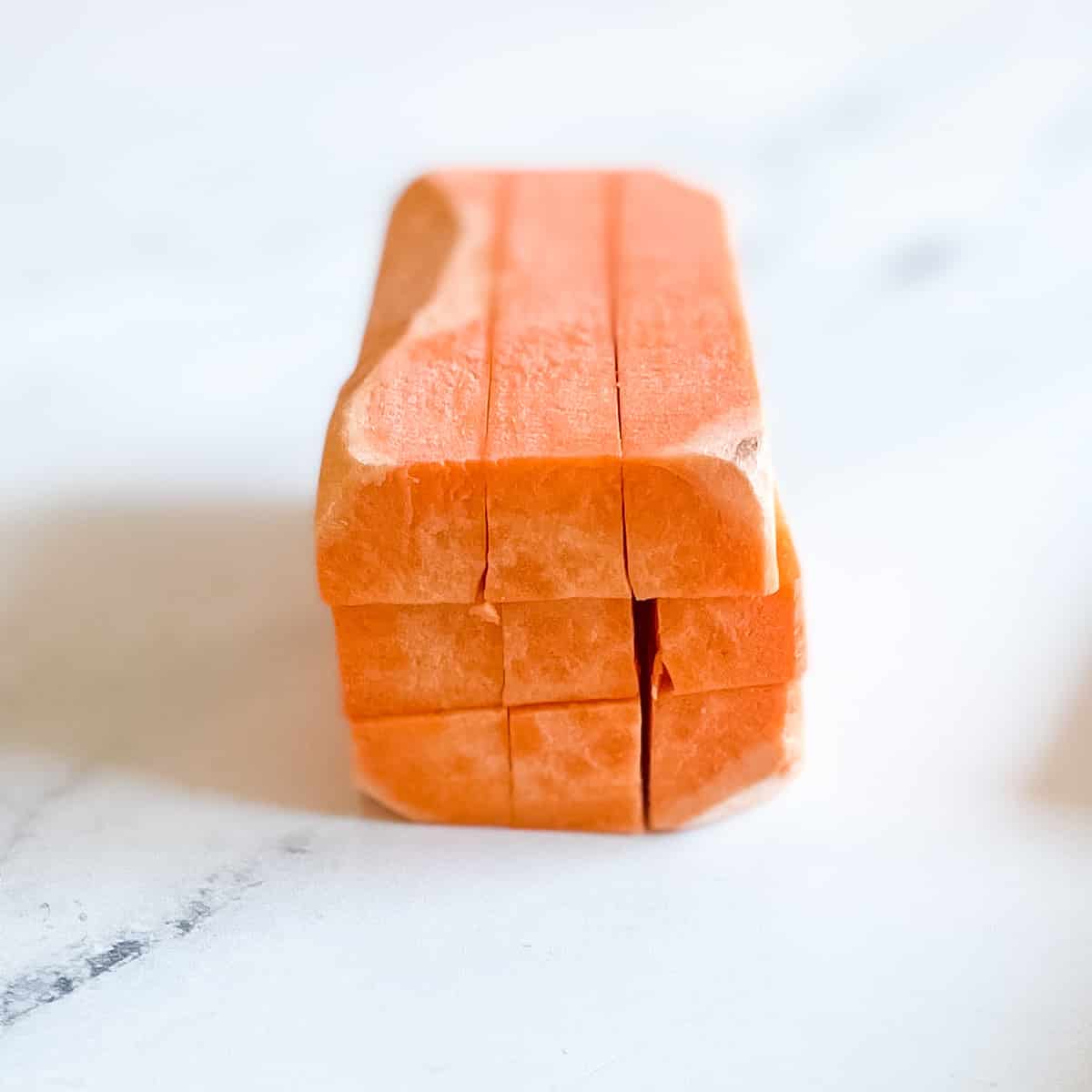 Step Four Cut horizontally across the batons to create even ½-inch cubes.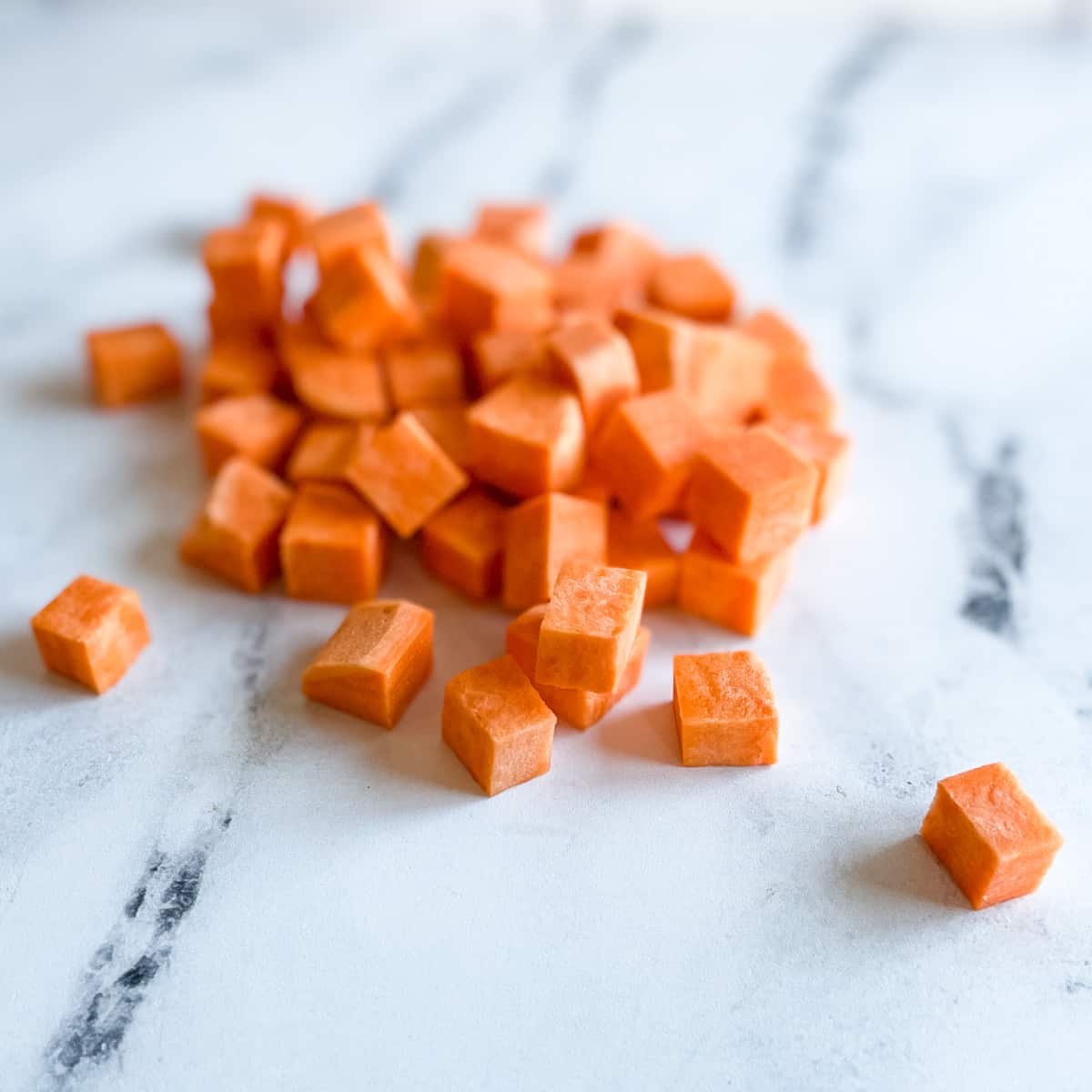 Step Five Set your mis en place. Mis en place is a French phrase meaning "put in place" - it is a step professional cooks (and organized home cooks) take to ensure they have all of their ingredients ready to go. For this recipe, measure out the remaining ingredients and have them by the stove.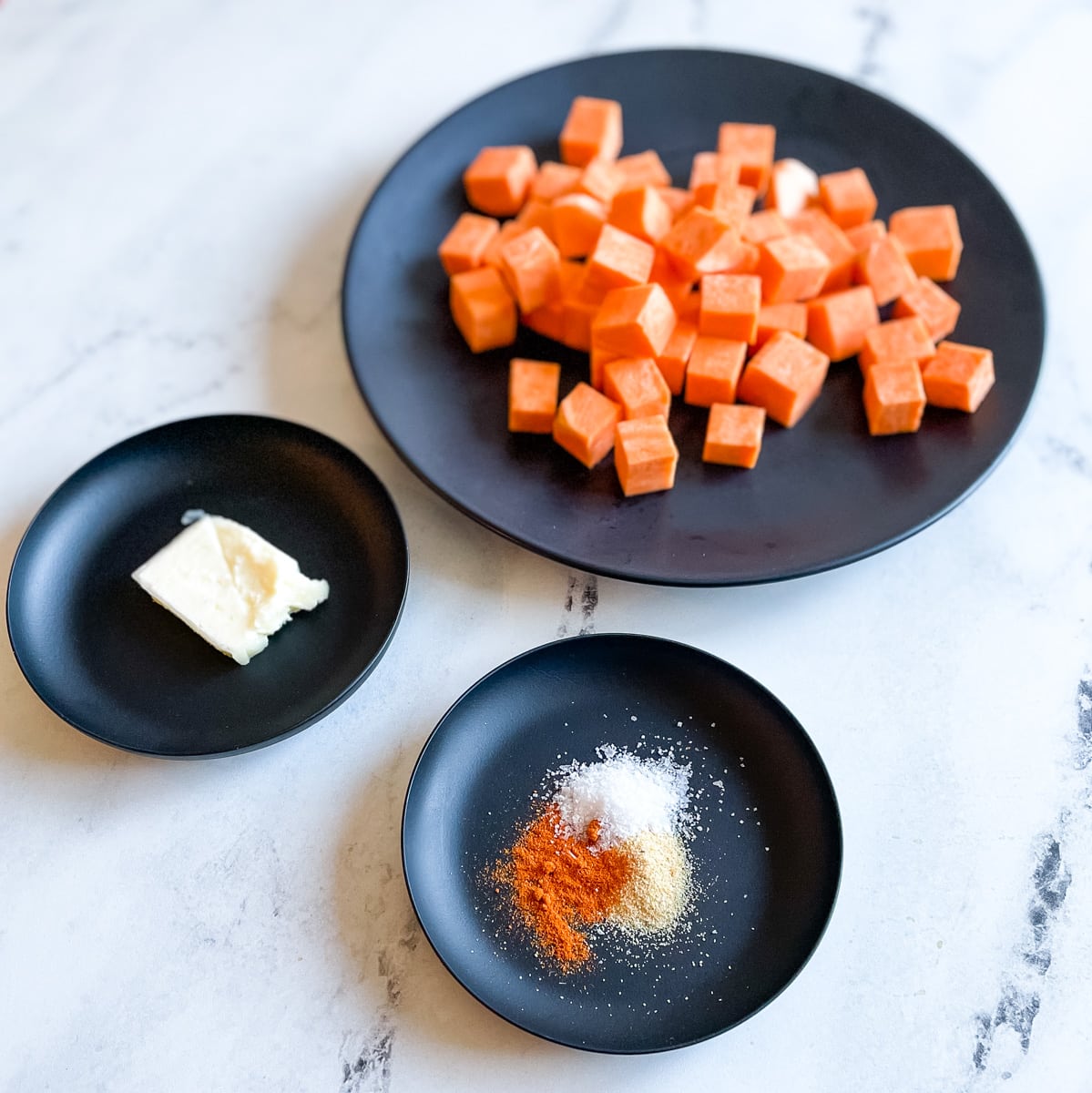 Step Six Heat the butter in the pan over medium heat until it is melted. Add the potatoes and sprinkle the seasoning evenly over. Cook, stirring occasionally, to ensure all sides have the same amount of time in the pan.
When the potatoes are ready, they will have a slightly browned exterior and will be cooked through, as seen below.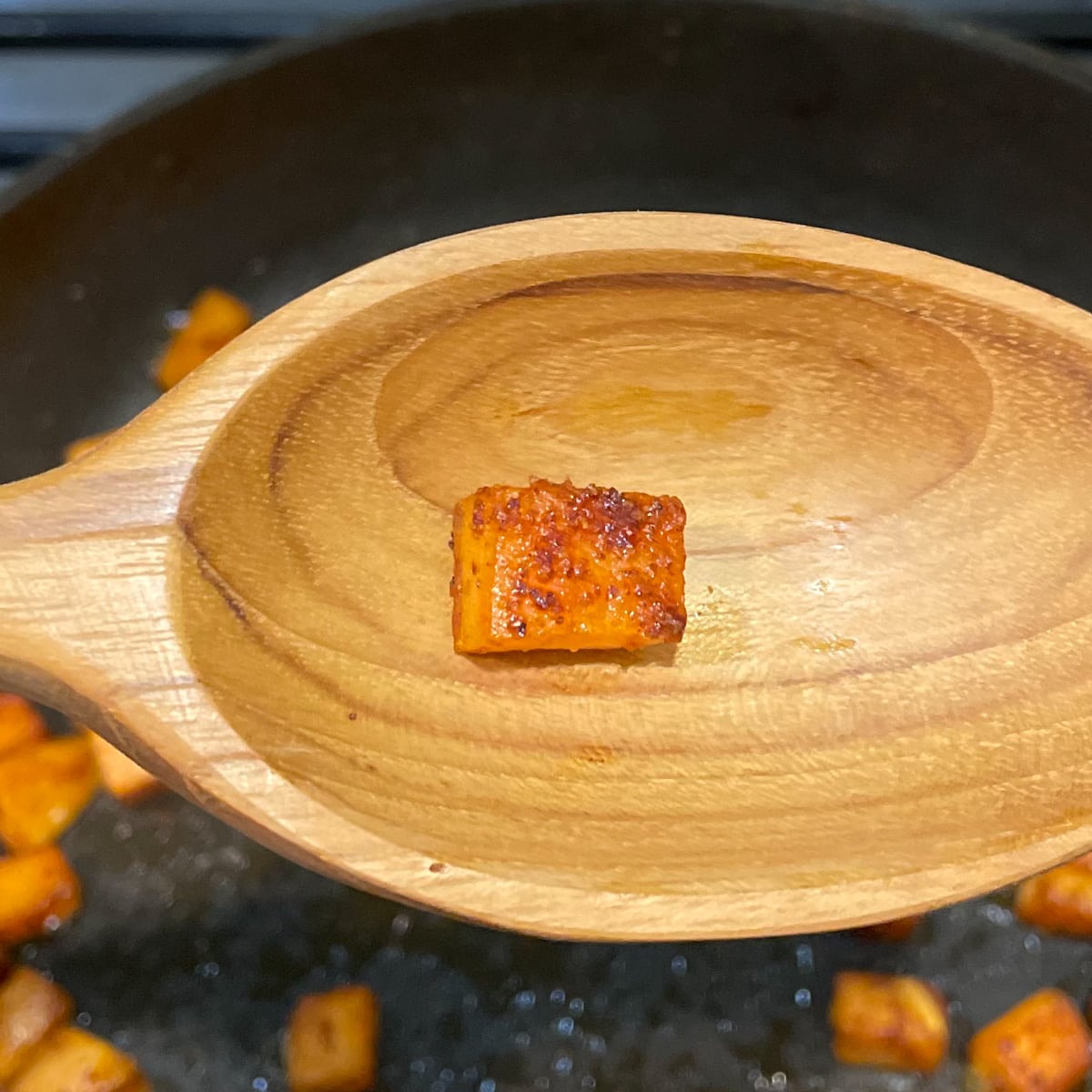 This method will produce soft potatoes that are slightly crisp and have a lovely light browning.
Serve right away for the best texture.
Variations
Traditional For more traditional sautéed sweet potatoes, you can omit the garlic powder and cayenne and try a warm spice like cinnamon in their place.
Regular Potato This recipe works well with regular potatoes, too. Regular potatoes will take slightly longer to cook through, so try cutting them a bit smaller!
Less Spicy Omit or scale back on the cayenne.
More Spicy Try adding some jalapeño slices to the pan for an extra kick.
How to Store
Cooked sweet potatoes can be stored for 3 to 5 days in the fridge.
To reheat, you can microwave the sweet potatoes. If you have a few more minutes and want to revive their texture a bit, try adding them to a pan with some butter or olive oil to bring them up to temperature.
FAQ
How long can you store cooked sweet potatoes in the fridge?
3 to 5 days.
Can I freeze these sweet potatoes?
They will lose their crispy texture, but they can be frozen for about 4 months. Be sure to let them cool completely, then store in a plastic or resealable silicone bag, pressing out as much air as possible. Reheat on the stovetop.
Can I use regular potatoes?
Yes. Regular potatoes will take longer to cook through, however, so try cutting them a bit smaller.
How can I make these potatoes vegan?
Just omit the butter and use olive oil instead.
How to Serve
These potatoes work with so many different meals. Here are just a few of the countless ways you can use them:
Breakfast
Lunch
Dinner
Want sweet potatoes in the air fryer? Try these air fryer sweet potato cubes.
Recipes You'll Love
If you're in the mood for more potatoes, try these recipes:
Roasted Garlic Mashed Potatoes
📖 Recipe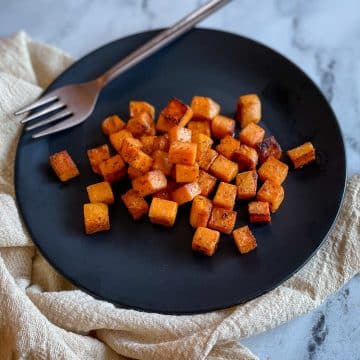 Sautéed Sweet Potatoes
These easy and versatile garlicky sautéed sweet potatoes are a perfect addition to breakfast, lunch, or dinner!
Print
Pin
Rate
Instructions
Peel the sweet potato. Cut off one rounded edge along the length of the potato to create a stable base. Cut off the remaining rounded edges. Cut into 3 equal ½-inch planks lengthwise. Cut the planks into equal batons. Cut the batons into equal ½-inch cubes.

See blog text for step-by-step instructions with photos.

Heat the butter over medium heat. Once melted, add the sweet potato. Coat evenly with the salt, garlic powder, and cayenne.

Stir occasionally, ensuring all sides get relatively equal time in contact with the pan, about 6-12 minutes.

Once the sweet potatoes are somewhat browned, lightly crispy, and soft in the center, they are ready to serve.
Notes
Be sure to keep the potato stable when cutting to avoid injury.
You can use any variety of sweet potato for this recipe.
If you elect not to use kosher salt, use a smaller amount than recommended in the recipe and taste as you go to ensure the potatoes are not oversalted.
This recipe is incredibly versatile and can be used in breakfast bowls, salads, or as a side dish for your choice of protein and vegetables.
Nutrition
Calories:
149
kcal
|
Carbohydrates:
23
g
|
Protein:
2
g
|
Fat:
6
g
|
Saturated Fat:
4
g
|
Polyunsaturated Fat:
0.2
g
|
Monounsaturated Fat:
1
g
|
Trans Fat:
0.2
g
|
Cholesterol:
15
mg
|
Sodium:
354
mg
|
Potassium:
390
mg
|
Fiber:
3
g
|
Sugar:
5
g
|
Vitamin A:
16258
IU
|
Vitamin C:
3
mg
|
Calcium:
36
mg
|
Iron:
1
mg