Yaki Udon is a wok-fried Japanese udon noodle dish with a complex, soy-based sauce, meat or seafood, and vegetables. Coming together in under an hour, it's a healthy, delicious dinner perfect for weeknights!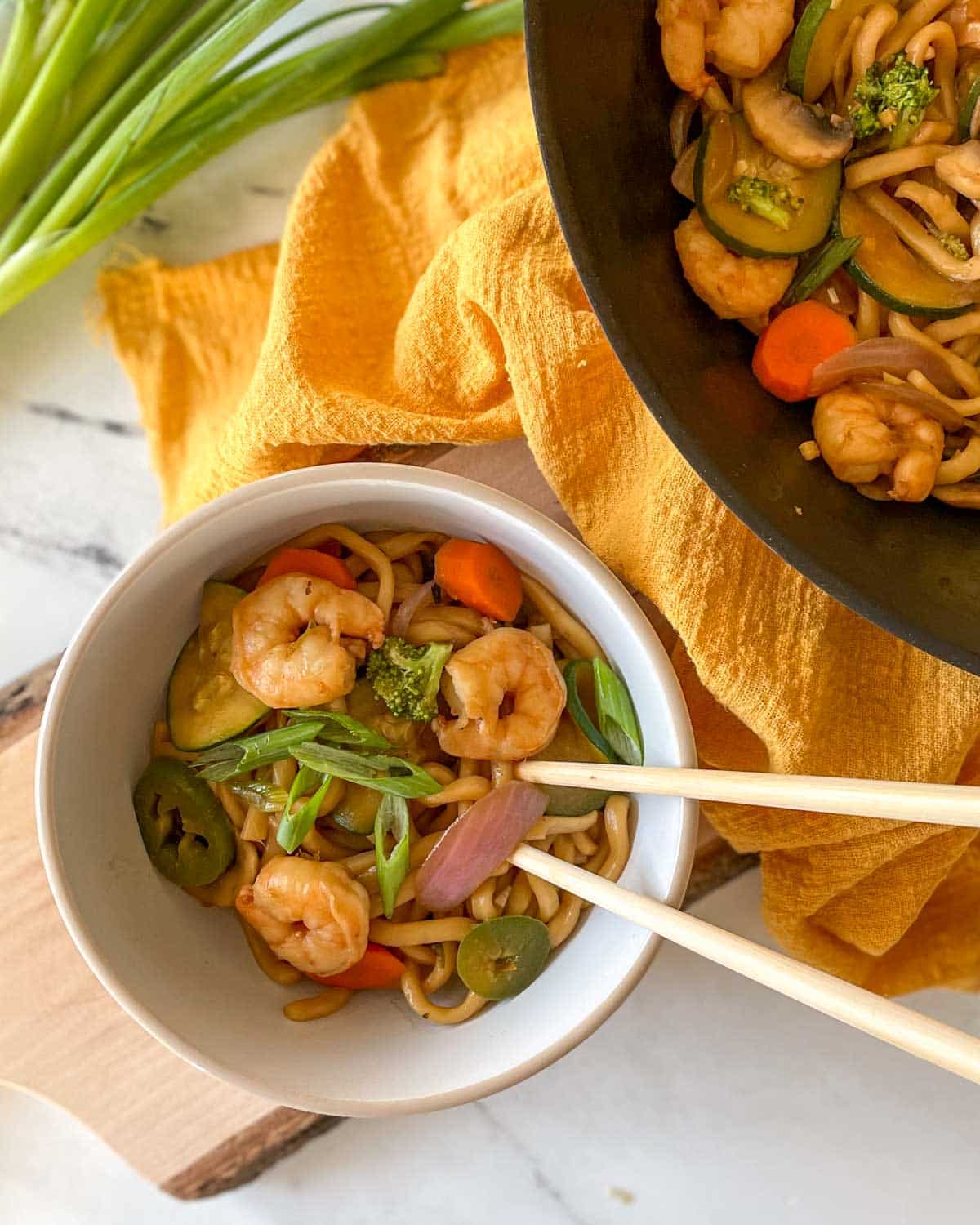 Jump to:
Why You'll Love This Dish
This Shrimp Yaki Udon is deeply savory, has a lightly sweet sauce, and just a touch of spice.
This sauce is used in two ways: as a marinade for the shrimp and as a stir-fry sauce added to the wok or pan near the end of the cook time. If using a pan, be sure to use stainless steel, not non-stick or cast iron.
For protein, shrimp is one of my favorite healthy weeknight options, but feel free to use other proteins in its place. You can use beef, chicken, pork, or tofu or omit the protein entirely.
Once you have prepped your vegetables and marinated the shrimp, the dish comes together incredibly quickly. You can easily do your prep work in advance and have dinner on the table in under 15 minutes.
Love shrimp stir-fry? Be sure to try this General Tso shrimp, too!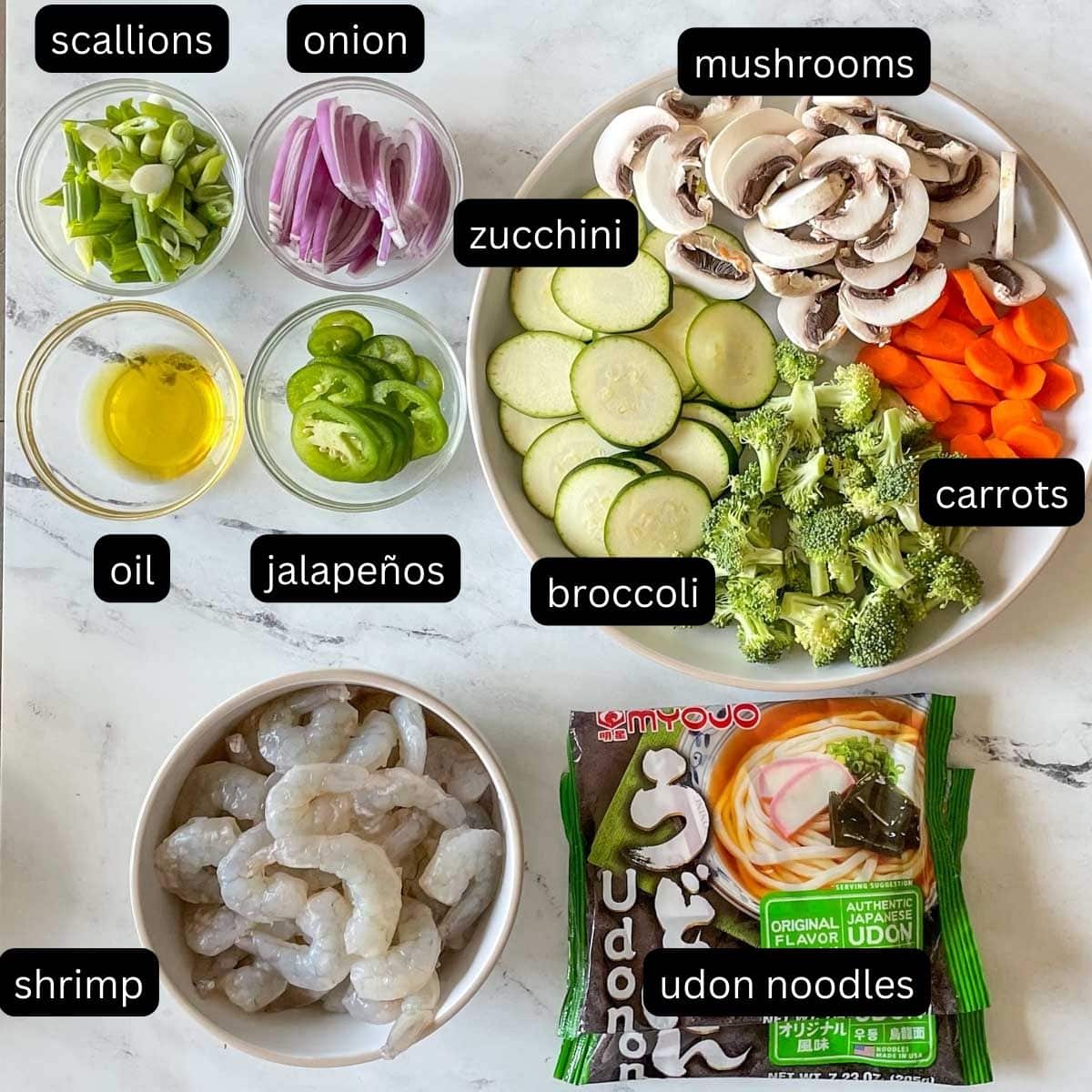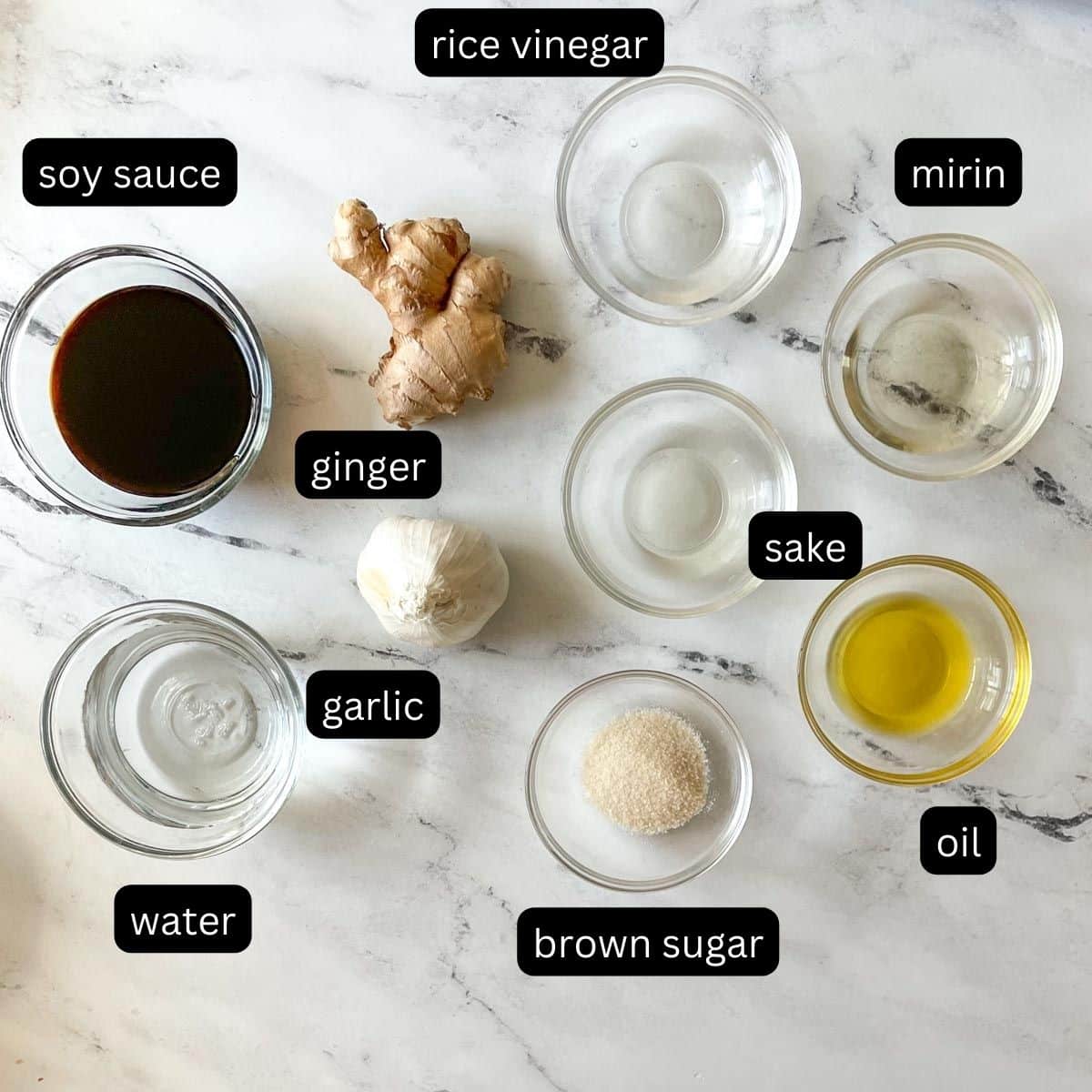 What You'll Need
Two Cloves Kitchen, as an Amazon Affiliate, makes a small percentage from qualified sales made through affiliate links at no cost to you.
Shrimp I used defrosted raw shrimp for this dish. You could also use fresh shrimp, but I would remove the shells before marinating.
Udon Noodles Fresh udon noodles can be found in many grocery stores in the refrigerated fresh noodle section. If you are feeling ambitious, these fresh udon noodles have turned out well for me on numerous occasions.
Fresh Vegetables In this dish, I recommend using onion, carrots, broccoli, mushrooms, zucchini, and jalapeño.
Scallions
Fresh Ginger If you have trouble finding fresh, try using this jarred ginger.
Fresh Garlic You could also use jarred garlic if you cannot find fresh garlic.
Soy Sauce I personally prefer a low-sodium soy sauce. Regular soy sauce will also work well here.
Vegetable Oil or another neutral oil such as grapeseed or avocado oil. I would avoid olive oil or other oils with low smoke points (the point at which an oil burns) because of the high heat required for this dish.
Brown Sugar You can also use a little bit of cane sugar.
Mirin A sweet rice wine used often in Japanese cooking
Sake A dry sherry will work here, too, if you can't find sake.
Rice Wine Vinegar Be sure to select an unseasoned rice wine vinegar as the seasoned rice vinegar includes sugar and salt and will change the taste of the marinade/sauce.
How to Make Shrimp Yaki Udon
Step One Make your marinade.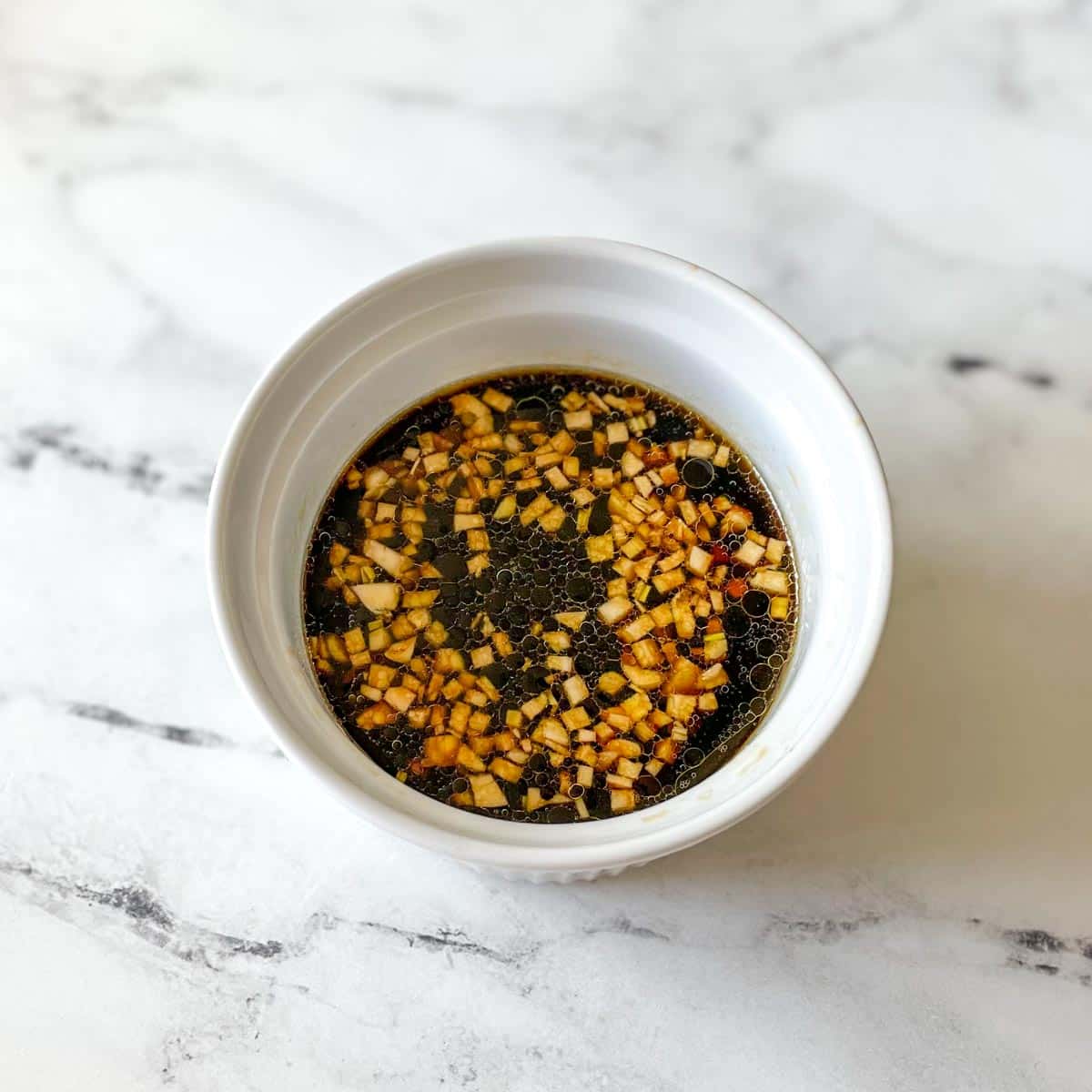 Step Two Marinate the shrimp, reserving half on the marinade.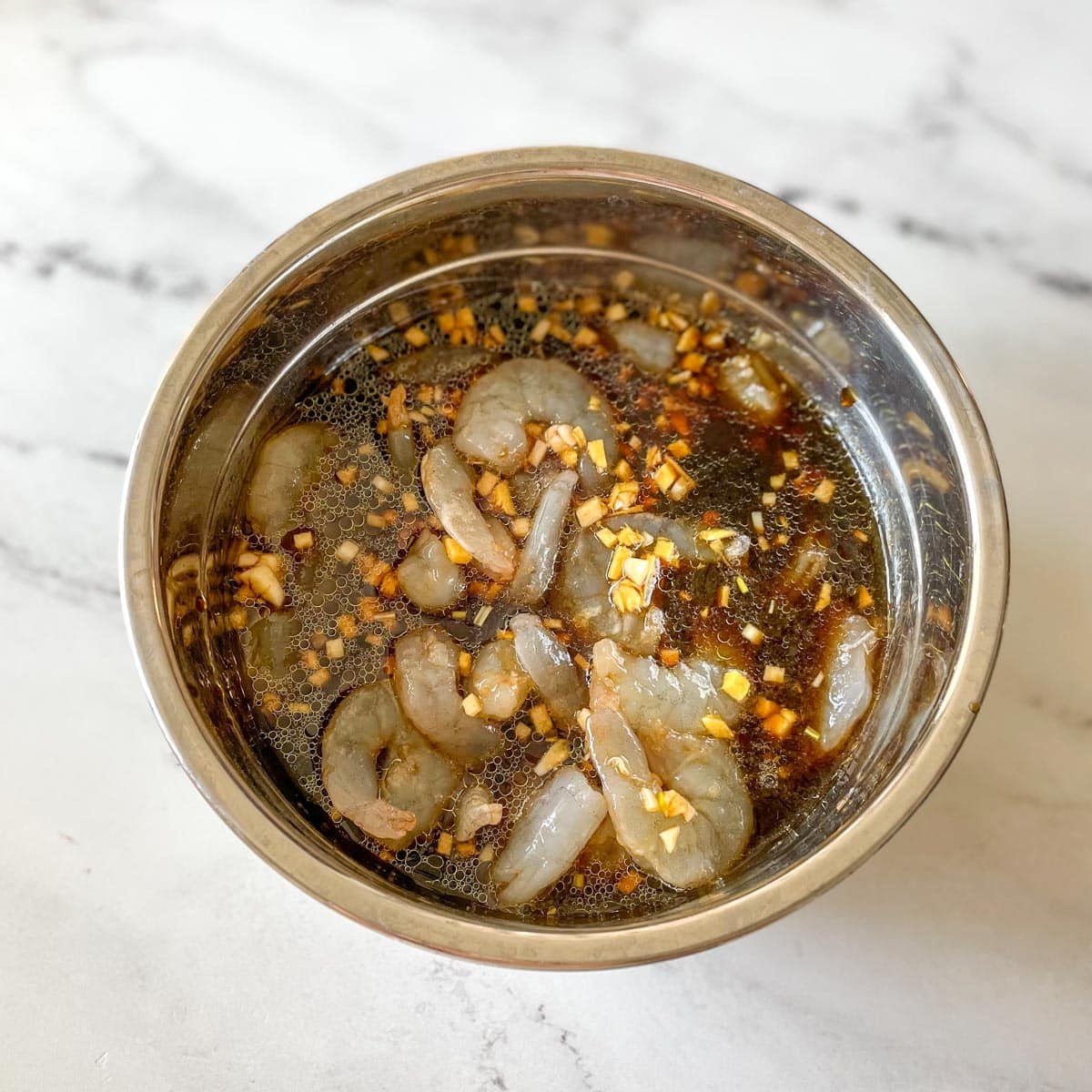 Step Three Cook the shrimp in a wok or skillet on high heat.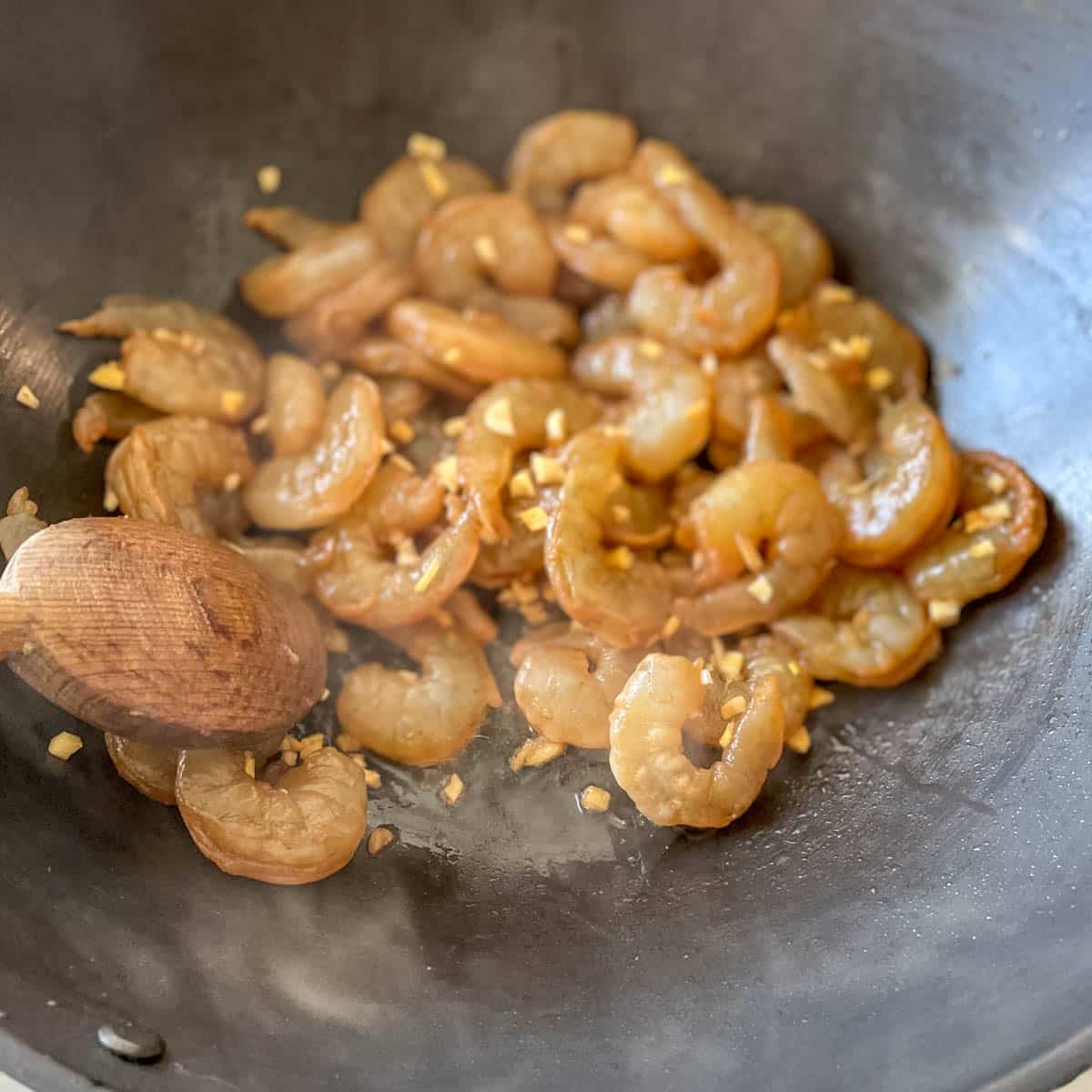 Step Four Remove the shrimp and add the onion. Add the broccoli, zucchini, and jalapeño. Then add the mushrooms and scallions. Add the noodles and remaining marinade.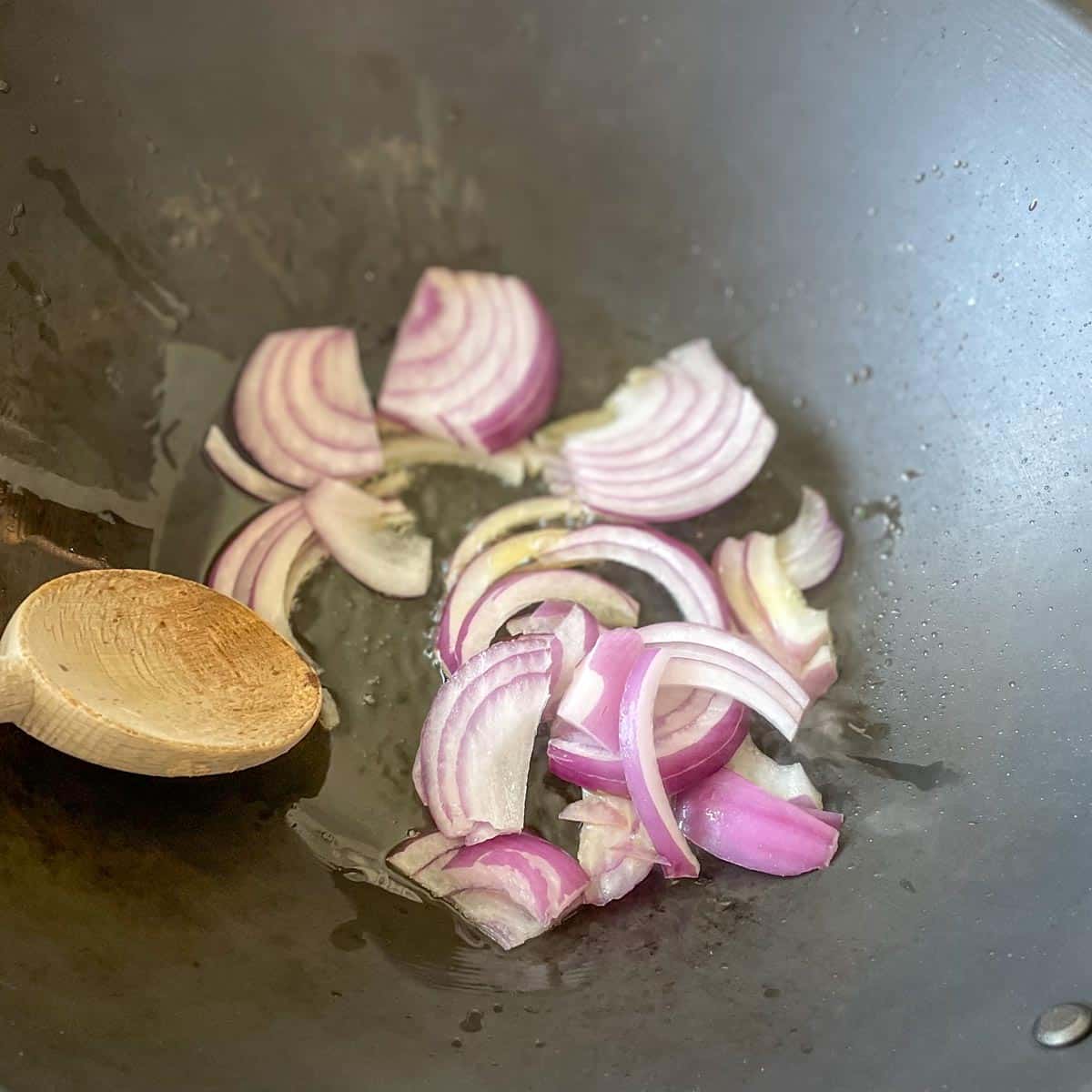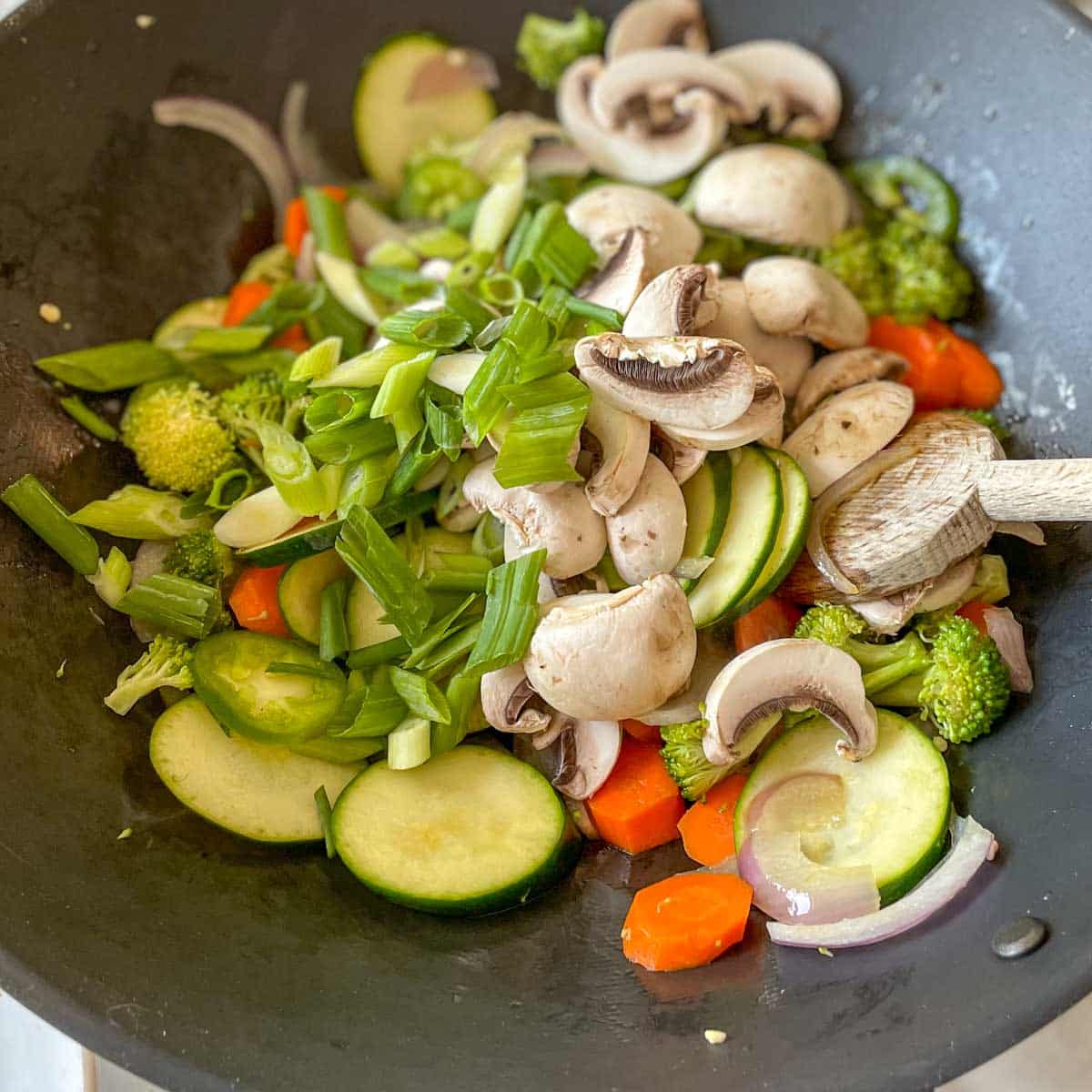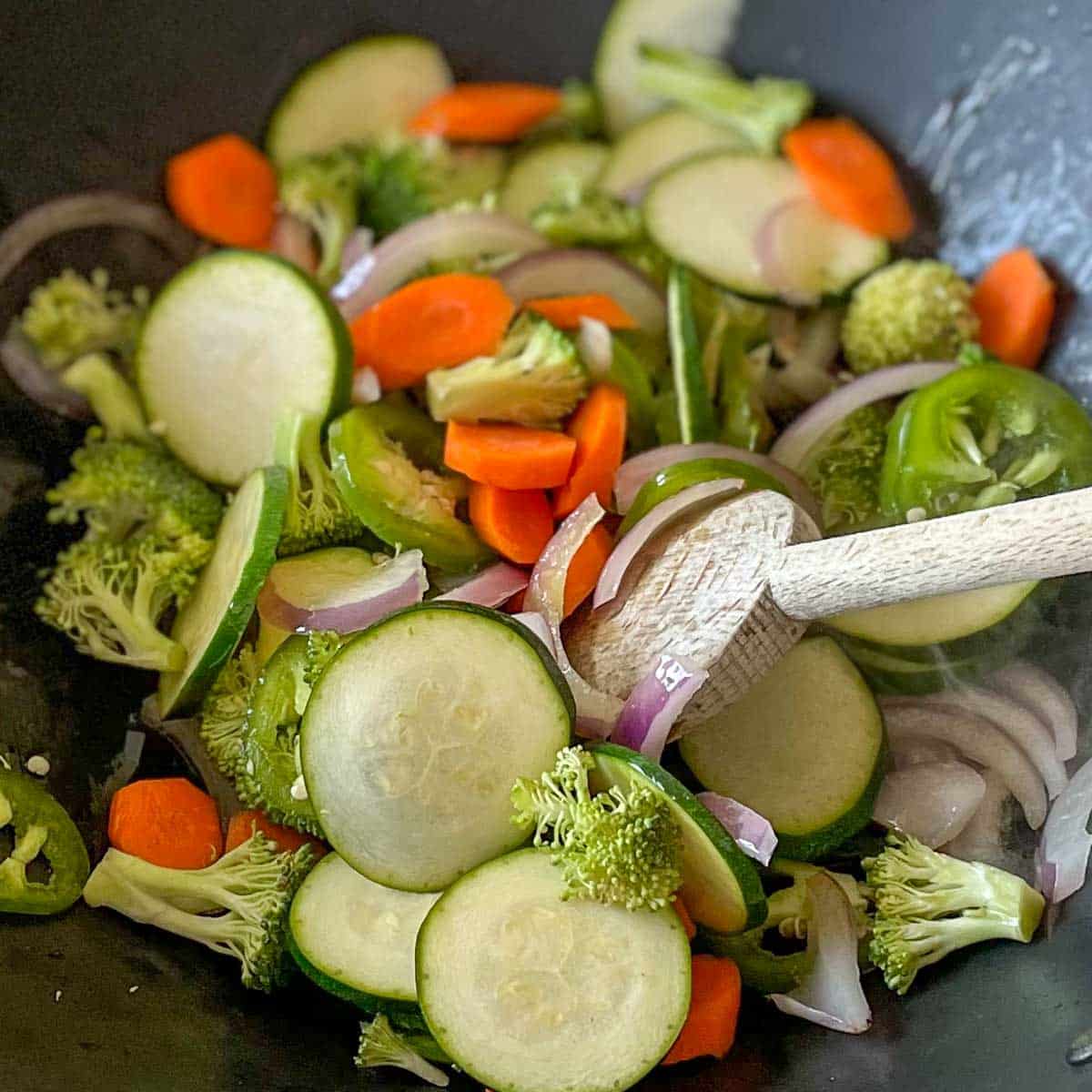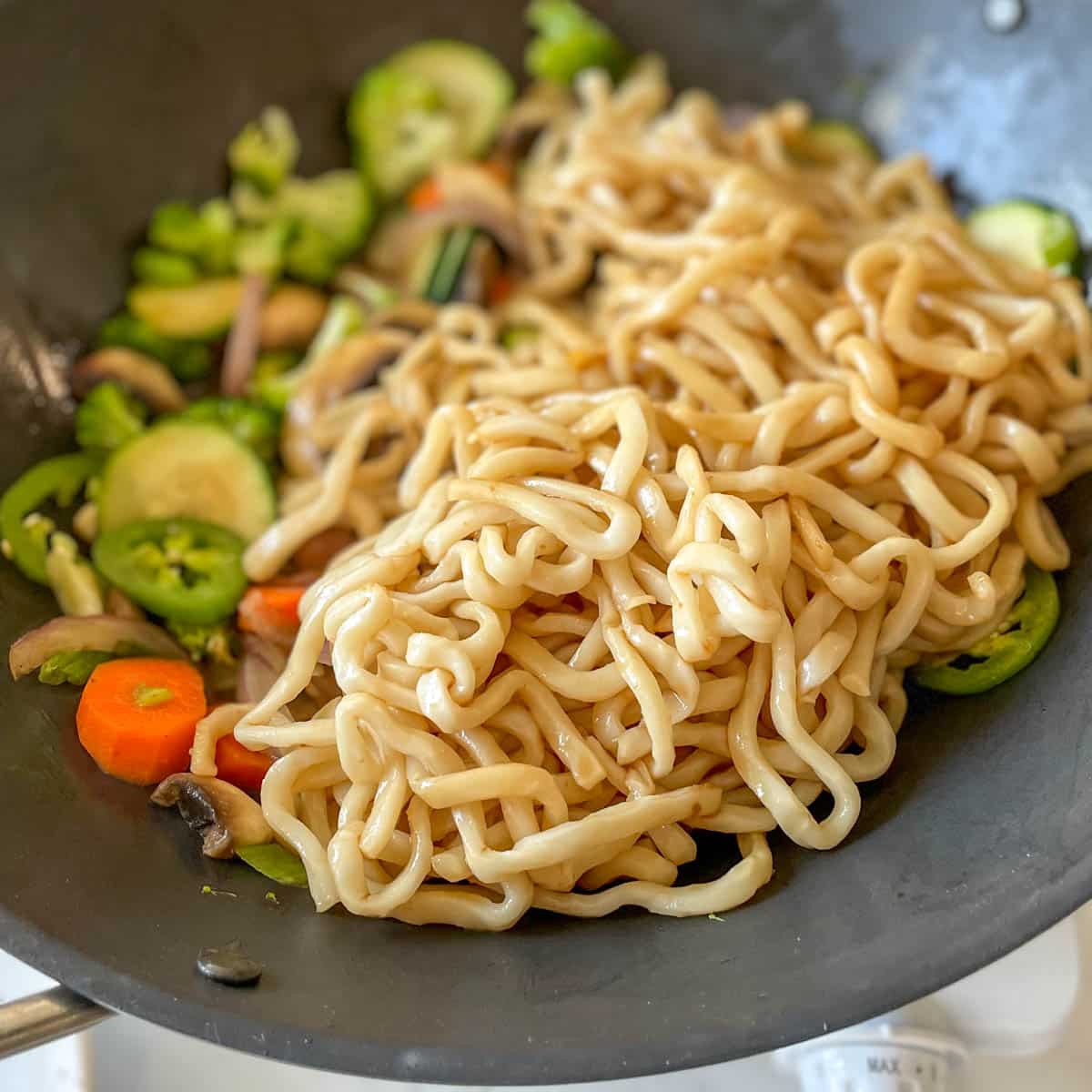 Step Five Add the shrimp back into the mix and serve!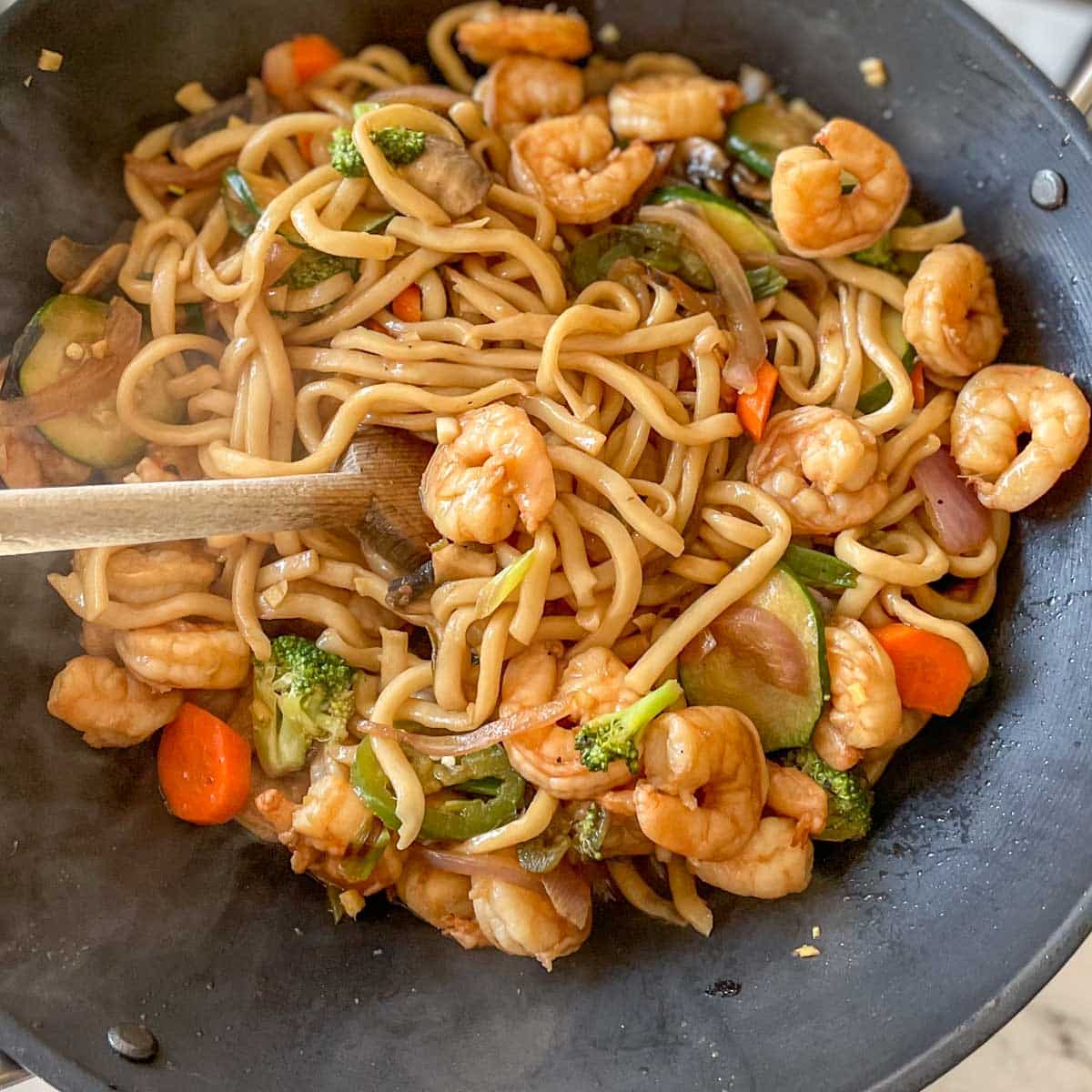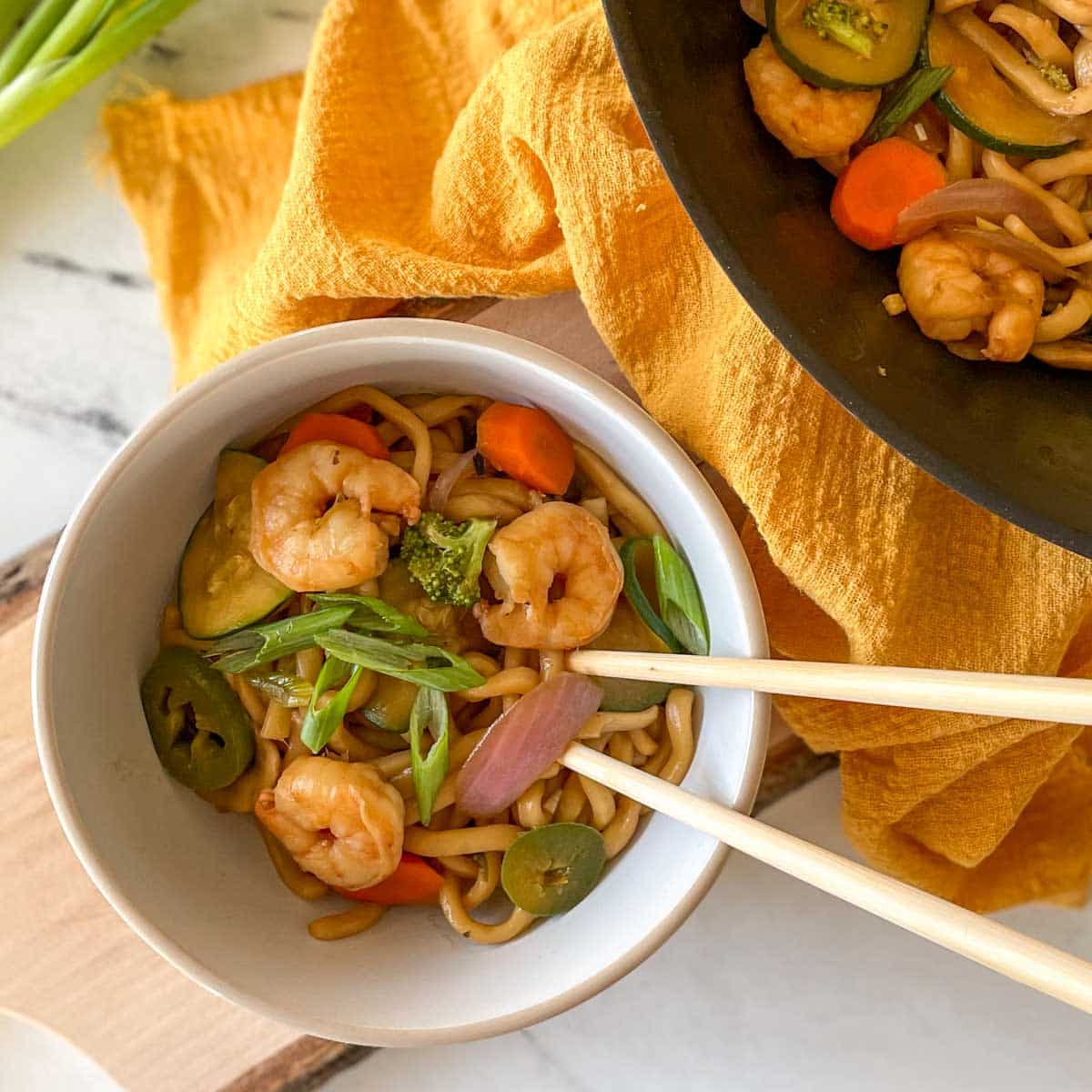 Variations
Beef - I have made this dish with great success using stir-fry cut beef (pre-cut at the grocery store to make prep quick and easy) in place of shrimp.
Chicken - Chicken yaki udon is another fantastic choice. You can use either sliced chicken thighs or sliced chicken breast.
Pork - I find that pork chops can come out dry when sliced thin and cooked at this temperature. I recommend trying ground pork here and reducing the marinating time to 15 minutes. Ground pork has fat evenly distributed throughout the product and will stand up better to high heat.
Vegetarian/Vegan - Try making this dish with no meat at all. You can either marinate some tofu or omit a protein entirely for a tasty, vegetable-forward meal.
Different Vegetables - Feel free to try other vegetables that you have on hand or that you like best. Some veggies that would work great include bell pepper, celery, cabbage, edamame, and eggplant.
FAQ
What is yaki udon?
Yaki Udon is a wok-fried Japanese udon noodle dish with a complex, soy-based sauce, meat or seafood, and vegetables.
What is yaki udon sauce made of?
Yaki udon sauce is generally a variation on a few ingredients, namely soy, sugar, ginger, and garlic, combined with other optional ingredients, such as mirin, rice vinegar, and sake.
What does yaki udon taste like?
Yaki udon is savory and sweet. The vegetables maintain a fresh flavor due to their short time cooked on high heat. There are strong elements of soy, ginger, and garlic as well as a bit of spice from the jalapeño.
Are yaki udon noodles healthy?
This dish provides some wonderful healthy components in its use of fresh vegetables and lean protein.
Expert Tips
Be sure to use very high heat with your wok or skillet and stir very often. This will cook the elements quickly and create a flavorful browning without burning.
Don't use nonstick skillets on high heat. Use only stainless steel, carbon steel, or cast iron. Using nonstick skillets on high heat will compromise their coating.
Only marinate your shrimp for 30 minutes to an hour. After this time, the texture will begin to change.
How to Store
Every component of this dish should last for 3-4 days in the fridge: the shrimp, the marinade, the noodles, and the vegetables will all remain safe during this time.

To reheat, I recommend throwing everything back into a wok or large frying pan on high heat with a little bit of oil.
You can freeze leftovers for future meals. You can freeze for two months. The best way to reheat is to place in the fridge overnight to thaw and then heat in the pan as above.
How to Pair
Yaki udon can be served as a standalone meal. Below are some drink ideas to serve with this dish:
More Shrimp Recipes You'll Love
Japanese Shrimp in Chili Sauce
📖 Recipe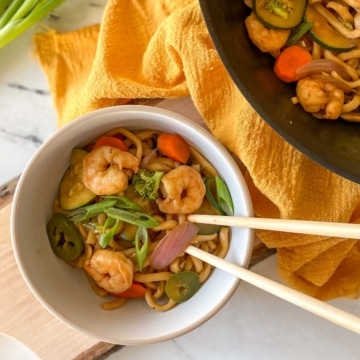 Shrimp Yaki Udon
Wok-fried udon noodle dish with a savory soy-based sauce, udon noodles and vegetables. A quick, easy, tasty weeknight dinner!
Print
Pin
Rate
Ingredients
Yaki Udon
2

packages

fresh udon noodles

about 16 ounces

1

pound

raw shrimp

1

tablespoon

neutral oil

such a vegetable, grapeseed or avocado

½

onion

sliced, yellow, sweet or red

2

carrots

peeled, cut on the bias

1

zucchini

cut on the bias

1

small

head broccoli

chopped into bite-sized pieces

8

ounces

mushrooms

sliced

1

jalapeño

sliced thin, on the bias

2

scallions

sliced thick, on the bias
Sauce/Marinade
½

cup

soy sauce

½

cup

water

1

tablespoon

neutral oil

such a vegetable, grapeseed or avocado

1

tablespoon

mirin

1

tablespoon

sake

or dry sherry

1

tablespoon

rice wine vinegar

unseasoned

1

tablespoon

brown sugar

1-2

inches

ginger

peeled, minced or grated

4 to 8

cloves

garlic

8 small or 4 large
Instructions
Marinate
Finely mince or grate the garlic and ginger on a microplane. Add the remaining marinade ingredients to a bowl and mix with the garlic and ginger.

Pour half over the shrimp in a non-reactive container or gallon resealable plastic bag. Reserve the other half. Cover or seal and place both in the refrigerator for 30 minutes to an hour.
Prep
Slice the vegetables and group by their cook times.

Group 2: Carrot, zucchini, broccoli and jalapeño.

Group 3: Mushrooms and scallions.
Stir-Fry
Place a wok or large stainless steel pan on high heat until hot.

Remove the shrimp from the marinade and pat dry. Discard the marinade.

Cook the shrimp until opaque, about 2 minutes. Remove from the pan and set aside.

Add the onion and stir-fry until slightly softened and golden.

Add the carrot, zucchini, broccoli and jalapeño. Stir-fry for 1-2 minutes.

Add the mushrooms and scallions. Stir-fry for 1-2 minutes.

Add noodles and the remaining sauce and stir-fry for 3 more minutes, add the shrimp back in, stir to coat and serve immediately in bowls or on plates.
Notes
Feel free to use different vegetables you have on hand in place of or in addition to the vegetables listed here. Try bell peppers, celery, eggplant, cabbage or edamame.
All components of this dish can be stored for 3-4 days in the fridge.
You can freeze the leftovers of this dish for 2 months, defrost in the refrigerator overnight and heat in a pan or wok with a bit of oil when ready to eat.
You can use other proteins in this dish such as beef, chicken or tofu. You can also omit protein entirely.
If you cannot find fresh udon noodles, you can use dried udon noodles. Cook according to package directions.
If the ingredients while cooking, feel free to add a tiny bit of oil.
If you omit the jalapeño and still want a bit of heat, some sriracha or sambal oelek would be an excellent addition.
Nutrition
Calories:
283
kcal
|
Carbohydrates:
28
g
|
Protein:
26
g
|
Fat:
9
g
|
Saturated Fat:
1
g
|
Polyunsaturated Fat:
4
g
|
Monounsaturated Fat:
2
g
|
Trans Fat:
1
g
|
Cholesterol:
143
mg
|
Sodium:
2383
mg
|
Potassium:
1148
mg
|
Fiber:
7
g
|
Sugar:
12
g
|
Vitamin A:
6438
IU
|
Vitamin C:
156
mg
|
Calcium:
176
mg
|
Iron:
3
mg