This pineapple habanero salsa recipe uses roasted tomatoes, onion, habanero peppers, and pineapple to create a wonderfully sweet and hot condiment perfect for a dip with chips, a meal topper, or mixed into a Mexican dish.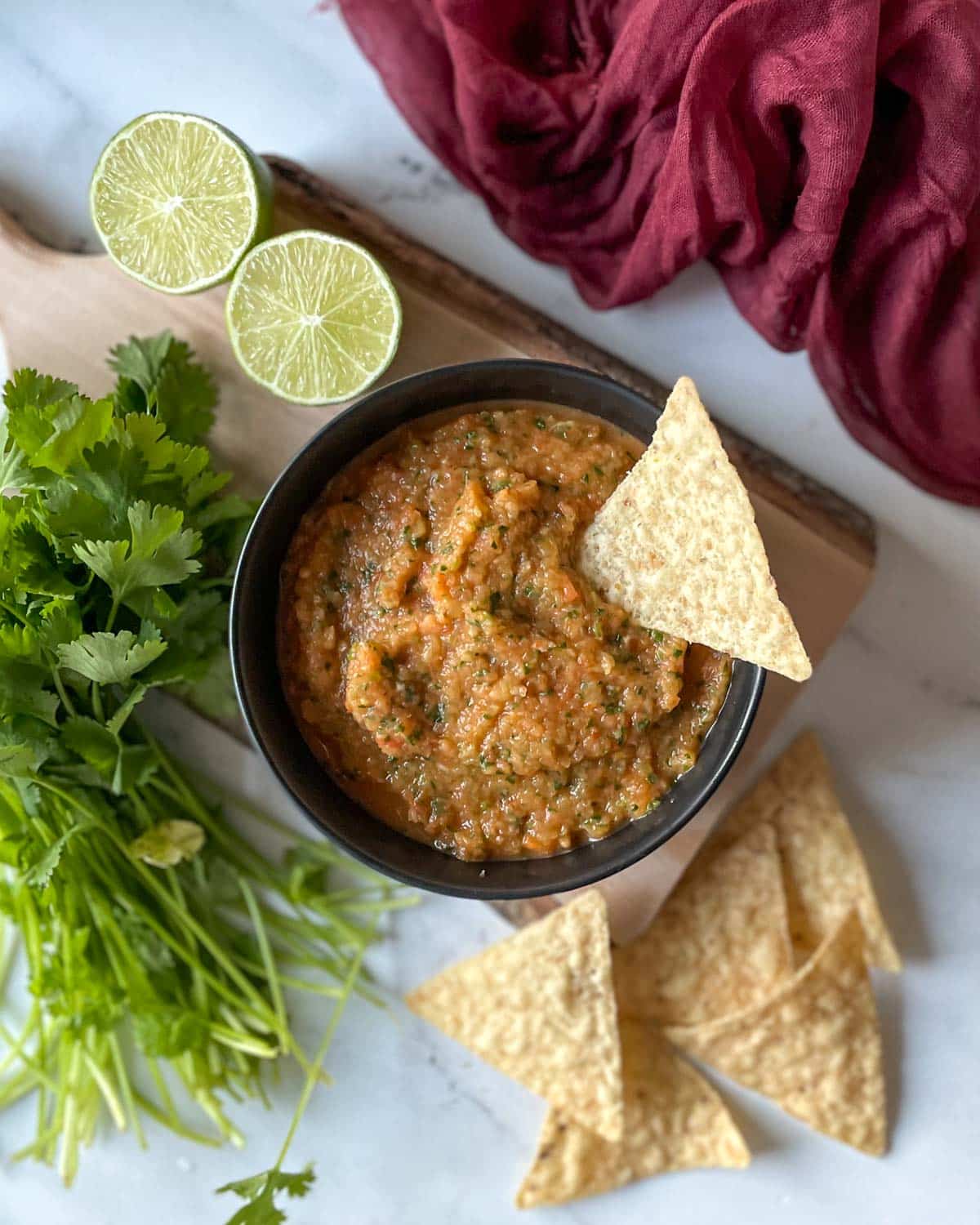 Jump to:
Why You'll Love This Dish
Roasting pineapple habanero salsa brings out the sweetness of the pineapple and onion and adds a depth of flavor to the tomatoes and peppers.
Habaneros are known to pack a punch, reaching 100,000 to 350,000 on the Scoville scale. The Scoville scale is used to measure the spiciness or heat of peppers. Comparatively, a jalapeño pepper only reaches about 5,000!
Deveining, deseeding, and roasting the peppers go a long way toward tempering their heat. The addition of pineapple helps, too.
Making this a sweet habanero salsa recipe, as opposed to a strictly savory salsa, strikes a beautiful balance between sweet, heat, and acidity.
Sweet caramelized pineapple and onion, savory roasted tomatoes, spicy habaneros, bright lime juice, a hint of sharp fresh garlic, and earthy cilantro combine to produce a vibrant sauce you'll want to make again and again.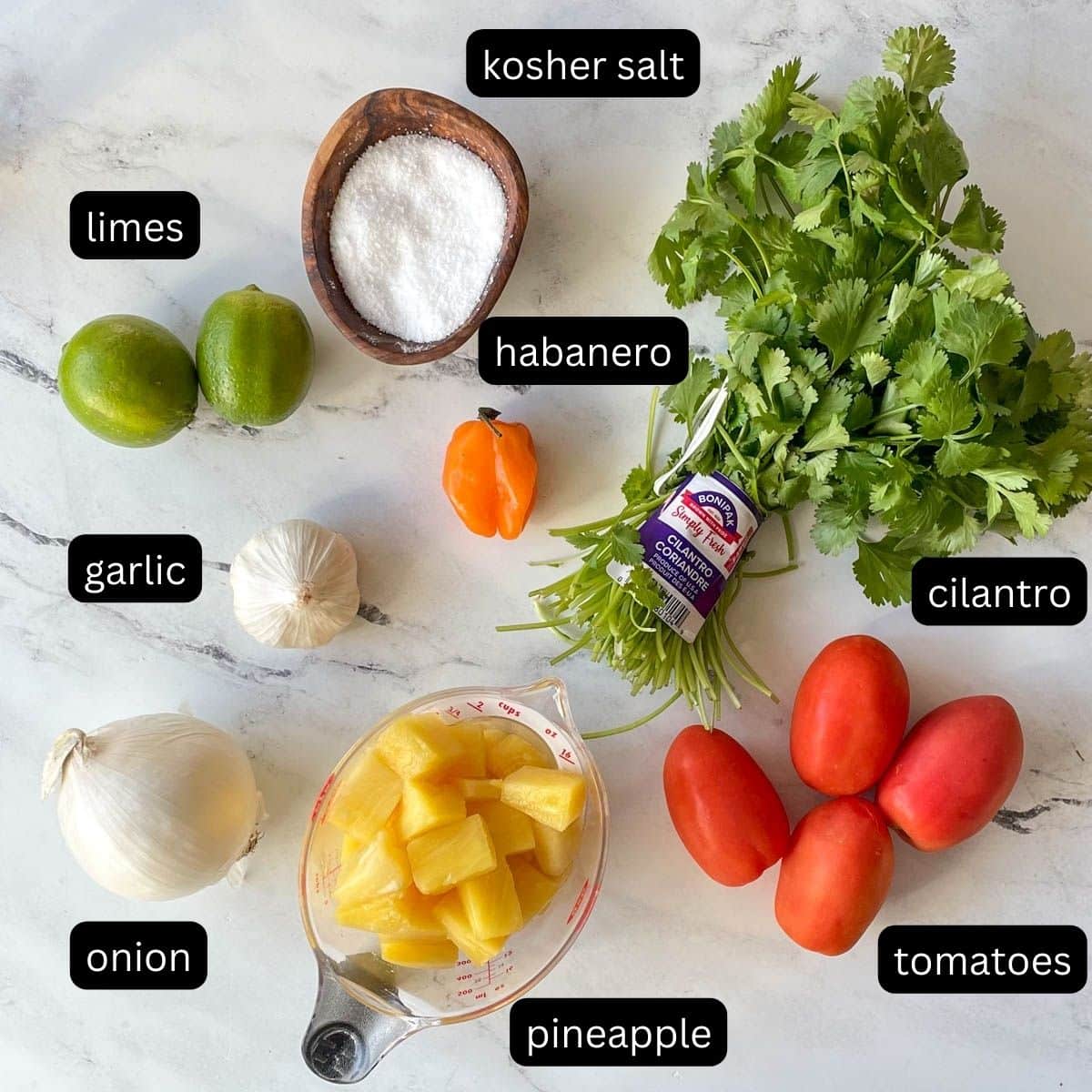 What You'll Need
Two Cloves Kitchen, as an Amazon Affiliate, makes a small percentage from qualified sales made through affiliate links at no cost to you.
Fresh Tomatoes I used four small roma tomatoes here, but any variety of tomato will work well.
Pineapple You can chop fresh pineapple, or use canned.
Habanero I used two deseeded and deveined habanero peppers. You can use one if you would prefer a milder salsa.
White Onion You can also try red onion for a sweeter salsa.
Fresh Garlic If you can't find garlic, I do not recommend using garlic powder. You can just omit this if you don't have access to fresh garlic.
Fresh Cilantro
Limes I use the juice of 1 to 2 small limes. If you can't find fresh limes, try adding bottled lime juice.
Salt My preference is always kosher salt. Diamond Crystal is my brand of choice. It coats food evenly and has a lower salinity per teaspoon than other brands of salts, which makes it easier to taste as you go and harder to oversalt.
Olive Oil is optional for the roasting stage. I add olive oil to this oil sprayer and always have it on hand - super helpful, cuts down on waste, and works really well!
How to Prepare Pineapple Habanero Salsa
Step One: Deseed and devein the habanero. Chop your cilantro. Place your pineapple, tomato, onion, and peppers on sheet trays to roast. Season with salt. Optional: spray with a bit of olive oil.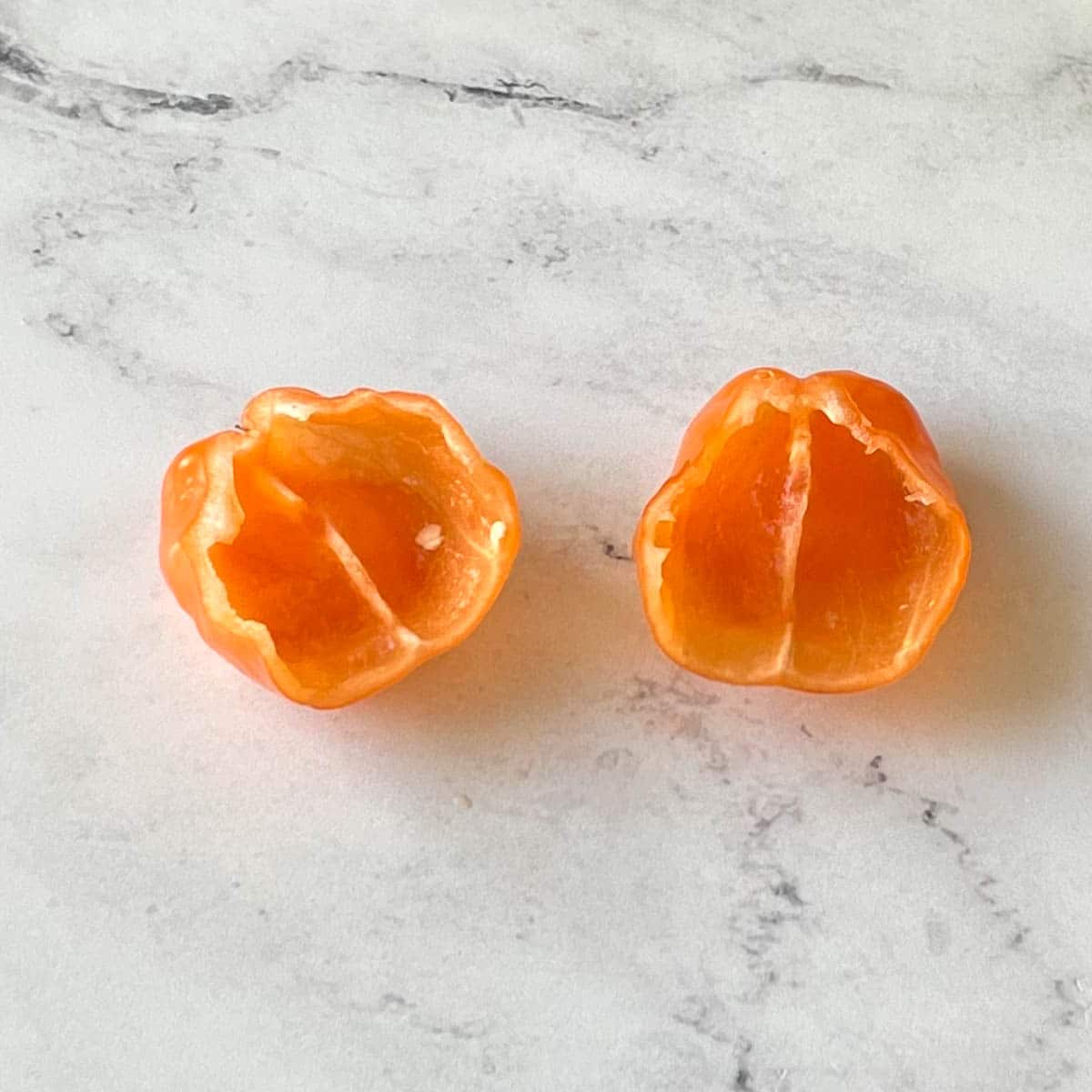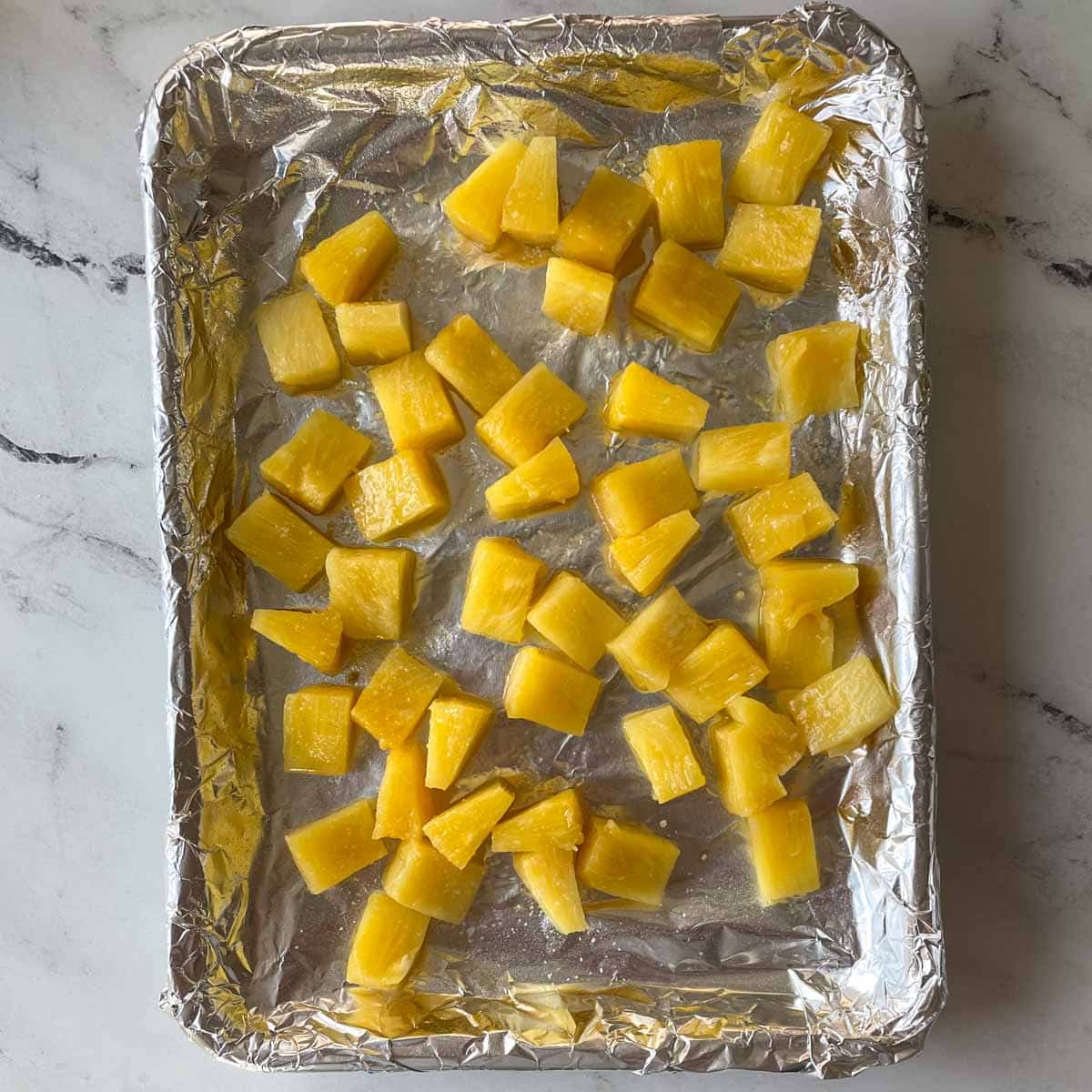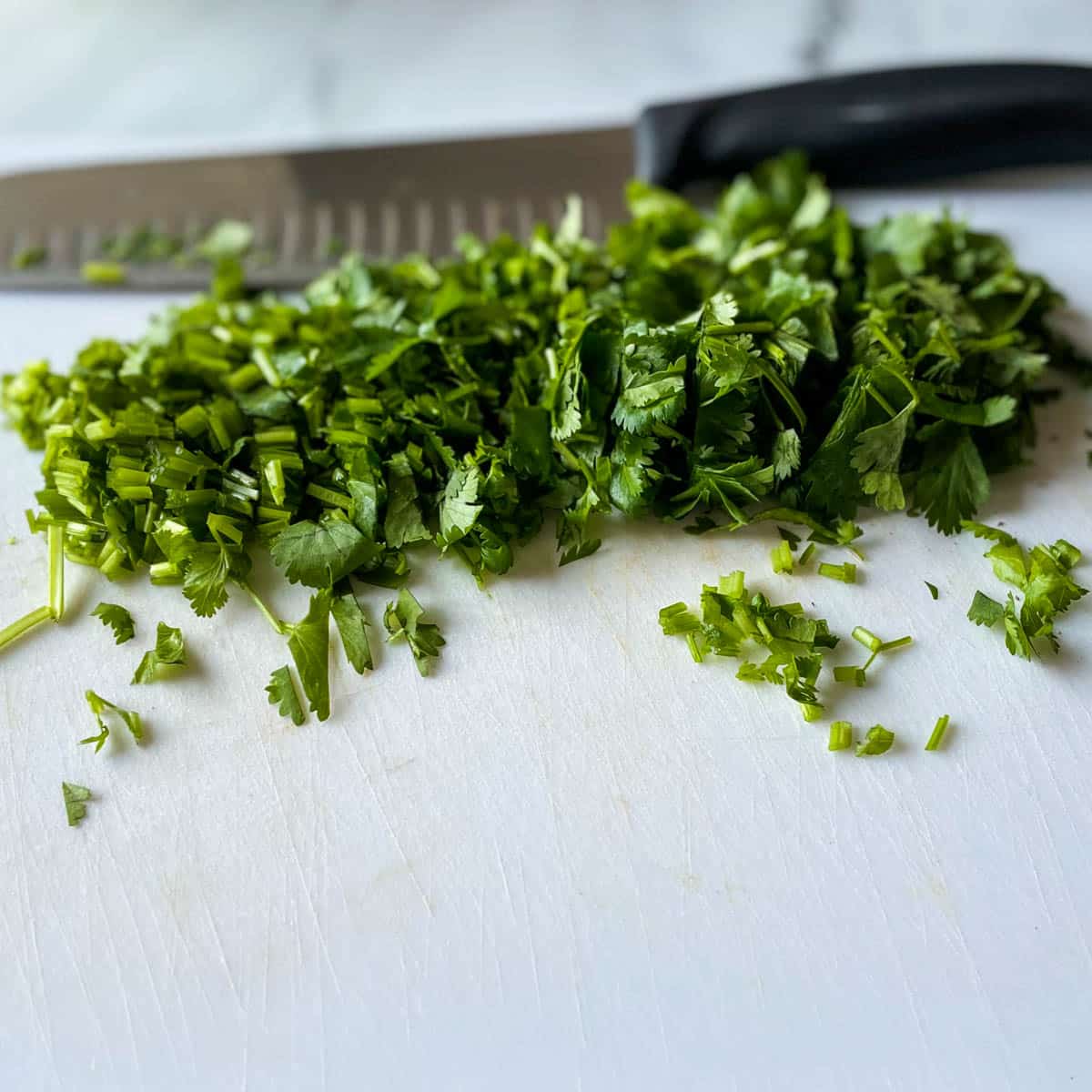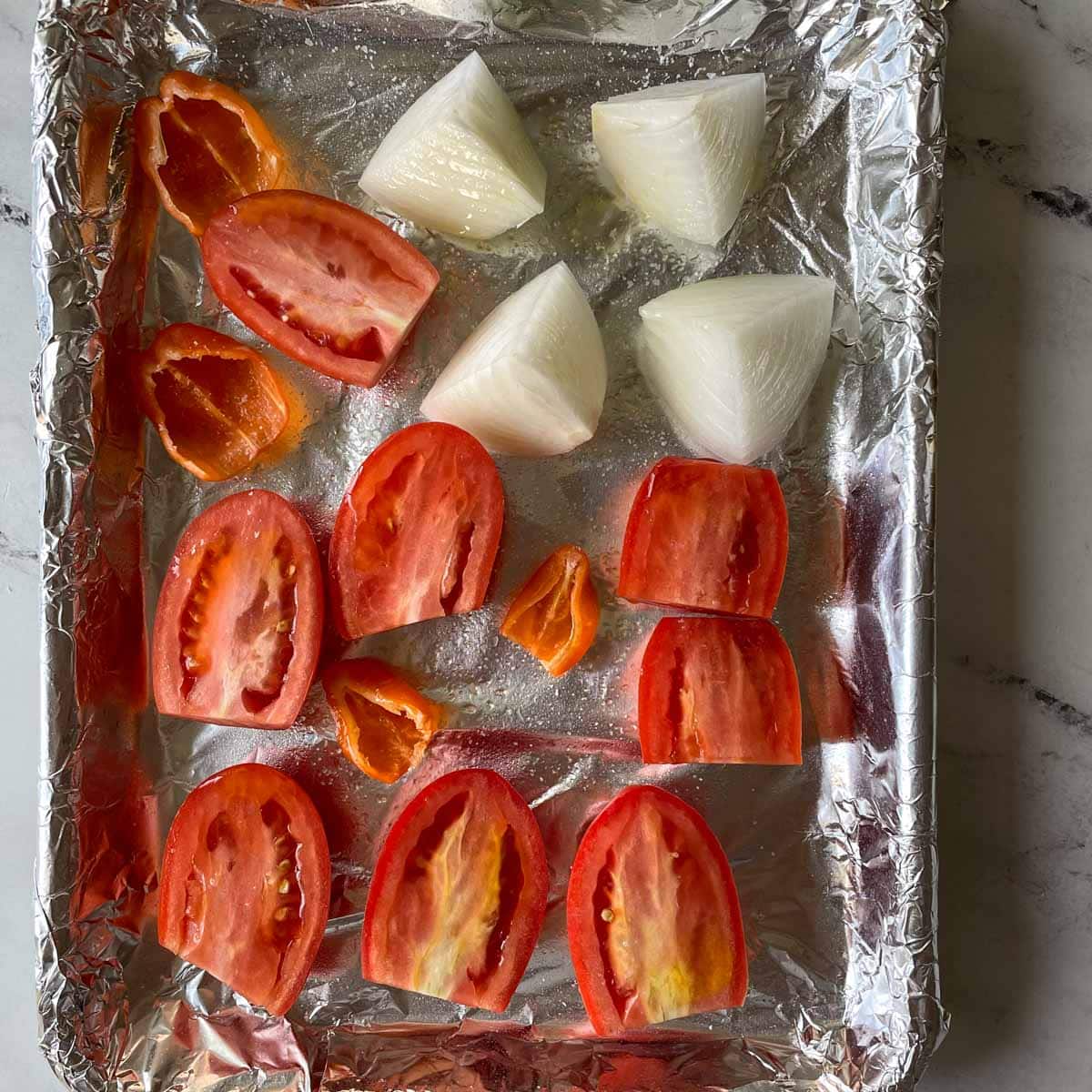 Step Two: Roast at 400 degrees Fahrenheit for about 30 minutes, or until you see some darkened edges on the tomatoes, peppers, and onion, and the pineapple starts to caramelize.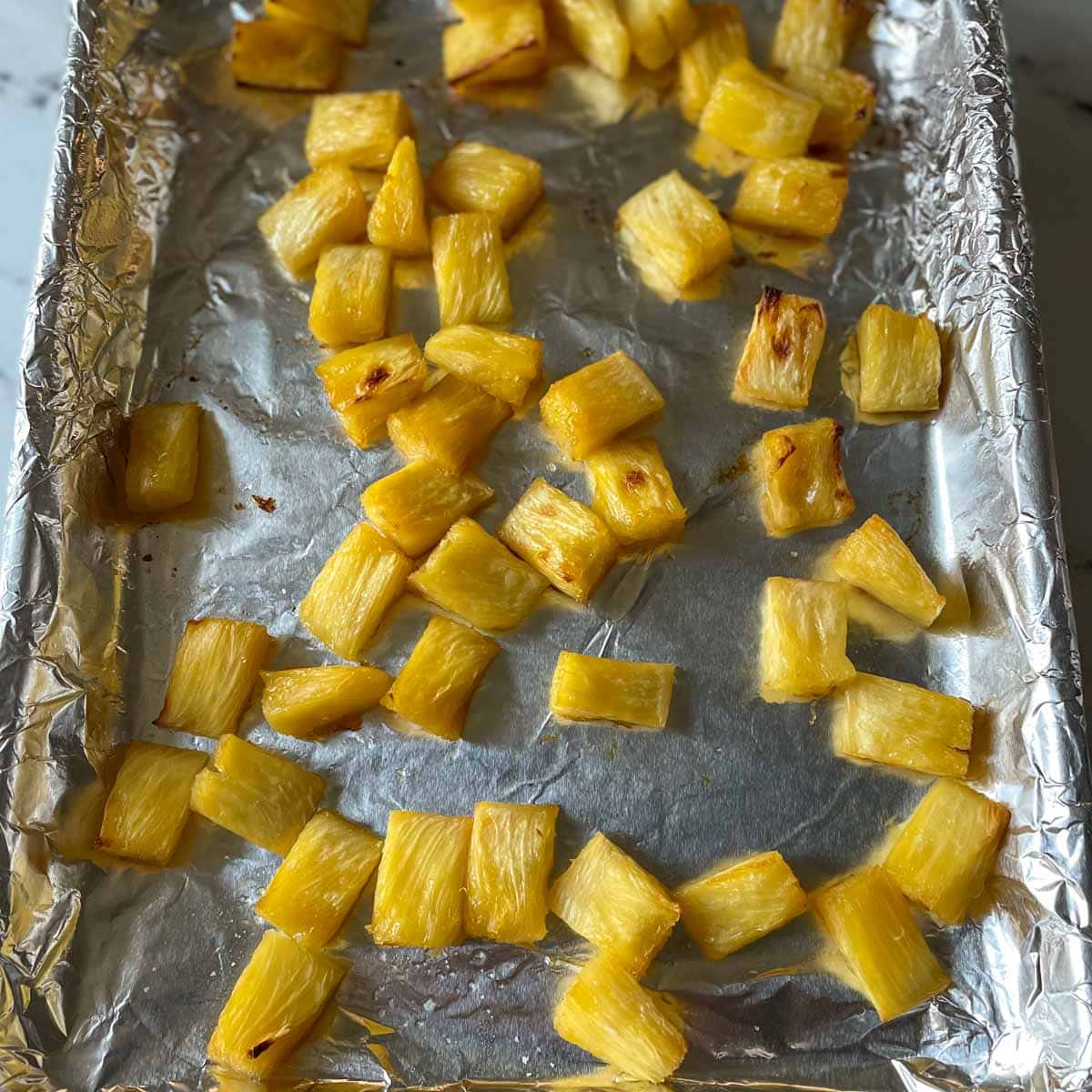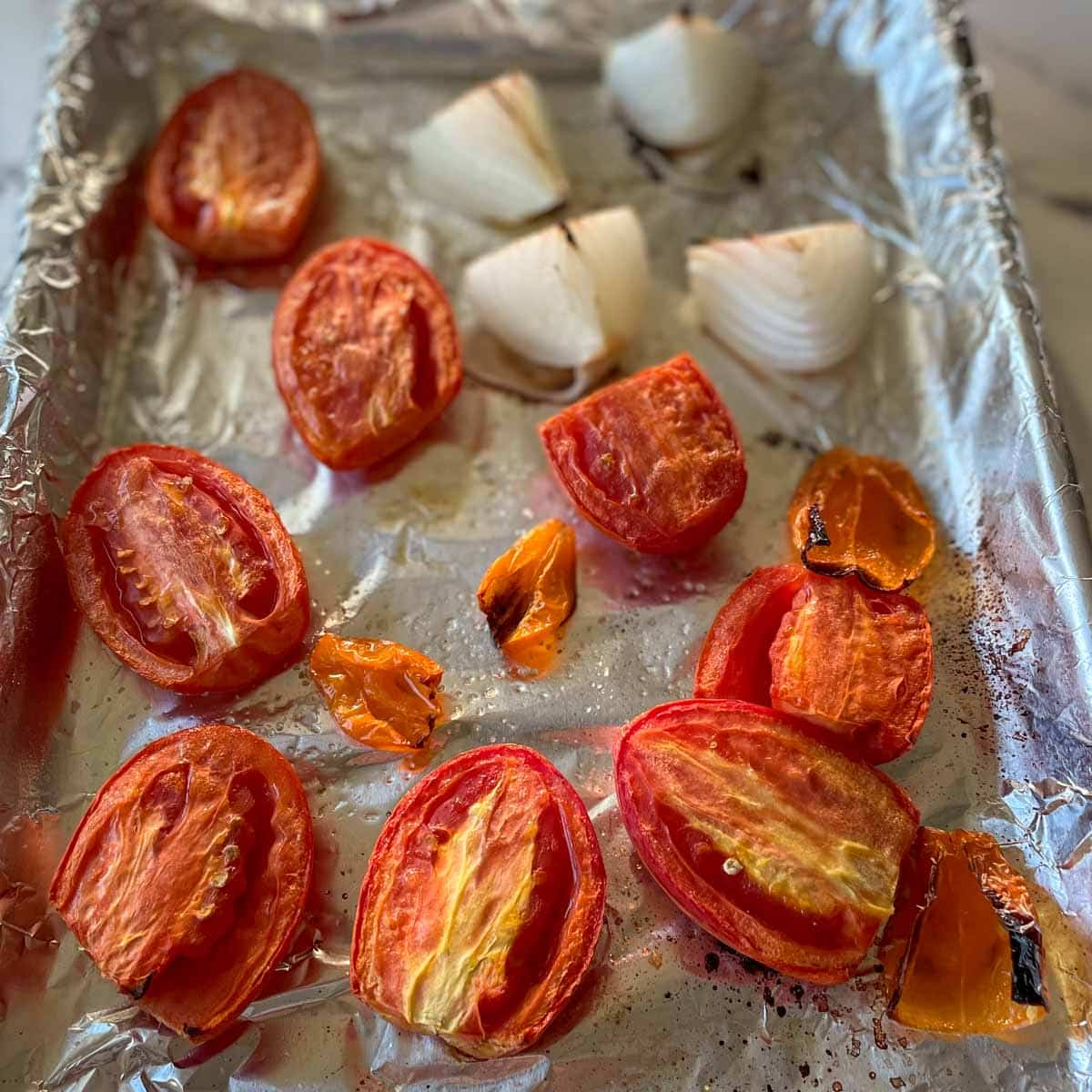 Step Three: Remove from the sheet tray, then place everything in the pitcher of a blender or a food processor. I used a mini food processor here for easier cleanup.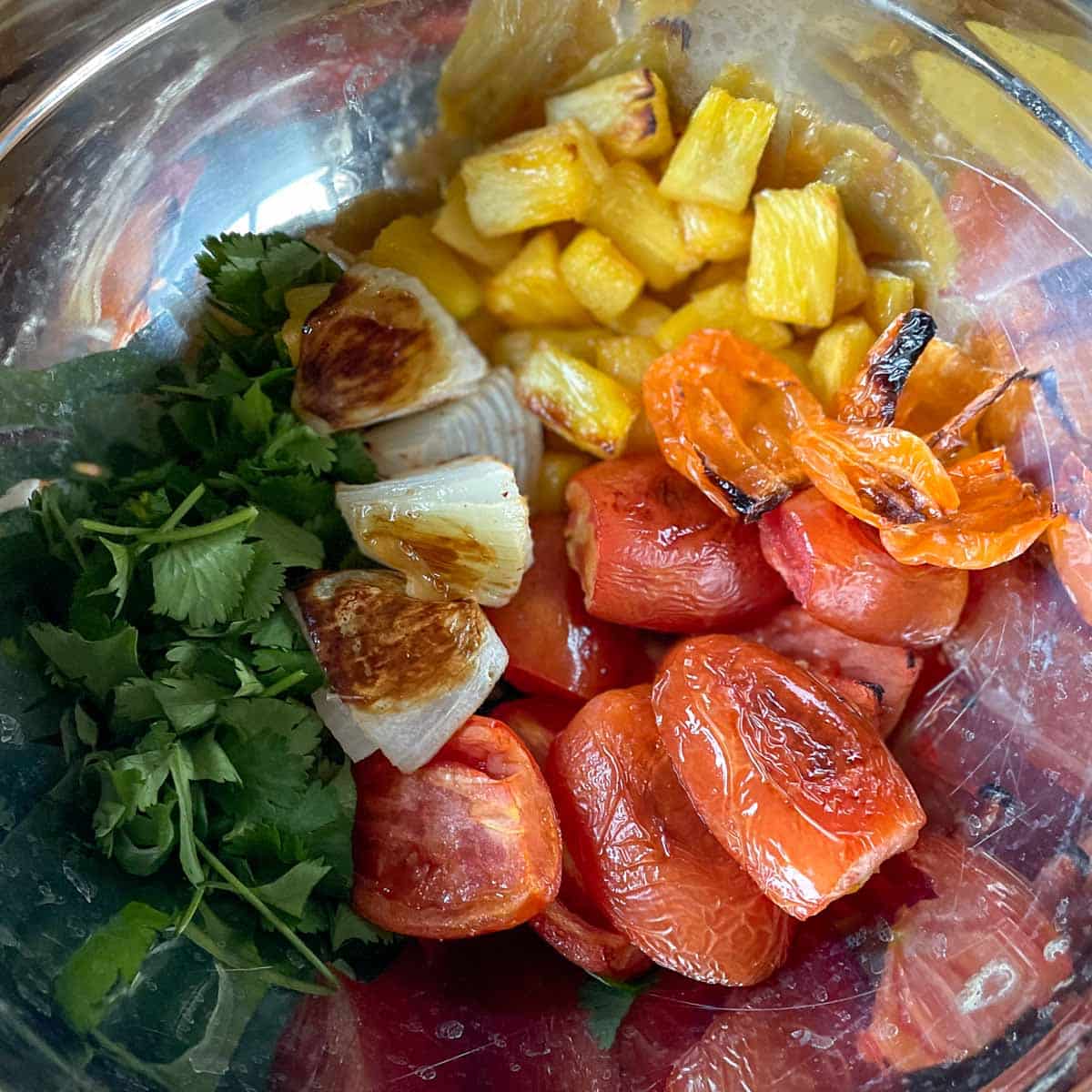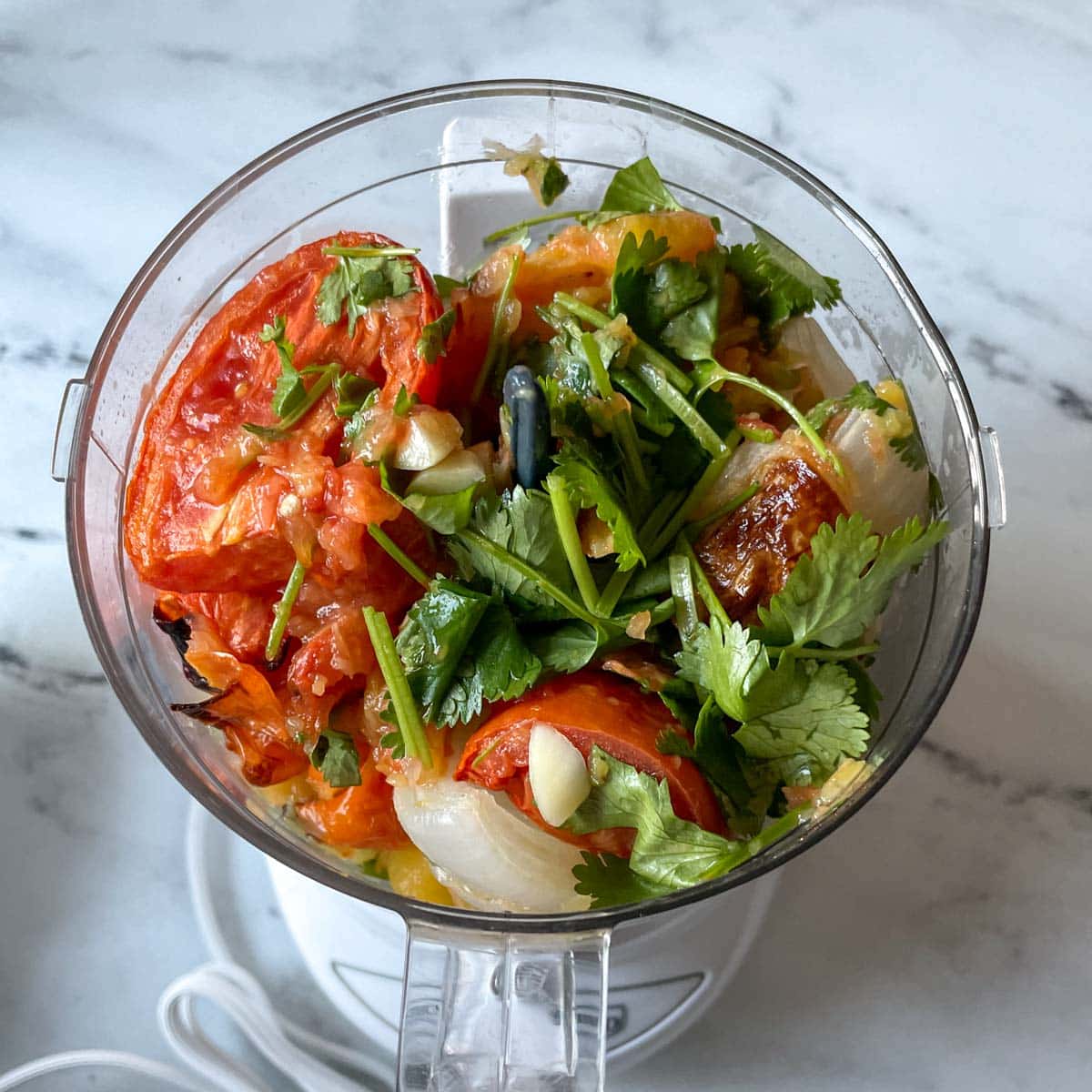 Step Four: Blend until you reach your desired consistency. I recommend not leaving very large pieces in the salsa as you might get a very spicy bite of habanero.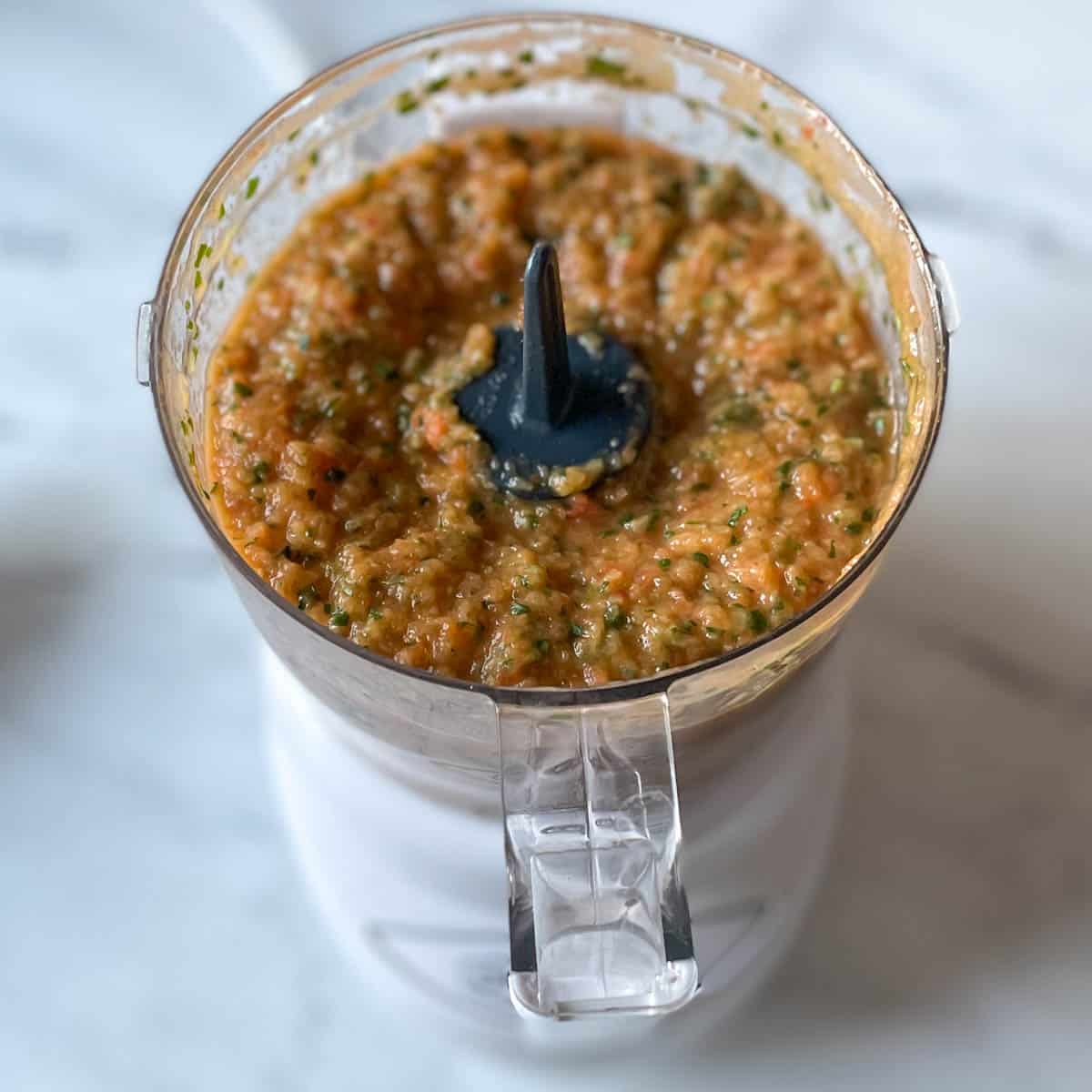 Variations
Traditional You can omit the pineapple and instead roast more tomatoes for a more traditional roasted salsa.
Tomatillos Swap the tomatoes for tomatillos for more of a salsa verde. Check out this article on how to roast tomatillos for more information.
Less Spicy Use just one habanero.
More Spicy Use three deveined and deseeded habaneros. You can try one habanero that is not deveined or deseeded, but it may be blow-your-hair-back spicy!
How to Store
Habanero pineapple salsa can be stored for about a week in the fridge.
You can freeze roasted salsa, as well. Place it in an airtight container (I like to use gallon freezer bags). It should stay fresh for up to 4 months.
FAQ
Are habaneros spicy?
Yes! They are much spicier than jalapeños. If you are concerned about the level of spice, add just one deseeded and deveined habanero. you can always add another after tasting.
Can I make this in advance?
Yes, and I recommend it! Allowing the salsa to sit in the fridge for a while will give the flavors time to meld.
Can I use canned pineapple in this salsa?
Definitely! Be sure to drain it and pat dry before roasting.
Can I use canned tomatoes?
You can, but they will take longer to roast. Strain, pat dry, and roast on a separate sheet tray to monitor doneness.
Can I freeze this?
Yep. Store in an airtight container, like a gallon freezer bag, and freeze for up to 4 months.
How to Serve
Pineapple and habanero salsa can brighten up a variety of dishes. Give it a try with the suggestions below!
Quesadillas Use this salsa as a dip for a Carne Asada Quesadilla using our Ranchera Meat recipe! This is great with spicy pickled onions.
Enchiladas Try a bit on these Slow Cooker Chicken Enchiladas!
Esquites Serve with your favorite Mexican main and a side of these esquites - a delicious warm corn salad that's like elote off-the-cob.
Tacos Serve as a fresh, spicy condiment with these Spicy Potato Soft Tacos and some tortilla chips!
Eggs I love adding a spoonful of salsa to eggs in the morning!
Salad Try adding a dollop to your favorite taco salad!
Serve it as an appetizer for your favorite holiday party, sports event, or other gathering. Some other appetizers I love include these Marinated Brussels Sprouts, Roasted Garlic, and Garlic Peanuts.
Looking for a less spicy salsa? Try this pineapple pico de gallo! Looking for something tangy and smoky? Try some recipes with Tajin.
Expert Tips
Wear gloves when handling habaneros! This will prevent any potential burning when you undoubtedly touch your face later that day. Plastic gloves are excellent for this.
Use a paring knife when deveining the habanero. Using a spoon can sometimes cause a little spray, and again, I'm looking out for your eyes!
For an added depth of flavor and concentrated sweetness, roast your vegetables and fruit for other recipes. Roasted vegetables are an easy, delicious side that we eat often in my home.
Other Recipes You'll Love
If you're in the mood for more pineapple, try these recipes:
Roasted Pineapple with Honey and Pistachios
📖 Recipe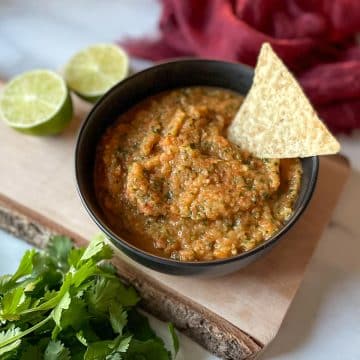 Pineapple Habanero Salsa
This delicious roasted pineapple habanero salsa is a perfect blend of sweet, heat, and acid. It's amazing with chips, dolloped on everything from eggs to steak to salad, or incorporated into your favorite Mexican dishes!
Print
Pin
Rate
Ingredients
4

roma tomatoes

small to medium, sliced in half lengthwise

2

cups

chopped pineapple

about 1 20 oz can, juice strained

1 to 2

habanero peppers

sliced in half, deveined and deseeded

½

white onion

peeled and quartered

1

clove

garlic

skin removed

1 to 2

limes

juice of, about 2 to 4 tablespoons

1

cup

chopped fresh cilantro

kosher salt

to taste

olive oil spray

optional, for roasting
Instructions
Place the tomatoes, onion, habanero, and pineapple on a sheet tray.

Roast in a 400 degree Fahrenheit oven for about 30 minutes, until the edges start to darken.

Add all ingredients to a mini food processor, food processor, or high speed blender.

Blend until you reach your desired consistency and serve.
Notes
I recommend a slightly thick sauce without too many large chunks or you may get a very spicy bite of habanero.

Using a paring knife to devein the habaneros will limit the chance of it spraying and potentially getting in your eyes.
Wear gloves when handling habaneros. This will prevent any potential burning when you undoubtedly touch your face later that day. Plastic gloves are excellent for this.
This salsa can be stored for about a week in the fridge.
You can freeze roasted salsa, as well. Store it in an airtight container (I like to use gallon freezer bags). It should stay fresh for up to 4 months.
Nutrition
Calories:
33
kcal
|
Carbohydrates:
8
g
|
Protein:
1
g
|
Fat:
0.2
g
|
Saturated Fat:
0.02
g
|
Polyunsaturated Fat:
0.1
g
|
Monounsaturated Fat:
0.02
g
|
Sodium:
4
mg
|
Potassium:
153
mg
|
Fiber:
1
g
|
Sugar:
5
g
|
Vitamin A:
433
IU
|
Vitamin C:
29
mg
|
Calcium:
15
mg
|
Iron:
0.3
mg