This easy whole wheat pasta salad is packed with flavorful ingredients. Sundried tomatoes, salami, artichoke hearts, tangy feta cheese, creamy pine nuts, and fresh basil combine with whole wheat noodles to create a delicious and savory side dish perfect for any kind of gathering!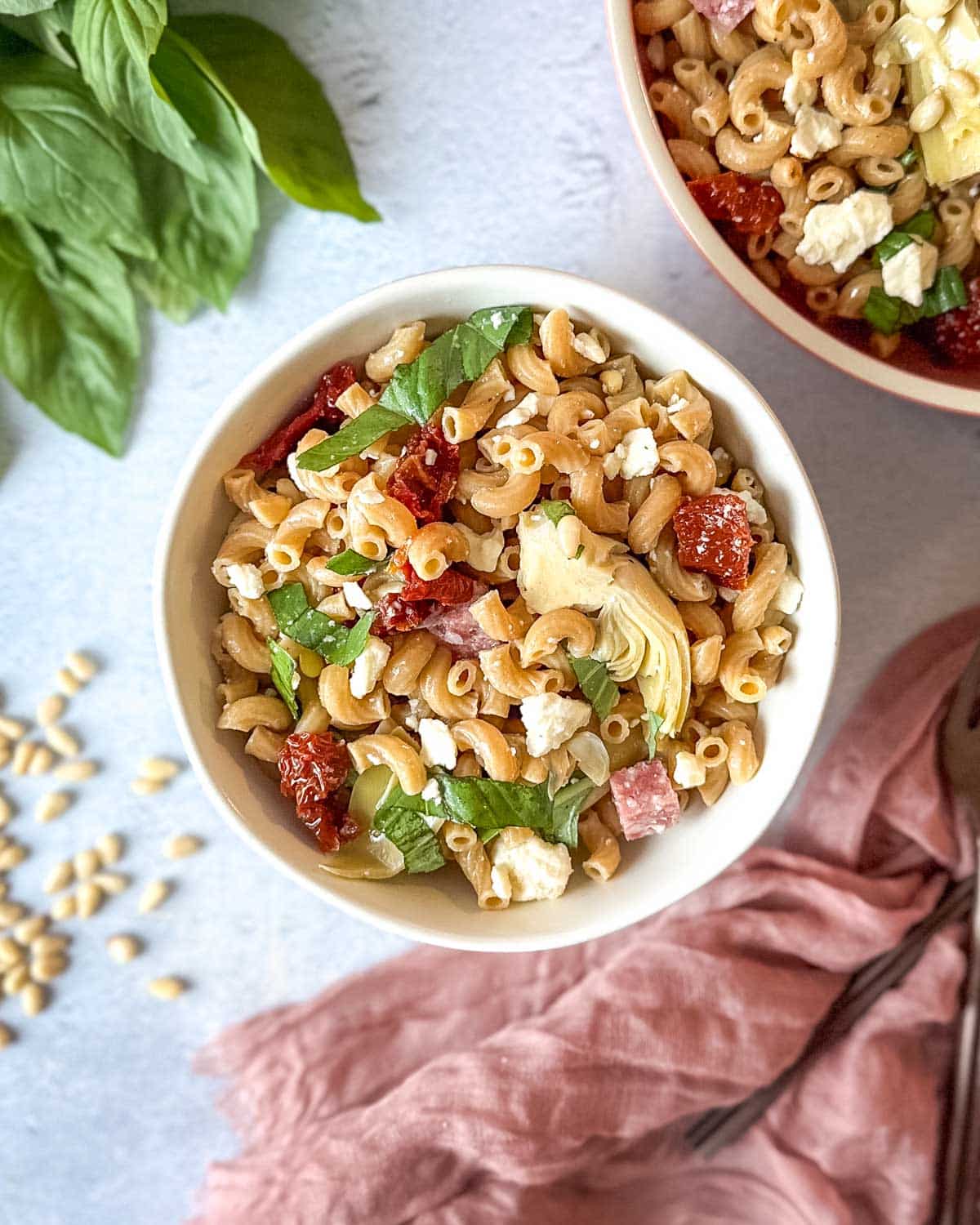 Jump to:
Why You'll Love This Whole-Wheat Pasta Salad
Do you love a good pasta salad? We do at my house.
This healthy pasta salad recipe is one of my all-time favorites and I make it every year around the 4th of July to serve at parties or just to enjoy at home for lunch.
With tangy feta cheese, creamy pine nuts, salty bites of salami, savory artichoke hearts, and fresh basil, this pasta salad is everything you're looking for in a delicious, healthy side or make-ahead recipe for any type of event!
It's so easy to make I've used it for weekly meal prep, too! Just cook up the pasta, toss together the ingredients, and you're good to go.
What You'll Need for Whole Wheat Macaroni Salad
Two Cloves Kitchen, as an Amazon Affiliate, makes a small percentage from qualified sales made through affiliate links at no cost to you.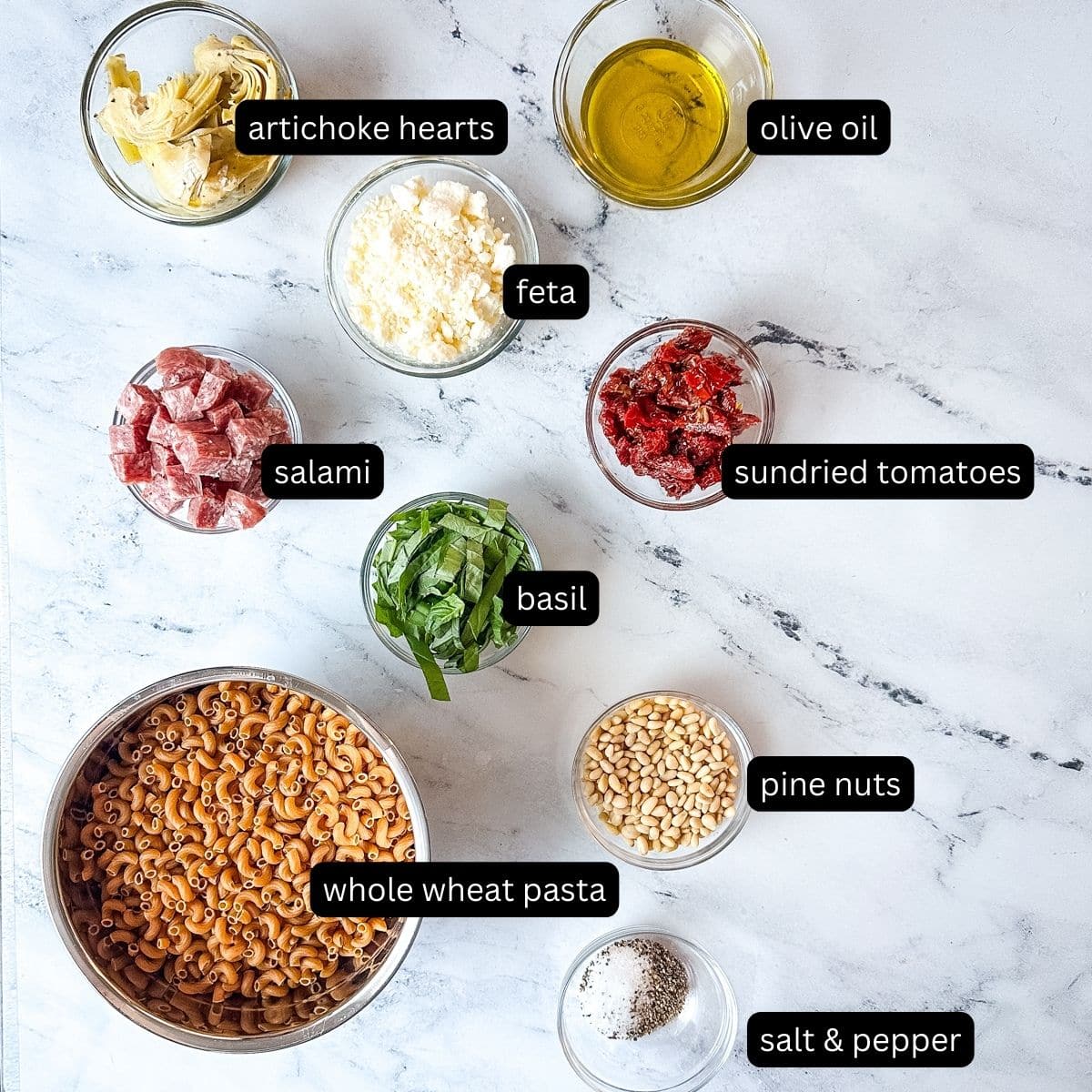 Whole Wheat Pasta Any short shape of whole wheat pasta will do here, whether that's rotini, farfalle, or anything else you enjoy.
Olive Oil I like to use garlic-infused olive oil for this recipe, but it's not necessary. If you want that garlicky flavor but only have regular olive oil, add a pinch of garlic powder to the olive oil before coating the pasta. If you don't, leave it out!
Salami I recommend buying a whole salami stick and then cutting it into cubes.
Artichoke Hearts I prefer using marinated artichoke hearts that come in a glass jar as opposed to canned artichoke hearts, but both will work.
Pine Nuts You can purchase small packages of pine nuts with a pre-measured half cup of pine nuts.
Feta Cheese Crumbled feta cheese is easiest for this recipe, but you can also buy a block of feta cheese and crumble it by hand. You can swap this for goat cheese if you'd like.
Fresh Basil This adds much-needed freshness to the dish, so I don't recommend swapping it for dried basil. You can also try adding other fresh herbs like parsley to this recipe.
Sundried Tomatoes My favorite type of sundried tomatoes to use here is the "chef's cut" that comes packed in oil. I then cut it into little strips for the recipe. If sundried tomatoes aren't your thing, swap them for cherry tomatoes!
Salt and Black Pepper Kosher salt is always my recommendation for savory cooking. It's less salty per teaspoon than sea salt or table salt, making it easier to season as you go and harder to oversalt your food.
How to Make This Recipe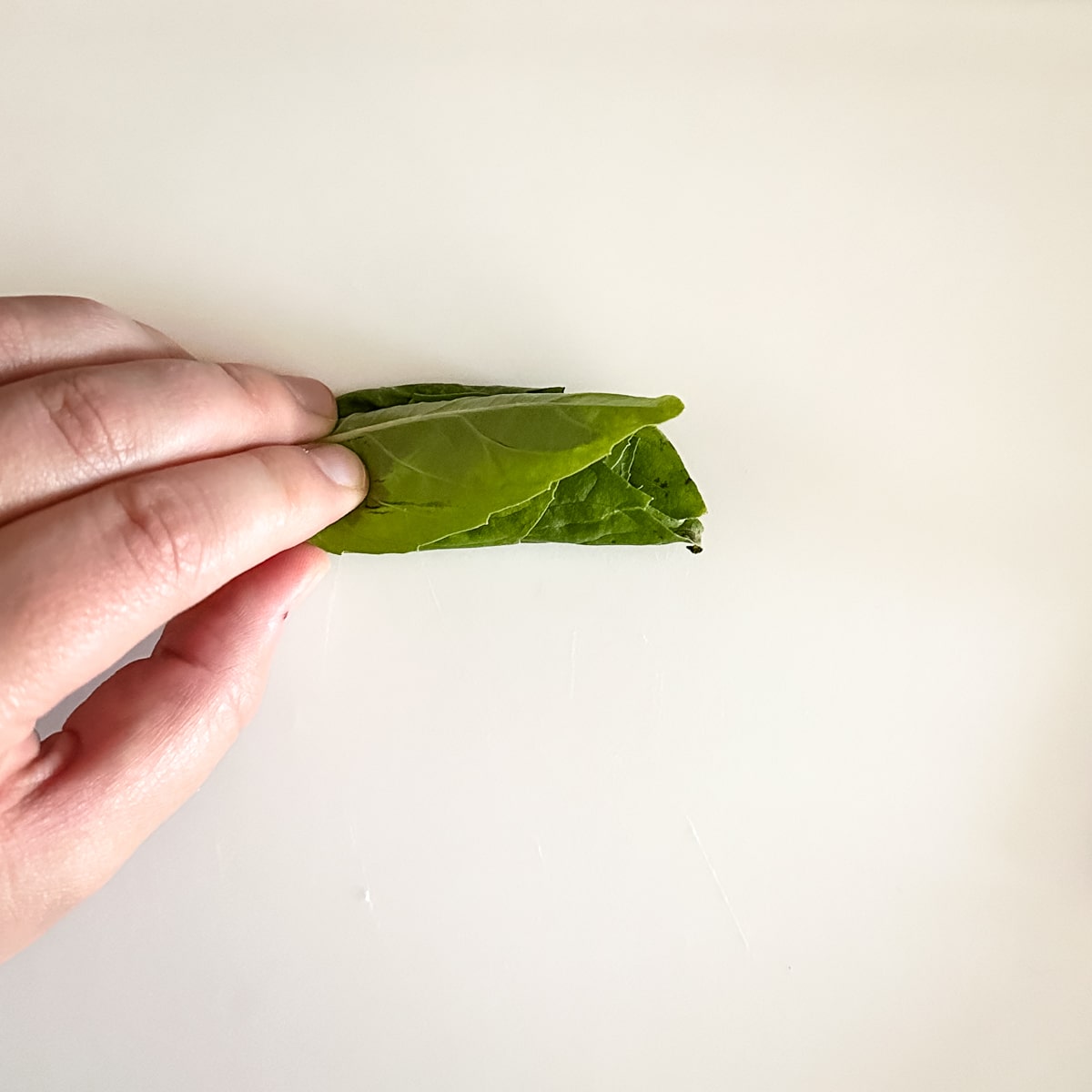 Step One Chop your basil. I like to make a chiffonade for this recipe, meaning first you stack the basil leaves, then roll them into a little cigar shape.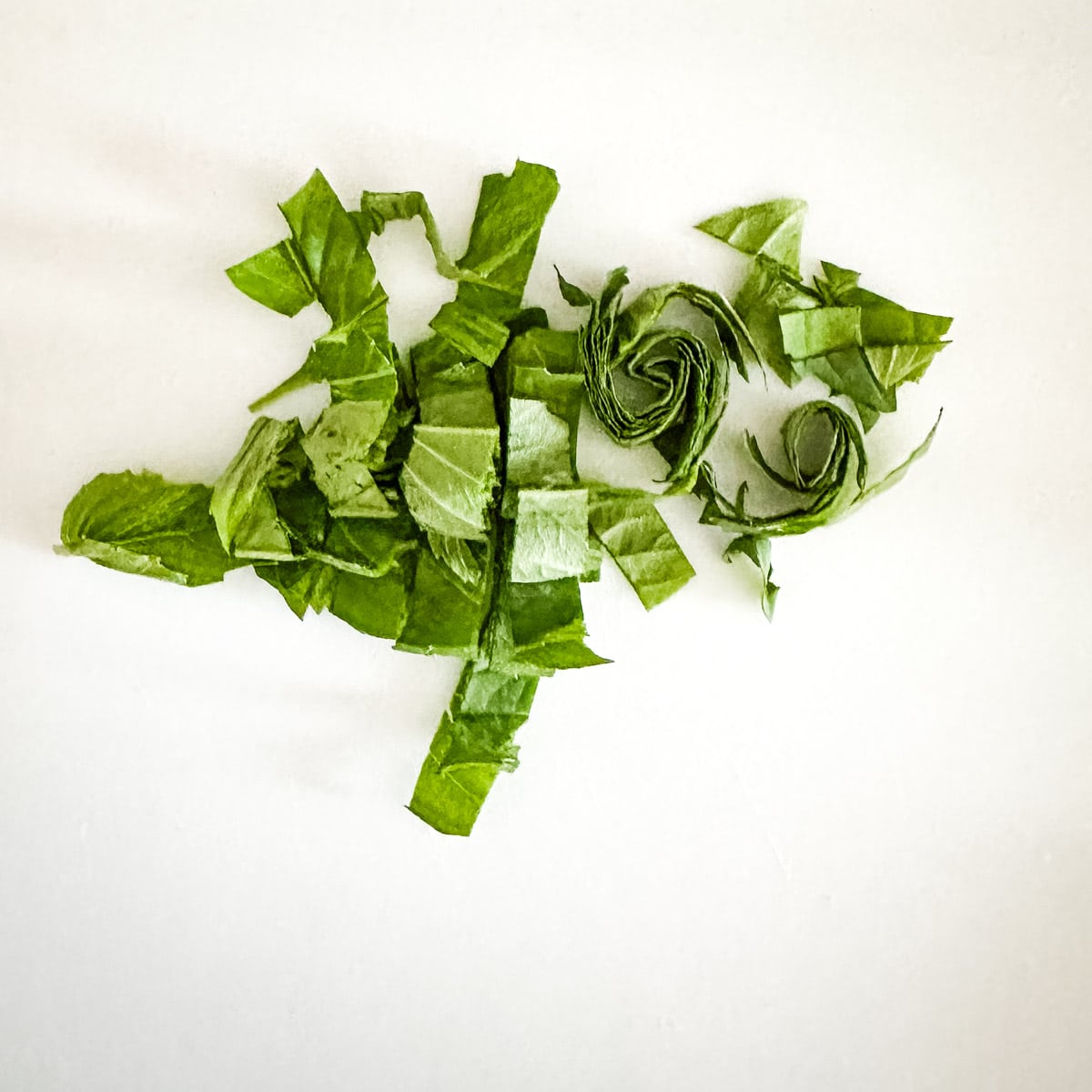 Step Two Then slice across the rolled basil to create thin ribbons.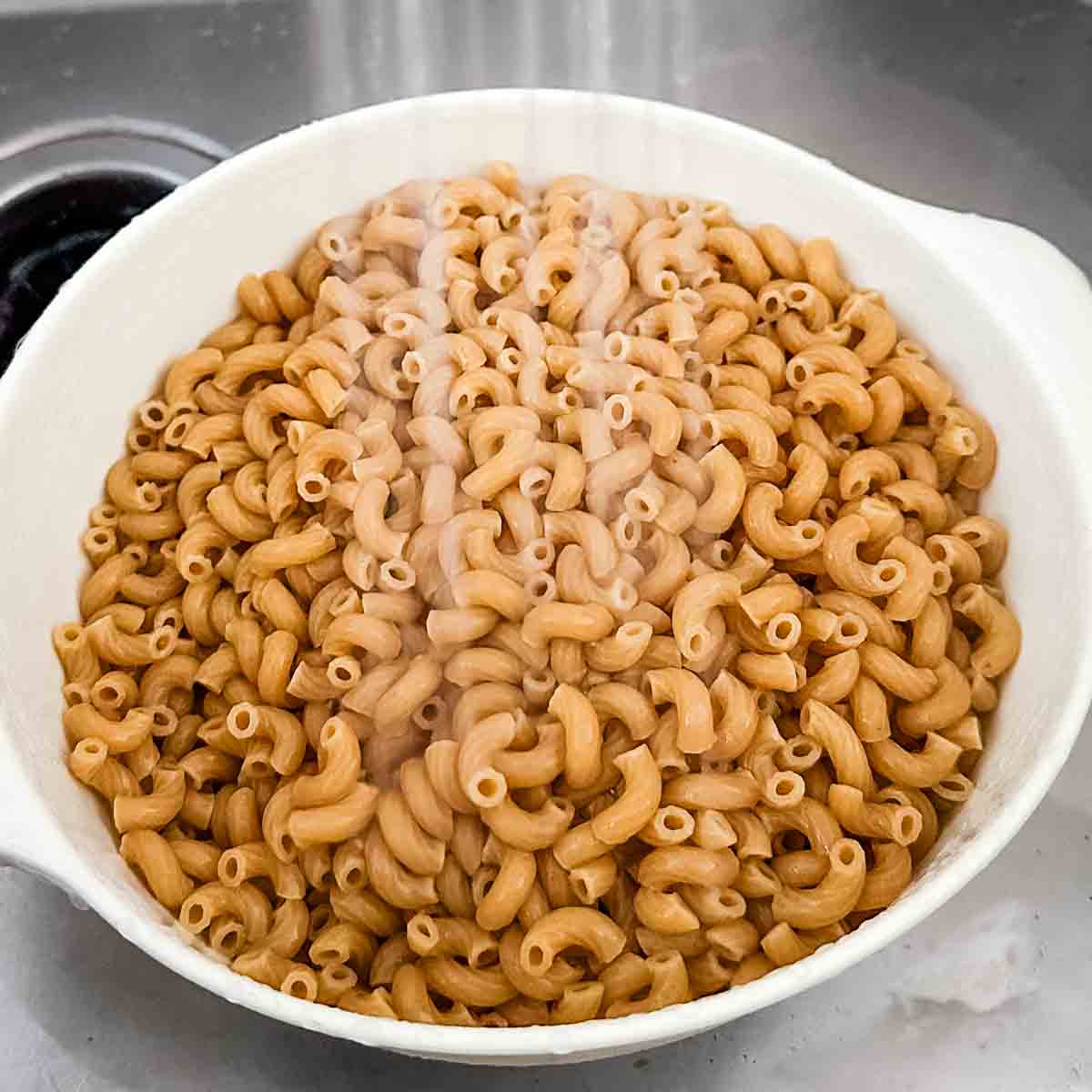 Step Three Bring a large pot of salted water to a boil. Cook the pasta according to package directions or until al dente. Drain the pasta and run it under cold water to cool it down faster.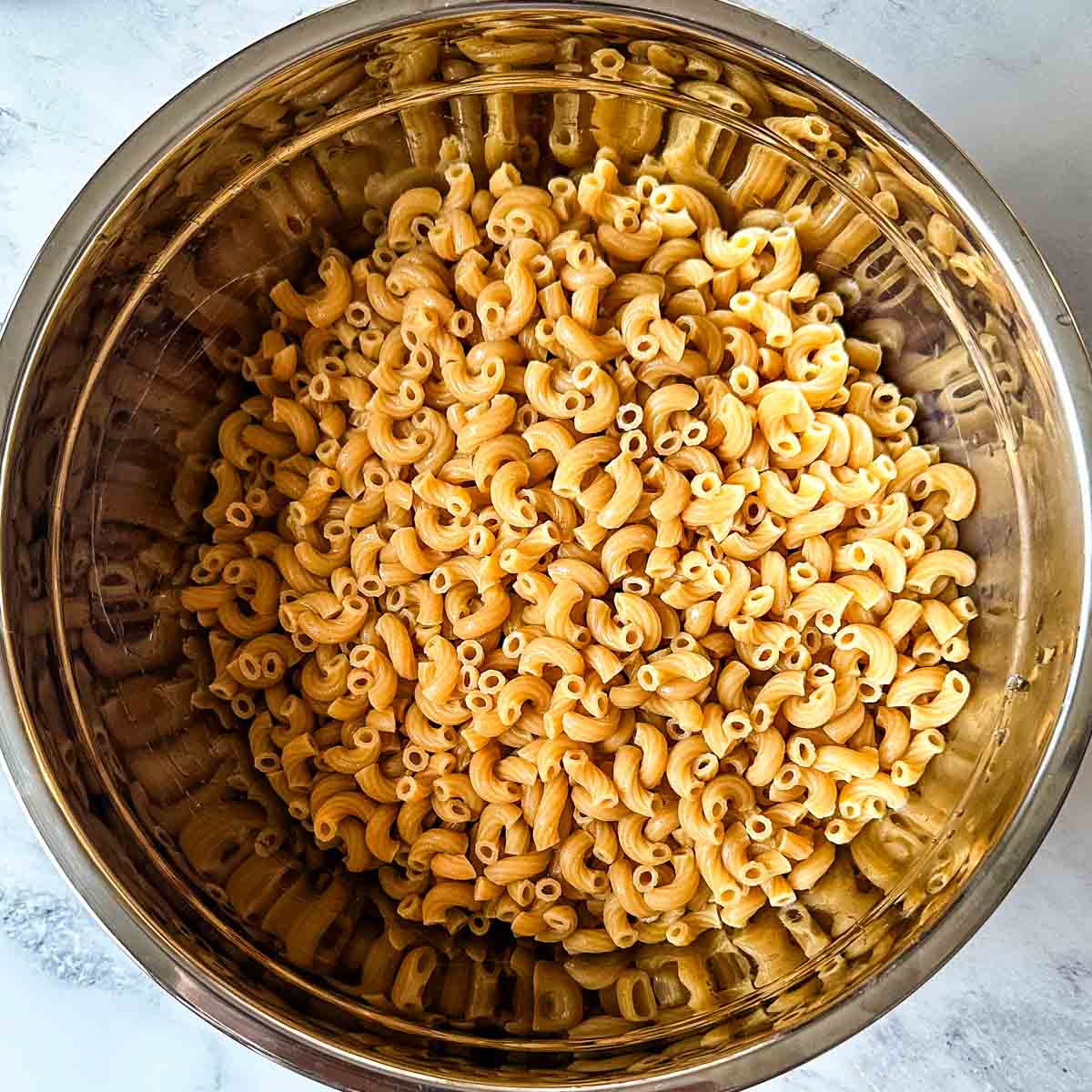 Step Four Place in a large mixing bowl.
Step Five Toss the pasta noodles with olive oil, salt, and pepper, then add the artichoke hearts, salami, feta cheese, fresh basil, and pine nuts.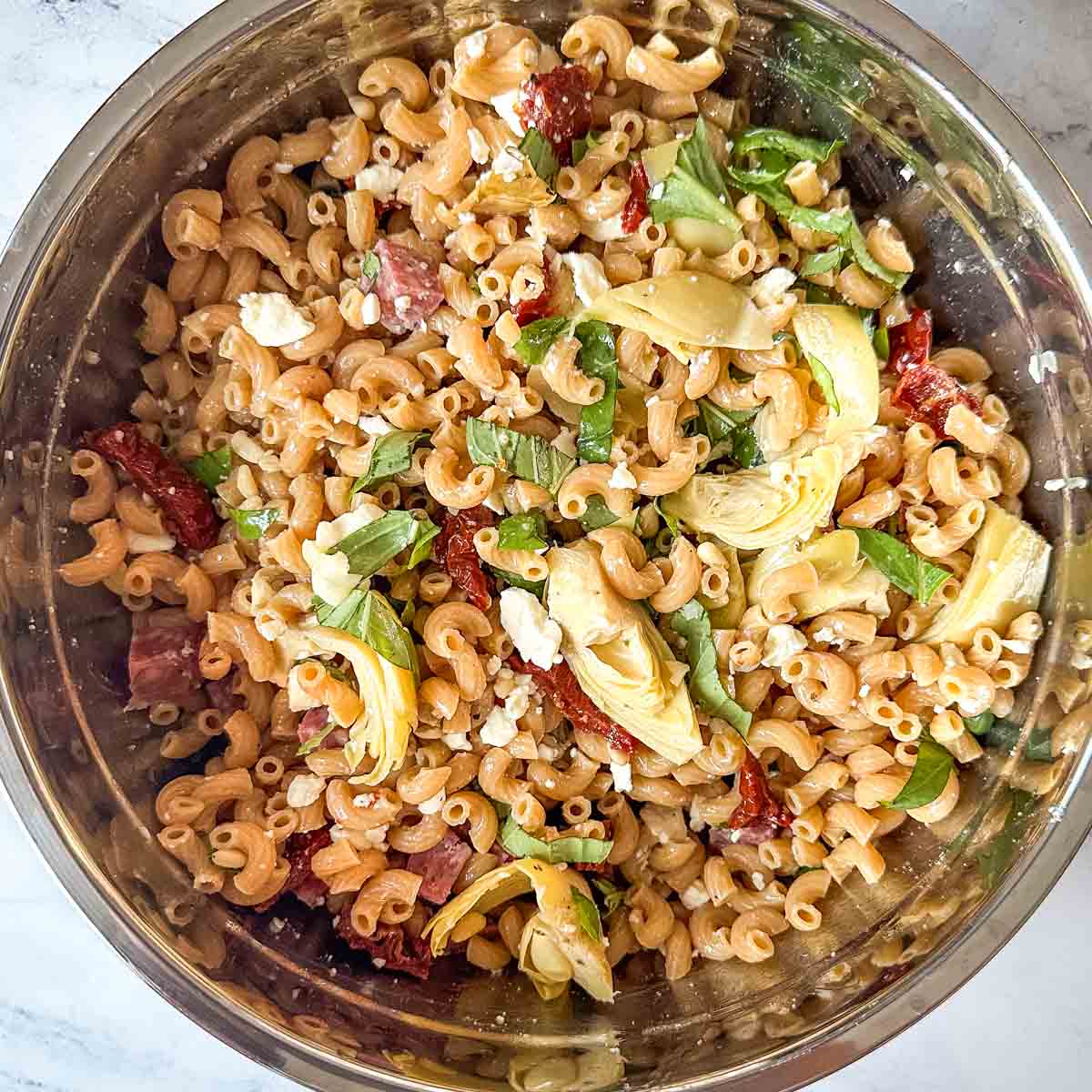 Step Six Toss to combine. Season with salt and pepper if needed and serve!
Recommended Equipment
Frequently Asked Questions (FAQs)
Is whole wheat pasta healthier than regular pasta?
Whole wheat pasta is considered healthier than regular pasta because its protein and fiber content minimizes the impact on your blood sugar.

For more information, check out this article about the health benefits of whole wheat pasta.
Why is my whole wheat pasta mushy?
Because it expands while cooking, it's possible that there was not enough water for the whole wheat pasta in the pot. This can result in mushy or sticky pasta. It may also be overcooked. Try cooking the pasta to 90% doneness next time to see if you like the texture better.
How do I make whole wheat pasta taste nice?
If you're trying to incorporate whole wheat pasta into your diet but aren't that fond of the taste, pair it with super flavorful ingredients that will complement the earthiness and sweetness present in the pasta, like the sundried tomatoes and fresh basil used in this recipe.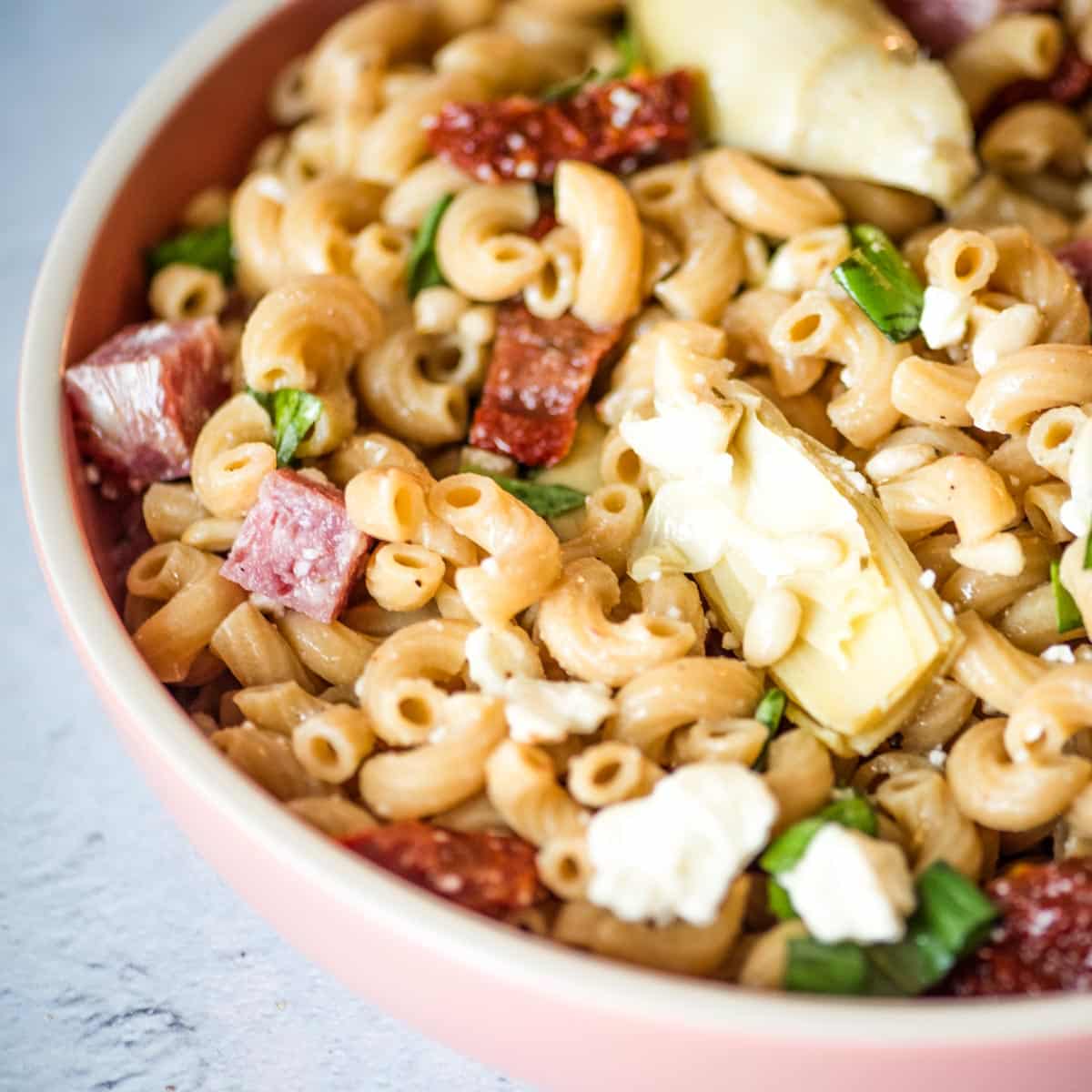 Variations
Red Onion If you feel the salad needs more bite, you can add some thinly sliced red onion to the mix.
Mozzarella Cheese For more of a caprese flavor profile, swap the feta for mozzarella.
Bell Peppers Fresh vegetables like red bell peppers are an excellent addition to this dish, or you can use roasted red bell peppers instead of sundried tomatoes.
Cucumber Feel free to add cucumber to this salad for some extra freshness.
Kalamata Olives For more of a Greek salad, try adding olives of your choice.
Spinach Looking to add some extra greens to your whole wheat noodles? Try a few handfuls of spinach or arugula.
Balsamic Vinegar If you'd like to make the dressing for this salad a bit tangy, whisk together a vinaigrette with two parts olive oil and one part balsamic vinegar, pour the dressing over the pasta, and toss the pasta before serving.
Storage and Reheating
Fridge Refrigerate leftover pasta salad in an airtight container for 3 to 4 days.
Freezer I do not recommend freezing this dish.
You can serve this pasta salad cold or at room temperature, so there is no need to reheat it. Sometimes it's even better the next day. Just take it out of the fridge and it's ready to serve!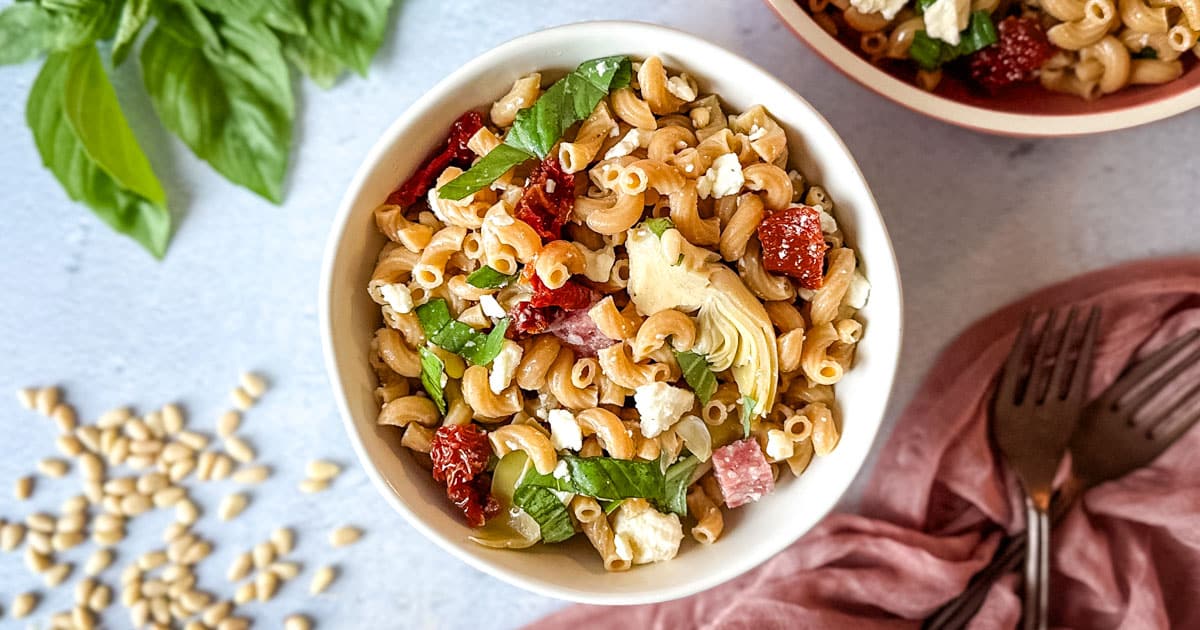 Expert Tips
For vegan pasta salad, omit the salami and trade out the feta cheese for a vegan feta alternative.
Rinse the pasta before adding it to a bowl with the other ingredients. While I would never recommend this for a hot pasta dish, because the starch helps the sauce adhere to the pasta, you don't need the starch to function that way in this dish. You're better off with cooled-down pasta!
Add some extra protein in the form of white beans or chicken breast to make this a full meal!
How to Serve Healthy Whole Wheat Pasta Salad
Pasta salad is the perfect summer barbecue side dish, great for pool parties, picnics, or just dinner at home! Try it with the following recipes:
Main Course Serve as a main course with a protein like chickpeas or this delicious Italian Chicken Cutlet recipe.
BBQ Serve this pasta salad with your favorite grilled meats, like this grilled chile lime chicken or ranchera steak.
Other Salads I'm a bit proponent of just serving up a bunch of different salads on a hot night. Try making this fresh Greek green salad, and a delicious burrata caprese salad!
These marinated tomatoes are a summer favorite, and this sweet and savory watermelon feta salad is hard to beat. This taco dip is another super easy, no-cook recipe perfect for parties!
Did you make this recipe? Be sure to leave a comment 💬 and a ⭐⭐⭐⭐⭐ rating below! You can also tag us @twocloveskitchen on Instagram or follow us on Facebook!
More Salad Recipes to Try
📖 Recipe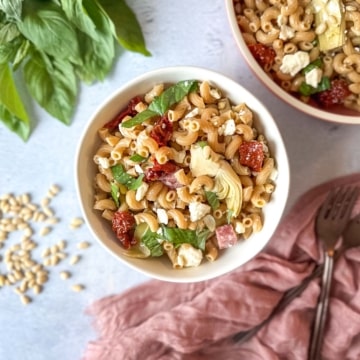 Whole Wheat Pasta Salad
This easy whole wheat pasta salad is packed with flavorful ingredients. Sundried tomatoes, salami, artichoke hearts, tangy feta cheese, creamy pine nuts, and fresh basil combine with whole wheat noodles to create a delicious and savory side dish perfect for any kind of gathering!
Print
Pin
Rate
Equipment
Measuring Cups

Salad Bowl

Serving Spoons
Ingredients
1

pound

whole wheat pasta

any short shape, see note 1

¼

cup

olive oil

garlic-infused, or regular extra virgin, see note 2

4

ounces

salami

diced

3

ounces

sundried tomatoes

sliced

14

ounces

artichoke hearts

drained and quartered

4

ounces

feta cheese

crumbled

½

cup

pine nuts

from a 2-3 ounce package

½

cup

sliced fresh basil

salt and pepper

to taste
Instructions
Place a large, salted pot of water to boil on the stovetop.

Cook the pasta to package directions and drain.

Rinse the pasta with cold water to cool it down quickly. Transfer the pasta to a large bowl.

Coat the pasta in the olive oil. Season with salt and pepper to taste.

Add the salami, sundried tomatoes, artichoke hearts, feta cheese, pine nuts, and fresh basil to the bowl with the pasta.

Mix everything well, taste for seasoning, and serve.
Notes
General
You can use whatever shape you like here. I used elbows, but try farfalle (bowties), penne, gemelli, fusilli, or cavatappi.
I love making this dish with garlic-infused olive oil if you can find it. If not, feel free to add a sprinkle of garlic powder to the olive oil before mixing the pasta salad together.
Sundried tomatoes can be replaced with cherry tomatoes.
Add more olive oil as needed if the salad seems a bit dry.
Storage
Store leftover pasta salad in an airtight container in the fridge for 3 to 4 days.
I do not recommend freezing this dish.
Nutrition
Calories:
359
kcal
|
Carbohydrates:
42
g
|
Protein:
13
g
|
Fat:
17
g
|
Saturated Fat:
4
g
|
Polyunsaturated Fat:
4
g
|
Monounsaturated Fat:
8
g
|
Cholesterol:
19
mg
|
Sodium:
545
mg
|
Potassium:
483
mg
|
Fiber:
2
g
|
Sugar:
4
g
|
Vitamin A:
187
IU
|
Vitamin C:
4
mg
|
Calcium:
88
mg
|
Iron:
3
mg