These quick pickled white onions add a pop of tangy flavor to sandwiches, salads, bowls, tacos, and wraps. They're a wonderful condiment paired with grilled meats and vegetables, added to cheese boards, or you can have them as a snack!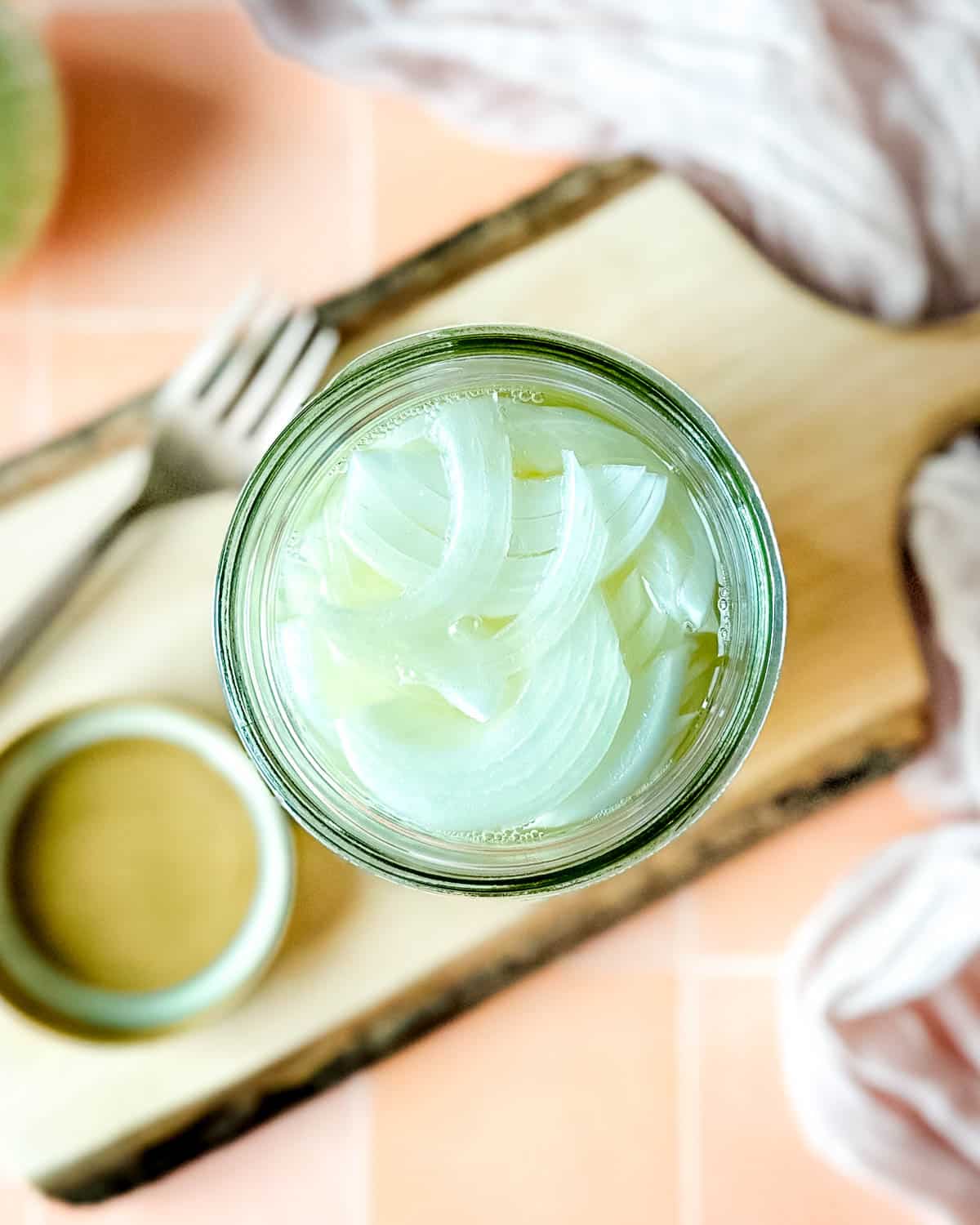 Why You'll Love Quick Pickled Onions
This quick pickled onions recipe is a super versatile and easy-to-make condiment to have on hand at all times.
I eat them right out of the jar for a snack or add them to salads, sandwiches, wraps, bowls, or grilled meats and vegetables. They're amazing on burgers and hot dogs or make pickled white onions for tacos and fajitas.
They're an easy way to elevate any dish that could use some bright, tangy flavor.
I've experimented with my pickling recipe for a long time, and this brine has what I believe is a perfect balance of salty, sweet, and acidic flavors.
I use this same brine for shallots, carrots, radishes, celery, cucumbers - you name it.
And unlike traditional pickling, quick pickling is precisely what the name says: super fast. Just add the sliced onion to a jar, submerge them in the vinegar brine, let them cool, then serve!
What You'll Need for Quick-Pickled Onions
Two Cloves Kitchen, as an Amazon Affiliate, makes a small percentage from qualified sales made through affiliate links at no cost to you.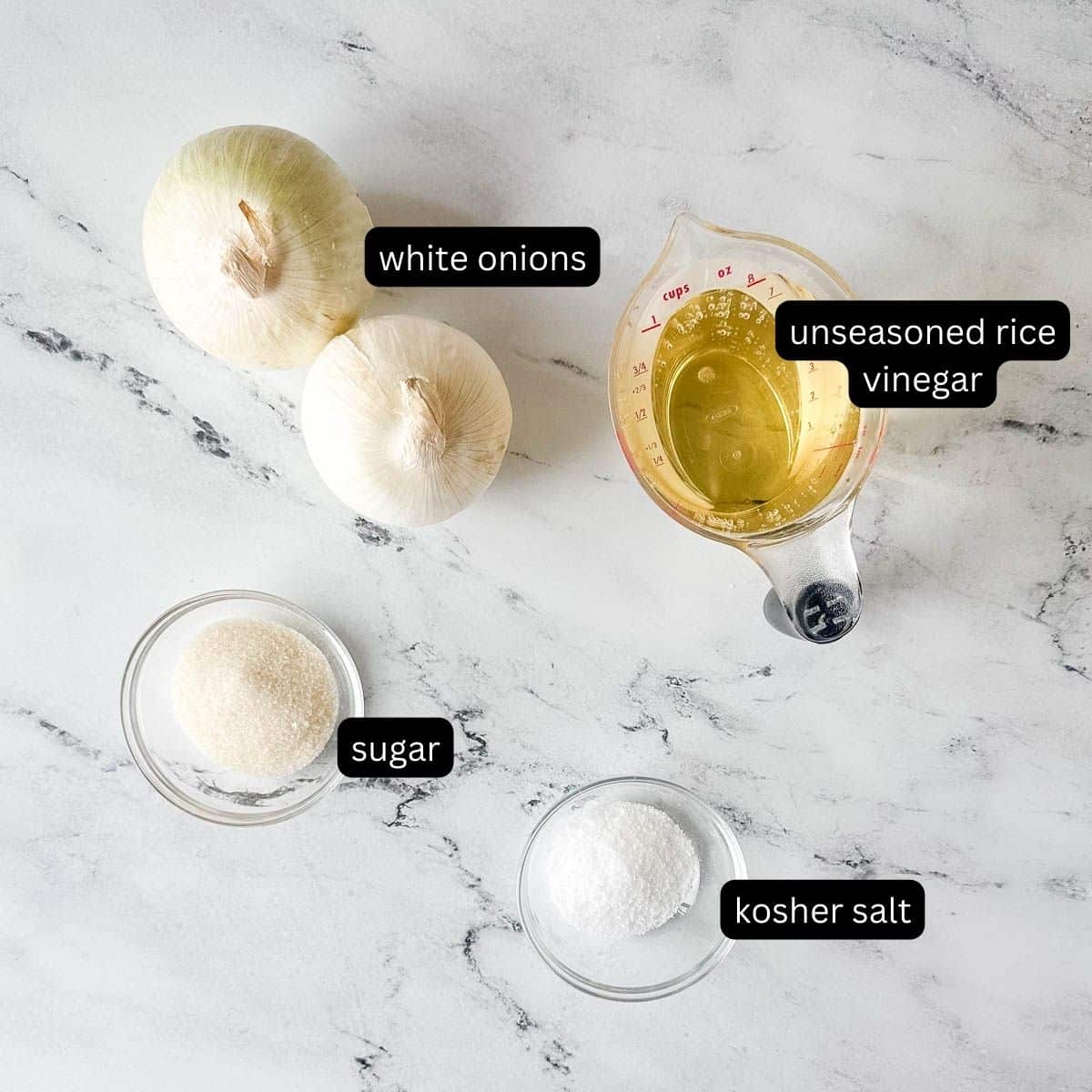 White Onions You can easily make pickled red onions, sweet onions, or yellow onions, too.
Rice Vinegar I suggest using unseasoned rice vinegar because I find seasoned rice vinegar to be a bit too sweet. Instead, with unseasoned rice vinegar, you are able to control the level of saltiness and sweetness in your brine to find what works best for you.
Sugar I generally use organic cane sugar here, but regular sugar is fine as well. I wouldn't recommend brown sugar.
Kosher Salt If using something other than kosher salt, taste as you go rather than adding the full amount listed in the recipe Table salt and sea salt can be twice as salty as kosher salt by volume.
RECOMMENDED EQUIPMENT
How to Make Quick Pickled Onions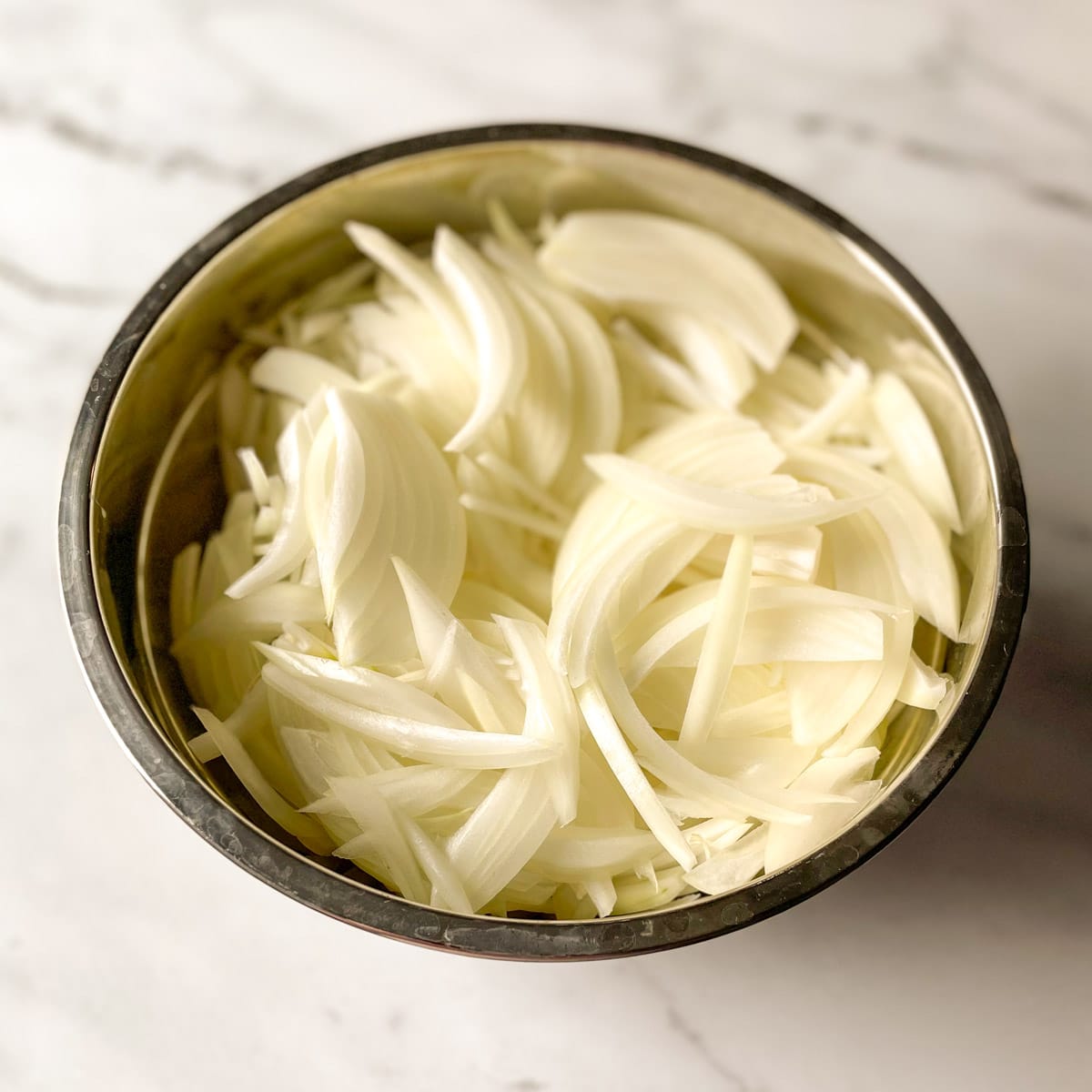 Step One To make this pickled white onion recipe, slice the onions down the center, peel them, then thinly slice them. You are looking for them to fill about three-quarters of a 12- to 16-ounce glass Mason jar.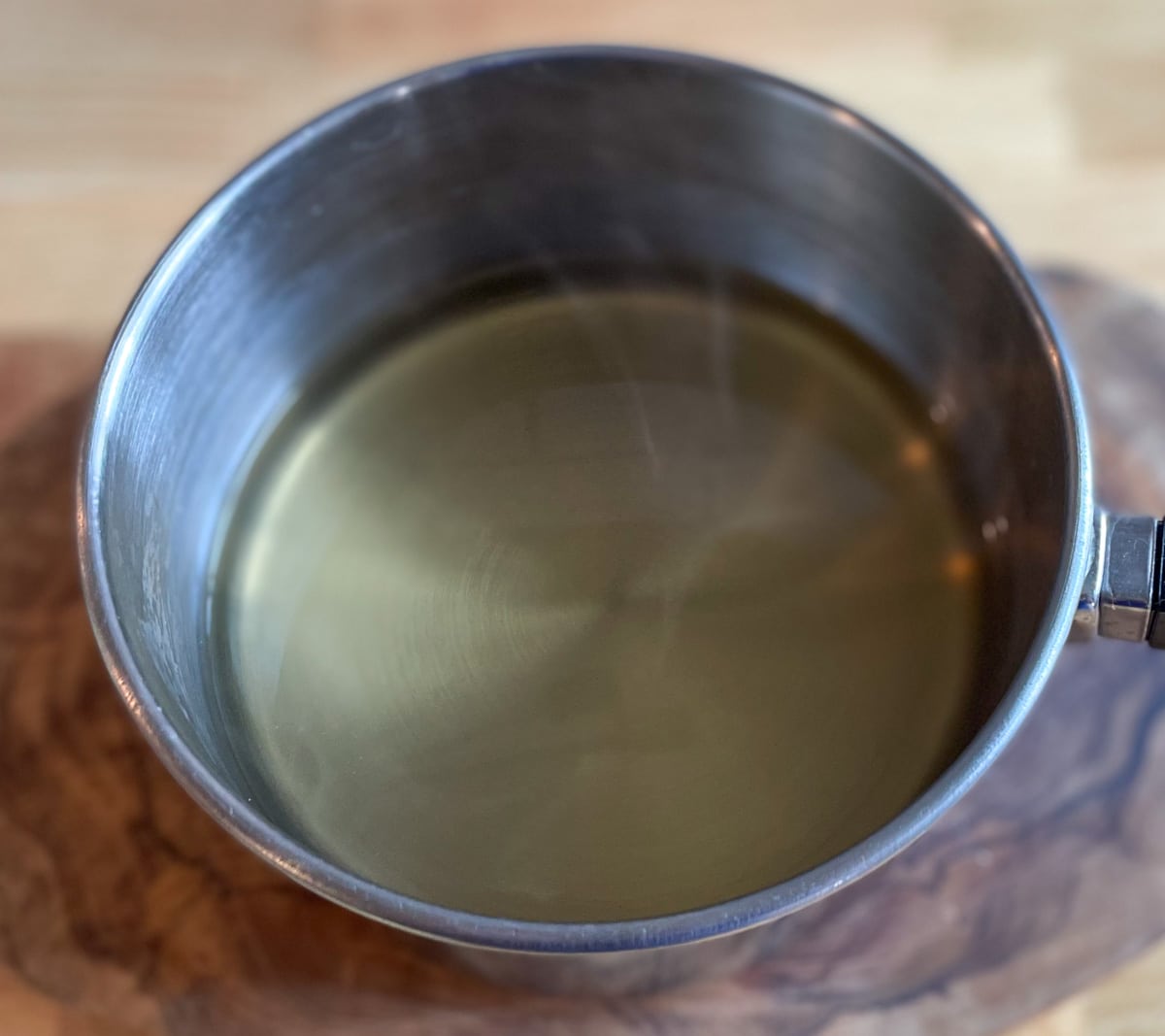 Step Two Measure out the vinegar, salt, and sugar and add to a small saucepan. Bring to a boil over medium-high heat, then lower the temperature to medium-low, stirring until the sugar and salt have dissolved.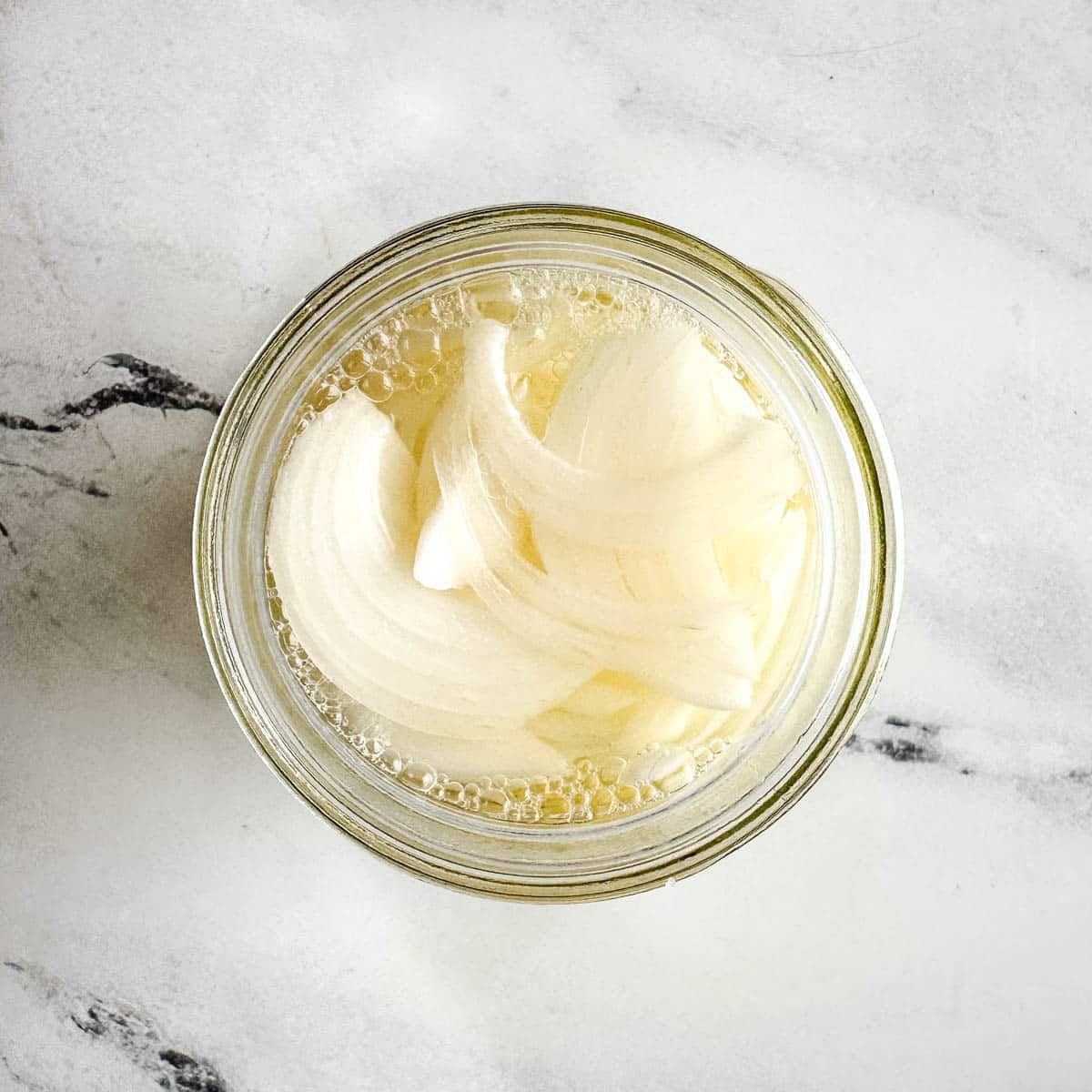 Step Three Add onion slices to a 12- to 16-ounce Mason jar or another nonreactive container, such as a ceramic baking dish. Pour the hot brine over, ensuring the onions are completely covered.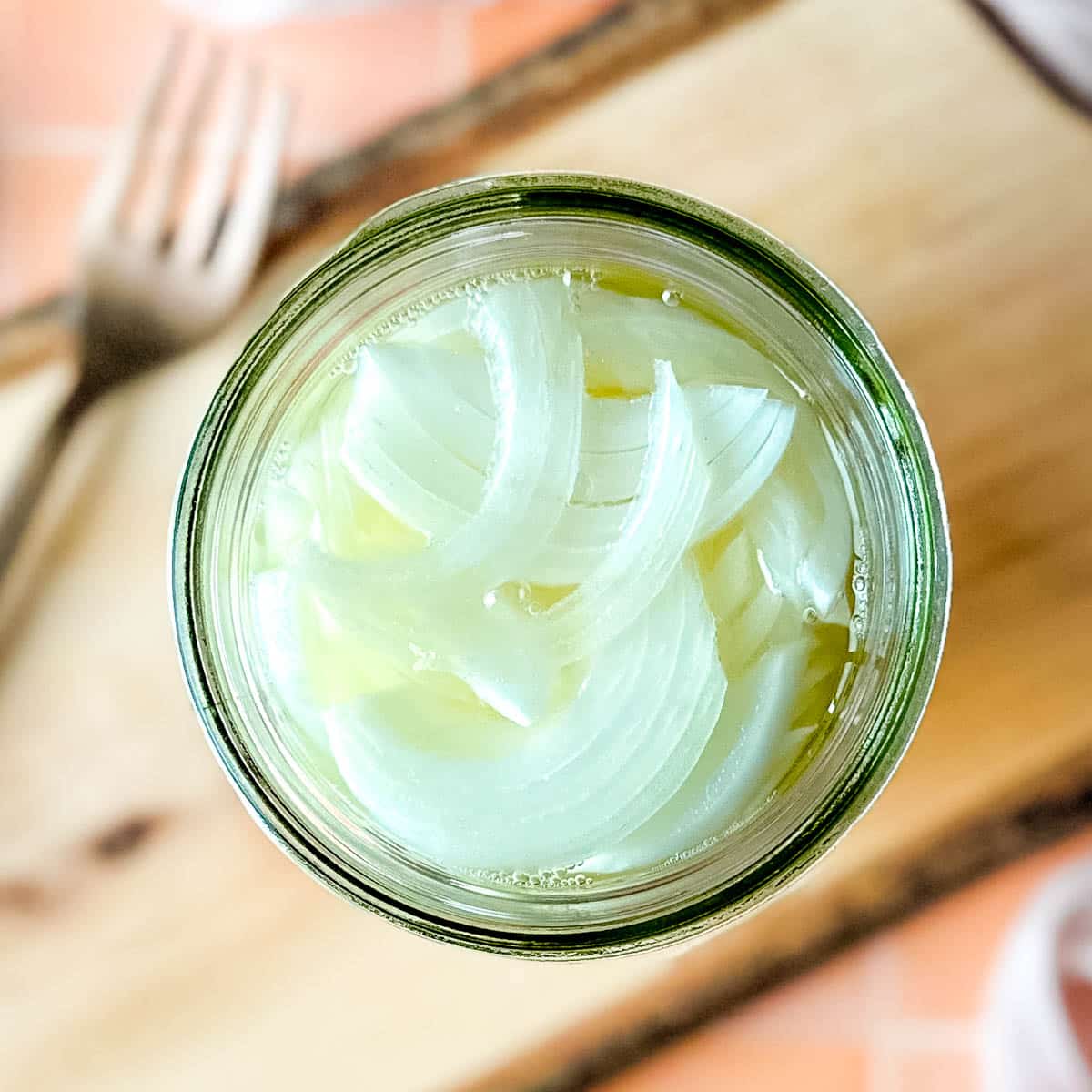 Step Four Let cool to room temperature, then serve or store in the fridge for later use.
Variations and Substitutions
Different Vinegar In place of rice vinegar, you can try different types of vinegar for pickling, like apple cider vinegar, red wine vinegar, white wine vinegar, sherry vinegar, or distilled white vinegar. These will all lend a different flavor to the onions. You can experiment to see what you like best.
Spicy Pickled Onions Try adding some sliced hot peppers to the brine, like jalapeños or serranos, or a big pinch of red pepper flakes. You can also add some peppercorns for a more nuanced flavor.
Sweeter Pickled Shallots Add a pinch of extra sugar to your brine or swap the unseasoned rice vinegar for seasoned rice vinegar.
How to Store
Fridge Store in an airtight container in the refrigerator. Pickled white onions will last for up to 2 weeks.
Freezer I do not recommend freezing this recipe.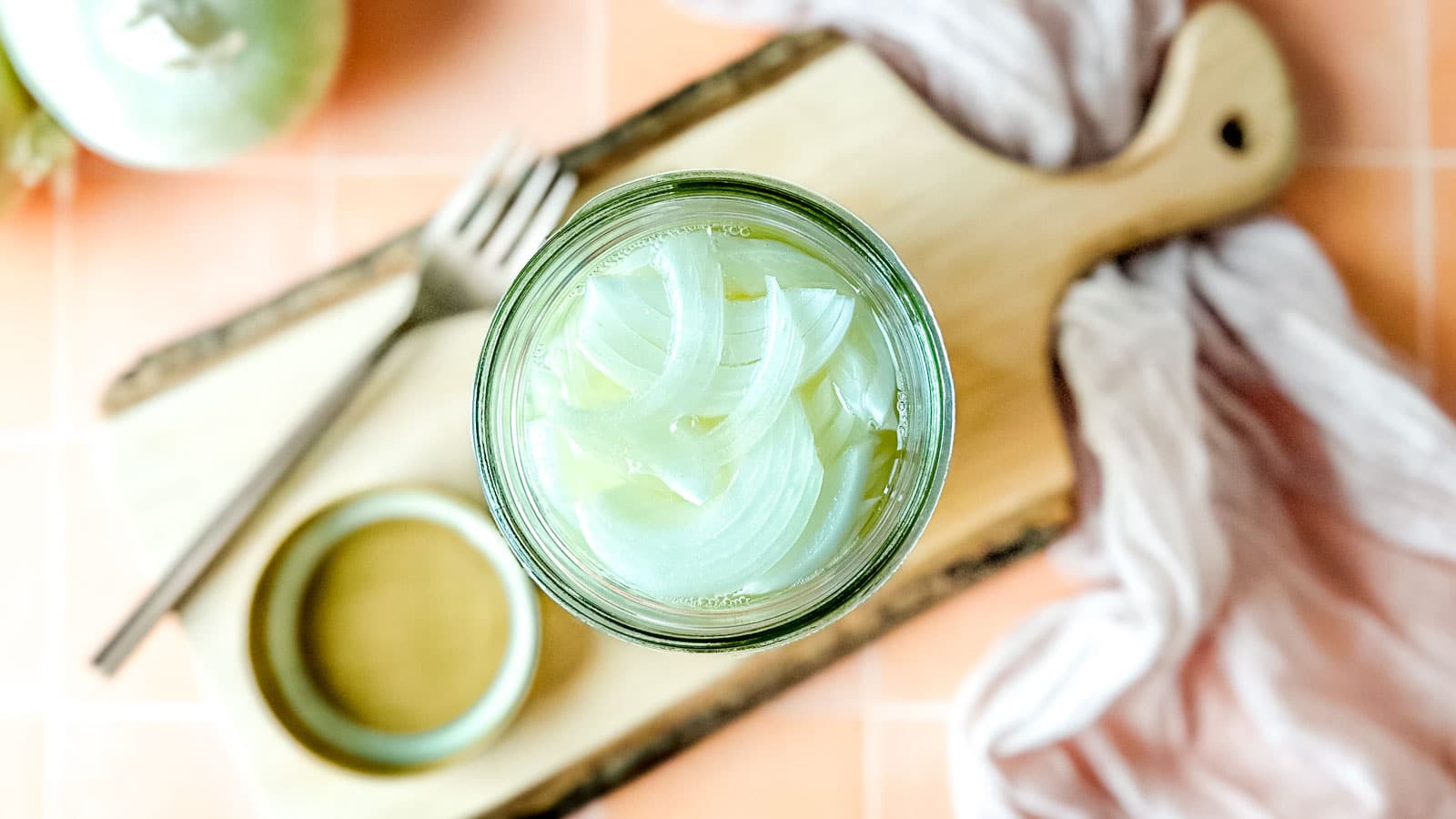 FAQ
What is refrigerator pickling?
Quick pickles are sometimes referred to as refrigerator pickles. When quick pickling, you store the vegetables in their acidic brine in the fridge. The cold temperature lets the flavor of the brine penetrate the vegetables while delaying the growth of bacteria.
Can I use quick pickling brine for traditional canning?
Unfortunately no. This brine is intended for quick pickled vegetables only. Long-term storage like canning requires very specific proportions of ingredients and levels of acidity to ensure safety.
What can I use if I don't have a glass jar?
Try another non-reactive container like a ceramic baking dish, then transfer to a tightly sealed container to refrigerate.
How to Serve Pickled White Onions
This quick-pickled onions recipe is incredibly versatile. Try some of the ideas below!
Salads - Use pickled onions to add some brightness and acidity to your favorite salads. You could try this simple side salad with grilled carne asada or grilled chile lime chicken.
Sandwiches - Add them to a turkey avocado sandwich, an Italian sandwich, or this turkey egg and cheese sandwich!
Appetizers These onions are delicious as part of an appetizer spread like a cheese board or a charcuterie board.
Toasts - These are amazing on different toasts like smoked salmon toast, avocado toast, or a toast spread with ricotta cheese!
Mexican Dishes - Add pickled onions to some of your favorite Mexican dishes for a little added zing. They're great with carne asada quesadillas, these blackened fish tacos, or elote in a bowl.
Burgers - These turkey smash burgers are a reader favorite, or you could try this air fryer turkey burger for an option that won't heat up the house. And these turkey burger sliders are great for gatherings!
Bowls - A grain bowl like this Mediterranean grain bowl would be delicious with pickled onions instead of the lemon dressing in the recipe.
Expert Tips
If you only have 32-ounce Mason jars, double the recipe for the brine. There is an option to adjust the serving size by hovering your mouse over the number next to "Servings" in the recipe card.
To avoid tears when cutting your onion, use a sharp knife. This will reduce the amount of the enzyme that makes you cry that is released.
For the best flavor, let the onions sit in the fridge for 2 to 3 days. Feel free to eat them as soon as they are cool enough to handle, though, at least 30 minutes after you've poured the hot brine.
Did you make this recipe? Be sure to leave a comment 💬 and a ⭐⭐⭐⭐⭐ rating below! You can also tag us @twocloveskitchen on Instagram or follow us on Facebook!
More Quick Pickles to Try
📖 Recipe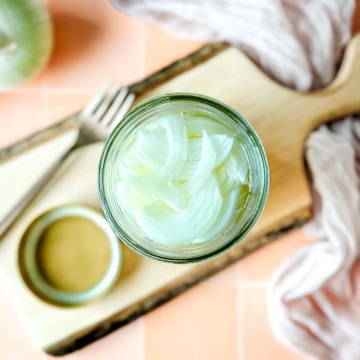 Quick Pickled White Onions
These quick pickled white onions add a pop of tangy flavor to sandwiches, salads, bowls, tacos, and wraps. They're a wonderful condiment paired with grilled meats and vegetables, added to a cheese board, or you can just have them as a snack!
Print
Pin
Rate
Equipment
Large Measuring Cup

Small Saucepan
Instructions
Thinly slice the onion and add it to a glass jar or other nonreactive container.

Place a pot or saucepan over medium-high to high heat on stovetop. Add vinegar, sugar, and salt. Bring brine to a boil, then reduce the heat to medium-low, stirring occasionally until the salt and sugar have dissolved.

Remove brine from the stove and pour over the onion in the glass jar or container.

Let cool for 30 minutes before serving or adding lid and transferring to fridge.
Notes
General
If you only have a 32-ounce Mason jar, double the brine. There is an option to adjust the serving size by hovering your mouse over the number next to "Servings" in the recipe card.
This recipe cannot be traditionally canned.
Add a

½ teaspoon of dried oregano for pickled onions similar in taste to escabeche.
Storage
These pickles can be stored safely in the fridge for 2 weeks.
I do not recommend freezing this recipe.
Nutrition
Calories:
23
kcal
|
Carbohydrates:
4
g
|
Protein:
0.2
g
|
Fat:
0.02
g
|
Saturated Fat:
0.01
g
|
Polyunsaturated Fat:
0.003
g
|
Monounsaturated Fat:
0.001
g
|
Sodium:
873
mg
|
Potassium:
21
mg
|
Fiber:
0.2
g
|
Sugar:
4
g
|
Vitamin A:
0.3
IU
|
Vitamin C:
1
mg
|
Calcium:
6
mg
|
Iron:
0.05
mg